Powered by Amerisleep, EarlyBird brings together a dedicated team of sleep science coaches, engineers, and product evaluators. We meticulously examine Amerisleep's family of products using our unique product methodology in Amerisleep's state-of-the-art laboratory. Our commitment to sustainability is reflected in our use of eco-friendly foam in our products. Each article we publish is accurate, supported by credible sources, and regularly updated to incorporate the latest scientific literature and expert insights. Trust our top mattress selections, for your personal sleep needs.
Key Takeaways
Significance of Edge Support: Mattress edge support refers to the firmness and stability around the edges of the mattress. Good edge support enhances the durability and lifespan of the mattress, prevents sagging, and provides a stable sleeping surface. It also contributes to a comfortable sleep experience, especially for those who tend to sleep near the edge of the bed or share the mattress with a partner.
Choosing the Right Mattress: Personal preferences, body type, and specific medical conditions can influence the need for a mattress with edge support. Factors such as sleeping position, weight, and mobility issues can determine whether edge support is necessary for a comfortable and safe sleep experience. Understanding these factors can guide individuals in selecting a mattress that best suits their needs.
Impact of Mattress Type: Different mattress types, such as memory foam, latex, innerspring, and hybrid, offer varying levels of edge support. Each type has unique properties that affect its ability to provide adequate support along the mattress edges. Understanding the characteristics of different mattress types can help individuals choose a mattress that aligns with their preferences and requirements for edge support.
Mattress edge support refers to the level of stability and firmness that a mattress provides around its edges. It is the ability of a mattress to support the weight of a person who sits or lies on the edge of the bed without sinking too much or causing a feeling of instability.
A mattress with good edge support maintains its shape and provides a solid foundation around the perimeter of the bed. This can help to promote a comfortable and restful sleep experience, while also enhancing the longevity and safety of the mattress.
Conversely, a mattress with poor edge support can negatively affect the overall sleep experience. More edge support means less sagging, more surface area and more of a supportive feel along the sides.
What Is Edge Support & Why Is It Important?
Edge support is important for several reasons. Firstly, it can affect the durability and lifespan of the mattress. If a mattress lacks edge support, the edges can compress over time, leading to sagging and reduced support for the sleeper.
This can also lead to an uneven sleep surface, making it harder to find a comfortable sleeping position and potentially causing pain or discomfort. A mattress with poor edge support can cause the sleeper to feel unstable and unsupported, which can disrupt sleep and prevent the sleeper from getting the rest they need.
Little to no edge support can even affect the safety of the sleeper. If the edges of the mattress are not sturdy enough, the sleeper can easily fall off the bed, especially when getting in or out of bed. This can be particularly dangerous for elderly people or those with mobility issues.
Overall, mattress edge support is an important factor to consider when choosing a new mattress. A mattress with quality edge support provides a sturdy, supportive foundation around the perimeter of the bed.
Best Amerisleep Mattresses with Edge Support
At Amerisleep, we don't subscribe to the ideal of "one mattress for everyone" or the tiered system of "affordable mattress, better mattress, best mattress," that other mattress brands may follow. We design our Amersleep mattresses to ensure they're all of equal quality and that every mattress we make can be the best mattress for someone.
While our memory foam mattresses offer comfort to many different sleeping styles, it's our hybrid mattresses that offer the best edge support in our line-up.
All of our mattresses come with:
Quick Guide: A 30-Second Summary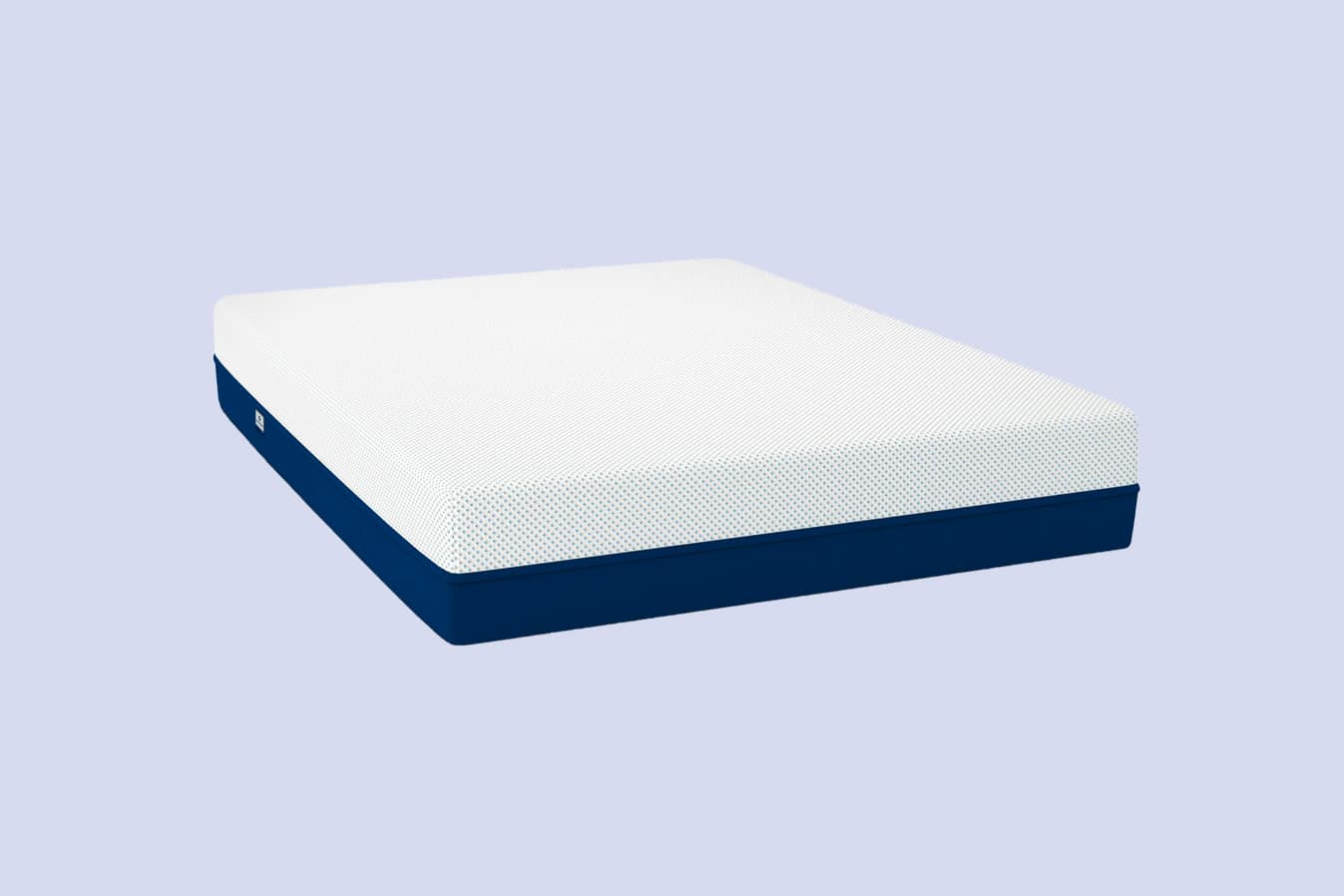 Best Mattress with Edge Support Overall:
Amerisleep AS3 Hybrid
Price Range

$1249 to $2598

Mattress Type

Memory Foam Hybrid

Firmness

5 to 6 out of 10 (Medium)

Availablity

All sizes

Warranty

20 Years

Thickness

12 Inches
Our Amerisleep AS3 Hybrid is a popular model due to its versatile medium feel, capable of supporting and cushioning sleepers in multiple positions.
Mattress Highlights
Plant-based memory foam top
Bouncy pocketed coil support core
Advanced cooling cover fabric
Recommended For
Side, back, and combination sleepers
Hot sleepers
Couples with conflicting comfort preferences
While all of our hybrid mattresses feature excellent edge support, the Amerisleep AS3 Hybrid leads our list simply because it can suit the widest possible range of sleepers. As it's a medium feel bed, it's soft and supportive under side sleepers, lightly conforming to a back sleeper, and highly responsive to a combination sleeper.
The cooling surface of the Amerisleep AS3 Hybrid is a material known as Refresh fabric. Refresh goes beyond basic mattress covers and delivers above-average temperature regulation. The fibers absorb body heat and convert it into infrared energy, which can seep into the local areas of the body for improved recovery.
Beneath the mattress cover is a 3-inch layer of Bio-Pur® memory foam, which provides pressure relief and contouring to the body's curves. This layer is also designed to be highly breathable, helping to regulate the temperature of the mattress.
Next is the pocketed coil support core. What separates pocketed coils from traditional springs are the wrappings that encase every coil. The sides of the AS3 Hybrid are reinforced to establish durable edge support, promoting a durable mattress and letting sleepers sit on the sides and slide out of bed.
The bottom layer of the AS3 Hybrid is a 1-inch layer of foam that provides a stable foundation for the mattress and helps enhance its durability. All polyurethane foams used in our mattresses are certified by CertiPUR-US®. This third-party organization ensures that all foams are manufactured safely, free of hazardous materials and with minimal off-gassing.
Customer feedback has described the feel of the Amerisleep AS3 Hybrid as comfortable, supportive, and responsive. Many note that it provides a good balance of pressure relief and support for a variety of sleep positions.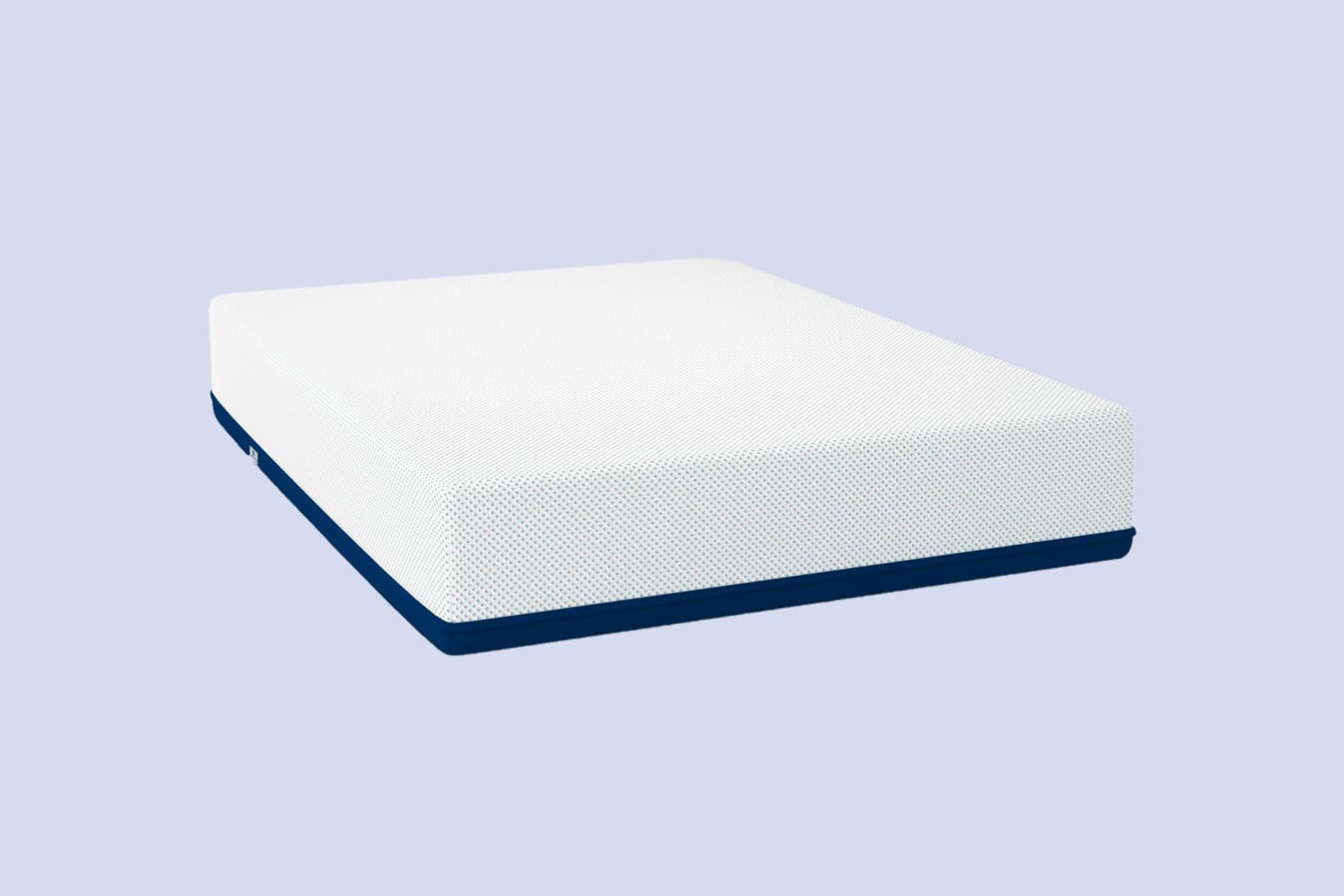 Best Soft Mattress with Edge Support:
Amerisleep AS5 Hybrid
Price Range

$1949 to $3998

Mattress Type

Memory Foam Hybrid

Firmness

3 out of 10 (Soft)

Availablity

All sizes

Warranty

20 Years

Thickness

14 Inches
The softest mattress in our line-up with edge support is the Amerisleep AS5 Hybrid, a bed ready to relieve pressure points.
Mattress Highlights
Cover fabric maintains cooler feel
Softer surface hugs body's curves
Pocketed coils enable easy movements
Recommended For
Side sleepers
Most body types
Hot sleepers
Softer mattresses can still be supportive along the sides and throughout the entire mattress. Those who want a mattress with reinforced sides they can still sink into should consider the Amerisleep AS5 Hybrid.
Like the Amerisleep AS3 Hybrid, the comfort layer of the AS5 is Bio-Pur® plant-based foam. It's just as thick as the one in the medium-feel hybrid mattress.
What softens the surface of the AS5 Hybrid is a layer of Active Flex. This material rests underneath the comfort layer and adds to its responsiveness while simultaneously deepening the bed's cushion. Thanks to Active Flex, we've found the mattress will buoy you without creating extra firmness.
The support core is a series of pocketed coils, with every one individually wrapped to establish a mattress for motion isolation. These coils rest on a firm base that ensures they stand strong without sagging, and also bolsters the edge support along the sides.
Wrapped around the Amerisleep AS5 Hybrid is the same covering of Refresh as the one the AS3 offers. As we mentioned, Refresh does more than keep cool, as the material turns body heat into infrared energy to promote restorative rest.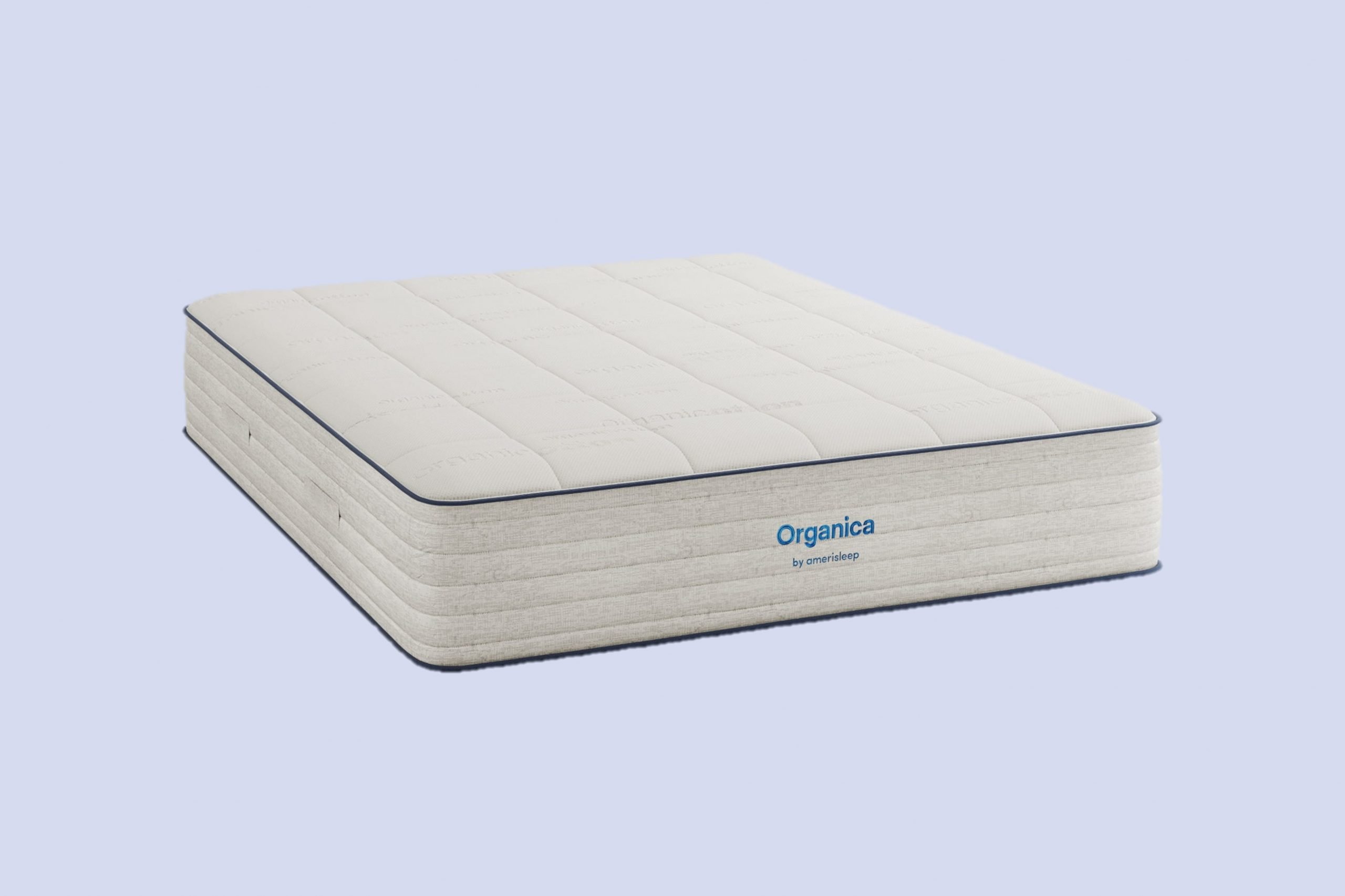 Best Natural Mattress with Edge Support:
Amerisleep Organica
Price Range

$1049 to $2348

Mattress Type

Latex Hybrid

Firmness

5 to 6 out of 10 (Medium)

Availablity

All sizes

Warranty

20 Years

Thickness

13 Inches
Latex mattresses are a popular choice for eco-conscious sleepers, and we pair natural Talalay latex with bouncy pocketed springs in our Amerisleep Organica.
Mattress Highlights
Surface of organic cotton fabric
Fire barrier of organic wool batting
Talalay latex foam comfort layer
Recommended For
Most sleeping styles
Sleepers with non-latex allergies
Those who sleep hot
We designed the Amerisleep Organica to provide a comfortable and supportive sleeping surface while also being environmentally friendly. It is constructed using natural materials that are free from harmful chemicals and are sourced in a sustainable manner.
The cover of the mattress is made from GOTS-certified organic cotton that is free from pesticides and other harmful chemicals. The cover is also designed to be breathable, allowing air to circulate through the mattress and help regulate temperature.
Next is a layer of New Zealand organic wool. Aside from serving as an extra bit of airy cushion, the organic wool batting provides a natural flame barrier, establishing a mattress free of fiberglass. This wool is certified under the Standard 100 OEKO-TEX® certification.
Then there are two layers of Talalay latex foam. The top layer is ready to contour to the body's curves and provide a balanced medium feel. The second foam layer establishes the mattress's transition layer, ensuring sleepers won't sink too far into the surface.
The latex material used in the Organica are certified under Standard 100 OEKO-TEX®, the Rainforest Alliance, and eco-INSTITUT.
After the transition layer comes the mattress's supportive layer of pocketed coils. These coils are wrapped to ensure motion isolation while still providing a bounce that pairs well with the buoyant feel of latex. Edge support along the side structures the mattress and makes leaving the bed easier in the morning.
Underneath the pocketed coils is a supportive base that ensures long-lasting support and mattress stability.
Do I Need a Mattress with Edge Support?
Whether or not you need a mattress with edge support depends on your personal preferences and sleep habits. Edge support can provide several benefits, such as preventing the mattress from collapsing when you sit or sleep on the edge and making it easier to slide out of bed.
Personal Preferences
If you enjoy sleeping near the side of a bed, you may require a mattress with edge support to sleepcomfortably and without fear of rolling over the side. This may especially be the case if you're a solo sleeper on a smaller twin or twin XL mattress. Similarly, couples sharing a smaller mattress are more likely to have partners pushed close to the edge and needing firm support.
And if you don't typically use the edges of the bed and prefer a plush mattress, a softer mattress without edge support may be more suitable. Edge support can make the mattress feel firmer around the perimeter, which may not be ideal for some sleepers, such as side and smaller sleepers.
You may also want a mattress with edge support if you're looking for a daybed mattress that you intend to sit on regularly. Daybeds can essentially function as a couch during the day and a place to sleep at night, and are typically more comfortable than a pull-out sofa bed.
However, edge support may be less of a necessity if you intend to use the daybed less as a couch and more as an occasional mattress for guests.
Body Type
Mattresses with edge support increase the usable sleeping surface area of the bed, and it can also improve overall support and stability. This is why edge support is such a necessity in mattresses for heavier sleepers, as their bodies place greater strain on a mattress than lighter individuals.
Similarly, taller people may benefit from a mattress with edge support, particularly if they are a larger individual. However, edge support isn't necessarily a requirement in mattresses for tall sleepers, particularly ones who are able to move well without difficulty.
Medical Condition
Like body type, a medical condition can affect whether or not you need a mattress with edge support. Often, the firm support along the sides can make it simpler for someone with a condition that restricts movement to get out of bed.
As one example, people with arthritis often find it difficult to move in the morning after lying in one position for hours, as inactivity can make joint pain worse. A mattress for arthritis and joint pain often benefits from offering edge support for easier movements in the morning. Some with arthritis may even want to pair it with an adjustable bed so they can sit up with more ease.
Similarly, a mattress for seniors may need to offer edge support. Seniors concerned about fall damage may even wish to pair their mattress with edge support with a bed frame that has guard rails they can hold onto to slide out of bed and stand up with ease.
Fibromyalgia is a condition often confused with arthritis, as it has similar symptoms, such as limiting movements because of recurring pain. So mattresses for fibromylgia may also need edge support.
As our other mattress guides discuss, mattresses for other pain-related conditions may also need to offer edge support if a person has mobility issues:
Can Edge Support Prevent Mattress Sagging?
Edge support can help prevent mattress sagging to a certain extent and affect how longs a mattress lasts, but it may not completely eliminate the issue. Edge support is the reinforcement added to the perimeter of the mattress to prevent it from collapsing when you sit or sleep on the edge.
Edge support can also help distribute your weight more evenly across the mattress. This feature can reduce the pressure on the center and prevent it from sagging. However, if the mattress is already sagging in the center, edge support alone will not be enough to prevent further sagging.
Poor edge support may even be to a mattress's detriment, with the sides quickly falling away with extended use. This is one reason why it's important to choose a well-made, quality mattress that won't sag with edge support.
To prevent mattress sagging, pair your mattress with a supportive bed frame or foundation to help distribute your weight evenly and reduce pressure on the mattress. The right mattress foundation is key to making sure you get the full value out of even the most durable mattresses.
How Is Edge Support Established in a Mattress?
Edge support in a mattress is established by the way the mattress is constructed, specifically the design of the perimeter or sides of the mattress. There are different methods that manufacturers rely on create amazing edge support in a mattress. The type of edge support offered can vary depending on the mattress materials used and the bed's construction.
One method of creating edge support is the use of reinforced, thick coils along the perimeter of the mattress. This extra support provides a firm and stable edge that can prevent the mattress from giving way when someone sits or sleeps on the edge of the bed. Such reinforced coils are common in hybrid or innerspring mattresses.
Edge support can also be established is through the use of a high-density foam encasement around the mattress. This encasement helps to distribute the weight of the sleeper more evenly across the entire surface of the mattress. Foam rails like this prevent the edges from collapsing or sagging over time.
Which method is better? Well, it largely depends on the mattress materials. High-quality materials, whether its foams or springs, make for better edge support than lower-quality materials that just establish decent edge support at best.
We should also note that how thorough a mattress's edge support is can vary. Some mattress manufacturers may only use edge support lengthwise, along the longer sides where a sleeper is likely to need firm support for sliding out of bed. Others may establish a supportive perimeter for all four sides of the mattress. Naturally, the second design offers more consistent support
Mattress Types & Edge Support
When shopping for a new type of mattress, one important factor to consider is edge support. Mattresses that lack proper edge support can lead to sagging, discomfort, and even falling off or rolling out of the bed.
There are four types of mattress that most shoppers will consider—memory foam, latex, innerspring, and hybrid mattresses. Not every mattress material will come with edge support, but then, not every sleeper needs reinforced sides.
Memory Foam Mattresses
Memory foam mattresses are known for their contouring and pressure-relieving properties. Some sleepers consider them the most comfortable type of bed for their pressure and pain-relieving materials. Their primary draw is yielding to the body swiftly, in a way that simpler all-foam mattresses can't match.
However, this mattress feature means memory foam may not always offer the best edge support. Because of the material's slow response time, memory foam can compress significantly when pressure is applied to the edge, leading to a sinking feeling.
That said, some memory foam mattresses are designed with reinforced edges of stiffer polyurethane foam or a higher-density foam layer to provide better support.
Latex Mattresses
Latex mattresses are made from natural or synthetic latex foam and are known for their durability and responsiveness. They tend to provide better edge support than memory foam mattresses because of the material's natural resilience. Latex foam compresses less under pressure, making it easier to sit or sleep near the edge of the bed.
However, natural latex mattresses are often significantly more expensive than memory foam beds. As a trade-off, natural and organic latex mattresses tend to last longer than any other type of bed. Still, that price tag can make them difficult for budget shoppers to afford an all-latex mattress. See our memory foam vs latex mattress guide for more information.
Innerspring Mattresses
Innerspring mattresses use a system of metal coils to support the body. Most innerspring mattresses tend to provide ample edge support, especially if they have a reinforced perimeter place to extend the bed's lifespan. However, edge support can vary depending on the type and quality of the coils used in an innerspring mattress.
It's also important to note that the traditional innerspring mattress can leave some sleepers sore and stiff. The classic design doesn't feature the contouring foam tops that modern memory foam and latex beds offer, which can lead to insufficient pressure point relief.
Hybrid Mattresses
Hybrid mattresses combine the contouring properties of foam with the support of innerspring coils. They can provide great edge support, especially if the hybrid bed has reinforced edges and high-quality coils. However, like innerspring mattresses, the quality of edge support can vary depending on the specific design and materials used in a hybrid mattress.
Still, hybrid mattresses are often preferred to traditional innerspring mattresses for their modern design. The individually wrapped coils inside hybrid beds establish excellent mattresses for motion isolation.
Mattress Firmness & Edge Support
Mattress firmness shouldn't affect how well a mattress offers edge support. However, it is the primary feature that will determine how comfortable the mattress feels to you. The trick is that in our experience, no one mattress can provide a desirable firmness for everyone. Sleepers need to shop carefully, and choose a mattress firmness that matches their sleeping position and body type.
Both of these factors affect how a sleeper presses down on the mattress. Sleeping position can affect how weight is distributed, with some pressure concentrated in certain areas of the body. Meanwhile, body type can determine how much weight is pressing down and in what areas. This is why it's important to buy mattresses for different body types and sleep positions.
Side Sleepers
Side sleepers typically need a mattress that's softer or medium-soft to allow for proper spinal alignment. A too-firm mattress can cause pressure points on the hips and shoulders, leading to discomfort and pain. Balanced cushion and support ensure mattresses for side sleepers leave them waking up free of aches.
Back Sleepers
Back sleepers require a mattress with balanced feels to support the natural curvature of the spine. A too-soft mattress can cause the hips to sink too deeply into the mattress, leading to lower back pain. Mattresses for back sleeping typically offer medium-firm surfaces.
Stomach Sleepers
Stomach sleepers need a firmer mattress to prevent their hips from sinking too deeply into the mattress, which can lead to back pain. A firm mattress for stomach sleeping can help maintain proper spinal alignment for stomach sleepers.
Combination Sleepers
Combination sleepers, who change positions frequently throughout the night, need a mattress that can keep up with shifts in sleep positions. A mattress for combo sleeping should offer a medium to medium-firm feel to accommodate different sleeping positions.
A hybrid mattress with a combination of foam and coils can provide the right balance of support and cushioning for combo sleepers. Plus, such hybrid mattresses offer edge support that keep combo sleepers comfortably supported as they move throughout the night.
Heavier Sleepers
Heavy sleepers have different needs when it comes to choosing a mattress due to their weight and body type. A mattress that is not designed to support the weight of a heavier sleeper can lead to discomfort, pain, and poor sleep quality. Firmer mattresses for their sleeping position can sure a plus-sized sleeper feels supported on a bed that lasts for years and years.
Heavy sleepers may a;sp need extra support at the edges of the mattress to prevent them from sinking too deeply when getting in and out of bed. A mattress with excellent edge support can help to provide a more stable and secure sleeping surface for heavy sleepers.
Lightweight Sleepers
Sleepers under 130 pounds have the opposite issue of plus-sized sleepers. Their body weight doesn't press down as much as mattress manufacturers expect, so the average will feel inherently firmer and less giving under their bodies. To bridge this gap, a mattress for lightweight sleepers should deliver a softer feel tailored their sleep positon.
Mattress Size & Edge Support
As with mattress firmness, what standard mattress size you choose shouldn't affect the edge support you receive. A smaller mattress should have just as strong edge support as a larger size of the same mattress model.
So when it comes to choosing the right mattress size for your needs, consider whether you plan on sleeping alone or with a partner, your budget and your available room space.
| Mattress Size | Dimensions in Inches |
| --- | --- |
| Twin | 38 inches by 74 inches |
| Twin XL | 38 inches by 80 inches |
| Full | 54 inches by 75 inches |
| Queen | 60 inches by 80 inches |
| King | 76 inches by 80 inches |
| California King | 72 inches by 84 inches |
| Split King | Two mattresses, each 38 inches by 80 inches |
Other Mattress Features to Consider
Temperature Regulation
Sleeping hot on a mattress can lead to discomfort and poor sleep quality, which is why having a cooling mattress is so important for hot sleepers.
Temperature regulation in a mattress is typically achieved through the use of materials and construction techniques that promote airflow in the mattress structure and wick away moisture.
Traditional memory foam has a reputation for heat reputation. So many mattress manufacturers rely on cooling infusions and advanced formulas for variations like plant-based memory foam to cool down a memory foam bed.
Latex foam mattresses are also known for their breathability and cooling properties. The open-cell structure of latex foam allows air to circulate freely, which can help regulate body temperature and prevent overheating.
Coil bases also promote more airflow than a foam base, so hybrids are a popular choice for cooling beds.
Many cooling mattresses also come with covers that are designed to promote airflow and wick away moisture, which can help keep you cool and comfortable throughout the night. Natural materials like bamboo and cotton are popular because they stay cool better than the average synthetic textile.
However, some specialty covers use phase-change materials or PCM. These are substances that can absorb and release heat as they change phase (i.e., from solid to liquid or liquid to gas).
Pressure Relief
Pressure relief is important in a mattress because it helps prevent discomfort, pain, and stiffness that can result from sleeping on a mattress that doesn't properly support your body. There are several materials that are known for providing good pressure relief in a mattress.
Memory foam is a popular material in mattresses for pressure points because it conforms to the shape of your body, providing excellent pressure relief. Memory foam mattresses are especially good for people who sleep on their side, as they can help relieve pressure on the hips and shoulders. Some memory foam mattresses are infused with cooling gel beads, and this cooling gel memory foam can help dissipate heat and provide extra pressure relief.
Latex foam is similar to memory foam in that it conforms to your body, but it has a more responsive feel. Latex foam also tends to be more durable than memory foam, making it a good choice for people who want a pressure-relieving mattress that will last for many years.
Steel spring coils are a classic mattress material that can provide good pressure relief when combined with the right comfort layers. Pocketed coils, in particular, can help contour to your body and provide targeted support where you need it most.
Motion Isolation
If you share a bed with a partner, you may want to look for a mattress with good motion isolation. This will help minimize the transfer of movement when one person moves or gets out of bed. Otherwise, a simple trip to the bathroom in the middle of the night can jolt your partner out of some much-needed rest.
Memory foam is a popular material for motion-isolating mattresses because it conforms closely to the body and absorbs motion well. A greater memory foam density can absorb more motion and help deter motion transfer.
Latex foam is another material that can help with motion isolation. It has a bouncy feel, but it also dampens motion and prevents it from traveling across the mattress. It's not quite as effective as memory when it comes to absorbing movement at the point of impact, but it comes close.
Mattresses with individually wrapped pocketed coils, which are usually hybrids but sometimes innerspring mattresses, can also provide good motion isolation. The coils move independently of each other, which helps prevent motion from transferring across the bed.
Hybrid mattresses combine different materials, such as memory foam or latex and pocketed coils, to create a mattress that offers the motion-isolating benefits of each material. This makes them popular mattresses for couples.
Mattress Sleep Trials and Warranties
A mattress sleep trial and warranty are both essential considerations when purchasing a new mattress. A sleep trial allows the buyer to test the mattress in their own home for a specified period, typically ranging from three or more months. This trial period is important because it takes time for the body to adjust to a new mattress and consistently achieve a good night's sleep.
A few minutes in a showroom may not provide an accurate assessment of the mattress's comfort and support. Plus, shoppers may forgo the showroom model entirely if they buy an online mattress. A sleep trial allows the buyer to determine if the mattress is a good fit for their sleeping habits, preferences, and body type, without the pressure of making a quick decision.
A mattress warranty is important because it provides the buyer with protection against any manufacturing defects or premature wear and tear that may occur over time. Warranties typically range from 5 to 20 years, depending on the manufacturer and the quality of the mattress. Because of this, a mattress warranty can provide peace of mind.
Generally speaking, the longer a mattress warranty is, the greater faith a mattress manufacturer has in their product. However, read the fine print to see how deep an impression has to be before it's covered under the warranty. Most warranties cover extreme sagging that impacts a bed's edge support.
Frequently Asked Questions
Why is mattress edge support important?
Mattress edge support is important for several reasons. First, the firm edges provide additional stability and durability to the mattress, preventing sagging and deformations over time. It also increases the usable surface area of the mattress. In our experience, this makes it more comfortable to sleep on and prevents the feeling of rolling off the bed.
Plus, we've found in our research that good edge support can make it easier to get in and out of bed and sit on the edge of the mattress without feeling like you're going to slide off. Overall, mattress edge support helps to extend the lifespan of your mattress and enhances your sleeping experience.
How can I make my mattress more supportive?
If your mattress is sagging or sinking, try placing it on a firmer foundation, such as a platform bed or solid wood slats. This can provide additional support to your mattress. If you already have it on slats, you may want to try a solid piece of plywood or a bunkie board.
One simple and inexpensive way we've found to create a more supportive mattress is by using a mattress topper. Buying a topper costs less than picking out a new mattress. But if your mattress is old or worn out, it may be time to consider a replacement. A new mattress can provide the support you need for a better night's sleep.
It's important to note that the level of support you need can vary depending on your body type, sleep position, and personal preferences.
Should you sit on the edge of the mattress?
It is generally not recommended to sit on the edge of a mattress for prolonged periods of time, as this can cause the mattress to compress and weaken the edge support. However, sitting on the edge of the mattress for short periods of time should not cause any harm.
In our experience, it is important to follow the manufacturer's guidelines for proper use and care of the mattress to ensure its longevity and performance.
Can I add edge support to an existing mattress?
Yes, it is possible to add edge support to an existing mattress. There are various products such as foam wedges, inflatable inserts, and even specialized pillows that can be placed along the edge of the mattress to provide additional support. You can also use a firm mattress topper and a supportive mattress base to improve the bed's overall feel.
However, it is important to note that adding edge support to a mattress may not always be effective. Plus, it could potentially alter the overall feel of the mattress. If you want a mattress with stronger edge support, often it's better to simply buy a new one. And if you need help moving out of bed in the morning, consider an adjustable bed so you can sit up easily or bedside rails to hold onto as you slide out of bed.
How can I tell if my mattress has good edge support?
You can test your mattress's edge support by sitting or lying down on the edge of the bed and seeing if you feel secure and supported. A mattress with good edge support will not sag or collapse when pressure is applied to the edge.
You can also check the mattress construction and spec details to see if it has reinforced edges, such as foam encasement or additional coils around the perimeter. If you are still unsure about your mattress's edge support, you can consult the manufacturer's specifications or reach out to customer support for more information.
What mattress types have better edge support?
Innerspring and hybrid mattresses usually have better edge support due to their coil-based support systems, which offer stronger reinforcement around the perimeter of the bed. Memory foam and latex mattresses may have weaker edge support.
However, this can vary depending on the specific construction and materials used in each mattress. It's important to research and read reviews to determine which mattresses offer adequate edge support.
It's also important to remember that edge support is not a necessity for everyone. Some people may benefit more from the conforming feel of a memory foam mattress than from having a bed with extra edge support.
Conclusion
Mattresses with edge support are an important feature for many sleepers, especially those who tend to sleep towards the edge of the bed or share their mattress with a partner. The benefits of edge support include increased stability, improved durability, and reduced motion transfer, which can lead to a better night's sleep overall.
However, not everyone may require one of the best mattresses with edge support, as personal sleep preferences and habits can vary. It is important to consider your individual needs and preferences when choosing a mattress with edge support or any other feature to ensure a comfortable and supportive sleeping experience.
Ultimately, choosing the right mattress, whether it has edge support or not, can make a big difference in the quality of your sleep. Having one of the best mattresses available can help you wake up feeling refreshed and ready to take on the day.
---
About the author
Mitchell Tollsen is a graduate student and a freelance writer who's contributed to the Early Bird blog for three years. Mitchell's always been fascinated by the science of sleep and the restorative processes our bodies undergo when at rest. The self-titled "Sleep Expert" is always looking for ways to improve his shut-eye, and throughout the years has implemented numerous lifestyle changes and tried dozens of sleep-promoting gadgets to determine the best ways to truly get better rest.
View all posts