Key Takeaways
Thickness Categories: Mattresses come in various thickness categories, including low profile, slim, standard, thick, and extra thick. Each category serves different needs, from accommodating toddlers to providing extra cushioning for specific medical conditions.
Factors Determining Thickness: The depth of a mattress is determined by the thickness of its layers. Most mattresses have a comfort layer and a base layer. The comfort layer affects the feel of the mattress, while the base layer contributes to its durability. It's essential to consider your preferred sleeping position, body type, and any specific medical conditions when choosing mattress thickness.
Best Bed Base Height: Factor in the height of your bed base, including the mattress, when determining what mattress thickness you should have. The combined height should not exceed 25 inches for ease of getting in and out of bed.
Mattress thickness is associated with luxury, comfort, and a good night's sleep. Everyone wants to sleep on a luxurious bed every night, so when buying a new mattress, considering the height can give you a better sense of how comfortable the mattress may be.
Mattress thickness affects your comfort because sleeping on a too thin or even too much mattress thickness may lead to poor sleep and impact your health. The mattress thickness is also referred to as its height or depth. Mattresses thickness more than than 16 inches are often called extra deep or extra tall mattresses.
The thickness of your mattress also affects the height of your bed. Ideally, the top of your mattress should be 25 inches from the floor. This way your feet can reach the floor when seated at the edge of the bed, making it convenient to get in and out of bed.
In this article, we discuss factors determining mattress thickness and what to consider when deciding on the thickness of your new bed.
Mattress Thickness Chart
There are no standard regulations on mattress thickness. Most high-quality mattresses are between 8 to 14 inches thick. The following list gives you an idea of how mattresses are grouped based on their thickness.
2 to 5 inches: Low profile mattresses
5 to 8 inches: Slim mattresses
8 to 12 inches: Standard mattresses
12 to 16 inches: Thick, deep, or tall mattresses
More than 16 inches: Extra thick, extra deep, or extra tall mattresses

You might notice the first two bullets describe "thin mattresses," but there is a difference between low profile and slim mattresses worth noting.
Low profile mattresses are usually air mattresses, or they're found in cribs and fold-away beds. A low-profile mattress works well for a toddler, and they can also work in guest rooms if you need a bed for the occasional guest. (We wouldn't recommend them for people who commonly host out-of-towners since these beds aren't usually comfortable for an adult and they break down quickly).
Slim mattresses contain layers of foam, giving them more comfort and durability. These mattresses can accommodate adults more comfortably and are a good choice for those with limited mobility avoiding thick mattresses.
Factors Determining Mattress Thickness
The depth of a mattress depends on the thickness of each of the layers inside it. Most mattresses have 2 layers inside them, but high-quality mattresses may have three, four, or more layers. Each layer contains different materials. These materials affect the cushion, support, and durability of your mattress. The two basic layers found in all mattresses are the comfort layer and the base layer.
Comfort Layer

The comfort layer is the plush top layer of the mattress. In some mattress types such as the innerspring bed, the comfort layer is a pillow top comprising cotton, wool, or poly-foam. A pillow top is a surface layer of soft material, stitched and packed with the mattress cover.
Other mattress types such as latex, hybrid, or memory foam mattresses, have latex or memory foam comfort layers. Their base layers are made of different materials. The contouring and pressure-relieving features of a mattress are dependent on the firmness and feel of its top comfort layer.
Comfort layers are usually meant to be 2 to 3 inches thick to provide adequate cushion and support. Some beds may have more than one comfort layer to enhance plushness or include special sleep technologies such as cooling features or targeted back support.
These other layers lying beneath the comfort layer are often called transition layers. In some beds, the transition layers offer customized comfort to different regions of your body such as the head, shoulders, back, hips, and feet. Your head, back, and feet need firmer support, while your shoulders and hips need a softer cushion.
Base Layer

The base layer, also called the foundation layer, determines mattress durability. In most high-quality mattresses, the base layer comprises at least 50 percent of total mattress thickness. For example, if you are buying a 12-inch mattress, make sure the base layer is at least 6 inches thick. Mattresses with a thicker base layer are usually durable because a thick base layer prevents mattress sagging.
In traditional innerspring and hybrid mattresses, the base layer is made of coils. Most memory foam beds sport a poly-foam base layer, while latex beds may have latex foam or poly-foam at the base.
What to Consider When Deciding on Mattress Thickness
If you want one of the most durable mattresses that stays comfortable for years, it should be at least 8 inches thick, including the minimum requirement of a 2 to 3-inch thick comfort layer and 5 to 6-inch thick base layer.
Usually, the more mattress thickness, the softer it feels. In this section, we discuss the factors to consider when deciding on your mattress thickness.
Sleeping Position
Different thickness levels affect the feel of the mattress, which in turn impacts your sleep quality no matter your sleeping position. Certain sleeping positions need more cushioning, while other positions need more support. Mattresses with different thickness levels can cater to these varying sleep needs.
Side Sleeping: The best mattresses for side sleepers are generally 12 to 14 inches thick and offer plenty of cushion to the shoulders and hips. These regions bear the weight of your entire body in the side sleeping position. The plush comfort layers provide the required cushioning needed to reduce pressure build-up in the shoulders and hips.
Back Sleeping: Back sleepers need 10 to 12-inch thick mattresses to support the natural curvature of their spine and prevent spinal misalignment. Spinal misalignment triggers or aggravates back pain, neck ache, or muscle stiffness. A mattress 10 to 12 inches tall with a thick base layer and thinner comfort layer supports your back, preventing sinkage.
Stomach Sleeping: Stomach sleepers need 10-inch thick mattresses to reduce the chances of spinal misalignment. Mattresses with a thinner comfort layer will provide a firmer sleeping surface, offering resistance to compression beneath your abdomen.
Combination Sleeping: Combination sleepers are usually comfortable on 12-inch thick mattresses with a medium feel. Since combo sleepers switch to side, back, or stomach sleeping throughout the night, they need a mattress that provides a balance between firmness and softness.
Body Type
The mattress thickness and the materials used to make it determine how your mattress responds to your body weight. You should choose a mattress supportive enough for a comfortable night's rest, and that choice is partly determined by your weight.
Lightweight Sleepers (weighing less than 130 pounds): Mattresses 12 inches tall or thicker are a good option for lighter people. The thicker comfort layers conform to their body, relieving pressure points and reducing aches.
Average Sleepers (weighing between 130 to 230 pounds): Average size sleepers may choose between 10 to 12-inch mattress thickness, depending on their sleeping position. When buying a thick mattress, check the material used to make each of the layers to understand how they affect the feel of your mattress. Average sleepers feel comfortable on a medium bed.
Plus-Size Sleepers (weighing above 230 pounds): Plus-size sleepers may choose between 12 to 14-inch mattress thickness, with a comfort layer at least 6 inches thick. Thicker comfort layers with sufficient give can prevent mattress sinkage.
Sleeping Alone or Sharing Bed With a Partner
Thicker mattresses with their many layers and a tall base layer can be more supportive than a thin mattress. If you are sharing your bed with a partner, there is more pressure on your mattress than when you are sleeping alone. More pressure on a thinner mattress can make it sag. You need a mattress that's at least 10 to 12-inches thick.
Specific Medical Conditions
People with certain medical conditions such as back pain may need firmer mattresses with thinner comfort layers. Mattresses in the 8 to 12-inch range with a medium-firm feel are good for back pain sufferers. These beds are firm enough to support your back and prevent mattress sinkage while being soft enough to conform to the natural curvature of your spine. Conforming to your spine's natural curvature enhances lumbar support, relieving back pain.
Those with arthritis, shoulder pain, or hip pain need softer mattresses for enhanced cushioning. Mattresses 12 to 14 inches thick are a good option for people with these medical conditions. That's because mattresses this thick often have plusher comfort layers that conform to your curves, relieving pressure points off your shoulders, hips, and joints.
For more on mattresses for specific conditions, we recommend our specialty buyer's guides:
Height of Your Bed Base
When deciding on the thickness of your new mattress, factor in the height of your box spring, foundation, platform, or adjustable bed. The overall height of your bed, including the bed base, mattress, and the mattress topper if you use one, should not be more than 25 inches.
For example, if your mattress is 18 inches thick, your bed foundation should not be taller than 7 inches. People with limited mobility such as back pain, joint pain, or arthritis may find it difficult to get in and out of taller beds.
However, beds with mattresses for tall people may need a little extra height, due to the sleeper's longer legs. If a little extra height is needed, look into a set of bed risers.
When determining if your bed is at a comfortable height, see if your feet rest comfortably on the floor while you sit on the side of the mattress. Ideally, the right bed height should have your knees should be parallel to your hips.
Benefits and Drawbacks of Thick Mattresses
Thick mattresses are typically softer than thin beds, and as such, they provide a plusher surface for the hips, shoulders, and other sensitive areas. However, an extra thick mattress also has some drawbacks; they can be heavier and more expensive. When choosing a new bed, consider the thickness of each of the layers and how they affect the mattress's feel.
Plus, thicker mattresses require deep-pocket sheets, usually. Otherwise, when you try to make the bed, you may find the sheets slip off and won't stay snug on the mattress's corners.
If you want a taller bed, you don't necessarily need a thicker mattress. A set of bed risers can provide extra bed height without the cost of a new mattress or even a mattress topper.
Additionally, bed risers can be easily installed and adjusted to fit most types of bed frames, providing stability and enhancing the overall aesthetics of your bedroom setup.
Benefits
They provide more cushioning, which is especially comfortable for side sleepers
Thicker mattresses can withstand the weight of two adults, while thinner mattresses may sag
Drawbacks
More expensive because they include more layers/materials
Heavier due to more layers, making it hard to lift the mattress while making the bed or moving it to another room
Thicker beds may end up being too tall, making it inconvenient for people with limited mobility to get in and out of bed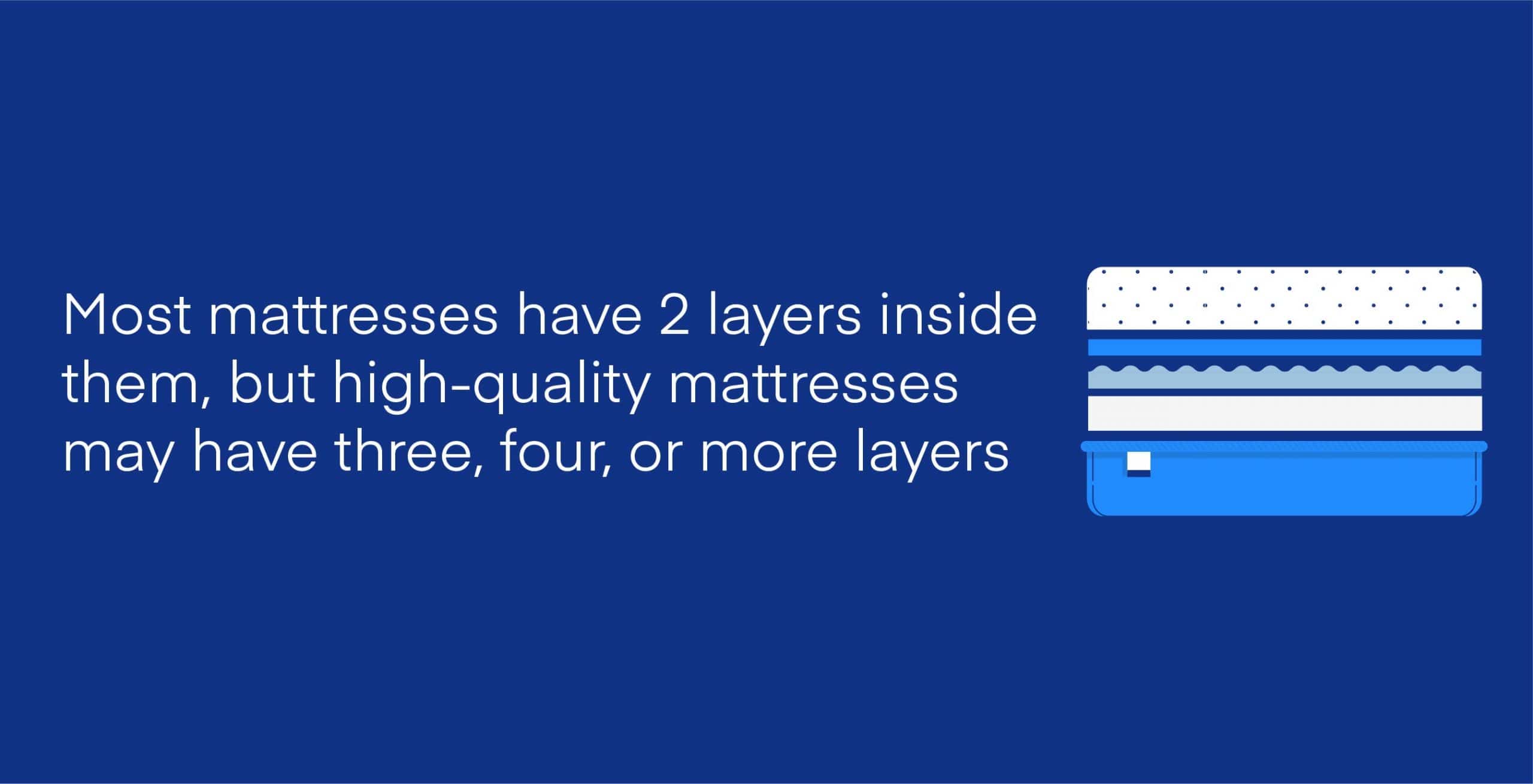 FAQs
How thick is the average mattress?
The average thickness of mattresses ranges between 8 to 14 inches. The best mattress should have a comfort layer that's at least 2-3 inches thick and a base layer that's at least 6-8 inches thick. Most mattresses also contain a 1-2 inch thick transition layer. This is the minimum thickness needed for adequate comfort and durability.
Is it better to have a thicker mattress?
Mattresses 10 inches thick or more are good for enhanced comfort and support. If you are a side sleeper, a 12 to 14-inch thick mattress most likely will provide the extra cushioning you need. Back sleepers are often comfortable on a 10 to 12-inch thick medium-firm mattress, while stomach sleepers may need a 10-inch mattress firm enough to prevent sinkage beneath your abdomen. We do not recommend stomach sleeping because it can misalign your spine causing aches.
Does the base layer affect mattress durability?
Yes, the thickness of the base layer affects mattress durability. Mattresses with durable base foams or sturdy pocket coils usually last about 8-10 years. When deciding on the thickness of mattresses, make sure the base layer is at least 50 percent of the bed's height.
What thickness memory foam mattress is best?
High-quality memory foam mattresses 10 to 14-inch thick are good enough to provide body-conforming support. They are durable and can last around 10 to 15 years. Memory foam mattresses thinner than this may not be supportive or durable enough, developing soft spots and sags within three to four years.
Is a 2-inch topper enough?
Mattress toppers can be anywhere between 2 to 4 inches thick. Depending on the materials used to make them, they can either soften or firm-up your bed. If you want to alter the feel of your bed just a little bit, a 2-inch thick topper should be good enough. Before buying check whether it's a soft topper or a firm topper and then buy accordingly, based on your need.
Conclusion
Too thick mattresses make getting in and out of bed difficult, while too thin mattresses may not be supportive enough for a night of restful sleep. If you buy a 10 to 14-inch thick mattress you strike a balance between too thick and too thin. Depending on your needs and the materials used to make the mattress, it's better to choose a mattress within the 10 to 14-inch range.
---
About the author
Sanchita Sen is a full-time writer focusing on the sleep health and mattress industry. She is a former journalist who has written numerous articles on the healthcare sector. Some of the topics she has covered include how to lucid dream, fever dreams, melatonin for sleep, and best gel memory foam mattress. Sanchita holds a Master of Arts in Communications from Convergence Institute of Mass Media and Information Technology Studies. She is also a published author, who seeks inspiration from both real life and the world of fiction.
View all posts