Powered by Amerisleep, EarlyBird brings together a dedicated team of sleep science coaches, engineers, and product evaluators. We meticulously examine Amerisleep's family of products using our unique product methodology in Amerisleep's state-of-the-art laboratory. Our commitment to sustainability is reflected in our use of eco-friendly foam in our products. Each article we publish is accurate, supported by credible sources, and regularly updated to incorporate the latest scientific literature and expert insights. Trust our top mattress selections, for your personal sleep needs.
Fiberglass is used in many home-related applications, such as inside insulation or with rooftop shingles. The material is also a common feature inside mattresses, creating a fire-resistant barrier to meet safety standards.
While fiberglass is meant to increase a mattress's safety, some sleepers are concerned about what can happen if the fiberglass inside the mattress gets loose. A person exposed to fiberglass may develop temporary skin irritation, breathing problems, or a skin infection. Once it's free of the mattress, fiberglass can spread across the bedroom, creating a mess that's hard to clean up.
To better address shoppers' concerns, we want to discuss fiberglass in detail. Why it's used and what alternatives to fiberglass exist. We also give our recommendation for the best mattress without fiberglass.
"I always ask my patients about their sleep hygiene and sleeping positions as it can contribute greatly to any issues and pain they might be experiencing," says Jennifer Miller. "They have enough to worry about without having to determine if fiberglass is in their mattress, and I would absolutely point them to Amerisleep to educate themselves on what's best and safest for them."
Best Amerisleep Mattress Without Fiberglass
Quick Guide: A 30-Second Summary
All of our best mattresses without fiberglass ship free and come with a 100-night sleep trial and a 20-year warranty.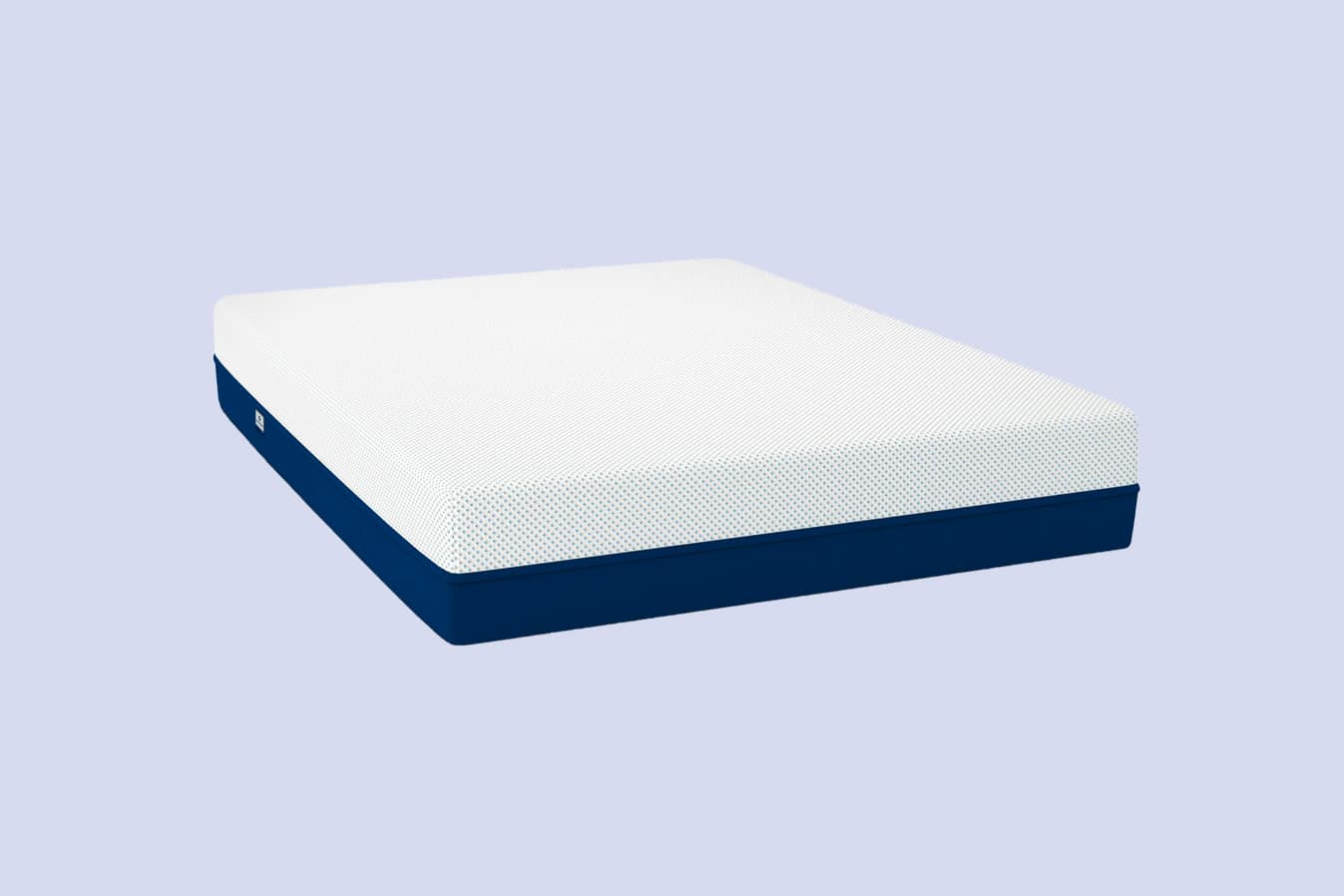 Best Memory Foam Mattress Without Fiberglass
Amerisleep AS3
Price Range

$849 to $1798

Mattress Type

Memory Foam

Firmness

5 to 6 out of 10 (Medium)

Availability

All sizes

Warranty

20 Years

Thickness

12 Inches
The AS3 is our most versatile mattress model and is completely free of fiberglass. The surface also features a responsive cushion from eco-conscious memory foam, supported by two underlying foam layers.
Mattress Highlights
Unique memory foam stays cool and adapts swiftly
Middle features targeted support and pressure relief
Final foam layer focuses on sag-free spine support
Recommended For
Sleepers shopping for a fiberglass-free mattress
Shoppers seeking a cooling memory foam mattress
Side, back, and combination sleepers
The AS3 is our top-selling memory foam mattress, with more to its name than just a fiberglass-free fire barrier. With a medium feel cushion that suits most sleepers, eco-friendly memory foam, and highly affordable prices, the AS3 is one of the best mattresses on the market.
The first layer of the AS3 is our exclusive Bio-Pur® memory foam. This foam is partly plant-based, made with a mix of traditional ingredients and plant-derived oils, ensures the mattress surface is breathable and responsive. Bio-Pur® forms the comfort layer of most Amerisleep mattresses.
The middle layer of the AS3 is Affinity foam with HIVE® technology. Affinity foam is engineered to add buoyancy to the surface, keeping sleepers from sinking too far and bottoming out on the base foam.
The HIVE® technology inside the second establishes five distinct support zones for the head, shoulders, back, hips, and feet through a simple method. By cutting hexagons into the top of the Affinity foam, and varying up how these cutouts are arranged by support zones, the mattress flexes differently under each part of the body. This establishes a "softer" feel in the shoulders and hips, while the other areas feel "firmer."
"The soft feel around the shoulders and hips is especially important in my neuro and pelvic health patient population, as many of them have weakness or pain in those areas which can increase without the proper support," says Jennifer Miller. "Some of their impairments might make it challenging for them to reposition at night, which increases the importance of proper support. Improper support might also cause skin irritation, which would be compounded by contact with fiberglass."
The third layer of the AS3 is Bio-Core® foam. This structural foam is highly sag-resistant and keeps the spine from shifting out of alignment.
All polyurethane foams inside an Amerisleep mattress are certified safe by CertiPUR-US®. This independent organization analyzes such foams to ensure they are produced without certain harmful materials.
The classic AS3 model is also available as a hybrid mattress, with the AS3 Hybrid relying on a core of pocketed coils. These individually wrapped coils not only isolate movement, making it an excellent mattress for couples, but also feature resilient edge support along the sides.
The AS3 comes with free shipping, a 100-night sleep trial, and an industry-leading 20-year warranty.
Quick Summary
Plant-based memory foam establishes near-universal comfort
Five zones of targeted support for parts of the body
Supportive base foam stands strong after years of daily use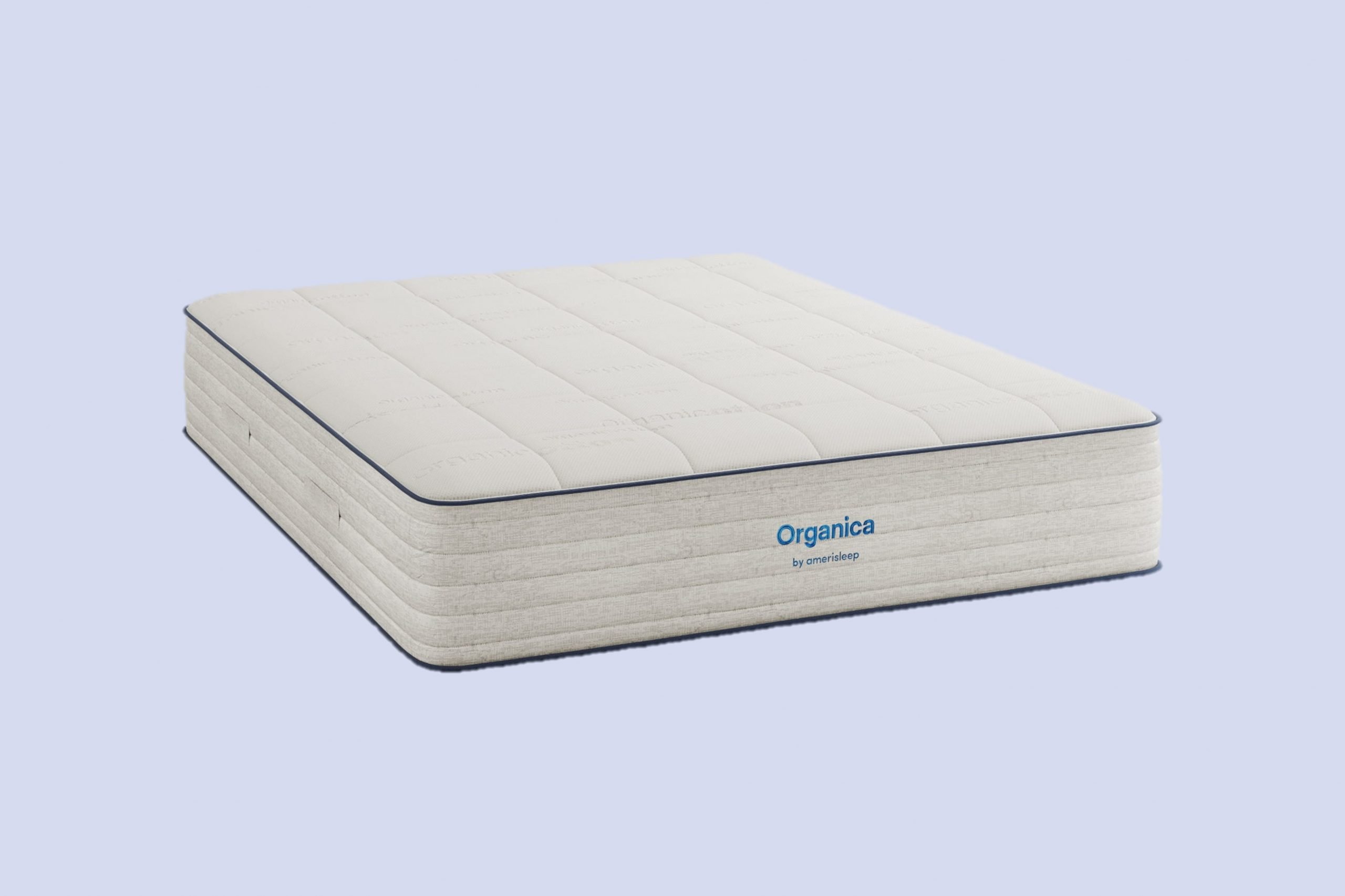 Best Latex Mattress Without Fiberglass
Amerisleep Organica
Price Range

$1199 to $2698

Mattress Type

Latex Hybrid

Firmness

5 to 6 out of 10 (Medium)

Availability

All sizes

Warranty

20 Years

Thickness

13 Inches
The Amerisleep Organica is not only free of fiberglass but also constructed with other certified natural materials, such as an organic cotton cover. The wool layer provides fire protection while also wicking away heat and moisture.
Mattress Highlights
Temperature-regulating cotton fabric cover and wool fire barrier
Latex foam eases pressure points across the body
Motion-isolating wrapped coils for extra reactivity
Recommended For
Shoppers seeking a latex mattress without fiberglass
People allergic or sensitive to synthetic materials
Side, back, and combo sleepers
Hot sleepers
We strive always to offer eco-friendly mattresses, but our Organica mattress is easily our most natural option. With a mix of natural components that establish a buoyant medium feel, this latex hybrid is not only excellent for most sleeping styles but also enables hot sleepers to stay cool and helps allergy sufferers wake without any morning symptoms.
Four layers comprise the Amerisleep Organica. The first layer is our fiberglass substitute, an inch of New Zealand Joma Wool®. This wool helps the mattress resist an open flame, yes, but it provides other benefits too. Wool helps the bed maintain a comfortable surface temperature and can also cushion sensitive areas of the body.
The main comfort layer is 3 inches of Talalay latex, a conforming yet buoyant material that eases pressure points across the body. The latex inside the Organica experiences little to no off-gassing, so there's no need to worry about being bothered by that "new mattress smell." The responsiveness of the latex also serves to minimize unwanted sinkage.
The mattress's support core is 8 inches of pocketed coils. We wrap every coil inside the Organica to increase its motion isolation capabilities. That means if you share the bed with a partner, you won't disturb their rest if you move out of bed during the night. A coil support core also encourages airflow through the base of the mattress.
The last layer is a foam base of Dunlop latex. This inch-thick base provides structural support and gives the coils a sturdy surface to bounce off from, preventing premature sagging.
Surrounding the mattress's layers is an organic cotton fabric cover, ensuring soft, cool comfort. The cotton fibers wick away heat and moisture from the sleeper's body, preventing sleep disruptions. The fact that the cotton is organic also means it has a reduced carbon footprint compared to non-organic cotton.
The Amerisleep Organica has a number of certifications backing it, attesting to its material quality:
Like all Amerisleep mattresses, the Organica is backed by a 100-night sleep trial and a 20-year warranty. The sleep trial starts when the mattress arrives at your home, giving you a few months to try the Organica out and make sure that it's right for you. The 20-year warranty helps to protect your purchase against potential defects.
Quick Summary
Wool acts as a fire barrier while doubling as a cooling cushion
Talalay latex molds to the body's sensitive areas, minimizing pressure build-up
Buoyant coils adapt to movements, with firm sides for edge support
What is Fiberglass?
Fiberglass is tiny particles of glass, as the name implies. The material is also known as:
Fibrous glass

Verified Source

Centers for Disease Control and Prevention (CDC)

The United States' health protection agency that defends against dangers to health and safety.

View source
Glass wool
Glass fibers
Synthetic vitreous fibers
Glass-reinforced plastic
These glass particles are used by numerous industries for different purposes, such as housing insulation or weatherproofing.
People who work with fiberglass are usually the most at-risk for fiberglass dermatitis, Verified Source National Library of Medicine (NIH) World's largest medical library, making biomedical data and information more accessible. View source the skin irritation caused by fiberglass exposure. However, it's also possible for the average person to be exposed to fiberglass through common household items. Aside from mattresses, you can also find fiberglass particles in:
Liners used in air duct systems
Home insulation
Windows and door jambs
Bathtubs
Upholstery
Can Fiberglass be Dangerous?
Fiberglass can cause irritation and become embedded in the skin when it's loose. The appearance of a rash caused by fiberglass depends on:
The size of the pieces
How deep they penetrate
Other environmental factors
Inhaling fiberglass dust can also irritate the nose, throat, or stomach.
Do you notice fiberglass in your skin? You can wash your skin under running water. Gently pat the affected area dry. Then, take a piece of tape and run it over your skin to catch the fibers, peeling the tape off.
What if you've taken steps to wash off or remove fiberglass and you still display symptoms of fiberglass exposure? Then it's likely time to speak with your doctor.
Why is Fiberglass in Mattresses?
If some shoppers find fiberglass undesirable, why is it used in mattresses? Well, the answer has to do with safety concerns surrounding a mattress's flammability. When a mattress is too quick to go up in flames, it leaves sleepers with little opportunity to save themselves.
In the United States, all mattresses must meet pass/fail criteria for flammability by resisting an ignition source. A 2020 review noted that mattress flammability standards saved an estimated 65 people from bed fires from 2015 to 2016.
Before mattress flammability standards were enforced, mattresses and bedding such as pillows were often the first items to catch fire, according to data accumulated from Verified Source Wiley Multinational publishing company specializing in academic and instructional materials. View source 11,500 residential fires from 2002 to 2005.
Before fiberglass was the common choice of fire barrier, mattresses typically relied on chemical fire retardants. However, these chemical flame retardants were found unsafe for sleeping. So manufacturers switched to chemical-free fire barriers.
Fiberglass is often used because it is inexpensive and relatively safe when kept contained within the mattress. Should your mattress catch fire, the fiberglass inside would melt inside of burn. This creates a flame barrier.
Manufacturers who use fiberglass in their mattresses often tell consumers not to remove the fabric cover. This can confuse owners if their mattress cover has a zipper.
A reputable mattress company will be transparent about what they use as a fire barrier in their beds. Reading customer reviews before buying a bed can also help you understand if any mattress owners have had issues with fiberglass "leaking" through the mattress you're considering.
What to Do With Loose Fiberglass?
A mattress with fiberglass can still be a high-quality bed. Many sleepers use a mattress with a fiberglass fire barrier for years without any ill effects. The key thing to understand about fiberglass's safety is that it is dependant on the material staying within the mattress.
Fiberglass particles can escape over time if the mattress is poorly constructed. For example, as a lower-quality mattress breaks down, it may release fiberglass particles through the cover fabric. It's also possible to release the fiberglass particles if you remove the mattress cover to clean it.
If you detect signs of loose fiberglass in your home, what can you do? Calling a professional cleaning service specializing in removing fiberglass particles may be the best way to ensure your home is thoroughly cleaned at minimal risk to yourself.
Individuals can also try to clean fiberglass up themselves after taking the proper precautions. But first, they need to wear protective clothing for full-body coverage, including:
Long-sleeved shirts and pants
Gloves
Shoes
A dust mask
A respirator
Workman's goggles
Next, they need to remove all their furniture and items from the affected area. Naturally, this means finding a place to keep your stuff while you're cleaning. You may need to rent a storage space for this process.
Do you have items that show signs of fiberglass contamination that cannot be cleaned? Then they must be thrown out. Otherwise, you risk reintroducing the fibers into your home after you've cleaned it up.
Fiberglass cannot simply be sucked up with a conventional vacuum cleaner or swept up with a broom. You can't even rely on the power of a standard air purifier. Instead, you will need a specialty vacuum with a HEPA or ULPA filter.
How Do You Tell if a Mattress Has Fiberglass?
When it comes to identifying potential signs of fiberglass in mattresses, there are several factors to consider. We strongly suggest rejecting mattresses containing fiberglass. Instead, seek out high-quality options that are free of fiberglass and other harmful chemicals. Look for certifications that can verify the bed as a non-toxic and chemical-free mattress.
Made in China Label
Firstly, the origin of the mattress can be an important clue. Many businesses, including mattress manufacturers, take advantage of the low cost of production in China. However, the more relaxed regulations in such countries can result in compromised safety standards, potentially leading to health hazards.
It is therefore crucial to check if a mattress is made in the USA or another country with stricter safety regulations.
Cheap Memory Foam Mattresses
Another indicator of fiberglass presence is the use of cheap memory foam orpolyfoam in mattress construction. While genuine memory foam mattresses tend to be expensive, some manufacturers opt for polyfoam as a cheaper alternative. Unfortunately, polyfoam may contain fiberglass and other inexpensive components, even though these mattresses are marketed as memory foam alternatives.
Price can also serve as a warning sign. Mattresses priced at $400 or less, particularly in larger sizes, are likely to be filled with fiberglass. In an attempt to cut costs, manufacturers may incorporate potentially hazardous materials or employ other cost-cutting measures. However, it is possible to find a fiberglass-free and eco-friendly mattress without exceeding your budget with a bit of research.
Do Not Remove Cover Tag
Labels cautioning against removing the mattress cover can also indicate the presence of fiberglass. Although not all mattresses with non-removable covers contain fiberglass, it is common enough to warrant caution when you're told not to take off mattress covers. Manufacturers discourage uncovering the mattress to prevent the fiberglass from being exposed.
Greenwashing Terms
It is important to be aware of "greenwashing" terminology, which refers to deceptive marketing practices that make a mattress appear more natural and non-toxic than it actually is. Given the increasing demand for eco-friendly mattresses, some unscrupulous retailers may take advantage of this trend. They may use terms like "glass wool," "glass-reinforced plastic," and "glass fibers" to mislead customers.
Mattress Types
Theoretically, fiberglass can be inside any of the standard types of mattresses—memory foam, latex, innerspring, and hybrids. However, you are more likely to find it inside some types of mattresses than others.
Memory Foam
Memory foam mattresses are a conforming option, excellent for relieving pressure and preventing morning aches and pains. Their production is also relatively inexpensive, and memory foam mattresses are available at all price points. There are also quite a few variations on the traditional formula, such as plant-based memory foam and gel memory foam.
Memory foam was part of the reason mattresses in a box grew to be so successful. The material was so conforming that it could be easily compressed and rolled up inside a relatively small box, allowing mattress companies to offer convenient home delivery across the country. Other mattress types are also packaged as a bed in a box, but memory foam beds remain a popular choice.
However, many memory foam mattresses do rely on fiberglass for fire protection. That's not to say it's impossible to find a memory foam mattress that doesn't contain fiberglass, only that it can be a difficult task.
Latex Foam
Latex foam is whipped from harvested rubber tree sap, making it a more natural alternative to memory foam. Manufacturers who produce natural latex mattresses often focus on including other natural or organic materials, including opting for a fire barrier that isn't fiberglass.
The benefits of a latex mattress extend beyond enjoying a mattress free of fiberglass. Latex foam is a durable material that resists permanent impressions. It's also one of the most natural mattresses on the market, beneficial for sleepers irritated by synthetic materials.
When it comes to how long a mattress lasts, natural latex mattresses often outlast other mattress options. However, the production cost of natural or organic latex layers can make it difficult for a budget shopper to afford a pure latex bed. Some may find a latex hybrid mattress suits their budget better.
See our latex vs memory foam mattress guide for more information and an in-depth comparison of these two types.
Innerspring
Innerspring mattresses are a traditional bed type and typically consist of open-coil springs sandwiched between two tin comfort layers. Fiberglass may also surround the coil core and comfort layer, so shoppers may need to investigate further if they're interested in an innerspring bed. Otherwise, they may want another bed type for a fiberglass-free mattress.
Aside from the potential of a fiberglass fire barrier, traditional innerspring mattresses have also lost some favor with shoppers because they're not as conforming as other mattress types. People who enjoy a mattress for pressure point relief may prefer another mattress type.
Hybrid
Whether or not a hybrid mattress has a fiberglass fire barrier can depend on its comfort layer. Memory foam hybrids often include fiberglass, while a hybrid mattress with latex foam is more likely to have an alternative fire barrier.
As a side note, a mattress only qualifies as a hybrid mattress if it has 2 to 3 inches of comfort foam, a pocketed coil support core, and a base to structure the coils.
Mattress Firmness
What does the most comfortable mattress possess? Well, that answer can depend on your sleeping style. Your sleeping style consists of your preferred position and your body weight, and understanding how they impact the way a bed feels can be the difference between lying on a luxury mattress or a mattress clunker.
How comfortable a mattress feels to you depends primarily on whether its firmness complements your sleeping position. Each sleeping position has its own recommended firmness range:
It's not just your sleeping position that has to be considered. Sleepers also need to shop for the best mattress for their body type to ensure their mattress will offer adequate pressure relief:
For sleepers under 130 pounds who don't press down as much as a heavier person, a bed with more conforming cushioning is necessary to wake up free of pain. A mattress for petite sleepers should fall in the softer end of their recommended range.
For sleepers over 230 pounds, their mattress needs to be able to withstand the extra force that their bodies place on the bed. Surfaces also tend to feel more conforming to a plus-size individual, thanks to the pressure they place upon it. A mattress for a heavy person often benefits from falling in the firmer end of their recommended range.
Sleepers between these two weight categories are considered "average," which means their body weight isn't a major deciding factor when browsing fiberglass-free mattresses.

Certifications for Shoppers
You don't have to just take mattress manufacturers at their word when they say a mattress is safe or free of harmful chemicals. A material certification is essentially a stamp of approval from a third-party organization, and it typically signifies one of three things:
The material is free of potentially dangerous chemicals and potentially toxic substances
The material contains minimal VOCs for reduced emissions
The material meets certain standards for socioecological responsibility
What type of certification you should look for depends on what type of mattress you want. For example, CertiPUR-US® is an agency dedicated to ensuring that memory foam and other forms of polyurethane foam are free of materials such as:
Ozone depleters
Mercury, lead, and other heavy metals
Formaldehyde
PBDEs, TDCPP, or TCEP retardant chemicals
Our unique memory foam material, Bio-Pur® foam, is CertiPUR-US® certified, as is every other poly-foam we use in our mattresses.
As a side note, CertiPUR-US® certified foam is free of fiberglass, though the agency notes that they only examine the foam itself and not any surrounding materials. So a memory foam bed with the CertiPUR-US® certification may still have fiberglass in the fire sock under the cover.
Global Organic Latex Standard (GOLS) is a helpful certification for sleepers seeking an eco-friendly mattress. GOLS ensures that processed latex foam contains only natural latex and certain other approved materials, perfect for anyone seeking an organic mattress.
Some certifications are fairly universal and can be applied to almost any mattress type. The Global Organic Textile Standard (GOTS) is a worldwide certification verifying organic fibers are processed in a socially and environmentally responsible manner. The OEKO-TEX® has a few certifications, including the Standard 100 certification for textiles that have been tested for harmful substances.
Mattress Sizes
Just as you can find every type of mattress without fiberglass, so too you can find every mattress size without fiberglass. These sizes are largely uniform across different mattress brands, though which sizes they offer can vary mildly. For example, some may not offer a split king size mattress, and a few may not offer a Californa king size mattress.
Twin
A twin mattress without fiberglass is the smallest standard size and typically measures 38 inches wide and 74 inches long. Twin mattresses are commonly used for children's beds, bunk beds, or in small guest rooms where space is limited.
Twin XL
The twin XL mattress is slightly longer than the regular twin, measuring 38 inches wide and 80 inches long. It provides additional length, making it suitable for taller individuals or college dormitories.
Full
A full size mattress, also known as a double mattress, measures 54 inches wide and 75 inches long. It offers more width than a twin but is still considered a compact option. A full mattress without fiberglass can accommodate a single sleeper comfortably or be used for couples who prefer a smaller sleeping space.
Queen
The queen size mattress is a popular choice for couples and offers more room to stretch out. It measures 60 inches wide and 80 inches long, so a queen mattress without fiberglass provides ample space for two people to sleep comfortably.
King
The king size mattress is the largest standard size and is designed for couples who want plenty of space. It measures 76 inches wide and 80 inches long, offering each person the same width as a twin bed. The extra width makes it ideal for couples who prefer more personal space while sleeping.
California King
The California king mattress, also known as a Western king, is longer but narrower than a regular king-size mattress. It measures 72 inches wide and 84 inches long, making it a suitable choice for taller individuals who need extra legroom.
Split King
A split king mattress consists of two separate twin XL mattresses placed side by side, making up the dimensions of a king size bed. Each side can be adjusted independently, allowing couples to customize their sleeping preferences, such as firmness or inclination, without disturbing their partner's side.
Frequently Asked Questions
Does every mattress have fiberglass?
No, not all mattresses rely on fiberglass for fire protection. Instead, modern fiberglass-free mattresses can instead contain fire-resistant wool, plant fires, or a silica sock that prevents oxygen from fanning the flames.
The best type of mattress to consider as you shop for a bed without fiberglass is latex foam. Not all latex mattresses are necessarily free of fiberglass, but many latex bed manufacturers rely on organic wool or another material to meet mattress safety requirements.
Why are mattresses made with fiberglass?
Manufacturers rely on fiberglass when constructing because it's relatively cheap and helps the bed resist an open flame. When fiberglass grows too hot, it melts instead of catching fire, keeping the mattress's insides from burning. Having a fire barrier inside a mattress is a crucial part of decreasing fatalities during a house fire.
Fiberglass is also considered a healthier option than the chemical flame retardants previously used to help mattresses resist an ignition source.
What can a mattress have instead of fiberglass?
Common alternatives to a fiberglass fire barrier include wool layers, flame-resistant plant fibers, and silica. If the mattress you're considering doesn't list what material it relies on for fire protection, try reaching out to the mattress brand's customer service team.
As we mentioned earlier, fiberglass was implemented to replace potentially harmful chemical barriers, so you would not want to choose a mattress that relies on chemical flame retardants to meet safety standards.
How do you know if fiberglass has escaped a mattress?
Fiberglass is difficult to see with your eyes, although some pieces are large enough for the casual observer to catch. If you're concerned about whether or not fiberglass is escaping your mattress, try turning off your bedroom lights and aiming a flashlight's beam directly on the bed and surrounding area. Fiberglass tends to shine under a bright light.
Symptoms that an individual has been exposed to fiberglass include:
Skin irritation or pain
Red or irritated eyes
Stomach troubles
Sore throats or sore noses
How do you get rid of fiberglass particles?
Fiberglass particles are too small to be sucked up by a standard vacuum cleaner. Typically, they're so tiny that they can't be seen individually by the naked eye, though the accumulated particles can be detected by their white, fluffy appearance. The particles may also have a slight shine, particularly under a bright light. Essentially, the particles may look not unlike glitter.
Do you suspect you have a fiberglass problem? You can contact a professional cleaning company and ask if they offer fiberglass removal. It's also possible to clean it up yourself with a HEPA or ULPA vacuum cleaner. We suggest wearing protective clothing that fully covers you along with a dust mask, respirator, and googles.
Before cleaning, move all of your possessions out of your home first.
The Bottom Line
Fiberglass isn't inherently bad when kept contained. However, many sleepers feel more secure when lying on a mattress with a different fire barrier. A natural latex mattress is the type of bed most likely to substitute fiberglass for another material. However, you can also find memory foam, innerspring, and hybrid mattresses that contain fiberglass alternatives.
If you're unsure whether or not a mattress contains fiberglass, we suggest reaching out to the manufacturer and asking what material it uses as a fire barrier. You can also check whether or not the manufacturer recommends against removing the mattress cover, as this can be a clue that the mattress has fiberglass that should be kept contained.
---
About the author
April Mayer has a degree in exercise physiology and is a firm believer in the power of a good night's sleep. She spends her days reading, researching, and writing about sleep, and her nights, well, sleeping. April's passion lies in helping others lead more productive lives by helping them get sound, restful sleep every night. April primarily writes about foods and vitamins for better sleep and has written several "better sleep guides" covering a wide variety of topics in her time with Early Bird. She's been a member of the team since March 2020. Additionally, as a sleep expert, April has been featured in various publications including Forbes, Greatist, Real Homes, Thrillist, Tom's Guide, and Eat This, Not That.
View all posts