Powered by Amerisleep, EarlyBird brings together a dedicated team of sleep science coaches, engineers, and product evaluators. We meticulously examine Amerisleep's family of products using our unique product methodology in Amerisleep's state-of-the-art laboratory. Our commitment to sustainability is reflected in our use of eco-friendly foam in our products. Each article we publish is accurate, supported by credible sources, and regularly updated to incorporate the latest scientific literature and expert insights. Trust our top mattress selections, for your personal sleep needs.

When you're a tall person, selecting a mattress can be a pain. This is not only because the dimensions of every mattress might not be sufficient for your body length. It's also because your weight may factor into the kind of mattress you need, especially if you're big and tall. 

If you're not sure what the best mattress is for you, check out the mattresses on our list of fantastic mattresses that won't leave your spine unsupported or your feet dangling.
Best Amerisleep Mattresses for Tall People
Quick Guide: A 30-Second Summary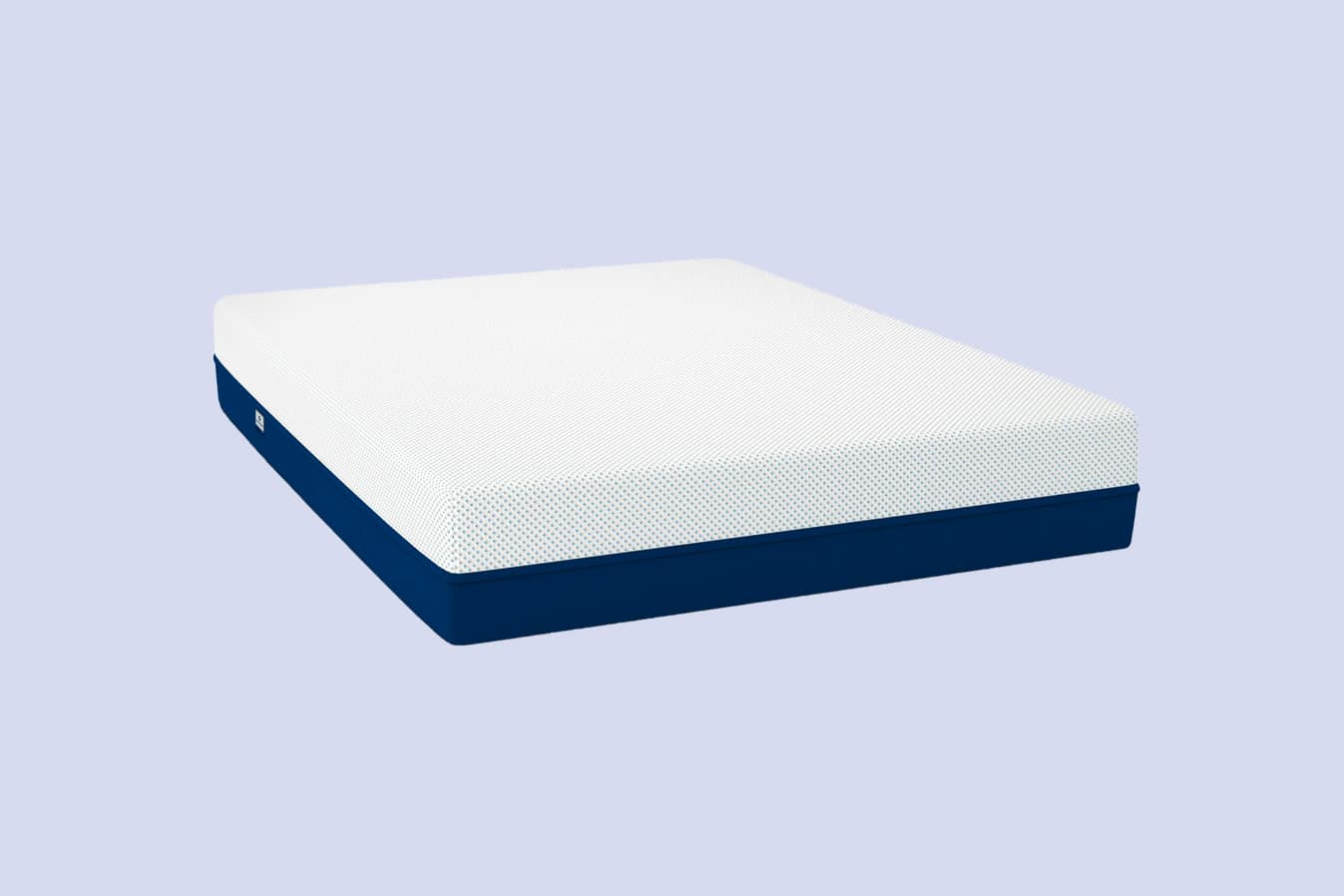 Best Mattress for Tall People Overall
Amerisleep AS3
Price Range

$1049 to $2198

Mattress Type

Memory Foam

Firmness

5 to 6 out of 10 (Medium)

Availability

All sizes

Warranty

20 Years

Thickness

12 Inches
Our most popular mattress, the AS3, can suit most sleeping styles, conforming gently to larger bodies for pressure relief and supporting the spine for restorative rest.
Mattress Highlights
Eco-friendly plant-based memory foam
Targeted support for sleepers' bodies
Durable base foam for bed longevity
Recommended For
Side, back, and combo sleepers
Hot sleepers
Couples
One of the best mattresses for tall people around, the Amerisleep AS3 offers something for just about everybody. Whether you're a hot sleeper, an active sleeper, a combo sleeper, or a tall sleeper, this could be the mattress for you.
This is all thanks to the AS3's medium feel, along with its plant-based memory foam and zoned layout. The comfort layer of this mattress is made using Amerisleep's proprietary plant-based memory foam: Bio-Pur® foam.
This foam swaps some of the petroleum products found in traditional memory foam for plant oils. This creates a memory foam that is just as contouring as any traditional memory foam and far more breathable and responsive.
Underneath this amazing plant-based memory foam, you'll find the HIVE® layer. This layer of transition foam offers five different zones with balances of pressure relief and support targeted to the needs of each specific body area.
This means that side sleepers who need firmer mattresses, such as big and tall people, can do well on this zoned mattress because the sleep technology will offer them the right amount of support and pressure relief.
Finally, the Bio-Core® base layer provides sturdy support, stability, and durability for the entire mattress. This layer ensures that you do not sink into your bed. And it also guarantees that the AS3 mattress will last at least 20 years, making it much more durable than your average memory foam mattress.
All these layers of comfort are wrapped in a cooling cover that sheds heat by converting it to healthy far infrared energy. The Refresh cover doesn't just diffuse your body heat throughout the night. It surrounds you with energy that may help improve your sleep.
Quick Summary
The plant-based memory foam offers just as much contouring as traditional memory foam and much more responsiveness and cooling power.
The zoned transition foam ensures that each area of the body gets the exact balance of support and pressure relief it needs.
The high-density base foam support core guarantees that this will be a supportive and highly durable mattress.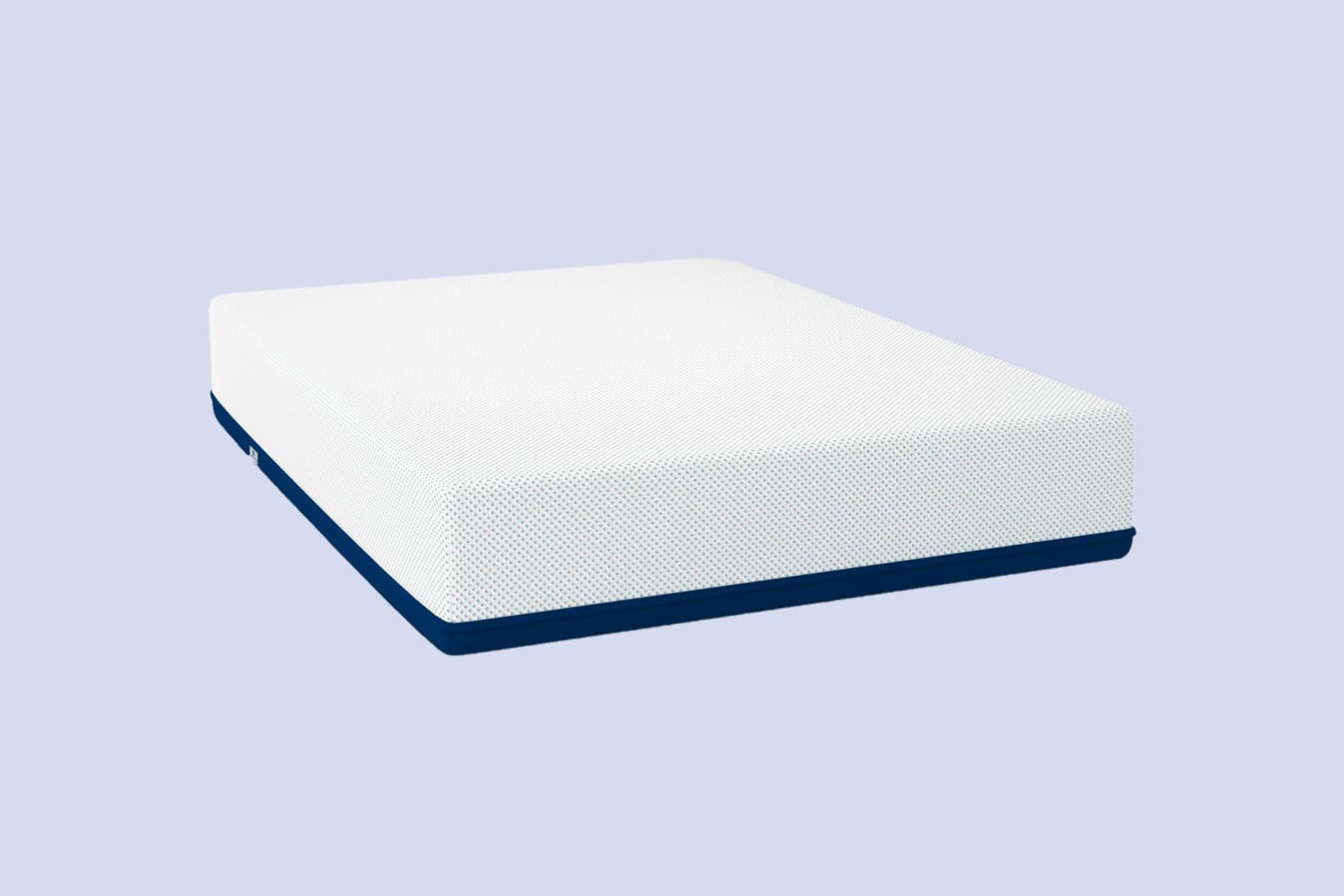 Best Soft Mattress for Tall People
Amerisleep AS5 Hybrid
Price Range

$1649 to $3398

Mattress Type

Memory Foam Hybrid

Firmness

3 out of 10 (Soft)

Availability

All sizes

Warranty

20 Years

Thickness

14 Inches
Taller sleepers who want to treat themselves to a plush yet supportive mattress will be well-served by the springy and soft AS5 Hybrid.
Mattress Highlights
Plush memory foam cushion
Buoyant Active Flex secondary layer
Pocketed coils support the body
Recommended For
Petite sleepers
Side sleepers
Hot sleepers
Tall people who need a softer mattress should check out the Amerisleep AS5 Hybrid. This hybrid mattress offers a soft feel and tons of pressure relief without sacrificing the lift and support you need to avoid sinking into the bed. This is especially important for big and tall people.
If you like the plant-based memory foam featured in the AS3, you're in luck. The comfort layer of the AS5 Hybrid is made of this Bio-Pur® memory foam too. However, you won't find a layer of zoned transition foam underneath this comfort layer.
Instead, you'll find a layer of Active Flex material. Active Flex foam adds even more softness to the feel of the mattress without sacrificing buoyancy or responsiveness. This means you get all the pressure relief you want while maintaining the lift and support you need to avoid sinkage.
Underneath this transition layer, you'll find a layer of pocketed coils. These individually wrapped coils can all move independently of one another, which means they can adapt to your shape just as well as base foam and much better than open coils.
A couple of rows of reinforced coils around the perimeter of the mattress add edge support and stability to the bed.
Quick Summary
A layer of pocketed coils offers support and adaptability all at the same time.
Active Flex transition material provides softness without sacrificing support and buoyancy.
Bio-Pur® memory foam helps keep cool air flowing to ensure this soft mattress does not overheat.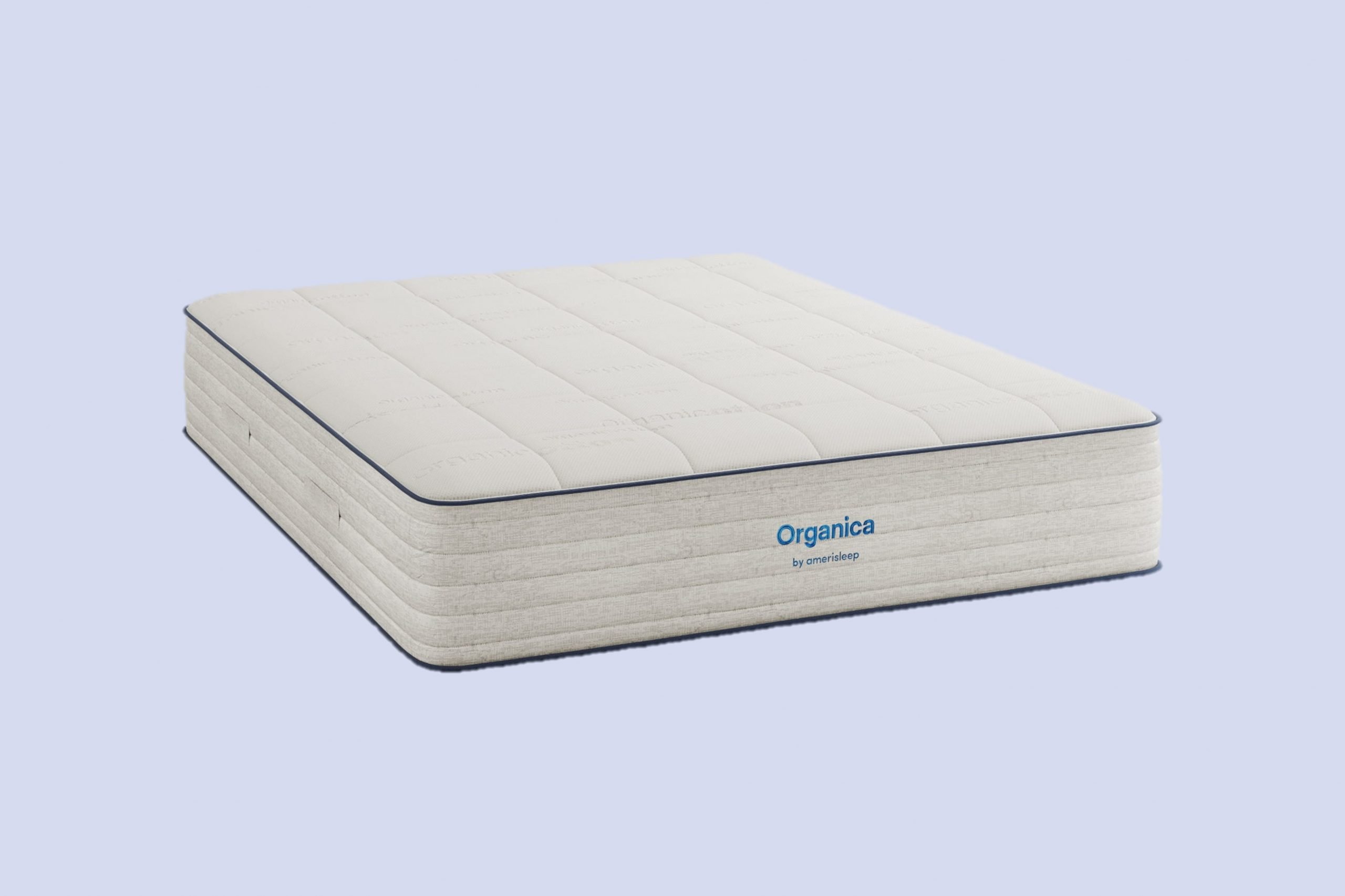 Best Natural Mattress for Tall People
Amerisleep Organica
Price Range

$1049 to $2348

Mattress Type

Latex Hybrid

Firmness

5 to 6 out of 10 (Medium)

Availability

All sizes

Warranty

20 Years

Thickness

13 Inches
Some taller sleepers are sensitive to synthetic materials, or they want to be more green-minded by using a mattress with natural and organic materials. Our recommendation for a natural mattress is the aptly named Organica.
Mattress Highlights
Latex layers with cotton and wool
Motion-isolating pocketed coils
Natural materials stay cool at night
Recommended For
Sleepers with (non-latex) allergies
Hot sleepers
Eco-conscious sleepers
Big and tall people who want an all-natural hybrid mattress should check out the buoyant and supportive Amerisleep Organica. This mattress features natural Talalay latex and organic textiles for healthy and eco-friendly sleep.
The first layer of the Organica is the organic cotton cover. This cover is made of long-staple cotton that is durable enough to resist pilling and only gets softer over time. Organic cotton is also fantastic for wicking away moisture and heat all at once.
Underneath the organic cotton cover, a layer of organic wool adds even more pressure relief and breathability to the mattress. This wool also functions as an all-natural fire barrier that eliminates the need for fiberglass or harsh chemicals.
Underneath the cotton and wool, a comfort layer of bouncy and breathable Talalay latex offers contouring and support without all the synthetic ingredients of memory foam.
This latex comfort layer sits atop a transition layer of Talalay latex. This transition layer is firmer than the comfort layer to add buoyancy to the mattress and fight sinkage.
Finally, a layer of pocketed coils adds even more breathability and bounce to an already cooling and springy mattress. Pocketed coils can circulate air better than base foam, which makes them a better option for hot sleepers.
Active sleepers will also enjoy the fact that these coils bounce back into place as soon as pressure is taken off them. This means you will never have to worry about body impressions or slow response time with the Organica.
Quick Summary
Two layers of all-natural latex create a highly contouring sleep surface that is buoyant and responsive at the same time.
Organic wool and cotton work together to keep you cool and sweat-free all night.
A support layer of pocketed coils adds even more bounce and breathability to the already bouncy and breathable latex layers.
How to Choose the Best Mattress for Tall Sleepers
Tall people need to pay the most attention to their mattresses' dimensions and firmness levels. This is because the best mattress for your needs to be long enough to keep your feet from dangling and supportive enough to keep your spine aligned – especially if you're big and tall.
Best Mattress Sizes for Tall Sleepers
When you're tall, there are some mattresses you can sleep on and some you can't. Generally speaking, you will need at least 80 inches of length. The good news is this means you still have access to the majority of the standard mattress size run.
Twin
Twin mattresses are one of the mattresses you cannot sleep on if you are tall. Twin mattresses are only 38 by 75 inches. This means that the mattress itself is only a few inches over six feet. When you factor in pillows and your arms above your head, your feet will definitely be hanging over the edge.
Twin XL
If you're tall but still need a more compact mattress for a small space, a twin XL mattress is a much better choice. This mattress size is still 38 inches wide but is a full 80 inches long. This gives you a few extra inches for pillows and keeping your arms above your head without taking up too much more space in the bedroom.
Full
The full size mattress is another one of the mattresses that you really can't sleep on if you're tall. At 54 by 75 inches, it is just barely over six feet long. This means that it will likely not be comfortable for you if you are close to or over six feet tall.
Queen
If you want a mattress that's close to the full in size while still being able to accommodate your height, check out the queen instead. A queen mattress is 60 by 80 inches. That means it has a lot more room for tall sleepers to stretch and spread out.
Standard King
Couples where one or both partners is tall might consider the standard king mattress. At 76 by 80 inches, this bed offers each partner the same amount of space as a twin XL mattress. This gives tall sleepers and couples alike plenty of personal space.
California King
If you're well over six feet tall, even an 80-inch-long bed might not be long enough for you. This means you might want to check out the California king bed. California king mattresses are 72 by 84 inches.
This is a full six by seven feet, so even super-tall sleepers can enjoy this mattress. Best of all, it's still wide enough to comfortably accommodate couples.
Oversize Kings
Those who are extremely tall may have to use one of the oversized king beds. These king mattresses are not part of the standard size run. Instead, they're bigger than any regular-size bed – sometimes much bigger.
Texas King
The Texas king is an ultra-wide mattress. It's only 80 inches long, but it's 98 inches wide. It's usually intended for families who sleep with multiple small children.
However, ultra-tall people can also consider flipping the mattress around to make its width its length. This gives you just over eight feet of length to work with.
Wyoming King
Those who can get away with an 84-inch-long mattress but want more width than the California king offers should check out the Wyoming king. Like the state for which it's named, the Wyoming king is big and square.
It's 84 by 84 inches – or seven by seven feet. This gives you plenty of room to stretch and spread out.
Alaskan King
Tall sleepers who want the biggest bed of all should check out the Alaskan king. This massive bed is a full 108 by 108 inches – or nine by nine feet. At this size, this bed is just as big as some smaller bedrooms. Virtually everyone of every height and size can sleep on this gigantic bed.
Best Mattress Firmness for Tall Sleepers
Big and tall people don't just need to think about their bed's dimensions when picking a mattress. They may also need to take their size into account when it comes to their mattress firmness level.
This is not always true, and it depends more on your weight than your height. However, since many tall people are also on the heavier end, it may be even more important for them to take their weight into account.
Sleep Position
Even though your body weight does impact your firmness needs, your sleep position is the one factor that has the most impact on your firmness baseline. Your sleep position dictates how your body contacts the bed, where your pressure points are, and how your spine lines up.
Back Sleepers
When you sleep on your back, you have two issues that a mattress for back sleeping must address. The first problem arises if your mattress is too firm. If this is the case, it cannot contour and will allow your spine to fall out of alignment when your lower back collapses onto the bed.
The other problem arises if your mattress is too soft. In this case, you can wind up sinking into the sleep surface and sleeping in a hunched position.
Either way, you will wind up suffering back pain. This is why the best firmness level for back sleepers is medium-firm (6 of 10). Medium-firm mattresses offer a balance of pressure relief and support that slightly favors support. This can keep your body lifted while preserving sufficient contouring.
Combo Sleepers
Combination sleepers don't have a strong preference for any sleep position. They may sleep on their stomachs, sides, or backs at any point. This means they need a highly versatile mattress for combination sleeping that can accommodate all these different positions without being designed for any single one.
This is why medium mattresses (5 of 10), which offer an even balance of lift and cradling, are the ideal choice for most combo sleepers.
Side Sleepers
Side sleepers usually have problems with painful pressure points, especially if they do not get enough pressure relief. When you sleep on your side, your body weight presses one shoulder and one hip joint into the sleep surface. An overly firm mattress will push back, exerting pressure and leaving you with painful pressure points. So a mattress for side sleeping must address this with lots of cushioning.
This is why soft mattresses (3 of 10) are usually best for side sleepers. These mattresses absorb pressure and cradle the pressure points to prevent pain while still keeping the spine aligned.
Stomach Sleepers
Stomach sleepers have the most issues with spinal alignment of any sleep position. This is because sleeping on your stomach causes your pelvis to sink into the mattress. If a mattress for stomach sleeping is not firm enough, this will overarch your lower back and lead to pain in the lumbar region.
This means stomach sleepers need firm mattresses (7 of 10). A firm mattress offers enough support to keep the pelvis lifted and the lower spine properly aligned.
Body Type
Though your sleep position preferences determine your firmness baseline, your body weight can still factor in.
Average-Weight Sleepers
If you weigh between 130 and 230 pounds, we have good news. You fall into what the mattress industry has labeled the average human weight range. You do not have to alter your firmness choices based on your weight. If you go outside this range, you may have to alter your selections.
Petite Sleepers
Petite sleepers weigh less than 130 pounds. Typically, when you weigh less than this amount, you can have problems with insufficient pressure relief because your body weight does not exert enough pressure on the mattress to sufficiently compress it.
This means you should go down a firmness level from the one that corresponds to your sleep position when considering mattresses for lightweight sleepers. For instance, a petite back sleeper might want to consider going down to a medium from a medium-firm mattress.
Plus-Size Sleepers
If you weigh more than 230 pounds, you can wind up having the opposite problem as petite sleepers. Heavier sleepers tend to compress their mattresses too much, meaning they don't get enough support, and the spine can fall out of alignment.
To counter this issue, try going up a firmness level in mattresses for heavier sleepers. For example, heavier side sleepers might do better on a medium-soft or even a medium mattress.
FAQs
How much should I pay for a mattress for tall people?
If you're tall, you may have to make your peace with paying a little more for a comfortable mattress. This is not necessarily because you have to buy a certain type of mattress but because you'll likely be buying a larger-size mattress. And of course, larger mattresses are more expensive.
If you get a twin XL mattress, you can still keep your mattress pretty affordable. You can also find affordable mattresses if you stick with less expensive materials like memory foam. But still expect to pay between $600 and $2,000 for a mattress that can accommodate your height.
What mattress size do I need if I am a tall sleeper?
Generally speaking, you should avoid mattresses that are less than 80 inches long if you're tall. This means you can't sleep on twin or full size mattresses. Don't worry, though. You still have plenty of options.
Tall sleepers who want an 80-inch mattress can choose between twin XL, queen, and standard king size mattresses, depending on the width they need. All these mattresses have varying widths and are 80 inches long.
Ultra-tall sleepers can opt for a California king, which is 84 inches long. Those who are too tall even for a California king can consider oversized king options or look at custom mattress sizes.
Which mattress firmness is best for tall sleepers?
If you're big and tall, you're likely to need a firmer mattress to account for your body weight. However, remember that your mattress firmness depends more on your sleep position than your height or weight. Your sleep style should decide your firmness baseline.
Then, you will go up or down in firmness depending on your body weight. Your height alone will never impact your firmness needs. What impacts your firmness needs is whether you fall into the mattress industry's definition of the average human weight range of 130 to 230 pounds.
If you weigh more than 230, you will need to go up a firmness level. But if you weigh between 130 and 230 pounds, you will not have to change your firmness level at all. Those who weigh less than this will even have to go down a firmness level.
What kind of mattress do I need if I am tall but lightweight?
Your height does not impact your firmness needs at all. Your weight does. If you're big and tall, you likely weigh more than 230 pounds and will have to go up a firmness level. But if you weigh less than this, you may not have to worry about altering your firmness at all.
Only if you weigh less than 130 pounds do you have to consider going down a firmness level from the one that corresponds to your sleep position.
Those who are lighter weight may want to consider materials that offer lots of pressure relief without sacrificing support, such as latex foam or hybrid construction.
Do I need an oversize mattress as a tall sleeper?
If you are tall but not ultra-tall, you can likely sleep just fine on one of the mattress sizes that offers 80 inches of length. Even if you are very tall, you can likely still get away with a California king because it is a full seven feet long.
Only if you are well over six feet tall, pushing seven feet, will you need to consider one of the oversized king beds. Keep in mind that only the Alaskan king offers more length than the 84 inches offered by a regular California king unless you're willing to flip a Texas king longways.
If these beds are too big for your room, you may have to consider an alternative, such as a custom mattress.
Bottom Line
If you're tall, you may have had a hard time in the past finding the right mattress for your needs. However, as long as you pay attention to your sleep needs and body type, you can find an amazing mattress, no matter your height.
---
About the author
Geoff McKinnen is a writer focusing mainly on the healthcare industry and has written articles on everything from foods to help you lose weight to the connection between Alzheimer's and sleep. Geoff's passionate about helping readers improve their well-being to lead happier lives. Outside of work, Geoff enjoys cycling and hiking and believes that by leading a healthy lifestyle, he can help others do the same.
View all posts