If you're looking to get the most out of your living space, consider getting a daybed, a versatile piece of furniture that you can use as both decoration, a couch, or a bed.
Although a daybed can seem like a temporary sleep solution solely for guests, the right mattress can make your daybed comfortable enough for you to use it every night. Look for a mattress with the right firmness for your needs.
Whether you're looking for a daybed for yourself, your kid's room, or even a guest room, we've rounded up some of our favorite options for the best daybed mattress.

The Amerisleep AS1 is our firmest and thinnest mattress, making it a good option for a daybed you'll frequently use as both a couch and bed. At 10 inches thick, we designed this firm mattress for back and stomach sleepers but also is comfortable to sit on.
We built the top layer of the AS1 with 2 inches of Bio-Pur®, our plant-based memory foam. Bio-Pur® promotes more airflow and is extra buoyant when compared to traditional memory foam so you stay cool and don't feel stuck in bed. It also lasts longer and provides more pressure relief than standard memory foam.
The bottom layer of the AS1 is 8 inches of Bio-Core®, our durable base layer. Bio-Core® provides a supportive layer to ensure your spine is neutrally aligned. It also has solid edge support to make getting in and out of bed easier and prevent the bed from sagging.

The AS2 is another one of the firmer mattress options we offer but has a bit more cushioning for a medium-firm feel. We constructed the AS2 with three unique layers of foam.
The AS2 is 12 inches thick and has 2 inches of Bio-Pur®, just like the AS1. But unlike the AS1, we added a 3-inch Affinity transition layer to the AS2.
The Affinity layer contains HIVE® technology, a unique support system with 5 zones. This foam layer is more supportive around your head, back, and legs, but softer around your shoulders and hips. By adding this feature, the mattress evenly distributes your weight and prevents pressure points.
Furthermore, the AS2 has 7 inches of Bio-Core® to add support and durability to your bed.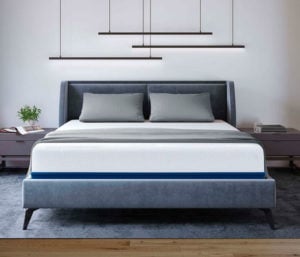 If you're a combo or side sleeper, take a look at our best-selling mattress: the Amerisleep AS3. Our 12-inch memory foam mattress provides the perfect blend of comfort and support and works well if you plan on sleeping on your daybed regularly.
The AS3 has a medium firmness. It contains 3 inches of Bio-Pur®, a 2-inch Affinity layer with HIVE®, and 7 inches of Bio-Core®.
The foam in all of our mattresses are CertiPUR-US® certified. This certification means the foam in our mattresses are free from harmful chemicals, heavy metals, and meet CertiPUR-US's® standard for content, emissions, and durability.
Our mattresses come with a 100-night sleep trial and a 20-year warranty. Not only that, but we ship our mattresses to your home for free.
Tips for Choosing a Daybed Mattress
When looking for the best mattress for a daybed, you should consider what size, thickness, mattress firmness, and mattress material you want. The size and thickness impact how your daybed will function in your home, while the firmness and materials affect how comfortable your daybed will be.
Size
Most daybeds are the same twin size bed frames and are made to fit a twin size mattress (38 by 75 inches), but you can find some full (54 by 75 inches) and narrow twin beds (30 by 75 inches) as well. Since it's so small, a narrow twin daybed is best for sitting and the occasional guest or child to use.
When considering your daybed mattress's size, think about how you plan to use it. If you'll only be using it as a couch, a narrow twin or twin size mattress is likely best because it won't take up too much space in your home. On the other hand, if you want to use it as your regular bed, a full bed might be a bit more spacious and comfortable.
With this in mind, mattress size affects the price. The bigger your mattress, the higher the price, and vice versa.
Thickness
With a daybed mattress, mattress thickness is especially important to make it usable as a couch. Too thick of a mattress may make it too heavy for the daybed frame's capacity and can make the bed too tall. When you're on a couch, it should be tall enough for your feet to touch the floor and your knees to be in line with your hips.
On the other hand, too thin of a daybed mattress can make it uncomfortable for regular use and even just to sit on. We recommend using at least an 8-inch mattress if you want to use your daybed every night, but it should be no thicker than 12 inches so it won't be too tall.
Firmness
Mattress firmness determines how much cushioning your bed has and impacts your comfort. Verified Source Research Gate Network service for scientific researchers that makes it easy for experts to find and share papers. View source Deciding on mattress firmness right for you comes down to your size and sleeping position.
Based on your sleeping position, you should choose the following mattress firmness:
Side sleepers should use a soft or medium-soft mattress
Back sleepers should use a medium or medium-firm mattress
Stomach sleepers should use a medium-firm or firm mattress
Mattress companies base their firmness recommendations on the average-sized adult who weighs between 130 to 230 pounds. So, if you weigh more or less than this, you should alter your firmness preferences slightly:
If you weigh less than 130 pounds, choose a mattress softer than what's recommended for your sleeping position.
If you weigh more than 230 pounds, choose a mattress firmer than what's recommended for your sleeping position.
Understandably, mattress firmness can get a bit confusing, but it doesn't have to be. Most reputable mattress brands offer a sleep trial where you can test out a mattress at home for between 30 to 365 days and decide if you enjoy the firmness.
Materials
Your mattress's materials can affect its feel and durability, both when you're sitting and sleeping on it. The most common mattress types include memory foam, latex, innerspring, and hybrid beds.
Memory Foam
Memory foam provides the sensation of sinking and feeling hugged by your mattress. It's luxurious, cozy, and relieves pressure, making memory foam mattresses a good choice if you suffer from pain.
Some sleepers complain that memory foam is hot, but most modern memory foams contain cooling materials such as gel or graphite to improve the beds' breathability.
Latex
Latex is a natural mattress material known for being durable and pressure-relieving. It's produced from the sap of rubber trees. If you find memory foam a bit too cradling or hot, latex is a better choice since it's more buoyant and breathable. However, latex mattresses are typically more expensive than memory foam since it's a natural product.
Innerspring
Innerspring mattresses have a steel coil support layer. Nearly all innerspring mattresses either have a pillow top or Euro top, plush upper layers to make the mattress more comfortable. The comfort layers are commonly made from foam, cotton, down, or polyester.
Although spring mattresses were once popular, they're not very durable and can get uncomfortable quickly. The pillow top can get lumpy and flat within a couple of years of use. After that, the metal springs might start poking through the mattress, scratching you while you sleep.
Also, innerspring beds always need box springs while you can pair other mattress types with a variety of foundations.
Hybrid
Hybrid mattresses are a blend of innerspring and foam mattresses. They feature a pocketed coil support system and comfort layer made from memory foam, poly-foam, or latex. However, a hybrid's foam comfort layer must be at least 2 or 3 inches thick for it to be called a hybrid mattress versus a simple innerspring mattress.
Hybrid mattresses feature pocketed coils that move independently of each other instead of coils that are hooked together. Pocketed coils are encased in fabric, making them more durable and quiet. Plus, the coils are unlikely to poke through the mattress and bother you, like they can on an innerspring.

In summary, hybrid mattresses are a comfier and more durable version of innerspring beds.
What is a Daybed?
A daybed is a bed with frames on three sides, giving the appearance of a deep couch. You can use a daybed as a bench, sofa, and a bed, depending on what you need at the time.
Daybeds usually fit a twin or full mattress, and while regular sofas are only 18 to 22 inches deep, a daybed is between 39 to 54 inches deep. Additionally, daybeds come with wood or metal slats to support your mattress, so you won't need an additional foundation.
Benefits of a Daybed
Daybeds are a practical piece of furniture if you're looking for some extra seating or somewhere for guests to sleep. Although the constructions of daybeds vary, you can use most of them as a bed, bench, couch, or storage unit.
Decorative
If you add some nice pillows and a throw blanket over your daybed, it makes for a great focal point to your guest bedroom or a kid's room. The framed-in design also gives a daybed the appearance of a couch, which can give the bed a more subtle appearance, especially if you're using it in an office or guest room.
Maximizes a Small Space
When you're working with a small space, a daybed is versatile and can save you space for other furniture or activities. You can also save money on just buying a daybed versus buying a couch and a bed plus all of their accessories.
Some daybeds even come with a trundle bed, a roll-out bed you can pull out from under the main mattress. You can also find a daybed with built-in storage shelves or drawers as well, which you can use to store clothes, kids' toys, or whatever else is lying around your home.
Multipurpose
With a daybed, you have the option to use it as your regular bed or as a sleeping space for the occasional guest. Even if you just use your daybed as a couch, it may prove more supportive than your typical sofa thanks to the mattress.
Since daybeds come in many different shapes and designs, you can use them as an attractive bench in a hallway or the entrance of your home.
FAQs
Can you sleep on a daybed all the time?
Yes, but if you plan on sleeping on a daybed regularly, be sure to choose a thicker and high-quality mattress so you're well-supported and comfortable.
Some daybed mattresses are thin and low-quality. While this might be fine if you use your daybed as a couch or for the rare guest, it won't be comfortable for nightly use.
Can adults use daybeds?
Yes, but as an adult, you may prefer getting at least a full size mattress for the extra space to move around. Also, if you're taller than 6 feet, most daybeds might be too short to use comfortably since they're only 75 inches long. Choose a twin XL or full XL daybed since they're 80 inches long and are more accommodating for taller adults.
How much weight can a daybed hold?
Most daybeds can carry roughly 450 pounds. However, the exact capacity of your daybed will depend on your specific daybed frame and its size. Full size daybeds carry more weight than twin size daybeds.
What's better, a daybed or futon?
Futons are sofas you can unfold into a mattress. They originated in Japan, but have quickly become popular internationally.
Futons and daybeds serve the same purpose: they're both couches and beds, and they help save space. However, with a daybed, you can personalize the mattress on it, while a futon has cushions attached to it. Futons cushions aren't always the nicest—they can be overly firm, springy, and flatten out easily.
Generally, daybeds are the more luxurious and aesthetically pleasing piece of furniture.
What's the difference between a daybed and a sofa bed?
Daybeds are couches with a mattress in the place of sofa cushions. Conversely, sofa beds—also known as sleeper sofas—appear and act as regular sofas with normal cushions.
Beneath the cushions of a sofa bed is a tucked-in mattress that you can unfold and use as needed. Once you need to use the sofa bed as a couch again, you simply stow away the mattress and replace the sofa cushions.
With a sofa bed, items such as blankets and pillows won't fit inside the couch when everything is folded away, so you'll need to find somewhere else to store those. Also, sofa bed mattresses may be a bit thin and uncomfortable to use on a nightly basis.
Conclusion
When it comes to getting a daybed mattress, consider how you plan on using it before choosing a mattress. If you want a daybed for regular sleeping, a high-quality and thicker mattress is the best choice. Conversely, if you want to use a daybed as a comfier couch or for the occasional nap, a thinner mattress may work better.
This article is for informational purposes and should not replace advice from your doctor or other medical professional.
---
About the author
Mitchell Tollsen is a graduate student and a freelance writer who's contributed to the Early Bird blog for three years. Mitchell's always been fascinated by the science of sleep and the restorative processes our bodies undergo when at rest. The self-titled "Sleep Expert" is always looking for ways to improve his shut-eye, and throughout the years has implemented numerous lifestyle changes and tried dozens of sleep-promoting gadgets to determine the best ways to truly get better rest.
View all posts