Mattress Sizes and Dimensions Chart
| Mattress Size | Dimensions in Inches | Dimensions in Centimeters |
| --- | --- | --- |
| California King | 72" X 84" | 183 X 213.5cm |
| King | 76" X 80" | 193 X 203.5cm |
| Olympic Queen | 66" X 80" | 167 X 203.5cm |
| Queen | 60" X 80" | 152 X 203.5cm |
| Full XL | 54" X 80" | 137 X 203.5cm |
| Full | 54" X 75" | 134.5 X 190.5cm |
| Twin XL | 38" X 80" | 96.5 X 203.5cm |
| Twin | 38" X 75" | 96.5 X 188.0cm |
| Small Single | 30" X 75" | 76.2 X 190.5cm |
| Crib | 27.25" X 51" | 69.2 X 129.5cm |
Apart from the texture and feel, there is another very important facet of your mattress which influences your choice—the size. Getting the right size mattress is one of the crucial determinants leading towards the ultimate goal of a good night's sleep.
When looking for a new mattress, choosing the right size from a plethora of options can be difficult, especially when there are sub-categories in certain segments. With very little difference in dimensions between certain sizes, getting the right fit for yourself can be a daunting task.
Want to discover the best mattress of 2023? Read here.
The size of your bedroom and your budget are key factors in your decision-making process when looking for the ideal bed size. In this mattress sizes and dimensions guide, we will discuss the different mattress sizes available and the recommended room size for each of them to help you choose the most-fitting mattress size. For most homes though, a Queen size mattress (60" x 80") is the most popular option but plenty of people opt to go smaller with Full size mattresses (54" x 75") or larger Kings (76" x 80").

Standard Mattress Sizes
Most mattress brands offer the following six sizes.
California King Size Bed Dimensions

72 inches by 84 inches
Minimum recommended room size: 12 feet by 12 feet
The California king size is the one of the longest bed sizes available (in terms of standard mattress sizes). It is 4 inches longer than the king size but is also 4 inches narrower. So technically what you gain in length, you lose in width in a California king bed— but the extra length makes it suitable for tall sleepers. California king beds can accommodate two sleepers comfortably and sometimes an extra sleeper as well, like parents co-sleeping with their child. This makes it a good choice for families.
King Size Bed Dimensions

76 inches by 80 inches
Minimum recommended room size: 12 feet by 12 feet
Sleeping on a king size bed is sleeping in luxury. There is enough room for two sleepers to sprawl and sleep in their own space. It provides 4 inches of extra width than the California King, but it's 4 inches smaller in length. King mattresses are the widest available standard size, making it a good choice for families— if parents want to co-sleep with their children, this size can accommodate them.
Queen Size Bed Dimensions

60 inches by 80 inches
Full Size Bed Dimensions

54 inches by 75 inches
Minimum recommended room size: 9 feet 6 inches by 10 feet 6 inches
A full-size mattress is best suited for a single sleeper. For couples, a full size mattress might not be a good choice for a comfortable sleep, but for an individual, this provides enough space to sleep comfortably and also fits into most rooms without making it look crowded. This size can also serve as a good option for a spare bed.
Twin XL Size Bed Dimensions

38 inches by 80 inches
Minimum recommended room size: 9 feet 6 inches by 10 feet 6 inches
This size is 5 inches longer than the standard twin size, making it a preferred choice for taller individuals. The twin XL size is always a good option to accommodate extra guests on short notice. Since they don't require much space and are less expensive than a queen or a full, it won't be difficult to have one as a spare.
Twin Size Bed Dimensions

38 inches by 75 inches
Minimum recommended room size: 7 feet by 10 feet
The smallest of all standard sizes, this is one of the most common beds available. The twin size mattress is good for children and teens alike, accommodating children in their growing stages.
However, a twin or single size mattress may not be a good fit for a full-grown adult. It is a good size to fit into smaller rooms, and ideal for bunk beds, too.
Please note: Our Amerisleep twin size mattresses measure 38 inches by 74 inches. 
Other Mattress Sizes
These sizes can be trickier to find, with many of them requiring you to order a custom mattress from a manufacturer.
Olympic Queen Mattress Dimensions

66 inches by 80 inches
Full XL Size Bed Dimensions

54 inches by 80 inches
Minimum recommended room size: 9 feet 6 inches by 10 feet 6 inches
The full XL size has an extra 5 inches in length than a standard full. The extra legroom makes it a good fit for taller individuals sleeping by themselves. It can also be a good choice for a spare bed in your guest room, although some hosts prefer to offer a standard queen size mattress to accommodate couples.
Small Single Size Bed Dimensions

30 inches by 75 inches
Minimum recommended room size: 7 feet by 10 feet
Single mattresses and twin mattresses have the same dimensions, so these terms are often used interchangeably. However, the "twin" size is much more common nowadays, so if you have your eye on a single bed, a twin is just what you need.
Crib Size Bed Dimensions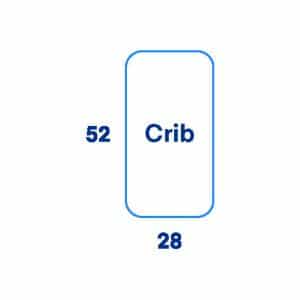 27.25 inches by 51 inches
A crib size mattress is approximately 6 feet by 4 feet and only meant to fit inside a crib. The standard crib mattress size is regulated by the federal government for safety reasons. So it's pretty easy to find crib size sheets that fit your mattress, as long as the crib mattress you choose is up to the current standards.
A crib size mattress should not be more than 6 inches thick. Ideally a crib size mattress should also offer a firm feel to support an infant's body.
Other Mattress Size Factors that Influence Your Decision
Buying a mattress is a long-term investment in your health, and there are a number of things to think about during your search for the best mattress. Almost all mattress types (memory foam, latex, innerspring, and hybrids) are available in all standard sizes, but factors like the size of your bedroom also have to be considered while deciding on the size of your mattress.
Who's Using the Mattress
This is one of the most critical factors to be considered while choosing the perfect mattress size. If you are an individual sleeper who does not share a bed with anyone, you can eliminate king and California king mattresses from your list— queen, full, or full XL beds would likely be the most fitting. We recommend queen and full XL mattresses to those who prefer some space to sprawl, and full and twin XL options to sleepers who need to save space.
However, if you plan on sharing your mattress with a partner or child, you'll want to choose a queen, king, or California king. If you and your partner like to co-sleep with your children, a king or California king would be better accommodating.
Size of the Room
Keep in mind that your bedroom does not comprise just your bed. You need to leave space for movement and other comfortable furniture. The bedroom is your relaxing space, where you crawl into at the end of the day to rest and rejuvenate yourself. An overcrowded space may cause stress and make sleep more difficult. So a huge bed in a tiny room is not an ideal recommendation.
Location of the Bedroom
Maneuvering a king or California king size mattress may be difficult for some, so when buying a new bed be mindful of the size. If your bedroom is not on the first floor, consider the width of the stairways and how challenging it might be to get the mattress from one floor to another. Bed in a box mattresses are a solution to this once-common problem, but some beds can still be difficult to maneuver.
Budget
Budget is another important criterion because it determines available options. Once you have gone through all the other factors, it is time to step back and set a realistic budget for yourself. Look at materials, mattress brands, and read mattress reviews to determine the best choice.
Other Mattress and Bedding Size Guides
Mattress Sizes FAQs
Is the California king bigger than the king?
They're similar in size, but the California king is 4 inches longer than the standard king while the king is 4 inches wider than the California king.
Are there any more sizes of mattresses?
There are some oversized beds like the Alaskan king, Texas king, and Wyoming king, but they are way larger than the standard king and California king and are not easily found on the market.
What is the difference between a twin and a single mattress?
The dimensions; a single mattress is slightly smaller than a twin and best suited for toddlers. A twin size mattress will work with a toddler or a child transitioning out of a crib, but it will also grow with them as they get older. Twin size beds are even suitable for teenagers.
Is a full size mattress big enough for 2 people?
It depends on the size of the couple and their sleeping preferences. If you need more room to spread out or if you move around a lot while you sleep, a full size bed may be too small. If one or both of you are taller or wider than average, a full size mattress probably won't offer enough space.
Are full size mattresses the same as double beds?
Yes, full size and double mattresses are the same. Both mattresses are 54 by 75 inches. The name "double" comes from the idea that a full size mattress is twice the size of a twin, but it's actually 16 inches wider and 1 inch longer.
What size mattress do two side-by-side twin beds make?
Contrary to popular belief, two twin size mattresses side-by-side do not equal a king. However, two twin XL mattresses are equal to a king size bed. Two twin size mattresses are just as wide as a king, but not as long (they are 5 inches shorter).
What's the largest mattress size?
The largest mattress size is an Alaskan king, which is 9 feet by 9 feet. To put that into perspective, a standard king size bed is closer to 6 feet by 7 feet.
What's the most popular mattress size?
The most popular mattress size today is the queen. It's large enough for most couples but fits into an average-sized bedroom. It's also a nice option for single folks who need more surface area than a twin size mattress can provide.
Conclusion
Just as the firmness and type of mattress you choose play a role in your overall comfort, finding the right size mattress is equally important. To optimize your comfort level during your sleep, space is crucial, not just the space of the bed, but also the aesthetics of space in your bedroom. You have to walk the balance between your needs, your room size, and your budget to get the most out of your mattress.
---
About the author
McKenzie Hyde is a Certified Sleep Science Coach and a full-time writer focused on sleep health and the mattress industry. She currently writes articles on a variety of topics, ranging from sleep hygiene to the newest trends in the mattress and bedding industry. Just some of the topics she has covered include best sleep practices for students, the consequences of going without sleep, and choosing the right bed if you suffer from back pain. McKenzie Hyde holds a Master of Arts degree from Utah State University where she studied literature and writing. While there, she taught argumentative writing and wrote a variety of articles and analyses for literary and academic journals.
View all posts