Today's Mattress Sale from Amerisleep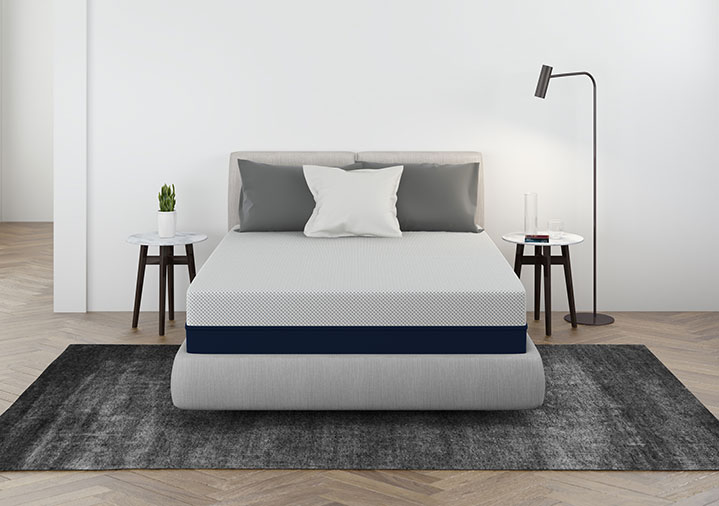 Superior Comfort at an Affordable Price
Get an Amerisleep mattress at the best price available by shopping our Black Friday Mattress deals. Plus, save 25% off all accessories and up to $900 when you upgrade to an adjustable bed package.
FAQs
When is the best time to buy a new mattress?
Sales are tempting—sometimes we're persuaded to buy something we don't need just because it's on sale. But for some, a mattress sale is the perfect opportunity to get a high-quality bed for a good price. If you've had your current mattress for around 5-7 years and you're starting to notice one or more of these issues, it may be time for a replacement:
Your mattress is sagging even if you're not on it
Your mattress is trapping heat
You wake up with pain
You wake up feeling tired, achy, and stiff
You feel "trapped" or stuck on your mattres
You can feel your partner's movements (there is little to no motion isolation)
You sleep better on a different mattress
Do mattress sales usually include other sleep accessories?
It's common for mattress companies to include other products as part of their sales. For example, many will throw in some free pillows with a mattress purchase or they will offer adjustable bed frame and mattress bundle prices. Remember, a mattress deal isn't worth it if you don't need the freebies they offer; however, many of these sales and deals can be a great way to complete your bedroom for a good price.
Other bedding and sleep accessories you'll often find on sale with mattresses include:
Since it seems like mattress sales are ongoing, it's hard to know which one really offers the "best" deals. On top of that, how can you possibly keep track of them all? We recommend shopping during the big sale weekends, since most places mark down their prices at this time, creating competition. In other words, you're likely to find the very best prices during these sale weekends:
President's Day
Memorial Day
4th of July
Labor Day
Black Friday
How long should a mattress warranty be?
The mattress industry's standard warranty length is 10 years, so choose a mattress with a warranty at least this long. The 10 years usually covers the life of the mattress (most beds last anywhere between 5-10 years, depending on the mattress type and how well they are maintained).
Mattress warranties vary slightly across brands, but most will cover the following defects:
Sagging below a certain depth (usually one inch, but can be more or less)
Bunched up foam
Burst or broken coils
Tears or rips in the cover or fabric not caused by the owner
Broken zipper(s)
If the mattress you're considering doesn't come with a warranty, we recommend looking elsewhere. A warranty protects you against certain issues beyond your control, and sleeping on a mattress with any of these problems can interrupt your sleep.
How long is a mattress sleep trial?
Sleep trials are a fairly new perk in the mattress industry. They act as a superior replacement for trying out a mattress for just a few minutes in a store. With sleep trials, you get to try out the bed in your own home on your own foundation or frame for up to 3 months.
It takes about 30 days for your body to adjust to a new mattress—so your sleep trial should last at least that long. If you decide to send the bed back within the sleep trial period, find out if the company will pick up the bed for free or if they charge a restocking or pick-up fee. You might be concerned about what happens to the mattress after you send it back—most companies donate the used mattresses, but always do some research to find out what they do with the returned bed.
How firm should my mattress be?
A "comfortable" mattress means something different to everyone, and it usually comes down to sleeping position.
Side sleepers typically like a medium mattress (on a firmness scale from 1-10, with 1 being very soft and 10 being very firm, this is somewhere between 5.5-6.5). Many mattress brands only sell one model and it's typically a medium, since this firmness appeals to most sleepers.
Back and stomach sleepers need a firmer mattress surface to keep their spine in alignment. They usually choose a firm or medium-firm mattress.
If you're a side sleeper looking for something softer, try medium-soft or soft models with strong, supportive cores that will deter sag.
Will I sleep hot on my new mattress?
Memory foam, while extremely popular, is known for trapping heat. Those who sleep hot might be tempted to avoid memory foam altogether, but lots of memory foam models are made with cooling technologies to avoid this problem.
Gel memory foam mattresses conduct heat away from the sleeper; other cooling materials often infused into memory foam include charcoal, graphite, or copper. Look for mattresses with advanced open-cell foams that allow air to flow through them more freely.
What size mattress should I buy?
If you are buying a mattress for a toddler or child younger than 12, we recommend a twin or twin XL mattress. Pre-teens and teenagers grow quickly, so a twin XL might be too small; at that point, look at full-size mattresses or even queen size beds.
If you're on the taller side, a queen-size bed might be too short—California king beds work well for those who need more length than width. Most couples are comfortable on queen or king-size beds.
What is the best mattress to buy during a sale?
As you sift through all the sales, it can be hard to know which mattress will best fit your needs. After all, you want to end up with a quality mattress you'd still pay full price for even if it wasn't on sale. So how do you choose? There are hundreds of bed in a box brands, not to mention the dozens of in-store retailers and other mattress stores.
It helps to know about the most common mattress types you're likely to find during these sales.
Memory Foam
Memory foam seems to be everywhere these days. First invented for NASA in the late 60s, you can now find it in medical equipment, car seats, and of course, mattresses! All memory foam is made using polyurethane, a substance derived from petroleum. Memory foam is viscoelastic, meaning it contours and molds to the body and bounces back quickly under pressure, making it the perfect place to land after a long day.
Memory foam mattresses are a favorite for pain sufferers, couples, athletes, or anyone who wants a soft but supportive sleeping surface. Because memory foam is known for trapping heat, many brands use advanced open-cell foams or cooling gel-foam to conduct heat away from the body. Amerisleep's Bio-Pur® is one such advanced open-cell foam; its expanded air channels make room for better circulation, so you won't wake up hot.
Because memory foam relieves pressure points, it needs to be both soft and supportive. Your spine and hips should not sink down too far while you're sleeping— that can put you at risk for misalignment, pain, or injury. Your sleeping position can help you decide the right firmness, but typically most people are comfortable on a medium mattress since they contain a perfect balance of softness and support.
Hybrid
Hybrid mattresses are not as pressure-relieving as memory foam, but they appeal to those who prefer a bouncier-feeling mattress with superior airflow. Hybrids have steel, wrapped coils in the base and a plush pillow-top made of memory foam, latex foam, or poly-foam.
Hybrids can be more expensive than some memory foam models since they incorporate more materials. Hybrids are typically a more firm mattress than memory foam because of the steel coil base, but many brands sell hybrids in varying firmness levels to accommodate different sleeping positions. You can find lots of hybrids for sale during big sale weekends.
Innerspring
Innerspring mattresses are easy to find—not only can you get them online, they're available in every mattress retailer or brick and mortar store around. That's because innersprings are the traditional mattress; almost everyone has slept on one and we're used to the bouncy, springy feel. However, they have some drawbacks. Innersprings sag fairly quickly, creating that all too familiar "stuck" feeling when you lie down.
The coils in the base respond to movement and compression individually, creating plenty of motion transfer. Innerspring users often report feeling their partner's every move all through the night.
Latex
Latex feels similar to memory foam, but it's more durable and slightly firmer than most memory foam beds. Natural latex comes from the sap of the rubber tree. The manufacturing process for natural latex is very eco-friendly, which is part of the reason latex is a bit more expensive than other mattress types. However, it's also the most durable mattress material—some latex beds can last for up to 15 years.
A latex mattress relieves pressure and feels fairly soft, but it can feel extra firm to those used to the feel of memory foam. You can always try out a latex bed in a mattress store before taking the plunge.