Your bed should be a place to unwind and relax at night, but struggling with allergies and asthma is a surefire way to ruin what could have been a good night's sleep. However, you can minimize your allergy and asthma symptoms at night and finally sleep better.
There are various ways to minimize the triggers for allergies and asthma in your bedroom, starting with using a hypoallergenic mattress—a bed designed specifically for the comfort and safety of allergy and asthma sufferers in mind.
We share the best mattresses for relieving allergies and asthma. Not only that, but we offer some simple tips to reduce the allergens in your bedroom and promote undisturbed sleep.
How to Combat Allergens in Your Mattress
Sometimes, the best option when struggling with allergies and asthma at night is to replace your mattress. However, there's more you can do to control the pests in your bedroom and keep it free of allergens long-term. Let's take a look!

1. Choose a Hypoallergenic Mattress
Hypoallergenic means the bed contains allergen-resistant materials such as memory foam, latex, or dust-resistant covers to naturally keep away microorganisms including pollen, dust, bed bugs, and dust mites. This way, the beds are safe for people with allergies and asthma to sleep on.
There are many different types of mattresses, all of which can come in hypoallergenic forms.
Memory foam beds and latex mattresses are commonly hypoallergenic and best for asthma and allergy sufferers. Both types of mattresses are dense, which leaves little space for bacteria growth. Latex beds, in particular, often feature wool as well, which is antimicrobial and a natural flame barrier, further protecting against bacteria.
Some coil mattresses have lots of room for airflow, which is a potential breeding ground for bacteria, mold, and dust mites. If you want a coil mattress, we recommend looking for hybrid mattresses with allergy-resistant covers or clearly stated as hypoallergenic.
It's also a good idea to avoid pillow top or Euro top mattresses. While these beds have luxurious and fluffy top layers, the materials in pillow top and Euro top mattresses are often airy and spacious, which makes a good home for pests.
2. Look at Health and Safety Certifications
It's important to have a hypoallergenic bed that's also safe to use. Be wary of hypoallergenic beds that contain harsh chemicals, such as flame retardants, formaldehyde, and phthalates.
While chemicals technically keep natural allergens out of your bed, they also cause allergic reactions, including rashes, sore throats, headaches, and difficulty breathing.
Here are some certifications you should look for to ensure your bed is safe and won't aggravate your allergies:
With this list in mind, realize that there aren't any asthma-specific mattress certifications quite yet. Still, the health and safety certifications we've listed can make a positive impact on your well-being and asthma symptoms at night.
Remember that a bed does not need all of these certifications to be safe to sleep on, especially since many of the qualifications for the certifications overlap.
3. Use High-Quality Bed Sheets
Not only is your mattress important for a clean and safe sleep environment, but your bed sheets also play an important role in your allergy and asthma symptoms at night.
Allergens can get trapped in your sheets, so find bed sheets with a high thread count to leave as little space possible for microorganisms to fester.
We suggest using cotton sheets or Tencel™ sheets. They're cool, dust-mite resistant, and have tight weaves. It's useful to use sheets that are machine-washable and safe to clean in hot water because hot water works best for sterilization.
Another option you might consider is silk. However, not only is silk expensive, but most silk sheets need to be dry-cleaned. The cleaning agents used at the dry cleaner potentially aggravate allergic reactions.
4. Sleep on a Protective Mattress Cover
Another crucial component to keep your bed free from allergens and bacteria is to use a waterproof mattress protector. Mattress covers go over your mattress like a fitted bed sheet, only they are there to keep your mattress clean and dry.
A mattress cover protects your mattress from trapping sweat, dust, and other microbes, which can turn into molds and fungi. Most mattress protectors are waterproof, as well, so your mattress won't get wet or stained.
Since mattress protectors keep your bed clean, they also play a part in extending your mattress's lifespan. We suggest everyone always use a mattress protector over their bed, but especially people with asthma and allergies.
5. Wash Your Bed and Bedding Regularly
Keeping your bedding clean goes a long way toward preventing allergies and asthma at nighttime. While it may seem like an annoying chore to strip your bed and wash the sheets, it's practically non-negotiable.
For allergy and asthma sufferers, we recommend washing your bed sheets, mattress protectors, and pillowcases weekly. Wash your comforter at least two to three times a year, or once every four to six months. Clean your pillows between two to four times a year, but this depends on what type of fill your pillow has.
For all of your bedding, we recommend using a gentle detergent to clean them, but always check your bedding's care guidelines for precise care instructions.
Not only do you need to wash your bedding, but it's also important to wash your mattress itself. Of course, you can't just toss a mattress into a washing machine.
We recommend spot cleaning your mattress using a gentle stain remover and letting it sit for 30 to 60 minutes. Then, sprinkle baking soda over the entirety of your mattress and let it sit for another 30 to 60 minutes. Next, vacuum every side of the mattress, including its underside.
Finally, let your mattress sit under the sun to further sterilize it. Since most of us can't just take our mattresses outside, a good idea is to lay the mattress in an area of your bedroom where the sun can hit it.
6. Keep Your Bedroom Clean
As with your mattress bedding, it's important to keep your entire bedroom clean.
Dust and dirt from around your room can travel to your bed and trigger allergies or asthma, even if you buy a hypoallergenic mattress and keep it spotless. Vacuum your floor, wipe down surfaces, dust the blinds, and wash the curtains.
Be sure to keep food out of your bedroom to avoid attracting pests to your bedroom. Remove clutter such as mail, laundry, and exercise equipment to make your bedroom more organized and tranquil.
7. Get an Air Filter, Purifier, or Dehumidifier
Using an air purifier can eliminate the bacteria floating around in your bedroom, such as pollen, dander, smoke, or dust mites.
Even if the air is clean, your bedroom's humidity levels can potentially lead to the growth of mold and mildew. If you live in an overly dry climate, consider using a humidifier. Conversely, if you live in a humid environment, use a dehumidifier to prevent mold and make it easier to breathe at night.
For all air purification and humidifier systems, be sure to clean them out regularly to avoid circulating dirty air throughout your bedroom.
8. Keep Pets Out of Your Room
While it may be hard for some animal lovers to swallow this, it's best to keep your pets out of your bedroom to prevent allergies and asthma attacks.
While you can brush your pets often to minimize shedding, ultimately, the best solution is to keep away from your bedroom.
If you have outdoor pets, it's also important to wipe your pet's feet before they enter the home if they go outside often. This prevents your pets from tracking other allergens throughout your home and into your bedroom.
Some people may consider adopting hypoallergenic pets, but there's no such thing as a truly hypoallergenic animal. Although some pets may trigger fewer symptoms, pet allergies are caused by proteins in an animal's saliva and urine, so any animal can trigger allergies.
Causes of Allergens in Your Bedroom
There's usually not one single type of allergen in your bedroom. The most common allergens within your home include dust, dust mites, mold and mildew, pollen, and dander.
Dust
Dust is one of the most common airborne allergens as it can come from practically anywhere, whether it travels in from your window or on your clothing. The dust in your home usually contains a microscopic blend of dead skin cells, hair, clothing fibers, dust mites, dead dugs, plastic, and pollen.
Dust Mites
While dust mites are invisible to the naked eye, they're very much apparent in every home. These microscopic pests often live in bedding, mattresses, upholstery, carpets, and curtains, and cause allergic reactions and asthma.
Dust mites feast on dead skin cells and thrive in humidity. Keeping your bedroom and home clean is the first step to keeping dust mites away, but no home is entirely free of dust mites.
Mold and Mildew
Mold and mildew are fungi that develop in moist environments, such as humid bedrooms and moisture-ridden beds. Mold and mildew build-up can lead to allergic reactions and trigger asthma attacks.
If you tend to sweat a lot at night or if you have ever spilled water on your bed, there's the possibility that mold or mildew is growing in your mattress and affecting your sleep.
Pollen
Pollen is a powdery substance that comes from trees and flowers that is designed for plant reproduction. Pollen is the most common trigger of seasonal allergies because it most appears during spring and fall and travels easily with the wind.
Since pollen floats through the air, it lands on shoes, clothes, cars, and can carry into your home through vents and open windows.
Pet Dander
While many of us enjoy sleeping with our pets or keeping them in our rooms, pet dander—microscopic proteins from an animal's fur, skin, saliva, and urine—is a very common allergy trigger. For outdoor pets, they can also track dirt and pollen into your home, especially during peak allergy season.
Toxins
Sometimes, the cause of your allergies may be your mattress or pillows.
Synthetic memory foam and latex mattresses contain harsh chemicals, such as VOCs, heavy metals, and flame retardants. While these chemicals technically protect your bed from pests, they still trigger allergic reactions and asthma attacks.
You may experience itchy skin, rashes, runny nose, and difficulty breathing while using a synthetic mattress or pillows.
Amerisleep's Hypoallergenic Mattresses
At Amerisleep, we offer nine mattresses ranging from soft to firm to support different sleeping positions and body types.
The foams in our mattresses are CertiPUR-US® certified, meaning they're free of flame retardants, heavy metals, formaldehyde, and phthalates, all of which would aggravate your allergies or asthma.
All of our products are hypoallergenic, and regardless of which mattress you choose, you receive a 100-night trial period and a 20-year warranty covering workmanship defects. Not only that, but we provide free shipping and returns.
Best Firm Mattress: AS1

As our thinnest and firmest mattress, the AS1 is best for stomach and back sleepers. Despite being only 10 inches tall, it's still long-lasting and supportive. The mattress contains two layers of hypoallergenic foam and features a lightweight and moisture-wicking cover to keep you and your mattress dry.
The top layer of the bed contains 2 inches of Bio-Pur® memory foam. While the mattress is firm, it still offers enough cushioning to prevent pressure build-up and evenly distribute body weight.
Unlike traditional memory foam, Bio-Pur® is plant-based. During the manufacturing process, we partially replaced the petroleum-based oils in the memory foam with castor oil. Not only does this help the memory foam turn out cooler and more durable, but the foam won't off-gas—an unpleasant side effect of opening foam that can trigger allergic reactions and asthma.
The base layer of the AS2 is 8 inches of Bio-Core® foam. This durable foam is designed to resist wear and sags, even after years of use. It also supports your spine to prevent pain or discomfort.
Best Medium-Firm Mattress: AS2

Our medium-firm mattress, the AS2, works well for back sleepers, stomach sleepers, heavier adults, and people with back pain. It comes in both memory foam and hybrid models for sleepers looking for extra bounce. The memory foam is 12 inches tall and features three layers with Bio-Pur® foam, Affinity foam with HIVE®, and Bio-Core® foam.
The Affinity layer adds extra bounce to the mattress while providing cushioning and support where you need it. With the layer's HIVE® technology, the foam is softer around the hips and shoulders for extra pressure-relief, but firmer around the head, back, and feet for extra support.
The AS2 Hybrid is also 12 inches tall. It contains 2 inches of Bio-Pur® and 3 inches of Affinity with HIVE®. However, instead of a foam support layer, the mattress contains a pocketed coil support layer and a thin layer of base foam.
Pocketed coils increase the airflow throughout your mattress, while still being supportive. Pocketing each steel coil reduces motion transfer and noise to promote uninterrupted sleep. Around the perimeter of the AS2 Hybrid, the coils are sturdier to make getting in and out of bed easier.
Finally, the 7-inch foam base of the AS2 reinforces the upper layers.
Best Medium Mattress: AS3

Our AS3 is a great fit for combination sleepers, side sleepers, and couples with different firmness needs.
The AS3 works well for couples who prefer different firmnesses because it offers a balance of support and cushioning. So if you're a side sleeper, the AS3 will provide enough cushioning for your hips and shoulders. If your partner is a back sleeper, the AS3 will also provide enough support for their lumbar spine.
The AS3 is another one of our mattresses that come in both a memory foam version and a hybrid version.
The memory foam AS3 has a thick layer of Bio-Pur®, the Affinity layer with HIVE®, and Bio-Core® support foam. The AS3 Hybrid contains a Bio-Pur® comfort layer, a pocketed coil support layer, and a foam base. Both variations of the mattress have a soft, breathable mattress cover.
Best Medium-Soft Mattress: AS4

Medium-soft mattresses, like the AS4, are an excellent option for petite sleepers and side sleepers. The AS4 offers excellent cushioning without being overly soft to the point of causing you to feel stuck or unable to move in bed.
The AS4 has the thickest layer of Bio-Pur® amongst all of our mattresses, being 4 inches thick. Underneath the comfort layer is a thin layer of Affinity foam with HIVE® and a thick Bio-Core® base.
Like our other mattresses, the AS4 has a soft and breathable mattress cover.
Best Soft Mattress: AS5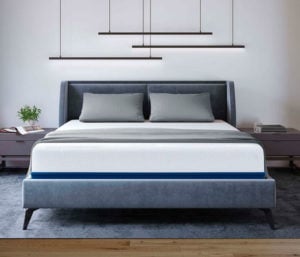 Our softest and thickest mattress model is the AS5, being a true soft and 14 inches thick. It's a great option for side sleepers and plus-sized sleepers who want lots of cushioning in their bed.
Like the AS2 and AS3, the AS5 comes in both a memory foam model and a hybrid model for an ultra-luxurious feel.
The AS5 memory foam model contains Bio-Pur®, Affinity foam with HIVE®, Active Flex, and Bio-Core®. Conversely, the AS5 Hybrid contains Bio-Pur®, Active Flex, pocketed coils, and a sturdy foam base.
What sets both AS5 models apart from our other mattresses is its Active Flex foam. Active Flex adds softness and bounce to the mattress, making it easier to move and shift positions in your bed. Most soft mattresses are uncomfortable for plus-sized sleepers, but Active Flex makes the AS5 one of our best mattresses for larger adults.
Best Natural Mattress: Organica

If you prefer buying natural products or are environmentally conscious, our Organica Bed might appeal to you. This latex hybrid mattress has a medium feel and is non-toxic, making it safe for people with allergies, asthma, and other health conditions.
The mattress has a GOTS organic certified cotton cover with tufted rosettes to secure the bed's layers together.
Directly underneath the cover is a layer of New Zealand Joma Wool®. This natural flame barrier increases the bed's breathability and helps us avoid using chemical flame retardants—which aggravate allergies and asthma.
The Organica contains a natural Talalay latex comfort layer for excellent cushioning, pressure relief, and bounce. The Talalay latex in our mattress is Standard 100 by OEKO-Tex® certified, meaning the mattress doesn't contain harmful chemicals and additives. Not only that, but the layer is also eco-Institut and Rainforest Alliance certified.
The bed's support layer is made from a pocketed coil spring base. Since the coils move independently from each other, they offer closer contouring and support. The coils also provide sturdier edge support and minimal motion transfer, especially when compared to a basic innerspring mattress.
At the very bottom of the bed is a thin layer of Dunlop latex to support the upper layers.
FAQs
What is the difference between hypoallergenic and anti-allergenic?
Hypoallergenic means a piece of bedding, pillow, or mattress is less likely to trigger allergies.
Anti-allergenic means a piece of bedding, pillow, or mattress has been chemically treated to prevent dust mites from surviving within it. Anti-allergenic products usually contain synthetic materials, so they can be washed at a higher temperature for maximum sterilization.
Does hypoallergenic mean dust mite-free?
Hypoallergenic means a product—mattresses, pillows, blankets, and so on—is resistant to allergens. For example, memory foam mattresses are antimicrobial, mold-resistant, and dust mite-resistant.
However, no product is guaranteed to be entirely allergen-proof, so while the chance of developing dust mites is much lower on a hypoallergenic product, it's still possible. For this reason, we always recommend regularly cleaning your bedding and using a mattress protector.
Can my mattress be making me sick?
It can be possible that your mattress is making you sick or causing allergic reactions.
Mattresses with synthetic memory foam and latex, in particular, are filled with countless harsh chemicals, including formaldehyde, boric acid, and more. Most of the time, these chemicals won't cause severe issues, but they can cause irritated eyes, an itchy throat, runny nose, and difficulty breathing.
If you have latex allergies or allergies to any particular material, never use a latex mattress or any other products with materials you are allergic to.
With age, dust, dust mites, mold, and mildew accumulate within your mattress, causing your bed to become increasingly toxic and potentially leading to sickness. For this reason, we recommend that you replace your mattress every 7 to 10 years.
What does a dust mite bite look like?
When hearing the word "dust mite," many of us picture getting bitten, but dust mites don't bite humans.
Dust mites are microscopic bugs that feed on dead skin cells and live inside mattresses. Rather than biting humans, dust mites' feces and carcasses trigger allergic reactions and symptoms of asthma.
Conversely, bed bugs are insects that live in upholstery, furniture, and mattresses. They bite and feed on humans to stay alive.
If you are experiencing red, rash-like marks on your skin, inflamed and itchy bumps, and swollen skin, it's most likely that you have bed bugs in your mattress.
Why do I get itchy when I lay in bed?
Itchiness upon lying in bed at night is called nocturnal pruritus and can be caused by numerous issues. Being itchy at night is sometimes disruptive enough to ruin your sleep entirely.
Your body's natural processes may play a role in your itchiness come nighttime. At night, your body releases more cytokines at night time—which increases inflammation—while also producing fewer corticosteroids—which decreases inflammation.
Another possibility is that, at night, you have less distracting you from your discomfort and itchiness. When lying awake at night, you may be hyper-focused on your itchiness when it hasn't increased much at all.
Some potential conditions causing itchy skin at night include eczema, psoriasis, hives, thyroid problems, allergic reactions, and bugs in your bed.
Conclusion
When struggling with asthma or allergies at night, it can feel impossible to minimize your symptoms and get to sleep. Using a hypoallergenic mattress, antimicrobial bed sheets, and a high-quality mattress protector can reduce asthma and allergy symptoms, in turn making it easier to get a good night's sleep.
This article is for informational purposes and should not replace advice from your doctor or other medical professional.
---
About the author
Geoff McKinnen is a writer focusing mainly on the healthcare industry and has written articles on everything from foods to help you lose weight to the connection between Alzheimer's and sleep. Geoff's passionate about helping readers improve their well-being to lead happier lives. Outside of work, Geoff enjoys cycling and hiking and believes that by leading a healthy lifestyle, he can help others do the same.
View all posts