Powered by Amerisleep, EarlyBird brings together a dedicated team of sleep science coaches, engineers, and product evaluators. We meticulously examine Amerisleep's family of products using our unique product methodology in Amerisleep's state-of-the-art laboratory. Our commitment to sustainability is reflected in our use of eco-friendly foam in our products. Each article we publish is accurate, supported by credible sources, and regularly updated to incorporate the latest scientific literature and expert insights. Trust our top mattress selections, for your personal sleep needs.
When you're having guests over, getting your house ready can be stressful and overwhelming. To make sure their stay goes smoothly, it helps to have a comfortable, versatile mattress in the guest bedroom.
It's also nice to have an extra bed in case of last-minute emergencies, like your child visiting from college unannounced or a relative needing a place to stay during an unexpected layover. Whatever your needs, we can help you find the best mattress for your guest room.
Amerisleep Mattresses for a Guest Room
Quick Guide: A 30-Second Summary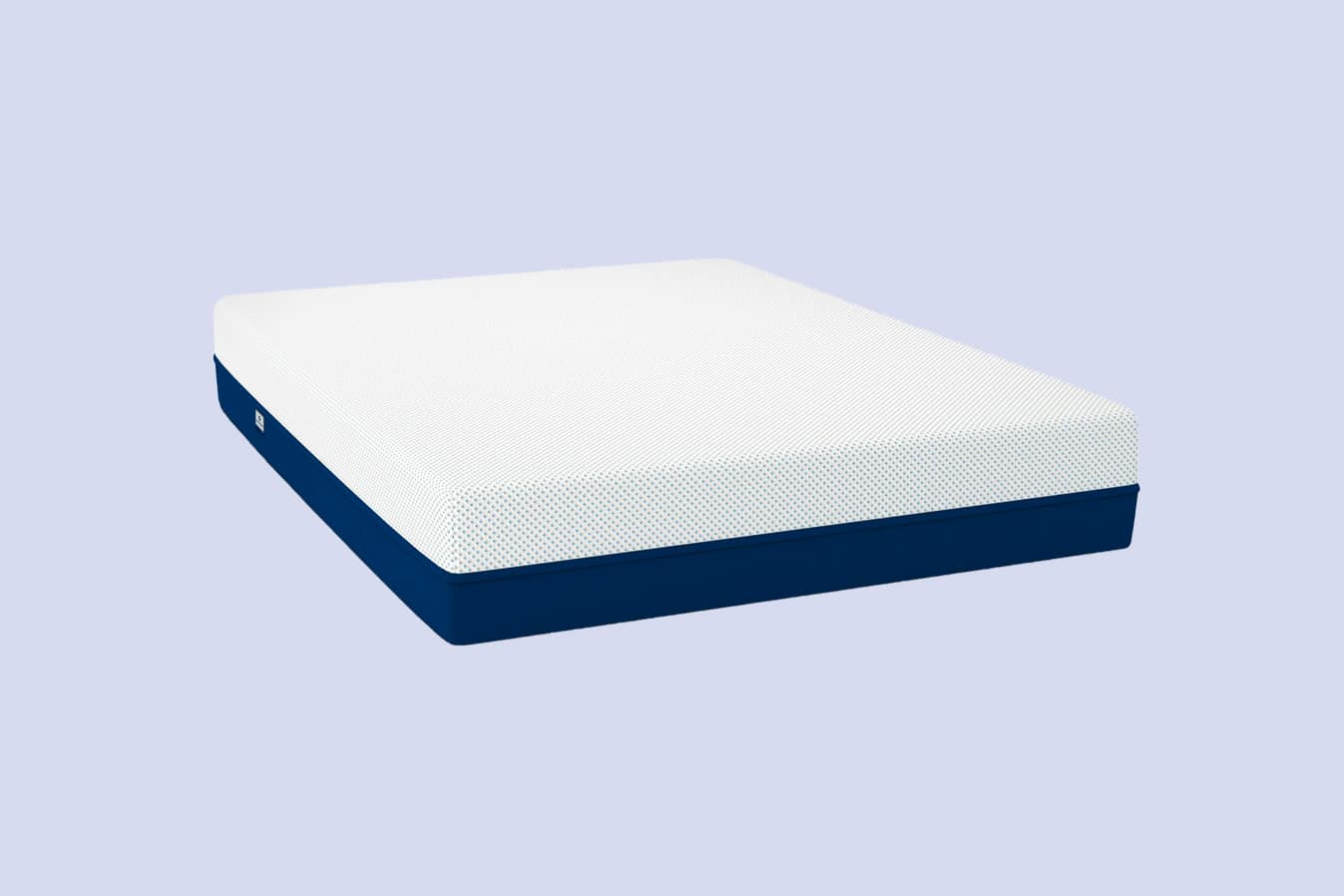 Best Mattress for Guests Overall
Amerisleep AS3
Mattress Type

$1049 to $2198

Mattress Type

Memory Foam

Firmness

5 to 6 out of 10 (Medium)

Availability

All sizes

Warranty

20 Years

Thickness

12 Inches
Our top mattress recommendation for guest bedrooms is the AS3, which is designed to suit most sleeping styles. A larger size can also comfortably accommodate visiting couples, even if they have different sleeping styles.
Mattress Highlights
Plant-based memory foam eases pressure build-up
Five zones of support for different areas of the body
Sturdy base foam stands up to years of wear and tear
Recommended For
Guest bedrooms
Most sleeping styles
Hot sleepers
The Amerisleep AS3 is our bestselling mattress because of its medium feel and wide appeal to side sleepers, combo sleepers, couples, and anyone looking for a perfect balance of firm and plush.
The AS3 contains:
3 inches of Bio-Pur®
2 inches of Affinity with HIVE®
7 inches of durable Bio-Core® foam
People who want to offer their guests a responsive mattress can also consider the bouncier counterpart of the AS3 Hybrid.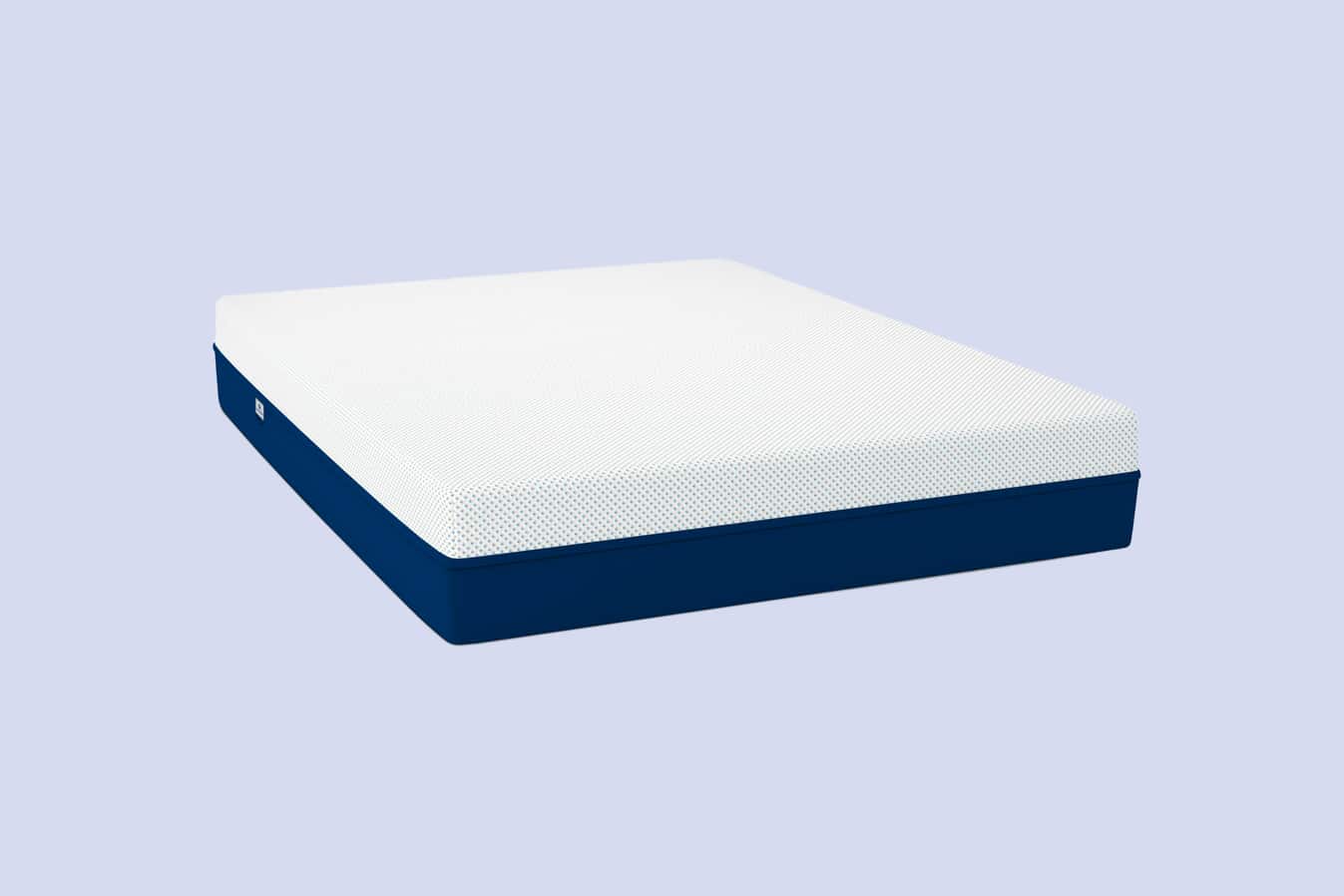 Best Firm Mattress for Guests
Amerisleep AS2
Price Range

$849 to $1798

Mattress Type

Memory Foam

Firmness

7 out of 10 (Medium-Firm)

Availability

All sizes

Warranty

20 Years

Thickness

12 Inches
Our runner-up recommendation for guest room mattresses is the AS2, a medium-firm feel bed that's well-suited for restorative rest.
Mattress Highlights
Thinner memory foam layer for a firmer feel
Hexagon cutouts provide extra support and cushion
Resilient foam withstands nightly and occasional use
Recommended For
Guest bedrooms
Back and stomach sleepers
Hot sleepers
The AS2 is our medium-firm mattress and one of the best mattresses for back pain thanks to its even support and responsive cushioning.
The AS2 contains:
2 inches of Bio-Pur®
3 inches of Affinity with HIVE® technology
7 inches of a sturdy Bio-Core® base for added durability
Bio-Pur®
The comfort layer in each Amerisleep mattress is made using partially plant-based foam. Because of the plant-based oils in the foam, Bio-Pur® emits little to no off-gassing odor and it's ten times more breathable than traditional memory foam. This cooling, responsive foam bounces in seconds, so you'll feel well supported without feeling stuck.
Affinity Layer with HIVE® Technology
The Affinity layer with HIVE® sits between the soft Bio-Pur® and the firm Bio-Core®. HIVE® stands for Harnessing Intelligent Ventilation & Energy. The HIVE® technology in the Affinity layer contains hundreds of hexagonal-shaped cutouts that provide support where the body needs it most (in the hips, shoulders, and feet), and cushioning in other areas.
Bio-Core®
Amerisleep's Bio-Core® base layer supports all of their mattresses. Like the Bio-Pur®, Bio-Core® is made using low VPF manufacturing, exceeding the Clean Air Act standards.
Amerisleep offers free shipping, free returns, a 20-year prorated warranty, and a 100-night sleep trial with all of our mattresses.
Considerations Before Buying A Guest Room Mattress
A new mattress isn't usually a cheap investment, and you need to make sure the one you buy will be comfortable and versatile enough for any guest and that it will hold up for a long time. Even though it won't be used as much as your main bedroom mattress, you most likely want to offer your guests the best sleep possible so they come back! What's more, you may need to use your guest room mattress at some point if your main mattress starts to sag or becomes unusable for whatever reason.
Sleeping Position
Most of us know our preferred sleeping position and the best mattress for optimal comfort, but is it possible to find the right mattress with a universal appeal and comfort level for your guests? We recommend a medium mattress just because it's the perfect balance of cushioning and support for the majority of sleeping positions. However, keep in mind that what one brand calls a "medium," another might rate as  "medium-firm" or "medium-soft."
Bed in a box brands often use a firmness scale to rate their mattresses— the scale runs from 1-10, with 1 being super soft and 10 being super firm. A medium mattress typically falls between 5-7. If you're unsure how firm a mattress is going to feel and you're shopping online, contact customer service or speak to someone via live chat to get more info on the firmness level.
Side Sleepers: Side sleepers are in a healthy position for neutral spinal alignment and open airways, but they are prone to paresthesia, or "pins and needles," especially if they sleep with their arms under their heads. For this reason, side sleepers are most often comfortable on a medium to soft mattress. Since the majority of people sleep on their sides, choosing a mattress targeted to side sleepers for your guest room is a wise choice.
Back Sleepers: Sleeping on the back isn't as common as sleeping on the side, but it's probably one of the best sleeping positions for back pain and even spinal support. However, if back sleepers are on a too-soft mattress, their hips can sink down, causing misalignment. We recommend back sleepers choose a medium-firm or firm mattress.
Stomach Sleepers: Sleeping on the stomach is the least healthy position, especially for the neck, back, and hips. A mattress with too much give can pull the sleeper down and skew their posture, causing them to wake up stiff and in pain. We recommend stomach sleepers choose a medium-firm or firm mattress. Even better, consider changing to a different position such as the back or side.
Mattress Type
Chances are you've been sleeping on the same kind of mattress your whole life and you're used to the way it feels. For many of us, the ubiquitous innerspring mattress is one we're all familiar with, but now there are a lot more options to choose from.
Innerspring Mattresses
Innerspring beds were invented in the 1800s. The innersprings of today are nothing like their old counterparts except that they both contain coils. Now, innersprings have layers of fabric and foam to ensure the user doesn't feel the coils at all as they lie down.
A high-quality innerspring mattress uses thick, steel coils in its base. Some luxury mattresses models have individually-wrapped coils— each coil is wrapped in a piece of fabric or foam to amplify the cushioning and reduce any motion transfer. However, individually-wrapped coils are more commonly found in hybrids.
Above the coil support system is a piece of fabric or even sometimes a thin layer of plywood— this layer acts as a buffer between the soft comfort layers on top and the springs on the bottom. Finally, the comfort layer and/or pillow top act as the cushion. Some innersprings do not use a comfort layer at all and only contain the pillow top or Euro top, which is sewn onto the mattress.
| Innerspring Pros | Innerspring Cons |
| --- | --- |
| Bouncy | Poor motion isolation |
| Good airflow through the coil base | Sag quickly due to the coils |
| Comfortable pillow top | Minimal pressure relief |
| Fairly even surface | Too firm for many |
Considering the pros and cons of innersprings, we do not recommend them for your guest room because they do not isolate motion, they sag easily, and they can feel too firm for most unless they have an expensive, plush Euro-top layer. The average lifespan of an innerspring mattress is only 3-5 years, so you'll probably have to replace it sooner than you'd like.
Memory Foam Mattresses
Memory foam, also known as viscoelastic foam because of its construction, is starting to appear in mattresses everywhere. It's soft and springy to the touch and contours very closely to the body, making it perfect for pressure relief. However, it does come with a few downsides.
Memory foam is quite dense, and as a result, it traps heat. In fact, the number one complaint associated with memory foam is this unfortunate characteristic. Traditional memory foam mattresses are still likely to trap heat, but more innovative companies have begun to infuse certain cooling materials in their foams to draw heat away from the sleeper, such as gel, charcoal, graphite, or copper.
Amerisleep uses a unique plant-based foam called Bio-Pur®, which not only dissipates heat more efficiently than traditional memory foam, but it's also five times more breathable and ten times more responsive. Users shouldn't feel stuck, trapped, or wake up feeling hot.
| Memory Foam Pros | Memory Foam Cons |
| --- | --- |
| Excellent pressure relief | Traps heat |
| Noiseless | Off-gassing odor |
| Close-conforming and contouring | Lower quality foams not as responsive |
Considering its pros and cons, memory foam is a great choice for your guest bedroom. Memory foam contours closely to the body, relieving sensitive pressure points and making it easy to move around in the bed (with no noise!).
If you're worried about the potential downsides associated with memory foam, choose a mattress made of plant-based foam which will emit little to no off-gassing odor and stay cool. Some mattresses are even infused with cooling materials to draw away heat: gel memory foam, charcoal-infused foam, and advanced open-cell foam are some examples.
Hybrid Mattresses
Hybrids combine a certain amount of foam with a coil support core— they sound almost identical to innersprings, but they contain much more foam so as to offer more pressure relief than a typical innerspring mattress.
A true hybrid mattress has 2-3 inches of foam (usually memory foam, latex foam, or poly-foam) and a steel coil base. Like we mentioned earlier, hybrid beds often contain wrapped coils, also known as Marshall coils. These respond to movement on the mattress surface differently than non-wrapped coils— essentially, they absorb motion and prevent it from traveling across the mattress surface, disrupting anyone sleeping on top. Couples, in particular, are drawn to hybrids over innersprings because of the wrapped coils.
Hybrids are a good choice for anyone who likes the bounce and airflow of innersprings without the sinking, close-contouring feel of memory foam. Hybrids do contain some foam, but the coils in the base balance out the sinking feeling.
| Hybrid Pros | Hybrid Cons |
| --- | --- |
| Good airflow through coil base | Heavy, hard to move |
| Good motion isolation if coils are individually-wrapped | More expensive than some other types due to the amount of materials |
| Pressure relief from foam comfort layers | Still prone to sagging because of the coils |
The pros of a hybrid seem to balance out the cons, but be aware that hybrids are still more likely to sag faster than a memory foam mattress. In fact, the average lifespan of even the best hybrid mattress is only 1-2 years longer than an innerspring (5-6 years for an innerspring, 6-7 years for a hybrid). Knowing this, we do not recommend hybrids for a guest bedroom. Their hefty cost does not match up with their short lifespan.
Latex Foam Mattresses
Latex foam is an interesting alternative to memory foam; both are hypoallergenic, but some latex foams are 100% natural, meaning they contain no petrochemicals. While memory foam has been declared safe by the EPA, some prefer a mattress made with absolutely no petrochemicals and processed using environmentally sustainable practices. All-natural latex is a great option for this group.
Natural latex comes from the sap of rubber trees— one rubber tree can be harvested for up to 20 years without damaging it at all. Dunlop latex, a firmer, denser latex, has no chemicals added to it during the manufacturing process. Talalay latex is softer and more plush because it does have some chemicals added to give it a viscoelastic feel. Most latex mattresses use one or both of these latex types.
Another type of latex mattress is synthetic latex— it feels like latex, but it does not come from the same resource and it's typically not as durable. Keep that in mind if your priority is shopping green.
| Latex Foam Pros | Latex Foam Cons |
| --- | --- |
| Breathable and contouring | Expensive |
| Hypoallergenic | Can feel firmer than memory foam |
| Extremely durable | Can feel bouncier than memory foam |
Looking at the pros and cons of latex, you can see how similar it is to memory foam with just a few differences, mainly in the feel and cost. We think latex mattresses are a great option for guest rooms if you prefer your foam mattress to have a bouncier, firmer feel. All-natural latex beds have been known to last up to 15 years— by far the longest lifespan compared to other mattress types.
Keep in mind that latex mattresses can flare up allergy symptoms in some; they are hypoallergenic, but if your guests have specific latex allergies, latex might not be a good option. They are also quite expensive— the average queen-size latex mattress costs about $2,000.
Air Mattresses
Air mattresses are some of the cheapest and most convenient types of beds for guest rooms. They can be deflated and folded away in a closet until they're needed and they are fairly easy for anyone to move.
However, an air mattress is not really a substitute for a real mattress, and if you expect guests fairly often (like a child visiting on the weekends), one of the other mattress types we've mentioned is probably a smarter choice. Air mattresses contour very closely to the body, but because there are no support foams, coil bases, or any layers at all, the user can easily feel trapped and stuck on the bed.
| Air Mattress Pros | Air Mattress Cons |
| --- | --- |
| Contouring | Prone to sagging |
| Responsive | Can deflate in the night |
| Compact | Can develop holes |
| Inexpensive | Little if any back support |
One of the most important things your mattress can provide is spinal alignment and back support. Air mattresses have little if any back support built into their layers, and so the elderly, those with chronic pain, and those prone to pressure build-up will most likely sleep poorly on an air mattress. For this reason, we do not recommend air mattresses for your guest room unless you only have guests once or twice a year.
Budget
Your budget comes into play whenever you're investing in something like a mattress because you expect it to last a long time— you want to get your money's worth! Your guest room mattress might not be in use as much as your main mattress, but you probably want it to be high quality and a fair price— especially if you end up having to use it yourself.
The price tag attached to a mattress depends on a few things: number of layers, material type, length of the warranty, included features like white glove delivery, and even the brand name. Look at the average cost of each mattress type and then read customer reviews— preferably, reviews from customers that have had their beds for more than 3 months. This way, you'll get a better idea of how long the mattress holds up and if it's worth the cost.
| Mattress Type | Average Cost for a Queen Size |
| --- | --- |
| Innerspring | $900 to $1,000 |
| Memory Foam | $800 to $1,200 |
| Hybrid | $1,500 to $2,000 |
| Latex Foam | $1,800 to $2,500 |
| Air Mattress | $40 to $100 |
Remember, a budget-friendly mattress is not always the best choice because it may break down faster. On the flip side, a highly-priced luxury mattress (over $2,000) may only have the hefty price tag to make you think it's higher quality, when in fact it's just the same as other lower-priced beds.
If you're putting together a guest room for the first time, you might want to consider the mattress's price along with other items, such as furniture, lamps, little amenities, etc. A few throw pillows and a relaxing bedroom paint color may not cost much, but it all adds up. So it's a good idea to track expenses as you go.

Durability and Lifespan
The lifespan of a mattress depends on the mattress type as well as how well you maintain it. Guest bedroom mattresses aren't used as much as the mattresses in the main bedrooms, but you should still keep them in top shape if you want them to last.
| Mattress Type | Average Lifespan |
| --- | --- |
| Innerspring | 5 to 6 years |
| Memory Foam | 7 to 8 years |
| Hybrid | 6 to 7 years |
| Latex Foam | 8 to 10 years |
| Air Mattress | 1 to 4 years |
To ensure your mattress lasts for its full, intended lifespan, use a mattress protector or encasement to keep bed bugs, stains, and any other damage out. Follow the warranty specifications for a compatible foundation— for instance, using a memory foam mattress on the wrong kind of bed frame can make it sag much faster and even void the warranty.
A mattress made with quality materials should last for the length of its required lifespan with proper maintenance and care. Reading mattress reviews can give you a realistic idea of how long the mattress really lasts.
Mattress Size
What is the ideal size guest mattress? Well, it depends on the size of your guest room. Most adults prefer sleeping on a full size bed or larger, but again, the size you need depends on your guests and how large your space is. We recommend choosing a mattress no smaller than a full-size.
| Mattress Size | Dimensions |
| --- | --- |
| Full | 54 inches wide by 75 inches long |
| Queen | 60 inches wide by 80 inches long |
| King | 76 inches wide by 80 inches long |
| California king | 72 inches wide by 84 inches long |
Warranty and Sleep Trial
Mattress shopping online is becoming the preferred route over trying out a mattress in-store, but it comes with a little risk— you don't try out the mattress before you buy it. However, bed in a box brands have mitigated this issue by offering generous sleep trials, so you can try out the mattress for 30-100 nights (and sometimes more).
If during your sleep trial you decide not to keep the mattress, the company will usually arrange for it to be picked up and then donated or recycled before issuing you a full refund. Utilizing a sleep trial for a guest bed might be a little different since you probably won't sleep on it every night during the trial period. Instead, take naps on it or take every chance you can to lay on it during the trial window.
A standard mattress warranty is 10 years long, though some companies offer a 20-year warranty or even a lifetime warranty. A quality mattress should have a warranty that covers repairs or replacements for sagging below a certain depth (usually 1 inch) as well as protections for any manufacturing defects or damages. Note that warranties do not cover damages caused by improper use.
If the mattress company you're considering doesn't come with a warranty, go elsewhere. Even most online mattress brands offer a standard warranty— read each warranty closely so you know what the company will or will not cover.

FAQs
Is a full-size bed good for a guest room?
Yes, a full-size bed can work for a guest room; it really depends on the size of your room and your guests. If you're more likely to be hosting couples who need more mattress space, you'll probably want a queen size mattress or larger.
Does a mattress topper help?
A mattress topper, usually made of gel foam, memory foam, or convoluted foam, is a nice thing to have on hand in case your guest bedroom mattress is too firm or soft for your guests. A mattress topper allows you to give the mattress a slightly different feel if you wish.
Does my guest mattress need edge support?
Edge support reinforces the edges of the mattress to minimize the risk of falling off. While not necessary, it can add some peace of mind for anyone who is prone to moving around a lot in bed. Keep in mind that added edge support can inflate the cost of the mattress as well as decrease its surface area.
The Best Mattress for Your Guests
A great mattress should offer pressure relief, good back support, breathability, and come with a generous return policy, sleep trial, and warranty. The best mattress size and type will depend on your guests, but overall we recommend choosing a full-size mattress or larger, and we prefer memory foam or latex foam for their universal comfort appeal.
No matter what mattress you choose, your guests will enjoy a good night's sleep every time they come over if you keep this buying guide in mind.
---
About the author
McKenzie Hyde is a Certified Sleep Science Coach and a full-time writer specializing in sleep health and the mattress industry. With a Master of Arts degree in literature and writing from Utah State University, McKenzie combines her passion for writing with her in-depth knowledge of sleep science. Her articles cover a wide range of topics, including best sleep practices for students, the consequences of sleep deprivation, and choosing the right mattress for back pain relief. McKenzie's dedication to delivering accurate and informative content makes her a valuable contributor to the field of sleep health.
View all posts