Innerspring mattresses are also known as "traditional mattresses"—they're constructed from steel coils with a soft, pillow top to cushion your body. Innerspring mattresses are popular for their firmness, support, and breathability, but they often fall short in durability, pressure relief, and motion isolation.
If you enjoy innerspring mattresses, but are looking for an upgrade, consider our hybrid beds, a modern take on innersprings. Hybrid mattresses are more durable than traditional innerspring mattresses and contour to your body and isolate motion better, so you can sleep peacefully and comfortably.
Our guide covers our top picks for innerspring hybrid mattresses, along with the ins and outs of innerspring beds to help you find the best mattress for you.
Best Innerspring Mattresses from Amerisleep
Quick Guide: A 30-Second Summary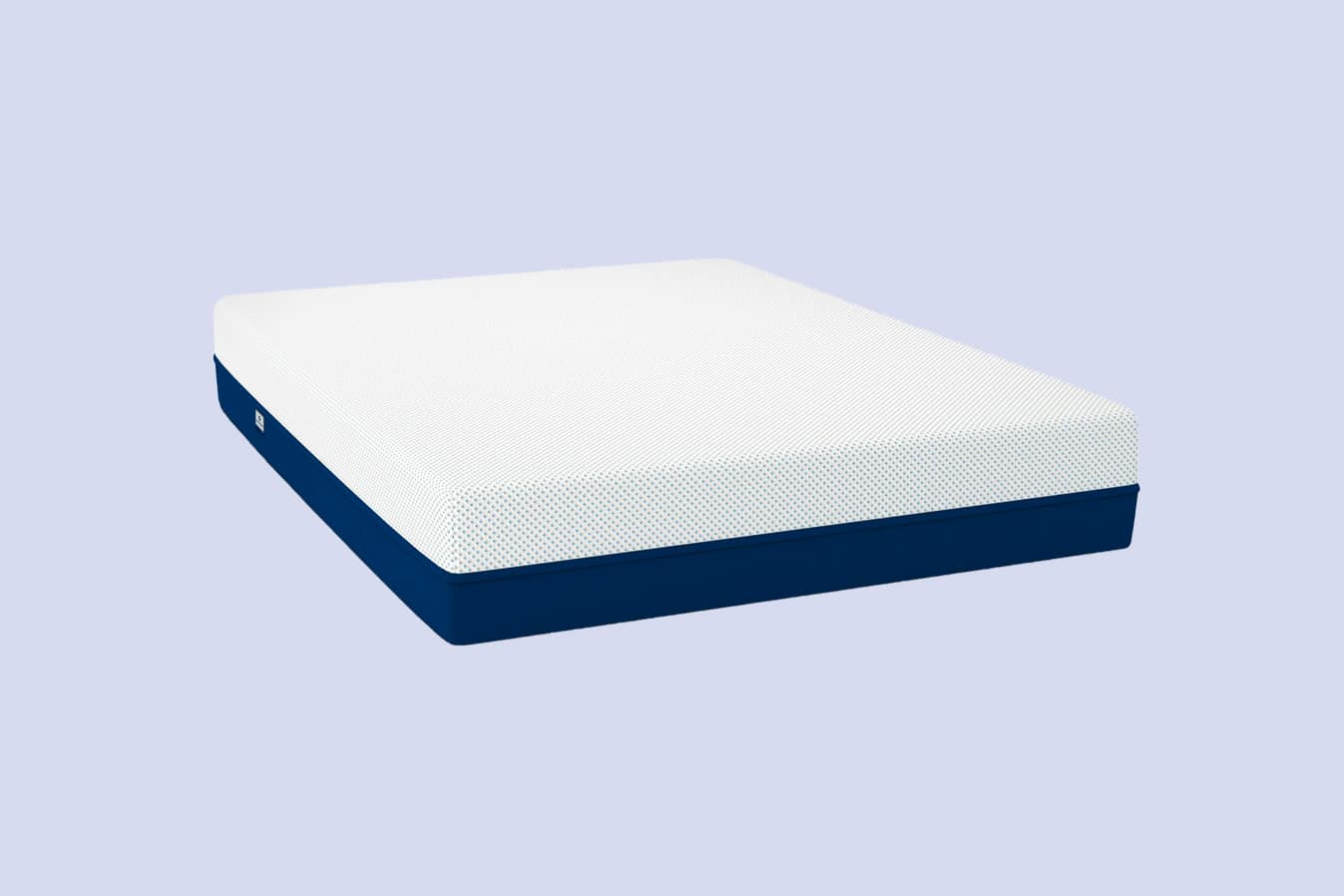 Best Innerspring Mattress Overall
Amerisleep AS3 Hybrid
Price Range

$1249 to $2598

Mattress Type

Memory Foam Hybrid

Firmness

5 to 6 out of 10 (Medium)

Availability

All sizes

Warranty

20 Years

Thickness

12 Inches
The medium feel of our AS3 relies on cushioning foam and a pocketed spring core to establish a bed that suits most sleep styles.
Mattress Highlights
Surface feels responsive and cool to the touch
Bio-Pur® foam partially made with plant-derived oils
Pocketed coil core isolates motion while adapting to sleepers
Recommended For
Side, back, and combination sleepers
Hot sleepers
Couples
Eco-conscious shoppers
The AS3 Hybrid is our most popular hybrid mattress as it's the perfect medium firmness, offering a mix of bounce, softness, and support. This 12-inch hybrid mattress is best for side sleepers and combination sleepers looking for some extra cushioning. The AS3 Hybrid is encased in a soft, breathable cover designed to help you stay cooler at night.
The AS3 Hybrid has a thick, 3-inch comfort layer of Bio-Pur® foam. Our proprietary Bio-Pur® foam contains plant-based oils along with the traditional petroleum-based oil used to make foam. With the addition of plant-based foam, the mattress is cleaner and more eco-friendly.
Bio-Pur® has similar pressure-relieving properties as memory foam; however, it is much more durable and breathable than traditional memory foam.
The highlight of the AS3 Hybrid is the 8-inch pocketed coil support layer, which is filled with up to 900 pocketed coils. These fabric-wrapped coils ensure there is minimal motion transfer and noise while contouring to your body, even as you change position. We make every coil with upcycled steel.
At the base of the mattress is 1 inch of foam. This foam provides an even surface for all the upper layers to bounce off of and enhances the mattress's overall durability.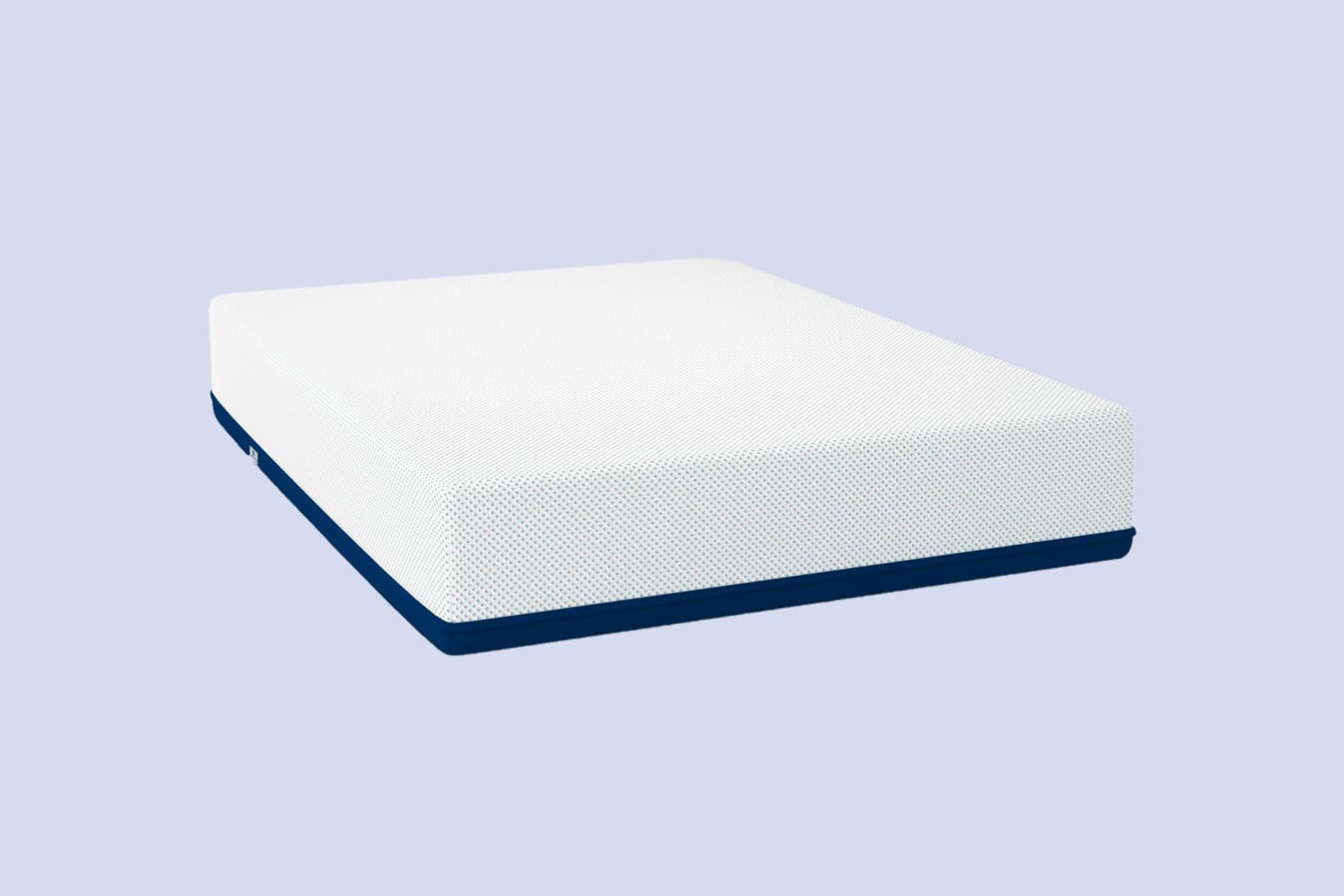 Best Luxury Innerspring Mattress
Amerisleep AS5 Hybrid
Price Range

$1949 to $3998

Mattress Type

Memory Foam Hybrid

Firmness

3 out of 10 (Soft)

Availability

All sizes

Warranty

20 Years

Thickness

14 Inches
Our softest and arguably most luxurious is the AS5 Hybrid, with a design engineered to support heavier individuals as easily as it does petite sleepers.
Mattress Highlights
Cooling and conforming memory foam cushion
Responsiveness boosted by Active Flex material
Coils wrapped to provide adaptable comfort
Recommended For
Side sleepers
People with petite to plus-sized bodies
Hot sleepers
The last hybrid in our lineup, the AS5 Hybrid, is our softest hybrid mattress and recommended for side sleepers, back sleepers, and even plus-size sleepers who want some extra cradle and cushion from their mattress.
We design this bed with both contouring, soft foams and responsive support layers to ensure softness without sagging. (Plus, every bed is backed by our 20-year warranty covering sags as little as an inch.)
Our AS5 Hybrid has the same cushioning Bio-Pur® and responsive pocketed coils as our other hybrid models, but it contains an extra layer our AS3 Hybrid doesn't have—Active Flex. Active Flex is a latex-like transition foam that gives our AS5 even more bounce, and this is what makes it possible for our soft hybrid to support sleepers of all body types.
So, the layer construction goes like this:
3 inches of Bio-Pur®
2 inches of Active Flex
8 inches of pocketed coils
1 inch of base foam
And of course, the AS5 Hybrid also comes with our 100-night sleep trial and free shipping.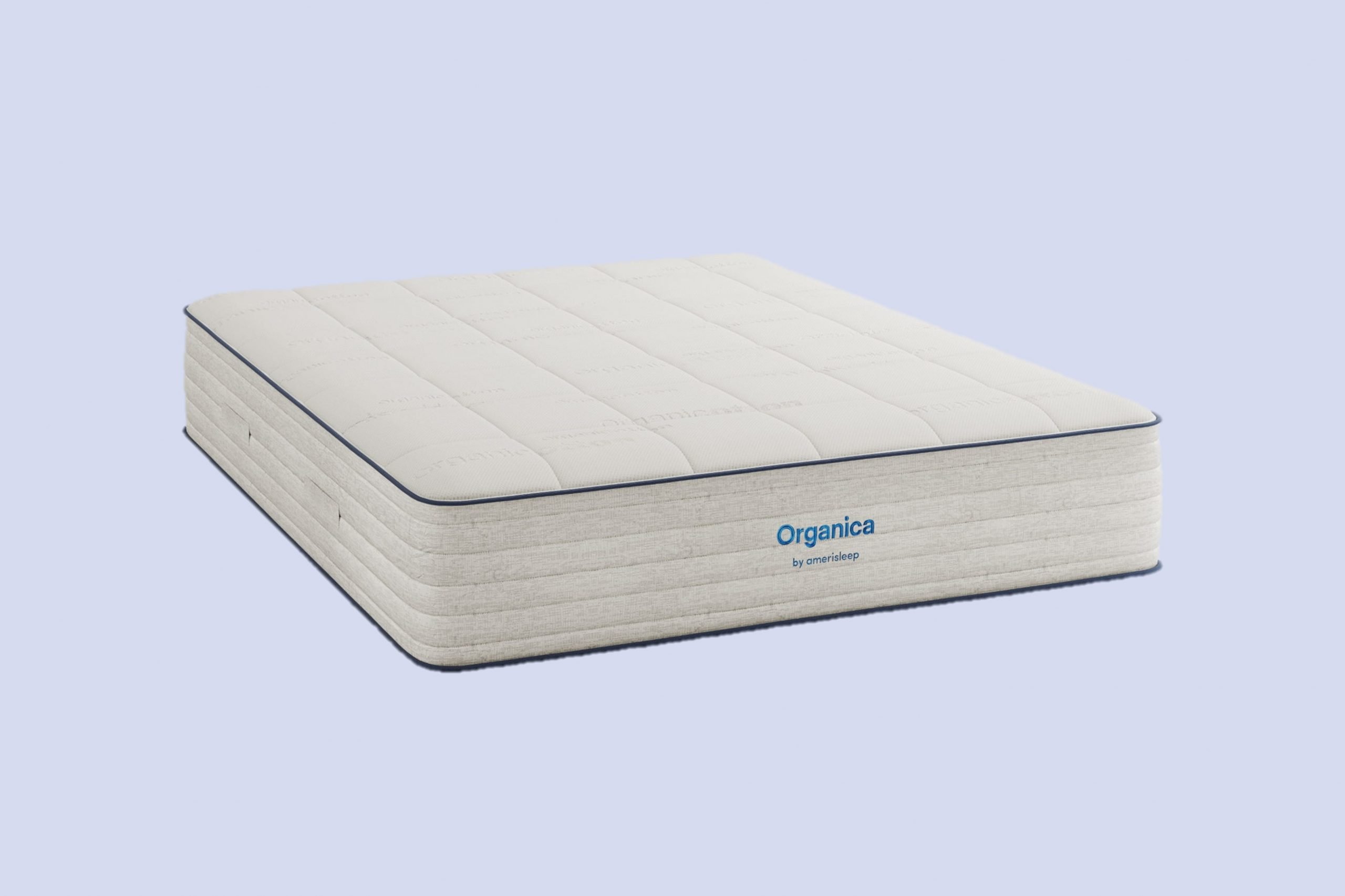 Best Natural Innerspring Mattress
Amerisleep Organica
Price Range

$1049 to $2348

Mattress Type

Latex Hybrid

Firmness

5 to 6 out of 10 (Medium)

Availability

All sizes

Warranty

20 Years

Thickness

13 Inches
The Organica pairs wrapped springs with bouncy latex foam, making it one of our most responsive and eco-friendly mattresses.
Mattress Highlights
Heat-wicking organic cotton and wool
Pressure-relieving latex foam layers
Motion-isolating pocketed coil core
Recommended For
Most sleeping styles
Sleepers with synthetic sensitivities
Hot sleepers
Spring mattresses with latex foam and organic textiles are an excellent way to enjoy natural responsiveness with bouncy coils. Our Organica is designed for eco-conscious shoppers and those who want to avoid synthetic materials inside their mattresses.
The surface of the Organica is GOTS-certified organic cotton fabric, a material more durable than conventional cotton. The cotton fibers pull heat and sweat away, ensuring you won't wake up hot or damp.
Underneath the cover is organic wool, which also moves heat and moisture away from sleepers. However, while it adds temperature neutrality and cushion, its primary purpose is to serve as a flame barrier.
The comfort layer is Talalay latex foam, gently contouring to sleepers' bodies to ease tension. The transition foam is also Talalay latex, a touch springier than the comfort layer to keep sleepers from bowing into the mattress.
The Organica has an 8-inch coil system in its base. The sides of the bed offer edge support, making getting in and out of bed easier. Underneath all of the layers is a 1-inch base foam for structural support.
All Amerisleep mattresses come with a 100-night sleep trial, giving you time to get accustomed to your new bed. We also offer a 20-year warranty for our mattresses covering sags deeper than an inch and any workmanship defects.
What to Look For in the Best Innerspring Mattress
As you compare different innerspring mattress models, the top factors to keep in mind before making a purchase are the coil type, count, and gauge, along with the comfort layer materials and the cost of the bed.
Coil Types
The coils in your innerspring mattress come in different shapes, affecting its price, durability, and feel. Let's take a look at some of the most common coil types you may come across.
Bonnell
Bonnell coils are the most inexpensive and widely available. The coils are tempered steel made in an hourglass shape and joined together with helical, spiral-shaped wires built to help the coils react in unison. The coils contour based on the amount of pressure applied, but do little in terms of motion isolation.
Pocketed
Pocketed coils are thin, non-tempered steel coils wrapped in cloth and connected to other coils with glue, not helicals. Hybrid mattresses most commonly feature pocketed coils. Pocketed coils are also known as wrapped, or Marshall coils.
Pocket coils are often advantageous to other coil types as they enhance a mattress's contouring while also minimizing its motion transfer. Not only does the design establish a mattress for motion isolation, but being encased in fabric also minimizes the noisiness.
However, pocketed coil mattresses tend to be the most expensive among innersprings while also having a slightly shorter lifespan.
Offset
Offset coils are similar to Bonnell coils, but instead of having a rounded top, they have a straight edge to ensure there's less of a gap between the coils. This design contours to the body better than Bonnell coils do, and it isolates motion while staying highly supportive.
Continuous
Continuous wire coils are a single piece of wire shaped to form individual rows of coils. Continuous wire coils are durable, firm, and supportive, all while being inexpensive. However, since they are only one long piece of wire, the chance of motion transfer is much higher and this type of coil can be quite noisy.
Coil Count
Coil count refers to how many coils are in the mattress. Most mattresses have between 500 to 1000 coils, though some mattresses can contain more or less.
Generally, the higher the coil count, the better the contouring. High coil count beds are also pricier since there are more materials used. A lower coil count can result in less contouring and more opportunities for pressure build-up in the body.
When looking at the number of coils in an innerspring mattress, there is one caveat. Some manufacturers may trick buyers by stating they have a high coil count (suggesting the mattress is high-quality), but the companies are really using thin or small coils so they can be packed into the mattress. These thin and small coils are weak and unsupportive, but give companies the excuse to raise their prices.
Coil Gauge
Coil gauge refers to the thickness of the mattress coils and affects a mattress's firmness level.

Although it sounds a little confusing, the lower the coil's gauge, the thicker and more durable the coil and vice versa. Gauges usually range from around 12 to 15, but they can get as high as 18.
Some higher-end mattress brands may use different gauge levels throughout their mattress for targeted support. For example, a mattress may have a higher gauge around the head and legs and a lower gauge around the back and hips. This way, each body part is sufficiently supported, better-distributing weight and preventing pressure build-up.
If you're looking for more firmness, look for a mattress with around a 12-coil gauge. On the other hand, if you're in need of more give and bounce, opt for at least a 13.5-coil gauge.
Comfort Layers
One of the most important aspects of your innerspring mattress is the comfort layer, or the top layer you feel beneath you while lying in bed. The comfort layers also partially affect the support, motion transfer, and comfort of your bed.
Innerspring comfort layers are called pillow tops. They're typically made from down, wool, cotton, fiberfill, memory foam, latex, or poly-foam.
In lower-cost innerspring mattresses, the comfort layer is typically thinner and made from cheaper materials, such as fiberfill or poly-foam, while nicer innerspring mattresses contain durable, breathable latex, cooling gel, or memory foam layers.
For a mattress to be considered a hybrid mattress (versus simply an innerspring mattress with a pillow top), the layers of foam must be at least 2 or 3 inches thick.
Price
Innerspring mattresses have a wide price range. You can find bottom-of-the-barrel innersprings for only a couple of hundred dollars, but then there also are some innersprings costing over $3000 or $4000.
Based on the quality of materials, comfort systems, coil type, and additional features, you can gauge a price. Usually, you can expect to pay around $500 to $1500 for a high-quality innerspring mattress.
Pros of an Innerspring Mattress
Supportive and firm
Come in all types of firmness options to suit different sleep positions
Coils offer more airflow compared to other mattress models
Bounciness makes moving in bed easy
Typically affordable and widely available
Cons of an Innerspring Mattress
Can be overly firm
Short lifespan
Noisy
Not as contouring or pressure-relieving as foam mattresses
More motion transfer than other mattress types
Who Needs an Innerspring Mattress?
Although there is an increasing number of memory foam and latex mattresses, lots of people still benefit from using innerspring mattresses as they're cool, responsive, and supportive. We generally recommend getting an innerspring mattress if:
You tend to sleep hot
You're looking for a traditional mattress feel
You enjoy a bouncy mattress
You weigh over 230 pounds
FAQs
Do companies still make innerspring mattresses?
Although other mattress types (hybrid, latex, and memory foam) have risen in popularity, innerspring mattresses are still a favorite for many homes. Still, traditional innerspring mattresses tend to have the lowest satisfaction ratings and many people prefer modern mattress types over them.
Hybrid mattresses are the better, modern replacement for the traditional innerspring bed.
How long do innerspring mattresses last?
Innerspring mattresses typically last between 6 to 8 years, so a bit less than an all-foam mattress (7 to 10 years).
Factors such as the mattress's coil style, thickness, comfort layer design, and amount of weight placed on the bed affect how long the mattress will last. Higher-end innerspring mattresses will generally last a bit longer than cheaper models, as expected.
You can tell your innerspring mattress needs to be replaced if it is:
Developing an indent around the center
Yellowing or discolored
Lumpy
Why do innerspring mattresses sag?
All mattresses sag with use. Even if you care for your mattress meticulously, you can't prevent your mattress from sagging. The materials eventually soften and wear down with regular usage, losing support, firmness, and comfort.
What's the difference between hybrid and innerspring mattresses?
Both hybrid and innerspring mattresses have steel coil support systems. However, hybrid mattresses must have at least a 2 to 3-inch foam comfort layer to be considered a "hybrid" and also have a more complex construction—usually between 3 to 4 layers.
Innerspring mattresses usually have a simpler construction. They have a thinner pillow-top comfort layer—generally made from materials such as cotton or wool, which aren't necessarily pressure-relieving—and can be flippable. Hybrid mattresses, on the other hand, aren't flippable.
We recommend choosing hybrid mattresses over innersprings.
Which is better, memory foam or innerspring mattress?
Choosing between a memory foam or innerspring mattress may come down to personal preference.
However, remember, memory foam mattresses tend to last a bit longer than innerspring mattresses. People typically experience Verified Source National Library of Medicine (NIH) World's largest medical library, making biomedical data and information more accessible. View source more pressure-relief, pain-relief, and better sleep on memory foam mattresses, but the beds can get hot. On the other hand, innerspring mattresses are more breathable but less comfortable.
If you're stuck between the two options, take advantage of sleep trials and test out the mattress you're interested in at home for between 30 to 365 days (depending on the company).
Conclusion
Despite being a less modern mattress type, innerspring mattresses are still one of the most popular mattresses today since they are inexpensive, breathable, and supportive. If you're considering an innerspring mattress, we suggest upgrading to a hybrid mattress instead since they offer the same breathability and support of an innerspring, but are also more pressure-relieving and comfortable.
---
About the author
McKenzie Hyde is a Certified Sleep Science Coach and a full-time writer focused on sleep health and the mattress industry. She currently writes articles on a variety of topics, ranging from sleep hygiene to the newest trends in the mattress and bedding industry. Just some of the topics she has covered include best sleep practices for students, the consequences of going without sleep, and choosing the right bed if you suffer from back pain. McKenzie Hyde holds a Master of Arts degree from Utah State University where she studied literature and writing. While there, she taught argumentative writing and wrote a variety of articles and analyses for literary and academic journals.
View all posts