For many years, box springs have been the standard foundation for most mattresses, but with more modern, high-quality mattresses on the market, there are more options available to us. From solid to slatted foundations—understanding which one is right for you can be confusing. To answer all of your foundation-related questions, we have put together this comprehensive guide.
What is a Mattress Foundation?
The foundation is the surface your mattress rests on. This base could be a box spring, a wooden slat platform, or a solid base. The mattress foundation has two jobs—to support you as you sleep and ensure the mattress doesn't sink, slide, or sag.
If your mattress doesn't have the right base, it will not support you correctly. Indents can start to form, causing you to sleep in uncomfortable and awkward positions to accommodate the lack of support. When this happens, you can wake up with stiff, sore muscles and joints.
Do I Need a Mattress Foundation?
Most mattresses need some type of foundation. The type of foundation you need will largely depend on the kind of mattress you have. Throughout this article, we will breakdown the most common foundation types and the mattresses most suited for each.
Benefits of a Mattress Foundation
In addition to supporting you, a stable base offers some unexpected benefits. Below, we include six ways a mattress foundation can promote better sleep.
Allows the Mattress to Work for You

Memory foam, latex foam, and hybrid mattresses contour to the body, so your muscles can recover as you sleep. These beds provide the perfect combination of cushioning and support so your spine remains in a safe, neutral position.
Without the right foundation, the mattress will begin to sag in certain places. As this happens, your body will also sink—forcing your spine out of alignment. When the spine is not straight, our bodies have to overcompensate for the lack of support by sleeping in uncomfortable positions. However, a stable support base will allow you to get the most out of your advanced mattress.
Improves Lifespan of Your Mattress

Placing your mattress on the right foundation will allow it to support you correctly, but it will also ensure that it does so throughout many years of use.
The average person spends about 33 years of their life in bed—when we are not sleeping, we are either trying to get to sleep or using the mattress for sitting up in bed.
Mattresses need a sturdy support base to accommodate this constant use. The right foundation will save you the inconvenience and expense of having to replace your mattress after only a few years of use.
Adds Height to Your Bed

Allowing your mattress to rest on the ground is never a good idea. When sleeping on the floor, we are more open to cold air, dust, dirt, and humidity. It is also challenging to get out of bed when your bed is resting on the ground.
A mattress foundation can add anywhere from 16 to 23 inches of height—many also come with the ability to adjust the height to your preference. However, it is best not to raise your bed too high, either.
The ADA (Americans with Disabilities Act) recommends beds between 20 to 23 inches high from the floor to the top of the mattress—this will make it easier to climb into bed each night and also allow you to safely get out of bed in the morning.
Keeps Your Mattress Clean

The floor is typically the dirtiness spot in the house—this is where dirt, hair, dead skin cells, bugs, dust mites, pet hair and dander, and other allergens collect. Moisture and humidity also tend to gather near the floor, which can encourage mold and mildew to form in the mattress.
To ensure these things stay on the floor and not in your bed, you will need to keep your mattress lifted off the ground.
Innerspring mattresses tend to have open space between spring coils where bacteria and dirt can collect. So these beds should remain lifted off the floor.
Because latex foam and memory foam mattresses are so dense, they are more resistant to dust mites and bacteria. However, moisture can cause foam to deteriorate, so these beds should also rest on a raised platform.
We have a number of guides on maintaining a clean mattress:
Improves Airflow

Staying cool and comfortable is one of the best ways to get adequate sleep. If your mattress rests on the floor, air will not circulate properly throughout the bed—causing you to become overheated during the night.
The right foundation will help release trapped heat and circulate air around the bed. No matter what type of mattress you have, the right foundation can provide much-needed breathability so you can sleep comfortably night after night.
Keeps Your Mattress in Place

If your mattress rests on the ground, it is likely to slide around as you sleep. Additionally, if it's on the wrong foundation, it may slip—causing it to sink in the areas where it is not supported.
A good foundation will keep your mattress stable and firmly in place—preserving its lifespan and preventing the discomfort from a mattress sliding around.
Types of Foundations
Now that you're familiar with the benefits of a foundation, we will outline the most common types so you can decide which one is right for you.
Best Amerisleep Bed Frames
Quick Guide: A 30-Second Summary
What is a Bed Frame?

The terms "bed frame" and "mattress foundation" (or mattress base) are often used interchangeably, but there is a difference.
A bed frame is a decorative portion surrounding the mattress—this includes a headboard, footboard, and side panels (four sides). Typically, the bed frame will be attached to a foundation that the mattress can rest on.
For example, many wooden frames have a slatted foundation that consists of wood planks attached to the two side panels of the frame. A metal frame often has thin metal rods instead of traditional wide slats. Platform bed and panel bed frames are two common types.
However, some bed frames only provide a rim around the perimeter of the mattress—leaving no base for you to place the mattress on.
Do I Need a Bed Frame?
If you have the proper support base for your mattress, you don't necessarily need a bed frame. Headboards and footboards are mostly decorative–they don't support the bed.
If your mattress is resting on the correct foundation, that is all you need; however, if you have a slatted foundation attached to your bed frame, you will not be able to separate the base from the frame—the two must stay together.
For the most part, the frame is optional, but the base the mattress rests on, is not. You will need to have the right base for support and to preserve the life of your mattress.
Best Bed Frame for Memory Foam Mattress

With a memory foam mattress, it's best to use a slatted or solid mattress foundation. If you go with a slatted foundation, the slats should be no further than 2.75 inches apart. Any further apart and you'll need to buy extra slats or a bunkie board to create a more stable surface for your memory foam mattress.
Modern platform beds are another good bed frame for memory foam mattresses. Platform beds are essentially just a more decorative mattress foundation, as they often contain features like built-in headboards or under-bed storage drawers. When you opt for a platform bed, you can skip the extra foundation and save money.
Just remember, the 2.75-inch rule for slat spacing applies to platform beds, too. So you'll need a platform bed with closely-spaced slats that still allow for plenty of air circulation.
When it comes to the best bed frame material for memory foam mattresses, whether to choose a wooden or metal frame, wood is preferred over metal. A metal bed frame tends to have thin rods instead of thick slats and simply cannot provide the support that a memory foam mattress needs.
Since memory foam beds are so flexible, they also pair great with adjustable bed bases to promote a luxury night's sleep.
Box Springs

Traditionally, innerspring mattresses needed a box spring underneath to help support body weight. The two layers contained coils that bounced off each other to distribute weight and absorb pressure evenly.
Today, most box springs do not include coils—they are simply a wood or metal box (open on all four sides) covered with cloth. They do not offer much in terms of stability or support, but they can provide a lift.
Do I Need a Box Spring?

If you have a foam or hybrid mattress, you should not use a box spring. Because box springs don't have a solid surface, they do not provide a good foundation for the mattress to rest on—some warranties actually prohibit the use of a box spring. For mattresses containing foam, we recommend a solid foundation or a bunkie board, which we will discuss further down.
If you prefer an innerspring mattress, these are still typically sold with a box spring. But an innerspring mattress is sturdy enough on its own that it doesn't require a box spring. However, box springs do provide additional height.
Bed Slats

A slatted foundation consists of solid wood planks or metal beams that lay across the bed frame, attaching to the sides of the frame. They can be individual slats, or they may be connected in a series of planks.
A slatted base helps support the mattress above and prevents any sagging or slipping. They are also easy to install, inexpensive, and can be replaced if one breaks. But keep in mind slats do not add height to a bed, only support.
Also, if slats are not secured to the frame correctly, they can slide around and potentially fall—leaving sections of the mattress unsupported.
Metal vs. Wood

Although wooden slats are the most common, they may sag or bend over time. When this happens, your mattress can develop indents. New metal slats are durable and won't bend like some wooden slats.
However, if you opt for wood slats made from solid pine or oak, warping is very rare. Some metal slats are also adjustable, so you can form them to fit the exact width of your bed frame.
European Flexible Slats
These foundations consist of a series of wooden slats connected and placed inside a wood frame, similar to a box spring. They are unique because they feature an adjustable suspension beneath each wooden slat, allowing you to change the bounce and flexibility of the bed.
What is the Best Wood for Bed Slats?
Pine, Oak, Poplar, Maple, Beech, and Mahogany are all long-lasting, high-quality woods for a bed frame. The slats, however, will usually feature a cheaper, unvarnished wood since they are under the bed and out of sight.
How Far Apart Should Bed Slats Be?

Bed slats too far apart will not support the mattress correctly—this is especially true with memory foam or latex mattresses since these beds can sag between wide gaps.
Typically, it is best to keep slats no more than 2.75 inches apart. This distance will provide adequate support and keep air circulating through the bed.
What Mattress is Best For a Slatted Bed?

Most mattresses can rest on a slatted foundation—including memory or latex foam, hybrid, or innerspring beds. If you have an innerspring mattress and prefer to use a box spring for height, just be sure the foundation can support the weight of the box spring and the mattress.
Because slatted foundations don't add height, only support, if you have a memory or latex foam mattress, or a hybrid, it is best to pair a slatted bed with a bunkie board. Bunkie boards provide both support and height without the use of a box spring.
Solid Foundations

A solid mattress foundation, also called a platform base, is typically made of a series of wood beams covered in durable material—so there is no space between slats. The beams then fit inside a supportive, solid wood platform with a center support beam. Solid foundations are designed to replace traditional box springs and provide a supportive base for more advanced memory foam, latex foam, and hybrid mattresses. These bases are typically 8.5 to 10 inches and lift your mattress to a safe and comfortable height.
Many foundations also come with adjustable legs to accommodate your preferred height. If you enjoy a low profile look, you can lower it as far down as 4 to 6 inches. For extra storage space, you can raise the foundation further with a set of bed risers.
Solid foundations are easy to put together and require no tools to assemble. You can pair them with most bed frames (headboard, footboard, and two side panels). However, these foundations should not be placed on top of a slatted foundation.
To pair a solid base with a bed frame, you would simply remove the slats and replace them with your new solid foundation (with the solid foundation resting on the floor).
Do I Need a Solid Foundation?
If you have a memory foam, latex foam, or hybrid mattress, a platform bed frame provides a sturdy support system for these beds. Since slats can't be more than 2.75 inches apart for foam beds, it's sometimes easier to opt for a solid foundation rather than worrying about the distance between each slat. These foundations ensure weight is evenly distributed, and the entire mattress is protected.
Amerisleep Platform Bed
Amerisleep's Platform Bed features solid wood side rails, center support beams, and slats. The slats are oversized for minimal support gaps, and the side rails keep the mattress firmly in place. This system will ensure no soft stops, sagging, or indents form on the mattress and that it keeps supporting you throughout years of use.
Our frame sits at a comfortable 13.5-inches high and pairs well with most standard size mattresses. This frame locks together in minutes and requires no tools for assembly.
Prices of our Amerisleep Platform Bed
| Size | Price |
| --- | --- |
| Twin | $399 |
| Twin XL | $399 |
| Full | $449 |
| Queen | $499 |
| King | $599 |
| California King | $599 |
Adjustable Foundation
An adjustable foundation, sometimes referred to as an adjustable bed frame or power base, is a hinged mattress foundation that allows you to customize support. These beds come with head and leg articulation, so you can raise or lower the top and bottom portion of the bed to achieve an ideal sleep position.
Hospitals have relied on adjustable beds for many years to help patients find relief from certain conditions and rest more comfortably. Modern adjustable bases have more high-tech features, but they provide sleepers the same customizable comfortable and health benefits as hospital beds.
When the head is elevated, airways open up and breathing becomes more comfortable, so you experience less snoring and obstructive breathing issues due to sleep apnea. This slight angle can also help alleviate symptoms related to nasal congestion and acid reflux.
Raising the knees reduces pressure on the lumbar disc, which can relieve back pain and sciatic nerve pain—allowing you to sleep soundly and wake with less pain.
Amerisleep Adjustable Bed+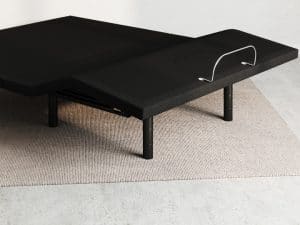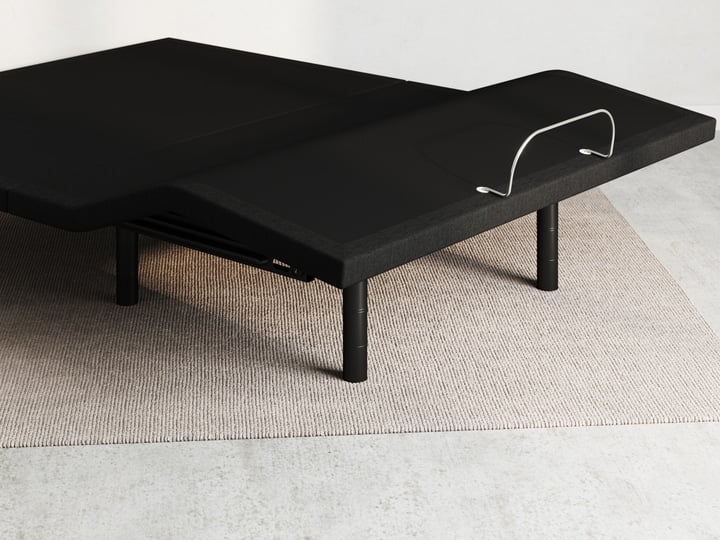 Our Amerisleep Adjustable Bed+ offers this same customizable sleep position plus a host of other advanced features—including full-body massagers, a wireless remote with preset options, under-bed lighting, and wall glide technology.
Most adjustable beds move away from the wall when raised, moving you further away from your nightstand and bedside lamp. The Amerisleep Adjustable Bed+ comes with wall glide technology to prevent this. This technology keeps the bed snug to the wall even when fully upright, so you never have to stretch to reach your essentials.
You can raise the head and foot of the mattress with the wireless remote, saving up to three favorite positions. Adjustments can also be made with a smartphone app or through your Amazon Alexa or Google Home. The USB ports conveniently located on the base's sides also make it easy to charge and access your devices when in bed.
Since stress can often keep us from falling asleep at night, we built our base with dual full-body massagers to help you gently relax before bed. The under-bed lighting illuminates a path around the bed, so it's safe for you to get up during the night to use the restroom.
You can pair the base with most upholstered bed frames, setting the bed height at 9 inches, 12 inches or 15 inches as needed to match your frame.
Our Amerisleep Adjustable Bed+ provides a truly luxurious sleep experience and allows you to find the perfect sleep position for your needs. When purchasing our adjustable base, we offer 30 percent off the base. This also includes in-home setup and a 10-year warranty on the base. For a complete sleep experience,
Prices of our Amerisleep Adjustable Bed+
| Adjustable Bed+ Size | Price |
| --- | --- |
| Twin XL | $1260 |
| Queen | $1400 |
| King | $2100 |
| California King | $2100 |
| Split-King | $2100 |
Bunkie Boards

A bunkie board is a flat barrier, usually about 1 to 3 inches thick and made of wood, plywood, or particleboard. Although initially used to support bunk beds, they have recently become a popular replacement for box springs.
These foundations fit between your mattress and the surface it sits on, to create a stable, even surface. You can use a bunkie board with most bed frames—metal bed frames, platform beds, box springs, or a slatted foundation.
Do I Need a Bunkie Board?

Foam and hybrid mattresses must be placed on a solid surface or on slats no more than 2.75 inches apart. If your bed frame doesn't have a solid base or the slats are further apart, you will need a flat base to place your mattress on. That's where a bunkie board can help.
A bunkie board can be used on top of any bed frame or foundation to create a stable surface for your mattress. If you already have a solid foundation, you can use a bunkie board to add a bit more height if needed.
Foundation Sizes
When considering what foundation is best for you, you may also want to consider the size mattress you have. So your mattress fits correctly on the base, you'll want to know its measurements before purchasing your new foundation. Most foundations on the market today follow these standard measurements. Below, we outline common US mattress sizes and what type of space these beds often require.
King Size Bed Foundation
76 inches by 80 inches

A king size mattress is excellent for couples who are looking for more space. Kings offer enough room to accommodate both you and your partner's needs, but they do require a larger bedroom to comfortably fit. Since the standard US bedroom is 11 by 12 feet, a king bed leaves little room around the bed for movement or additional furniture. A master bedroom may be more suited for this size mattress.
California King Size Bed Foundation
72 inches by 84 inches

California king mattresses (72 inches by 84 inches) offer more length than a standard king size mattress. These beds are 4 inches longer, but 4 inches narrower—making them a great option for anyone over 6 feet tall. If you plan to place a Cal king mattress on your new foundation, just be sure it can accommodate the additional length.
Queen Size Bed Foundation
60 inches by 80 inches

Queen size mattresses are by far the most popular because they work well for most couples and fit comfortably inside most 11 by 12-foot bedrooms. A queen size bed will also leave you plenty of additional floor space and room to maneuver around the bed.
Full Size Bed Foundation
54 inches by 75 inches

Full size mattresses, also referred to as "double beds," are ideal for growing teens who are no longer comfortable in their twin bed. These beds offer single sleepers more space to stretch out but may be too confining for couples. Full size beds also fit comfortably in most bedrooms.
Twin Size Bed Foundation
38 inches by 75 inches

Twin size mattresses are a popular choice for kids and toddlers who have outgrown their cribs. These mattresses offer enough room to accommodate them as they grow, but won't take up valuable floor space in their bedroom. With a 11 by 12-foot bedroom, a twin bed leaves plenty of open space around the bed.
Mattress Type Overview
The type of mattress you have will ultimately decide the best kind of base for you. As an overview, we have included a list of the five most common mattress types and the foundations that work best for each.
Memory Foam Mattress: The support base for most memory foam mattresses should be a solid, flat base to prevent sinking. If these beds are placed on a slatted foundation, slats should not be more than 2.75 inches apart. If slats are wider than 2.75 inches, a bunkie board should be used. These beds should not be placed on a box spring or on a slatted foundation with wide beams.
Poly-Foam Mattress: Since poly-foam is relatively durable, these mattresses can be placed on most foundations. However, a bunkie board or platform bed will provide the most comfort.
Latex Foam Mattress: Like memory foam mattresses, latex mattresses are soft and supportive; therefore, they also require a solid base, bunkie board, or narrow slats no more than 2.75 inches apart.
Hybrid Mattress: Hybrids have a spring coil base; however, the foam used within these beds requires more support. These beds are best if placed on a solid base, bunkie board, or on narrow slats.
Innerspring Mattress: Innerspring mattresses are durable enough to be placed directly on most slatted foundations, solid bases, or box springs.
Other Things to Consider
Other than mattress type, you'll want to keep a few more points in mind as you shop for your new foundation. Below, we offer a shopping checklist to make this process as easy as possible.
Understand Your Warranty
Before purchasing a foundation, be sure you understand your mattress warranty. You can void your warranty if you place your mattress on a foundation that is not approved by the manufacturer.
Consider Room Size

Some bed frames, those with a head and footboard, often take up quite a bit of space. Meanwhile, solid bases, platform beds, and floating bed frames are more streamlined.
Before you commit to a foundation, consider how much space you would like your bed to take up. If you have a smaller space with lower ceilings, you may want to opt for a base without these additions.
Preferred Height

You get in and out of bed every day, and you want this process to be as comfortable as possible. So, it is helpful to decide your preferred height before buying.
You don't want a foundation that is too high and will require you to use a step to climb into bed, but you also don't want something too low that will force you to squat to get out of bed. Standard 8.5-inch height is usually comfortable for most people.
Weight Limits

Some frames come with a weight limit, expressing how much they can support before the frame becomes unsafe. Before you bring a foundation home, be sure it is safe for your needs.
A box spring, a mattress, an optional mattress topper, plus body weight may be too much for some frames. If you plan to use a box spring, you will want to double-check weight restrictions.
Assembly and Installation

Most high-quality foundations are easy to install and require no additional tools. Although cheaper options exist, these often require difficult assembly and may not be worth your time or money. Instead, opt for something you can put together quickly and easily, or look for in-home installation.
Proper support, cleanliness, and breathability, are just a few of the benefits that come with finding the right foundation. Your mattress was designed to provide superior comfort and support, but this will be difficult to find if it's not resting on the correct base. With so many stylish options to choose from, you are sure to find a base that fits your bedroom decor and also helps you find a perfect night's sleep.
FAQs
Does the foundation of a bed make a difference?
Yes, your bed's foundation can impact your bed's feel, airflow, and longevity. Slatted bases are more breathable than solid ones, but solid foundations are better at firming up a mattress. Adjustable bed frames can change your entire sleep experience by letting you change your sleeping angle.
It's best to use a foundation that's compatible with your mattress to ensure your bed doesn't sag or feel uncomfortable. A foundation made with durable, high-quality materials is important as well; if your mattress foundation sags or breaks down, your mattress can too.
Do slats ruin mattresses?
So long as the bed's slats are appropriately spaced and secured to the bed frame, your mattress should be safe on a slatted foundation or platform bed. If the bed frame's slats are further than 2 to 2.75 inches apart, your mattress is at risk of dipping between the gaps and sagging. Unsecured slats can slide out of place and leave your mattress unsupported.
Can you use a mattress on a bed frame without a foundation?
No, you cannot place a mattress directly on a bed frame because bed frames are mostly decorative. While they may have one or two slats, the slats are there to support a foundation, not your mattress. Placing your mattress straight onto a bed frame causes your mattress to sag and voids your mattress's warranty. The only exception to this rule are platform beds but even those will sometimes require a bunkie board for extra support.
It is okay to put a mattress directly on the floor?
While the floor is a sturdy and supportive surface, it's also cold and dirty. Placing your mattress directly on the floor also hinders your bed's breathability, meaning your mattress is more likely to trap heat, sweat, dust, and other bacteria. It's also easier for bugs and other pests to reach your bed when on the floor.
We recommend placing your mattress on a foundation to keep it off of the ground.
Can you put a new mattress on an old foundation?
We recommend replacing your foundation when you get a new mattress. Most mattress foundations wear down faster than mattresses, so if your mattress is showing signs of wear and needing to be replaced, then it's safe to say your foundation also needs to be swapped with a new one. If you're working on a tighter budget and don't want to buy both a foundation and a mattress, look for bundle deals or brands offering freebies with a mattress purchase. Sometimes, you can score a free foundation with your new mattress. Alternatively, you can give an old foundation new life by pairing it with a bunkie board.
Conclusion
Finding the right bed frame for your new mattress isn't all that complicated—start by looking at what your mattress requires and then narrow down your options by budget and personal preference. The most important thing about choosing a bed frame is guaranteeing it's compatible with your mattress, so as long as you keep compatibility the primary focus, your search should be easy. Plus, many brands sell mattress foundations built to pair with their beds; that way, you know what you're buying is perfect for your new mattress.
---
About the author
Stacy Liman is a journalism graduate student and a freelance writer with a focus on mindfulness and content marketing. Her passion for understanding and writing about the science of sleep enables her to provide valuable insights into achieving healthier and deeper rest. Stacy's commitment to helping people improve their sleep drives her exploration of new mattresses and sleep-promoting gadgets.
View all posts