Looking for grandeur and opulence in your bedroom? Here's your chance to live one-third of your life literally in the lap of luxury when you sleep on the best luxury mattress.
You spend one-third of your life sleeping—it's worth it to guarantee yourself a luxurious sleep experience while your body relaxes and rejuvenates itself. No matter what you do throughout the day, investing in an elite mattress ensures that you come home to sleep in uber comfort after a long, tiring day.
What is a Luxury Mattress?
A luxury mattress, as its name suggests, makes you feel opulent. It enhances your sleeping experience by going that extra mile beyond a standard mattress. These mattresses are premium category mattresses, made from quality materials and are considered to be the best in the market.
While a standard mattress provides you with your desired level of comfort and support, these luxury mattresses have additional features like specially formulated materials, and designs to help you sleep better. These features push the price up, but given their benefits, they are worth the extra dollars.
Best Luxury Mattresses
We recommend our AS5 and AS5 Hybrid mattresses because of their special, sleep-enhancing features. The technology used in these beds provides pressure-point relief and helps you sleep cool through the night without sacrificing responsiveness.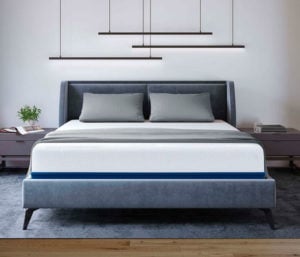 The Amerisleep AS5 is one of our most luxurious and softest mattresses. The AS5 is 14 inches tall, the perfect height compared to other soft mattresses which can be 15, 16, or 17 inches tall. While these taller mattresses aren't necessarily bad, they're just harder to find compatible bedding for and can be cumbersome to climb in and out of, especially for elderly sleepers.
The AS5 has a soft, breathable cover to promote airflow and prevent heat retention. The top comfort layer of Bio-Pur® is 3 inches thick, contouring to your body and providing pressure-point relief. Bio-Pur® is cooler and more responsive than traditional memory foam because of its advanced open-cell structure—it allows for better airflow, making it more breathable.
Contrary to most mattress brands that use 100 percent petrochemicals in the manufacturing of their memory foam mattresses, we partially replace petroleum with natural, plant-based castor oil to create Bio-Pur®.
Out of all our mattresses, only the AS5 sports Active Flex. This 2-inch layer ensures that despite being soft, the AS5 quickly bounces back to its original shape. Many manufacturers are forced to compromise on responsiveness, because of the number of foam layers needed to produce extra cushioning in a soft mattress. But the Active Flex layer maintains responsiveness so you never feel "stuck."
Below the layer of Active Flex is our Affinity with HIVE® layer. Affinity is a transition foam in place to offer extra support and prevent uncomfortable sinkage. Harnessing Intelligent Ventilation and Energy (HIVE®) technology provides targeted support and comfort.
HIVE® technology contains hundreds of hexagon-shaped cutouts, firmer to some parts of your body, like your head, back, and legs for extra support and softer around your hips and shoulders for needed cushion.
At the base is 7 inches of Bio-Core®, a support layer which balances the top layers and provides durability to the bed, ensuring it doesn't sag or develop soft spots.
The AS5 is a durable, top-class mattress, with cooling and sleep-inducing features, providing targeted support and softness without compromising on responsiveness.
Product Highlights:
Combines softness with support
Innovative cooling technology
Enhances restful sleep
Pressure-point relief
Durable
Prevents sagging


The AS5 Hybrid has a combination of breathable, plant-based memory foam and pocketed coils for pressure-relieving comfort with more bounce. This 14-inch high mattress has all the advantages of the AS5, except for the Affinity with HIVE®—this layer is replaced with pocketed coils, providing a zoned support system for enhanced lower back support.
The AS5 Hybrid  features a 3-inch thick comfort layer of Bio-Pur®, a plant-based memory foam. Bio-Pur® is more responsive and breathable than traditional memory foam, helping you stay cool and comfy.
Active Flex is a 2-inch layer that makes the mattress feel soft without compromising on responsiveness. This makes it soft enough to cradle your body and responsive enough to rebound in seconds when you shift positions.
The 8-inch thick pocket-coil layer provides targeted pressure relief and improves alignment by reducing pain-causing pressure points and adding support where you need it the most. Our proprietary zoned support system is divided into three parts— one section gives extra support to your back with overlapping coils and two sections provide more cushion below your hips and under your shoulders.
Individual coils limit motion transfer, offering a more localized cushion and adds coolness to the mattress by allowing extra airflow. Pocket-coils increase the mattress's durability and reduces the chance of sagging or soft spots.  Its firmer perimeter enhances edge support and adds durability while making it easier to get in and out of bed.
At the base of this mattress is a thin layer of transition foam which adds comfort to the top layer and provides the necessary support to make your bed durable and resilient.
This premium mattress gives you extra lower back support, without compromising the plush, body-conforming feel of a memory foam mattress. The AS5 Hybrid is good for those looking for a little lift and bounce beneath the absorbent feel of the top plush comfort layer. This may be the perfect choice for those with back pain because it offers extra support to the lower back region, alleviating pain.
Product Highlights:
Zoned support system offers extra comfort for lower back and relieves pain
Pocket-coil base for more lift and bounce beneath the plush top
Soft without feeling "stuck"
Enhances restful sleep
Pressure-point relief
Durable
Prevents sagging
Mattress Types
Luxury,  high-end mattresses are available in various forms. You can choose from memory foam, innerspring, latex, or hybrid depending on your preference.
Memory Foam
Memory foam mattresses are a popular choice for their body-contouring properties. Memory foam's viscosity allows it to contour to your body, providing pressure-point relief and alleviating aches and pains. Memory foam is also known for its motion isolation—you won't feel your partner tossing and turning next to you.
The only disadvantage of traditional memory foam is heat retention from its dense nature. To beat this, manufacturers came up with different options like advanced open-cell foams, which enhance airflow; plant-based memory foam, where a portion of the petroleum is replaced with natural plant-based oils; and cooling gel memory foam, sometimes infused with graphite and copper for better temperature regulation.
Innerspring
Innerspring mattresses used to be very popular before memory foam came to the market. Innerspring mattresses use a layer of coils for support topped with a thin comfort layer that prevents you from feeling the coils on your body. The coils enable the free flow of air, increasing cooling levels. Innersprings are firmer compared to memory foam mattresses, with more lift and bounce.
Latex
There are two kinds of latex—natural and synthetic. Synthetic latex is made from petroleum, while natural latex is harvested from the sap of a rubber tree which is then manufactured through the Dunlop or Talalay procedures to make latex foam. There is not much difference in the outcome except Dunlop is denser and Talalay foam is softer.
Natural latex beds are commonly categorized under luxury mattresses, because the production and processing costs of natural materials are higher, pushing up price points. These organic beds are also hypoallergenic in nature because little to no chemicals makes them less likely to cause allergic reactions.
Hybrid
A hybrid mattress offers a combination of two types—memory foam and innerspring or latex and innerspring. This type of mattress gives shoppers the privilege to experience cushioning foam layers with a responsive bounce.
Memory foam reacts to the heat and pressure, softening to form around your body and relieving pressure points. While these features are popular, memory foam is also known to trap heat; however, in these beds, the layer of pocketed coils below improves airflow and enhances breathability in the mattress.
In a hybrid, you can get the advantage of both memory foam and innerspring with each working towards negating the disadvantage of the other. Similarly in a combination of latex and innerspring you will enjoy the benefits of the pocketed coil layer, along with the hypoallergenic and cooling properties of latex foam atop.
Benefits of a Luxury Mattress
Luxury mattresses mean innovative technology, better support and cushion, premium materials, additional layers, and a cool, comfortable sleeping experience.
Adjustable Technology
Premium beds use innovative technology that safely converts your excess body heat into infrared energy, which temporarily increases local blood flow, promoting deeper sleep. There are some beds with sensors attached to adjust to your shifting sleep positions—maintaining a good balance of comfort and support. You will find a variety of safe technologies used in premium beds to enhance your sleeping experience.
Zoned Support Technologies
There are mechanisms at work to provide targeted pressure relief and zoned support. It makes the mattress firmer around the regions where it needs support like your lower back and softer where it needs a cushion, like your hips and shoulders.
Additional Layers
Some mattress manufacturers add additional layers in their premium mattresses, either to increase the responsiveness or to make it plusher. A pillow top is a layer of padding made of memory foam, latex foam, fiber, gel, or wool sewn atop the mattress to enhance your comfort. Euro-style pillow tops are sewn underneath the top layer giving it a more uniform and inclusive look and feel. Euro-style pillow tops are also made of foam or fiberfill, providing more localized support as you sleep.
Cooling Technologies

The best mattresses have special features that let you enjoy a cool, comfortable sleep. Some use cooling gels that have specially formulated chemicals to absorb excess heat shed by your body, while others use graphite or charcoal to keep the heat at bay. Materials like bamboo and cotton, known for their cooling properties are also used in some premium mattresses to enhance their cooling comfort.
Mattress Firmness
Luxury mattresses are available in varying levels of firmness— choose one depending on your body weight and sleeping position. Read through mattress reviews, specifications, and buying guides before you finalize on the best luxury mattress.
Weight
Body weight is another aspect in determining the right level of firmness. Your mattress responds to your weight and conforms to your body. If you don't choose the right level of firmness according to your body weight, your mattress may either feel too soft or too hard.
Lightweight Sleepers
These sleepers weigh less than 130 pounds and usually need a soft mattress to feel comfortable. Soft mattresses conform to the body even at the slightest weight—ensuring cradling comfort and pressure point relief.
Average Sleepers
These sleepers weigh between 130 to 230 pounds and require a medium-firm mattress for the right amount of comfort and support during sleep.
Plus-size Sleepers
These sleepers weigh more than 230 pounds and require a firmer mattress to feel comfortable, giving them better support. A soft mattress may make them feel like they're "sinking."
Sleeping Positions
Sleepers with different kinds of sleep positions need mattresses with different levels of firmness to suit their needs.
Side Sleeping
The best mattresses for side sleepers are soft to medium in firmness, as these mattresses will provide the right kind of cushion to their hips and shoulders and conform to their body, evenly distributing their body weight on the surface. This also provides pressure-point relief as it helps the sleeper relax and rejuvenate.
Back Sleeping
Back sleepers require a bed that enhances spinal alignment and prevents their hips from sinking deep into the mattress. Depending on their body weight they will require a medium to medium-firm bed.
Stomach Sleeping
We recommend a firm mattress for stomach sleepers, something with a little more bounce, which will keep the torso lifted, preventing the back from arching unnaturally. Stomach sleepers can also benefit from a supportive mattress for back pain relief.
Combination Sleeping
Since combination sleepers change between different sleeping positions, a medium mattress will be better for these sleepers— a mix of soft and firm for the best comfort.
Mattress Size
Luxury mattresses are available in all standard sizes. You can choose your mattress size depending on your bedroom size, budget, and number of sleepers.
| | | |
| --- | --- | --- |
| Mattress Sizes | Mattress Dimensions | Room Size |
| Twin | 38 inches by 75 inches | 7 feet by 10 feet |
| Twin XL | 38 inches by 80 inches | 9 feet 6 inches by 10 feet 6 inches |
| Full | 54 inches by 75 inches | 9 feet 6 inches by 10 feet 6 inches |
| Full XL | 54 inches by 80 inches | 9 feet 6 inches by 10 feet 6 inches |
| Queen | 60 inches by 80 inches | 10 feet by 10 feet |
| King | 76 inches by 80 inches | 12 feet by 12 feet |
| California King | 72 inches by 84 inches | 12 feet by 12 feet |
Sleep Trials, Return Policies, and Warranties
When investing in a luxury mattress, know what sleep trials, return policies, and warranties are covered by mattress manufacturers.
Sleep Trial
A sleep trial is a way to try out a new mattress from the confines of your bedroom. Since you are investing big money in a luxury mattress, it is only fair that you get some time to try it out. It's not easy to just lie on a mattress for a few minutes in a store and decide. Most bed in a box mattresses have a sleep trial period ranging from 90 to 365 nights. If you don't like your mattress, the manufacturers facilitate the return and refund your money.
Return Policy
Most mattresses have a sleep trial period, but if they don't then they usually have a return policy where the product can be returned within 30 days of delivery. This is a long enough period for you to know whether you like the product or not. If you are not satisfied with the product, you can return it within the stipulated time. Returned mattresses are either donated to a local charity or recycled.
Warranty
Most luxury mattress manufacturers offer 15 to 25 years, or lifetime warranties, covering manufacturing defects that could damage the mattress, and sagging more than 1 inch.
FAQs
Who should buy a luxury mattress?
Anyone who wants to experience the top of the industry should buy a luxury mattress. They come in various types, sizes, and firmness levels.
What is the difference between a standard mattress and a luxury mattress?
Standard mattresses may meet expectations, but a luxury mattress goes beyond. While you will feel comfortable sleeping on a standard mattress, these premium beds have additional features to enhance your sleep experience and make you feel more relaxed and rejuvenated.
Do luxury mattresses help in alleviating body pain?
Luxury mattresses are good at alleviating body pain because they have targeted support and comfort zones with the use of special technology.
Do luxury mattresses smell?
Not usually—off-gassing is most common in memory foam mattresses due to the chemicals used in the manufacturing process; however, many luxury memory foam mattresses contain plant-based or at least CertiPUR-US® foams that are free from harmful chemicals and less likely to off-gas.
Conclusion
Choose the mattress that is perfect for you depending on your comfort level and needs. Your bed is your own quiet corner where you relax and rejuvenate to greet the next day with renewed enthusiasm. Make sure that you are doing it the right way and in style. Luxury mattresses are at the top of the ladder and come with the promise of offering you customized comfort. These mattresses provide additional features than the standard mattresses which help in enhancing your sleep experience.
This article is for informational purposes and should not replace advice from your doctor or other medical professional.
---
About the author
Sanchita Sen is a full-time writer focusing on the sleep health and mattress industry. She is a former journalist who has written numerous articles on the healthcare sector. Some of the topics she has covered include how to lucid dream, fever dreams, melatonin for sleep, and best gel memory foam mattress. Sanchita holds a Master of Arts in Communications from Convergence Institute of Mass Media and Information Technology Studies. She is also a published author, who seeks inspiration from both real life and the world of fiction.
View all posts