Adjustable beds are one of the best sleep technologies of the modern era. They allow you to sleep in whatever position you like. They can do everything from easing back pain to improving circulation to reducing circulation.
The great news about adjustable beds is you can get them in just about any size you want. You don't even need to change your bedroom decor because you can even purchase adjustable bases that can fit in your existing bed frame. The only limit to what you can do with your adjustable bed is your own imagination!
Most of the time, your adjustable bed base is going to follow the standard mattress dimensions. For instance, a twin size adjustable bed will be the same dimensions as a twin size mattress, and so on. Of course, an adjustable bed might have an extra inch of length or width just in case. But most of the time, it won't be any different than a stationary mattress base.
Popular Adjustable Bed Sizes
Adjustable beds often correspond with the standard mattress sizes, though you may find that not every model comes in these sizes.
Twin
A twin mattress or single bed is perfect for single sleepers who have compact spaces. A twin bed measures 38 by 75 inches.
That makes a twin size mattress a solid choice for any tiny room size. Think of it for college dorm rooms, children's rooms, and studio apartments.
Twin XL
Twin XL size mattress are 38 by 80 inches, adding five inches to the length of the standard twin size bed dimensions. This allows single sleepers over six feet tall to have a compact bed that doesn't allow your feet to hang over the edge.
Full
The full size mattress is also known as the double bed because it can allegedly accommodate couples. However, at 54 inches wide by 75 inches long, the full size bed doesn't offer enough space to the average couple. It provides the same amount of width as a child's crib. This bed is better for single adults who want some extra wiggle room.
Queen
The queen size mattress is the most popular mattress size. This is because a queen mattress can comfortably accommodate couples while still fitting in smaller masters and most guest rooms. The 60 by 80-inch queen size bed offers enough room to most couples and is long enough to accommodate sleepers of most heights.
King
The standard or eastern king size mattress is 76 by 80 inches. This is the best mattress for couples who like to spread out. A king size bed offers a full 16 inches of width over the queen size mattress.
The king size mattress offers more width and more sleeping surface by total area than any other standard bed size.
California King
The California king size mattress is for very tall sleepers and couples with massive master bedrooms. At 72 by 84 inches, the California king mattress is long enough for sleepers well over six feet tall. It just might be the only mattress that sleepers over six foot four inches can sleep on comfortably. It also offers a grand look to people with oversize master bedrooms.
See also:
Split King
The split king mattress is one of the most popular mattress sizes for couples who purchase an adjustable bed. The split king is the same size as a standard king. However, it's actually made of two twin XL mattresses.
This means couples can not only select different adjustable base angles with a split king adjustable bed. They can also choose different firmness levels and different materials. This means you can sleep in separate beds in the same bed. The split king is the perfect setup for couples who have very different sleep preferences but don't want to give up sharing a bed.
Amerisleep Adjustable Bed
Quick Guide: A 30-Second Summary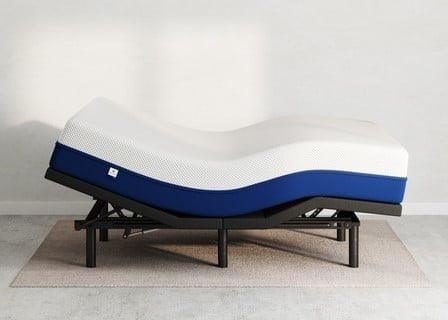 Best Adjustable Bed
Amerisleep Adjustable Bed+
Price Range

$1260 to $2100

Availability

Twin XL, Queen, King, California King, Split King

Warranty

10 Years

Height

9, 12, or 15 Inches
Our advanced Amerisleep Adjustable Bed+ comes in five sizes to suit different sleep needs and room sizes.
Adjustable Bed Highlights
Massagers ease aches/pains across the entire body
Different presets and empty slots to program
Wall-gliding technology keeps the nightstand close
Recommended For
All sleeping styles
People with a medical condition
Couples
One of the best adjustable bed frames on the market today in terms of extra features, cost, and style is the Amerisleep Adjustable Bed+. This sleek, modern-looking adjustable bed offers tons of perks above what every adjustable bed includes.
One of the best features of the Adjustable Bed+ is the rolling wave massage feature. The Adjustable Bed+ has two different massage motors for a relaxing full-body massage. The three intensity settings also allow you to choose how light or firm you want your massage to be.
The Adjustable Bed+ also features under-bed lighting to allow you to get in and out of bed without worrying about turning on the lights. It also has a wall glide design that shifts you back as it lifts you up to keep your nightstand in reach.
The Adjustable Bed+ is as smart as it is adjustable. It comes with a wireless remote control that allows you to adjust the settings, start and modify the massager, and control the lights at the touch of a button. If you don't want to deal with the remote, the bed also connects to a mobile app and can obey smart assistant voice commands. It even has USB ports for your devices.
The Adjustable Bed+ also clocks in at a reasonable price. While some companies can charge well over $3,000 for a split king bed with all these features, the Adjustable Bed+ is just $2,100 for the largest sizes.
Budget shoppers may also want to consider the lower-priced Amerisleep Adjustable Bed. It has fewer features than the Adjustable Bed+ but offers what most sleepers need in an adjustable bed.
Other Factors to Consider
The size of your adjustable bed isn't the only thing you have to worry about when shopping or redecorating. There are lots of other things to consider when you're looking to purchase an adjustable base.
Bed Weight
Adjustable beds are not light. Even a twin can weigh around 150 pounds. And a king or California king will likely exceed 300. Adjustable hospital beds might even go up to 500 or 600 pounds. Most people won't be springing for a hospital bed. But any adjustable bed setup is going to weigh a lot more than just a simple bed frame.
That means you'll have to plan accordingly. If you move, it might take multiple people to take the bed apart and relocate it. Even if you only want to slide your adjustable bed frame around the room, that could be a lot harder than you anticipated.
Max Weight Capacity
All adjustable beds have a maximum weight that they can support before breaking. This weight includes the mattress and all sleepers who will be using it. You'll want to get a good idea of what your mattress will weigh and be aware of the combined weight of all the sleepers using the bed.
Once you add all that up, try to get an adjustable bed with a max capacity well above the final number. That will give you some wiggle room in case you want to change your mattress, or your kids like to share your bed sometimes.
Ease of Setup
Some adjustable beds come with a lot of hardware and require some serious handyman skills to set up. Some don't require any tools and very little skill.
You can often check out your potential new adjustable bed's setup instructions online to see if it's something you can handle. Customer reviews can also give you an idea of how simple it is to assemble a bed base and potential issues you might encounter, like an adjustable bed beeping before you connect a remote control.
Mattress Type
You can't just toss any old mattress on an adjustable base. If you have an innerspring mattress, you'll have to get rid of it. Innerspring mattress's open coil networks are too stiff to move with an adjustable base. That means coil mattresses will either "float" because they remain straight while the bed moves. Or they'll just break the first time you adjust the base.
That means for your adjustable base, you need a:
These mattress types are all flexible enough to move with your bed. They're also heavy enough to stay firmly seated on the adjustable surface even as the bed moves.
Budget
Adjustable bases are often more expensive than a simple platform bed or an average bed frame. However, there are lots of more affordable options on the market now than there were in the past. Even so, expect to pay between $1,000 to $3,500 for one.
Keep in mind that you might be able to get insurance or HSA to cover the cost. If you have a medical reason to need an adjustable bed (such as sleep apnea or spinal problems), you might be able to get a prescription for it. This can help you cover the cost. So talk to your doctor if you think you qualify.
Bed Features
Many people want more than just the basic benefits of an adjustable bed. While most beds can relieve symptoms of a medical condition, more upscale features such as massagers and under-bed lighting are less common.
Conditions an adjustable bed can relieve include sleep apnea, sleep apnea, Verified Source National Library of Medicine (NIH) World's largest medical library, making biomedical data and information more accessible. View source snoring, and acid reflux. Verified Source National Library of Medicine (NIH) World's largest medical library, making biomedical data and information more accessible. View source

More Mattress and Accessory Size Guides
Adjustable beds are relatively straightforward when it comes to sizes, while other parts of your bed can be trickier when it comes to what the right size for you is. We have a number of guides discussing the potential dimensions of your mattress and its accessories.
FAQs
What sizes do adjustable beds come in?
Adjustable beds come in all the standard sizes. You can get an adjustable bed in any size from twin through California king.
One of the most popular adjustable bed sizes is the split king. In this setup, each partner in a couple gets one twin XL size adjustable base and mattress. This allows each partner to control their own adjustment settings. It also gives them the option to choose their own firmness and material preferences.
Can I use my existing bed frame with an adjustable bed?
That depends on the adjustable bed. Some adjustable beds are set up to give you the option to either stand them on their own or set them inside your existing bed frame. You might have to remove the rails and just attach the headboard and footboard to the adjustable base. Or you might be able to set the base right inside the rails. It just depends.
However, keep in mind that some adjustable beds can only stand on their own. This is especially true if they come with their own attachable headboards, storage drawers, or other features.
Those who want to put an adjustable base in their existing bed frame should pay special attention to the label and instructions on any adjustable base they look at to ensure it is manufactured to go inside a frame.
How do I know the weight capacity of my adjustable base?
Most adjustable bases are made to take the weight of a heavy foam mattress and possibly multiple sleepers. That means just about every adjustable base is going to have a pretty high max capacity.
However, it's important to never assume a base can just hold your weight and the mattress's weight. The only way to know for sure is to look at the label and actually see each individual bed's capacity.
Do I need box springs on an adjustable bed?
No. You should never put box springs on an adjustable bed. You should also never put a mattress foundation on an adjustable bed. There should be nothing between the surface of your adjustable base and your mattress.
The reason is that box springs and mattress foundations are rigid. They're made to support a flat mattress, not to move with an adjustable bed. If you change your adjustable bed's settings, it could break the box spring set or bed foundation or even the adjustable bed itself.
Are adjustable bases really all that great for your health?
Yes. Sleeping in the zero-gravity position takes the pressure off the spine and the joints. This can relieve back pain and joint pain and improve your sleep. Sleeping with the head and feet elevated can also help improve your circulation by making it easier for blood to get back to your heart. This can, in turn, reduce inflammation.
One of the biggest benefits of adjustable bases is that they reduce snoring and sleep apnea symptoms. When you sleep with your head elevated, gravity pulls down on your throat tissues. This prevents the soft tissues in the throat from collapsing into the airways and blocking airflow. That can not only reduce annoying snoring but also help alleviate more dangerous sleep apnea symptoms.
Bottom Line
Adjustable bases are a wonderful solution to a wide variety of sleep issues and even general health problems. And with the fact that they come in any size and a range of style options, there's no reason not to hop on the adjustable base train!
---
About the author
Marygrace Taylor is an award-winning health writer for Amerisleep. Her commitment to sleep health is evident in her ability to consistently prioritize eight hours of sleep each night. Her in-depth interviews with industry experts, such as Ken Ceder on "Why Light is Essential for Great Sleep and Optimum Health," highlight her dedication to delivering valuable insights. Marygrace's work has been featured in reputable publications like Business Insider, Glamour, Refinery29, Metro UK, and Hunker, further solidifying her expertise in the field.
View all posts