Some people mistakenly believe California kings are bigger than standard king beds, but the main difference is actually in the width and length. California kings are longer and narrower than standard kings—a king bed is 76 inches by 80 inches, and a Cal king bed is 72 inches by 84. As a result, tall sleepers or couples with narrower master bedrooms often choose California kings.
In our article, we discuss the differences between a king and California king size bed, and include the pros and cons of both sizes to help you determine which mattress size is right for you.
What is a King Size?

A king size mattress measures 76 inches by 80 inches —the equivalent of two twin XL beds placed next to each other. A king-size bed (otherwise known as an Eastern king) is designed to accommodate two sleepers but has room for children who like to snuggle with their parents at night.
The standard king size bed is the largest mattress size on the market, covering a total surface space of 6,080 square inches. This bed size is perfect for larger master bedrooms at least 12 feet by 10 feet, though we recommend 13 feet by 13 feet for the best balance of space. It is the a popular choice for couples, second only to the queen size bed.
Pros
Couples who like to stretch out, plus room for children
Large bedrooms
Widely available
Split king option available for couples with differing sleep preferences
Cons
Expensive
Too big for limited spaces
Hard to move due to size and weight

What is a California King Size?

A California king mattress (also known as a Western king) measures 72 inches by 84 inches. This mattress size is also great for couples, especially for sleepers over 6 feet tall. Since the Cal king mattress is more narrow than a king size, it may have room to fit 1 to 2 small children in addition to two adults.
California king beds are the second-largest standard size in the mattress industry with 6,048 square inches of total surface area. Cal king mattresses are ideal for master bedrooms measuring 12 feet by 12 feet, though a room size 12 feet by 14 feet would be better to accommodate the bed's extra length.
Pros
Tall people at least 6 feet
Couples who like to be closer together
Split California king option for couples with differing sleep preferences
Large bedrooms
Cons
Hard to move due to bulky size
Higher price tag
Difficult to find bedding
Best Amerisleep Mattresses
Along with the regular king and the California king size mattresses, we also offer split king size mattresses of all our models. Any one of these three sizes can suit a sleeper who wants to upgrade to a larger bed, but the key is to choose the right mattress for their needs.
Quick Guide: A 30-Second Summary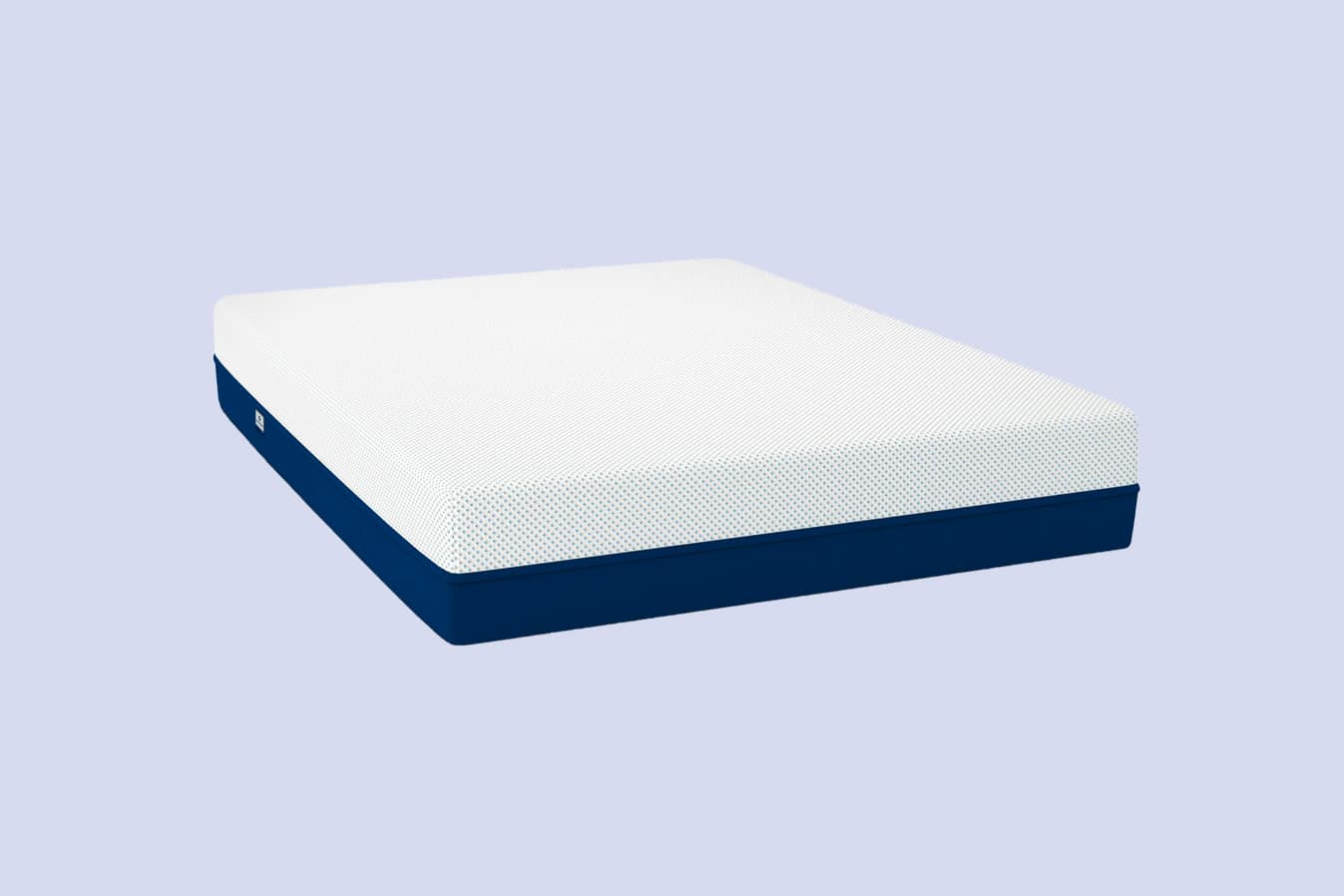 Best King Mattress Overall
Amerisleep AS3
Price Range

$1149 to $2398

Mattress Type

Memory Foam

Firmness

5 to 6 out of 10 (Medium)

Availability

All sizes

Warranty

20 Years

Thickness

12 Inches
Couples often seek a mattress like our AS3 when they're searching for a king size mattress. The AS3 suits most sleeping styles, so two people can compromise without giving up what makes each of them feel comfortable.
Mattress Highlights
Memory foam cradles one or two sleepers with ease
Targeted support helps with a good spine alignment
Sturdy foam core structures the mattress
Recommended For
Side, back, and combination sleepers
Couples and solo sleepers
Hot sleepers
The AS3 mattress is easily our most popular model, and it owes much of its success to its versatile feel. The medium feel balances pressure-relieving cushion with supportive features and can support different sleeping positions and body types. The AS3 may be just what you need if you want to upgrade your bedroom with a king size bed, whether it's a regular king or a California king.
Three foam layers make up the AS3 mattress, regardless of what size of mattress you choose:
3 inches of Bio-Pur® foam
2 inches of Affinity foam with HIVE®
7 inches of Bio-Core® foam
The top layer is Bio-Pur® foam, a plant-based material. While traditional memory foam is wholly synthetic, we replace some petrochemicals with plant-derived oils. As a partly plant-based memory foam, Bio-Pur®improves upon many qualities of traditional memory foam, aside from just its sustainability.
Thanks to its construction, Bio-Pur® adapts within seconds to a person's movements, making it easy to move across the surface. The design of Bio-Pur® foam also promotes airflow through the surface, which enables heat dispersion for uninterrupted sleep.
Next, is the Affinity foam with HIVE® layer. Affinity foam has hexagonal cutouts arranged in five distinct zones. The hexagons in the shoulders and hips areas are placed to establish pressure relief and increase cushion, while the head, torso, and feet are focused on pure support.
The Bio-Core® foam base helps the mattress stand up against years of wear and tear, a particularly beneficial feature when it comes to making an investment on a king size mattress. After all, you don't want to pay a king's ransom for a king mattress only to have it sag within a few short years.
We designed the Bio-Core® foam to minimize the chances of sagging. Just how confident are we in the durability of Bio-Core®? Well, Bio-Core® foam is the main reason we back all of our memory foam mattresses with a 20-year warranty.
Quick Summary
Medium feel supports people with conflicting sleep styles
Five support zones for adaptable comfort and pressure-relieving cushion
Sag-resistant, supportive base foam for greater mattress durability
What to Consider
Whether you choose a king or California king size mattress, look at room dimensions, cost, and sleeper height. Also, take into account if you're part of a couple that likes to sleep close to each other or prefer more personal space.
Room Dimensions

Allow at least 2 feet of space on three sides of the mattress for more room to walk around and space to add furniture without feeling overcrowded. If you have a narrower room, a California king sized mattress might be better to save on space compared to a king size. If you plan to install a headboard, consider the space that will take up as well.
If you're limited on space, then a queen mattress might be the better option —the queen size provides room for couples and is also a good choice for single adults. If you're looking for a bed for one sleeper, queen or full size mattress are excellent options.
Cost

Both king and California king mattresses have the highest cost on the market due to their large size and the number of materials they contain.
Since Cal king mattresses aren't as widely available as a king-size, you may end up paying more. This also applies to accessories, like bed frames, comforters, and bed sheets.
Sleeper Height

Height is another important factor to consider before choosing between a king and a California king mattress. How tall you are directly affects how comfortably you can stretch out on a sleeping surface, with shorter people having an easier time of it.
For those 6 feet tall and shorter, a regular king mattress is the perfect fit. For those taller than 6 feet, a California king bed is better, with more space to stretch out.
Couples
If you're part of a couple and trying to decide between a king or California king mattress, consider how you both like to sleep —if one or both of you prefer more personal space, a king-size mattress is a good option. If you both like to sleep close to each other, a Cal king size bed is a great choice.
Of course, some couples don't want to share the same bed because their comfort preferences are so different, but they may still wish to stay close at night. For these couples, we recommend the split king mattress,which gives each partner their own twin XL size mattress laid side by side.
Mattress Foundation
The type of foundation you use with the bed is more dependent on the mattress type, not the size. You can use an adjustable base with both kings and Cal kings, as well as box springs, platform beds, or slatted frames. Just make sure you use the right bed foundation with your mattress type, which should be specified in the mattress warranty.
Other Standard Mattress Sizes
While king and California king mattresses are the pinnacles of expansive comfort, they're not the right choice for everyone. If you don't have the room space or budget for either, there are four other standard sizes to consider.
| Mattress Size | Mattress Dimension | Recommended Room Size |
| --- | --- | --- |
| Queen | 60 inches by 80 inches | 10 foot by 12 foot |
| Full | 54 inches by 75 inches | 10 foot by 12 foot |
| Twin XL | 38 inches by 80 inches | 10 foot by 10 foot |
| Twin | 38 inches by 75 inches | 10 foot by 10 foot |
Twin

The smallest size mattress an adult can comfortably sleep on is a twin size mattress. It's an affordable option for sleepers under 6 feet tall, able to squeeze into most smaller bedrooms and studio apartments. However, for taller sleepers, it may be worth the extra cost to get a twin XL bed instead.
See also twin vs twin XL mattresses.
Twin XL

The twin XL mattress is a small step up from the standard twin mattress, giving taller sleepers more room to stretch out with their legs. If you're an adult sleeper looking for a compact yet comfortable mattress, a twin XL size mattress might be your best option.
See also twin XL vs. split king mattresses.
Full

A full size mattress, occasionally referred to as a double bed, is excellent for sleepers who want a smaller mattress with room to sprawl. Despite its alternate name, we can't recommend a full or double bed to sleepers who plan to share with a partner. Each person would end up with a sleeping space roughly the size of a crib mattress.
See also:
Queen

The queen size mattress is the largest mattress of the four smaller sizes, and it is the only one we would recommend to couples who aren't considering king mattresses. Measuring 60 inches wide and 80 inches long, a queen bed can provide enough space for two people to sleep without feeling pressed too close. Still, those who enjoy their personal space at night might prefer one of the king beds.
See also:
FAQs
Is a California king bigger than a regular king?
The king size mattress has a greater total surface space than a California king size —6,080 square inches compared to 6,048. Still, for many sleepers the difference is negligible. Both king sized bed options can usually provide the personal space that two people require.
How much bigger is California king than a queen?
A California king size is both wider and longer than a queen size mattress. A California king size mattress measures 72 inches by 84 inches. Meanwhile, a queen size measures 60 inches by 80 inches. While many sleepers will feel comfortable on a queen or California king bed, the added foot room can keep sleepers over 6 feet tall from having to lie down with their feet dangling over the edge.
What is the point of a California king bed?
Though the idea of a Cal king may not make much sense, it's a great option for tall sleepers or couples with a small, narrow master bedroom. With a California king, each sleeper (or single sleepers) still have plenty of space, but the bed doesn't take up as much room width-wise. However, partners who aren't over 6 feet tall and have wider bedrooms should find the standard king perfectly satisfactory.
What is an Alaskan king bed?
An Alaskan king measures 108 inches by 108 inches, or 9 by 9 feet. Alaskan kings are rare, but the largest variation of king beds and perfect for two sleepers who needs lots of room or even parents who co-sleep with their kids. Most mattress retailers don't carry Alaskan kings, so you may need to special order one if you want one.
See also California King vs. Alaskan King.
Why is it called a California king?
The California king got its name from where it was invented—Los Angeles, California. The creator of the mattress thought most Californians had houses big enough for a bed six feet wide and seven feet long. It's sometimes also called the Western king since it was made in the western U.S., while the traditional king is called the Eastern king.
The Perfect Size
Both king and California king are the largest standard mattress sizes on the market. Both are excellent choices for a master bedroom in providing adequate sleeping space.
While a standard king mattress is wider and shorter, a California king size is longer and narrower. Either can be the most comfortable mattress for you, whether you're sleeping alone or with a partner. Depending on your personal preferences and available space, both king size beds are excellent choices for any master bedroom.
---
About the author
McKenzie Hyde is a Certified Sleep Science Coach and a full-time writer specializing in sleep health and the mattress industry. With a Master of Arts degree in literature and writing from Utah State University, McKenzie combines her passion for writing with her in-depth knowledge of sleep science. Her articles cover a wide range of topics, including best sleep practices for students, the consequences of sleep deprivation, and choosing the right mattress for back pain relief. McKenzie's dedication to delivering accurate and informative content makes her a valuable contributor to the field of sleep health.
View all posts