Headboards serve an aesthetic and functional purpose: they provide back support when you are sitting up in bed and they can help complete the look of your bedroom. Headboards are included with some, but not all bed frames. When buying a headboard, consider your mattress size and the available space in your bedroom.
In our guide, we explain how to choose a headboard by looking at headboard dimensions. We'll also go over the different types of headboards available today.
Headboard Widths
Typically, headboards are as wide as their compatible mattress sizes or around 2 to 4 inches wider. You may need 2 inches of space on either side of the bed to fit a headboard. When buying a new headboard, factor in this extra space so you can buy your other furniture accordingly and avoid overcrowding your room.
Since headboard sizes align with standard mattress sizes, in this table, we provide the approximate headboard widths with their compatible mattress dimensions and the recommended room sizes.
| Bed Size | Headboard Widths | Mattress Dimensions | Recommended Room Size (IN) | Recommended Room Size (CM) |
| --- | --- | --- | --- | --- |
| Twin | 41 inches | 38 inches by 74 inches | 7 feet by 10 feet | 213.36 cm by 304.8 cm |
| Full | 56 inches | 54 inches by 75 inches | 10 feet by 10 feet | 304.8 cm by 304.8 cm |
| Queen | 62 inches | 60 inches by 80 inches | 10 feet by 10 feet | 304.8 cm by 304.8 cm |
| King | 80 inches | 76 inches by 80 inches | 12 feet by 12 feet | 365.76 cm by 365.76 cm |
| California king | 74 inches | 72 inches by 84 inches | 12 feet by 12 feet | 365.76 cm by 365.76 cm |
A standard queen headboard will suit a queen bed frame in a 10 by 10 foot room, but the same room may look overcrowded if you choose an extra-wide headboard. Extra-wide headboards may be 25 to 30 inches wider than the bed, often extending beyond the bedside tables. This makes a bold statement in large rooms, but in small rooms, the extra width clutters the space.
Most extra-wide headboards are wall-mounted, meaning they are attached to the wall and not the bed frame. The bed frames are just placed against the headboard, so you don't have to worry about size compatibility. For example, an extra-wide wall mounted headboard may work with a queen as well as a king size bed. Frame-mounted headboards have to be size compatible because the mounting holes on either side must line up for them to be attached.
Headboard Heights
The effective height of a headboard is what you see above the mattress and not the overall height from the floor. There are no specific standards for headboard heights, though the general rule is to ensure the headboard is shorter than the length of your bed. Most twin, full, queen, king, and Cal king headboards are designed with this in mind.
Generally, twin headboards are 14 inches above the top of the mattress, while full and queen headboards are 28 inches, and king and Cal king headboards are 58 inches.
Tall Headboards
Tall headboards are commonly used with king or California king mattresses. They look best in rooms with high ceilings because they fill the vertical space. A tall headboard also keeps your head from leaning against the wall when you are sitting up in bed. Tall headboards may be 65 to 70 inches tall, covering almost the entire length of the wall.
Short or Low Headboards
Short or low headboards can make your room look spacious. They are often used with smaller beds in guest rooms. A low headboard for a twin size mattress can be 10 to 12 inches above the top of the mattress. They are a perfect option when you want to hang a painting, photo, or wall decor above your bed.
Adjustable Headboards
Adjustable headboards usually include metallic legs that can be moved up or down to adjust the height. They are an excellent option when you are unsure which height is most suitable for your room.
If you have a big bed in a small room, adjust the headboard height to a shorter level so the room appears spacious. Adjustable headboards also come in handy if you change your mattress to a thicker or thinner one. That way, you don't have to buy a new headboard to fit your new mattress.
Different Types of Headboards
The thickness of your headboard depends on the type. Fancy headboards with shelves and drawers are thicker than the plain wooden or metal headboards. These simple headboards may be 2 to 3 inches thick, while headboards with built-in storage can be 7 to 10 inches thick.
When it comes to headboard type, you'll also have to think about the materials and if they mesh with your other bedroom decor. Platform beds or panel beds both mesh well with different types of headboards, depending on whether they have a classic or modern look.
Wood Headboard
Wood is one of the most popular furniture building materials. People prefer wooden headboards because they suit both classic and contemporary decor. Wooden headboards can be made up of one solid wooden panel, 3 to 4 panels joined together, or plain wooden spindles.
Pine, oak, and maple are some of the common types of wood used to make headboards. Plywood is a comparatively budget-friendly option, but it's not as durable as pine, oak, or maple.
Wooden headboards flaunt a natural wood finish, or they are painted in earthen shades like brown, black, or grey.
Wood headboards are common with platform, sleigh, four-poster, and bunk beds as well. Families with more than one child prefer bunk beds because they optimize space, increasing play areas for children.
Four-poster and sleigh beds are often found in queen or king sizes because these regal styles are suitable for large rooms. The outward curve of the headboard in a sleigh needs more space, while the posters on all four corners of a bed can crowd your room. Platform beds don't take up as much space and are suitable for all room sizes.
Metal Headboard
Metal headboards can offer a modern, industrial, minimalist, or a vintage look, depending on their design. They are an affordable option compared to pine, oak, or maple wood. Metal headboards can be made of wrought iron, brass, brushed aluminum, or stainless steel. They are found in various colors such as silver, nickel, gold, black, brown, and white.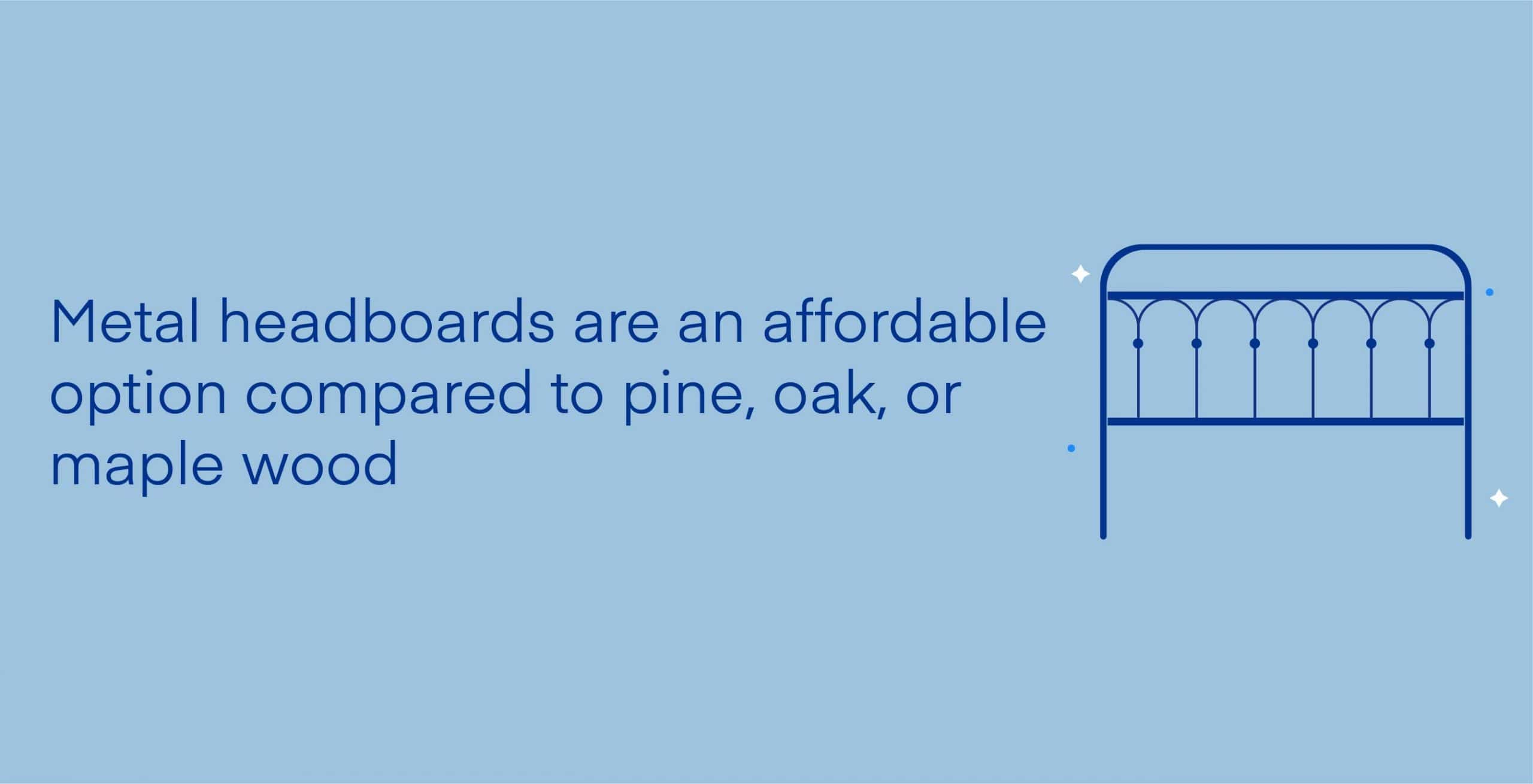 Metal headboards are common with platform and bunk beds, in all standard sizes. Sometimes, they are also used with four-poster bed frames.
Upholstered Headboard
Upholstered headboards are the most comfortable because the soft padding provides a plush backrest when you are sitting up in bed. They are also a good option for active sleepers, protecting them from getting hurt even if they bump their head on the headboard.
The padding in upholstered headboards can include cotton, linen, leather, or polyester. The price of the headboard depends on the quality of materials used in the padding.  They are available in a wide variety of colors, making them popular even in kids' bedrooms.
An upholstered headboard may be solid-colored, printed, or tufted. Upholstered headboards can be used with any type of bed frame, and are usually thicker than simple wood or metal headboards.
Storage Headboard
Storage headboards are usually made of wood, providing you enough space to keep your books, alarm clock, or other bedroom essentials in them. They are commonly used with platform and bunk beds. Storage headboards are the thickest of all types, so you need a large bedroom to accommodate them.
More Mattress and Bedding Size Guides
FAQs
What size should a headboard be?
The headboard size should be compatible with your mattress size for the perfect fit. Most twin, full, queen, king, and Cal king headboards are as wide as their compatible mattresses or 2 to 4 inches wider. The standard height varies between 14 to 58 inches, depending on the size of the bed. For example, a twin headboard can be 41 inches wide and 14 inches tall, while a king headboard can be 80 inches wide and 58 inches tall. A headboard can be 2-10 inches thick.
What are the dimensions of a queen size headboard?
Queen headboards range from 60 to 64 inches wide by 28 to 48 inches tall. The thickness depends on your preference for the type of headboard. Simple headboards are 2 to 4 inches thick, while headboards with storage are 7 to 10 inches thick. Choose one depending on the space in your room and your stylistic preferences.
What is the best height for a headboard?
There is no best height for a headboard, but the general rule is to keep them shorter than the length of the bed. Taller headboards often look good in large rooms with high ceilings, while shorter headboards can make a small room look more spacious. Generally, the standard height of a twin headboard is 14 inches, full and the queen is 28 inches, and a king is 58 inches.
Can a full size headboard fit a queen?
A full mattress is 6 inches narrower than a queen mattress so a full size headboard will not fit a queen size bed frame. The mounting holes on a full headboard will not line up with those on the queen bed frame, which is necessary to join them together. Typically full headboards are 56 inches, while queen headboards are 62 inches wide.
How do you fix a gap between a mattress and a headboard?
To fix the gap between a mattress and a headboard, use an upholstered headboard, as the thick padding helps to cover the gap. If the gap is more than 1.5 inches, use mattress wedges as a filler. These triangular foam products extend along the entire width of the mattress, filling the gap between the bed and the headboard. You will find mattress wedges in most home improvement and online stores.
Conclusion
Headboards were originally designed to serve as an added layer of insulation; they protected sleepers from feeling cold when the bed was placed against the wall which radiated the chill of the outside environment. In modern-day homes, these headboards serve more of an aesthetic purpose. They can redefine the look of your bedroom, making it classy, elegant, vintage, or contemporary.
If you want to revamp your bedroom, consider changing the headboard for a brand new look. Headboards can serve a functional purpose as well, like protecting you from bumping your head or providing extra storage space.
---
About the author
Geoff McKinnen is a writer focusing mainly on the healthcare industry and has written articles on everything from foods to help you lose weight to the connection between Alzheimer's and sleep. Geoff's passionate about helping readers improve their well-being to lead happier lives. Outside of work, Geoff enjoys cycling and hiking and believes that by leading a healthy lifestyle, he can help others do the same.
View all posts