Queen size beds are the most popular mattress size for a reason:
They're just so versatile!
They can fill out larger rooms, no problem.
They can fit into smaller rooms with little issue.
They can accommodate couples without being so huge they feel too big for single sleepers.
There's a lot to love about the queen mattress. However, for some sleepers, the queen bed may not be long enough.
If you're well over six feet tall, 80 inches of space can still prove too short for you. The good news is you don't have to go all the way up to a California king. The California queen might be a better option. The California queen might not be part of the standard bed size run, but it's not hard to find either.
Standard Queen
Like we said above, the standard queen is the most common bed size. This is because it's big enough to accommodate most taller sleepers and couples comfortably (unlike the full bed) without the exorbitant price tag of a king size bed. It's also a good size for most bedrooms because it neither leaves them looking empty nor takes up all the space in them.
Queen Mattress Dimensions
A queen mattress is 60 by 80 inches. That translates into 30 inches of sleeping space per person if there are two sleepers. It also offers taller sleepers more than six and a half feet of legroom to stretch out.
When figuring out if a queen mattress works for your room, be sure to calculate using the dimensions of a queen size bed frame, which are typically a few inches more expansive than a mattress.
Who Should Sleep on a Queen Bed
Just about anyone can sleep on a queen bed. That's the beauty of this bed size. Single adults who like tons of room to toss and turn can sleep on a queen. Couples who don't have the space or the budget for a king should do perfectly well on a queen. And, of course, tall sleepers who find their feet dangling over the edge of a full or twin can find the extra length they're seeking.
Ideal Spaces for a Queen Bed
Queen beds are five feet wide by a little over six and a half feet long. So if you're going to follow the general rule of keeping two feet of clearance around three sides of your bed, you need to ensure you're putting the bed in a nine by nine-foot room.
However, if you want to include bedroom furniture like a pair of nightstands or a dresser, you're better off increasing your room size to around 10 by 10 or 10 by 12 feet. At the same time, if you have a larger master bedroom and don't want to buy a new bed, you can include some seating or a wardrobe to help your queen size bed fill out the space.
Average Cost of a Queen Bed
The average cost of a queen mattress depends on the material used to construct it. Queen size innerspring mattresses average out to around $950, while latex ones can be over $2,000. Most of the time, you can expect to pay anywhere from $600 for a value queen to several thousand for a luxury queen.
Best Amerisleep Queen Size Mattresses
Quick Guide: A 30-Second Summary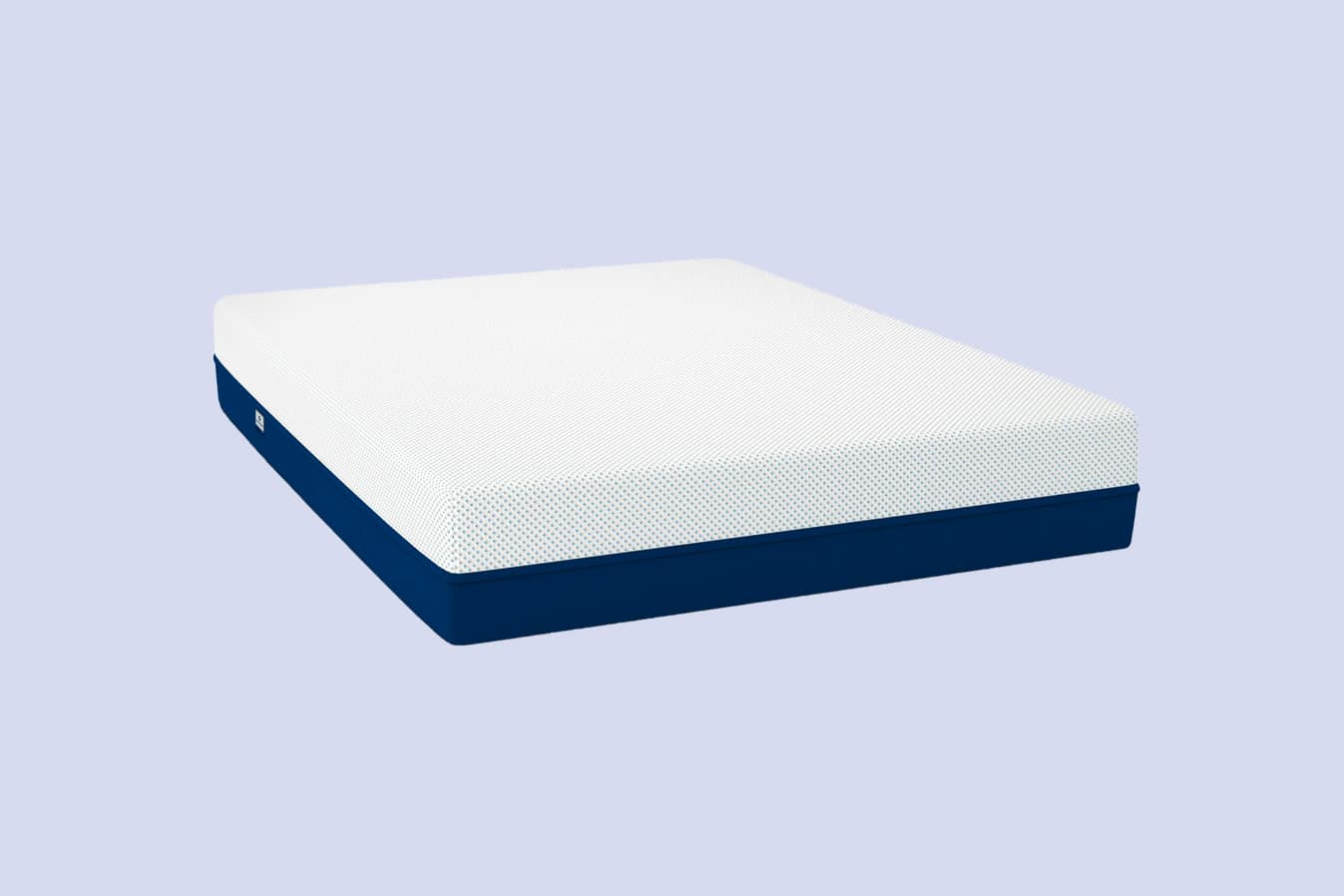 Best Queen Mattress Overall
Amerisleep AS3
Price Range

$849 to $1798

Mattress Type

Memory Foam

Firmness

5 to 6 out of 10 (Medium)

Availability

All sizes

Warranty

20 Years

Thickness

12 Inches
The medium feel of the Amerisleep AS3 ensures it suits most sleeping styles, making it perfect for people who want a near-universally comfortable queen mattress.
Mattress Highlights
Bio-Pur® is cooling for hot sleepers and responsive
Bio-Core® for a highly durable and supportive bed
Hypoallergenic materials help sleepers with allergies stay comfortable all night
Recommended For
Side, back, and combo sleepers
Sleepers with allergies
Couples
Hot sleepers
The queen size AS3 by Amerisleep is the best bed on the market for those looking for a bed that can sleep just about anybody. That makes this versatile bed a great option for couples, combo sleepers, and guest rooms.
The main feature that makes this mattress so special is Amerisleep's proprietary plant-based memory foam. Bio-Pur® foam is more breathable than traditional memory foam. It's more responsive. And it's healthier and more eco-friendly—all without sacrificing the amazing contouring and support of traditional memory foam.
Another wonderful feature of Bio-Pur® foam is its allergy resistance. This foam contains fewer petroleum products, which will please those with chemical sensitivities. It also creates a hostile environment for microbes like bacteria, mold, and dust mites.
Underneath the Bio-Pur® comfort layer, you'll find the HIVE® transition layer. This layer offers targeted pressure relief and support to different zones in the body. For instance, this layer helps keep your feet and knees lifted while compressing under your pelvis and shoulders to keep your spine lined up correctly.
The support core of the AS3 is made of ultra-high-density foam. This Bio-Core® foam is flexible enough to be used with an adjustable base and firm enough to fight sagging at the same time. In fact, this support foam is the main reason why the AS3 mattress has a lifespan of at least two full decades!
Couples who enjoy a bouncy hybrid mattress may also want to consider the AS3 Hybrid, an updated version of the original AS3.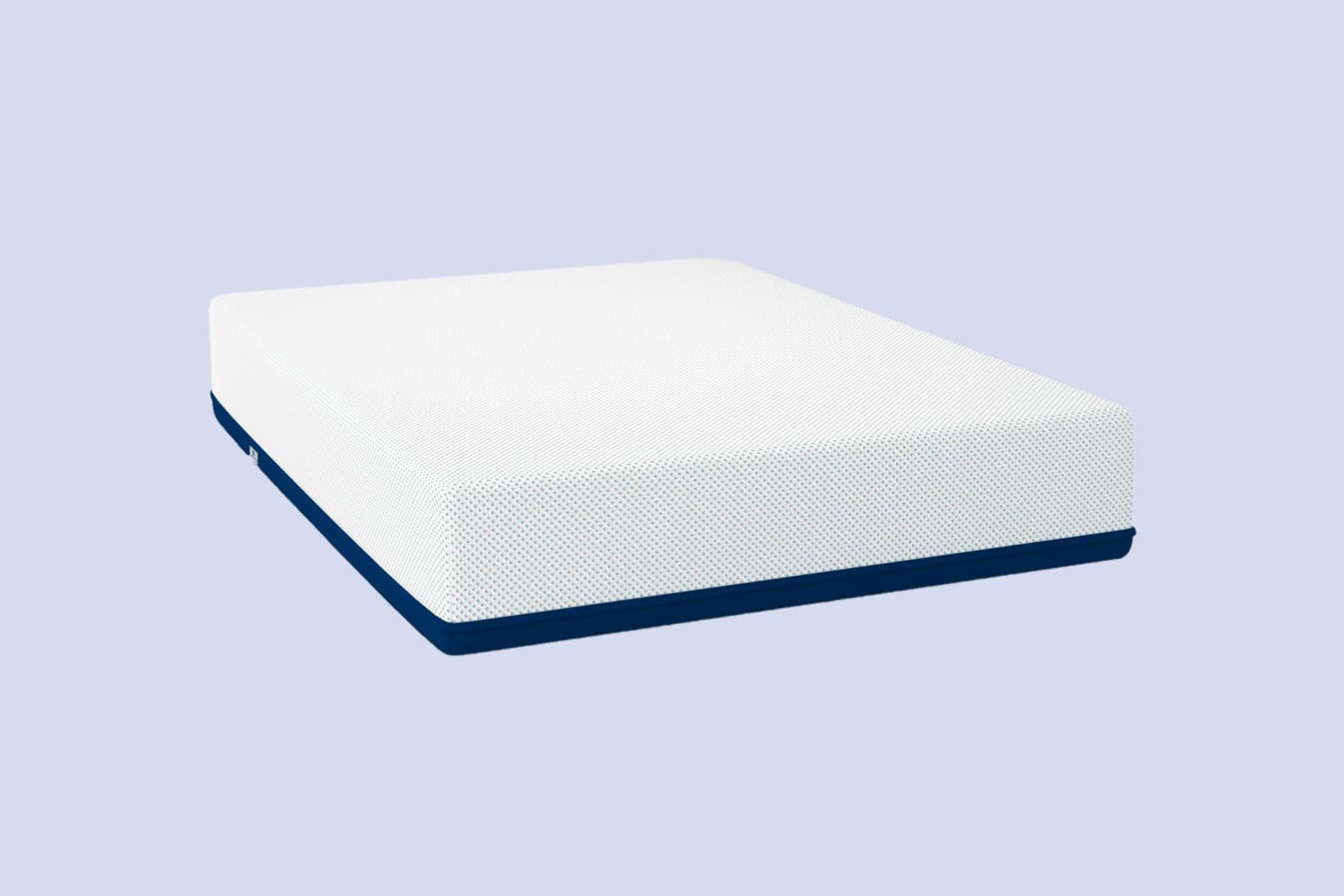 Best Soft Queen Mattress
Amerisleep AS5
Price Range

$1449 to $2998

Mattress Type

Memory Foam

Firmness

3 out of 10 (Soft)

Availability

All sizes

Warranty

20 Years

Thickness

14 Inches
The Amerisleep AS5 is the softest model we offer, a perfect way for any side sleeper to upgrade their bedroom with a queen mattress.
Mattress Highlights
The amazingly soft feel is like sleeping on a cloud
Active Flex increases responsiveness and softness
Dense base foam makes this a high-durability mattress
Recommended For
Side sleepers
Petite sleepers
Sleepers with joint pain
If the AS3 sounds amazing to you, but you need a softer mattress, say hello to the AS5! This mattress features the same bouncy and breathable Bio-Pur® comfort foam and the same extremely durable Bio-Core® support layer. But it's made with people who need a soft bed in mind, such as side sleepers and petite sleepers (under 130 pounds).
Like with the AS3, the comfort layer in the AS5 features Amerisleep's plant-based memory foam. This cooling foam is especially vital in Amerisleep's soft offerings because soft beds tend to hug your body and impede airflow. The Bio-Pur® foam eliminates this issue by allowing air to flow through the foam itself.
The AS5 still features the HIVE® transition layer for targeted pressure relief. But it also features a layer of Active Flex material in between the comfort and transition layers. Active Flex helps offer additional softness while still maintaining adequate support in the mattress.
Don't let its soft feel fool you. The AS5 is just as durable as any other Amerisleep offering. It still features the Bio-Core® high-density support foam. That means it can still fight soft spot development and sagging for a full 20-years!
We also offer the AS5 Hybrid for sleepers who seek a soft and bouncy queen size mattress. It features the same thick cushion, buoyed by responsive coils with edge support.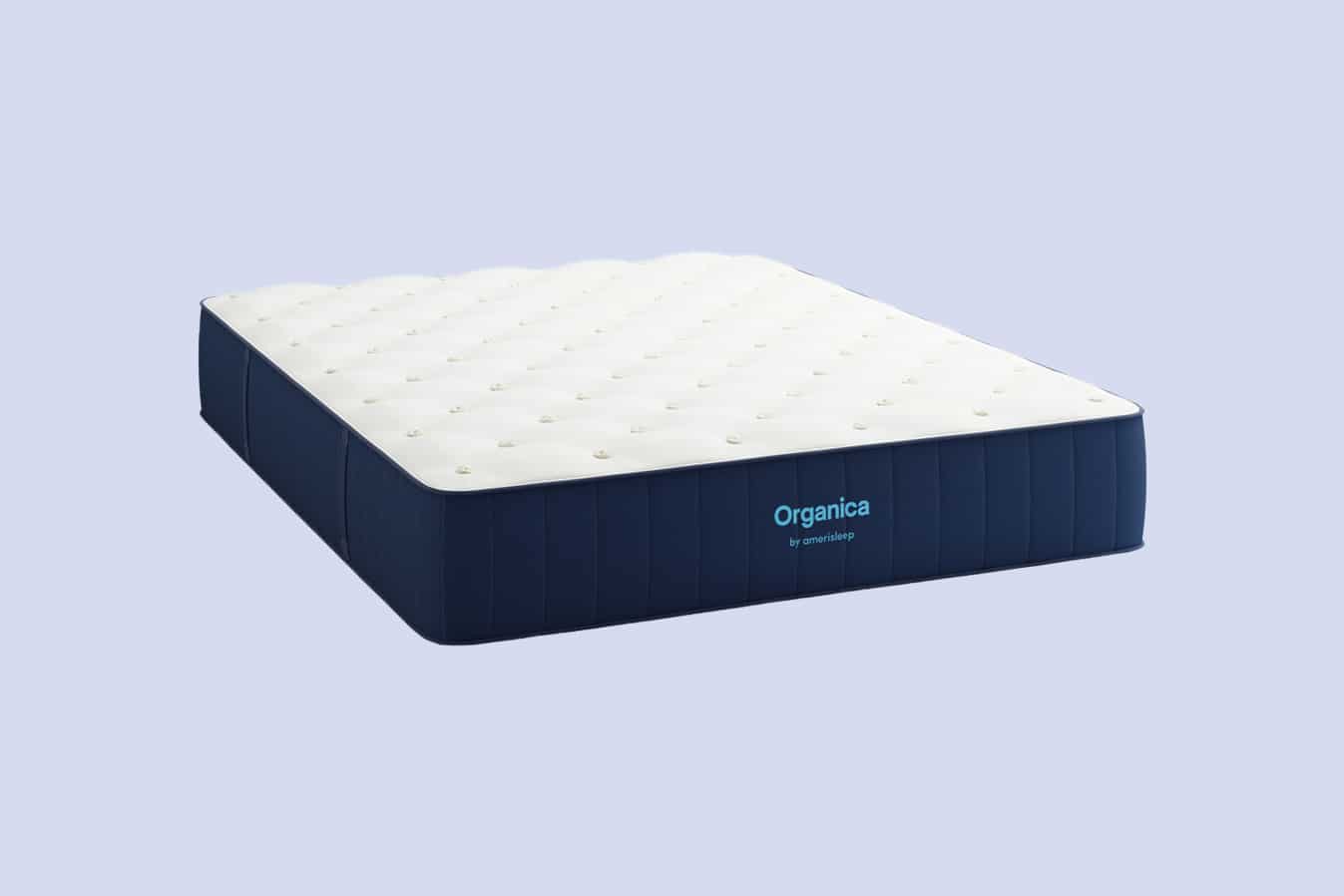 Best Queen Hybrid Mattress
Amerisleep Organica
Price Range

$1199 to $2698

Mattress Type

Latex Hybrid

Firmness

5 to 6 out of 10 (Medium)

Availability

All sizes

Warranty

20 Years

Thickness

13 Inches
Our Organica mattress offers more than just the responsive feel of pocketed coils, as we also constructed the mattress with various natural materials for eco-friendly comfort.
Mattress Highlights
Natural latex is springy and cooling, plus better for the environment
Pocketed coils for better adaptability throughout
Organic cotton cover wicks away moisture and fights allergens alike
Recommended For
Hot sleepers
Active sleepers
Eco-conscious sleepers
Couples
If you sleep extra hot or love to toss and turn, the Organica latex hybrid mattress might be for you. This mattress features natural Talalay latex in the comfort layer and individually wrapped coils in the support layer. This makes for an ultra-cooling and ultra-responsive mattress because it's springy and breathable throughout.
Talalay latex is lighter and springier than its counterpart, Dunlop. This means the Organica's comfort layer is as breathable and bouncy as it gets. Natural latex is also much better for the environment than polyurethane foam because it's biodegradable and produces less toxic waste during manufacturing. This is perfect for eco-conscious shoppers.
Below the latex sits a one-inch layer of New Zealand Joma Wool®. This wool helps provide a natural transition layer between the latex and coils. It also provides a toxin-free fire barrier, eliminating the need for chemical flame retardants.
Finally, the support core is made of individually wrapped steel coils. Each of these pocketed coils can move independently of the others. This allows the support core to contour to your body same as the comfort layer, providing optimal spinal alignment. The pocket coils also allow air to circulate through the whole mattress for superior cooling.
California Queen
California queen mattresses aren't a standard bed size like California kings are. However, they are part of many individual mattress manufacturers' size runs. This means that you won't have as many material and brand options in this size as you will a standard queen. But you will be able to find a Cal queen without having to have one custom-made.
California Queen Mattress Dimensions
The California queen mattress adds four inches of extra length to the standard queen for a total of 60 by 84 inches. While most people don't need nor notice the additional length, there are some people who do.
Who Should Sleep on a California Queen Bed
California queens are made for a specific type of person: a tall sleeper who needs a queen size mattress. Most people can sleep comfortably on an 80-inch mattress. However, a few ultra-tall sleepers can't, and they need to seek the best mattress for their body type.
Furthermore, there are lots of reasons why you might not want to move up to a California king. Maybe you don't have a wide enough room for a Cal king. Maybe you're a single sleeper and feel a California king is too much. Maybe you can't afford a king size bed. The California queen allows you to have all the advantages of a queen and the length to meet your needs.
Ideal Spaces for a California Queen Bed
A California queen bed is just four inches longer than a regular queen bed. That means it can fit in most of the spaces your regular queen bed can. You might need a bit of additional length for your California queen. However, for the most part, you can expect to sacrifice a bit of clearance around your bed when buying a Cal queen. However, you shouldn't have to upgrade to a larger room to get enough space.
Average Cost of a California Queen Bed
When it comes to how much a mattress costs, generally speaking, you can expect to pay a bit more for a California queen mattress than a regular queen—but not that much more. Just like with a California king and a regular king, you can expect to pay around $100 more for a California queen mattress than a standard queen size mattress.
We should also note that California queen size accessories may cost more than a standard queen mattress's accessories, partly due to the size's rarity. For example, a queen platform bed is commonplace and inexpensive, but a California queen platform bed may take some hunting and will cost more.
Other Standard Bed Sizes
In addition to the queen mattress, there are five other mattress sizes in the standard size run:
Twin
The twin bed is the smallest adult bed size. Also called the single bed, the twin mattress is 38 by 75 inches. This makes a twin size mattress perfect for compact spaces, such as:
Another bonus is the twin size mattress is the easiest mattress to move.
See also our Queen vs. Twin: What's the Difference?
Twin XL
The twin XL mattress is an excellent option for tall sleepers who want the compactness of a twin. At 38 by 80 inches, the twin XL mattress is still small enough to fit into compact spaces without letting your feet dangle over the edge if you're over six feet tall.
See also our Queen vs. Twin XL: What's the Difference?
Full
The full or double bed is 54 by 75 inches. Despite the name "double bed," the full size bed is not wide enough for most couples to sleep on it comfortably.
Full size mattresses are better suited to single adults who like enough wiggle room to toss and turn. People who want to share the mattress should consider a queen bed or larger to ensure comfortable sleep.
See also our Full vs. Queen: What's the Difference?
Standard King
The eastern king size mattress is the largest standard bed size by area. At 76 by 80 inches, the king size bed offers couples the same amount of width they'd get if they were each sleeping on their own twin XL mattress.
This makes the regular king a fantastic option for couples who like to spread out. Of course, single sleepers who want to treat themselves to a luxurious sleep experience can also enjoy a king size mattress.
A variation on the traditional king, the split king, is also the easiest option for those couples who want to have a "split" bed. All you need to make a split king size mattress is two twin XLs in a king size bed frame.
See also our King vs. Queen Bed: What's the Difference?
California King
Like the California queen, the California king bed adds four inches of length to its standard counterpart. Unlike the California queen, the California king mattress adds length by taking away width for a total of 72 by 84 inches. Most couples won't miss the difference in width, but ultra-tall sleepers will definitely appreciate the extra length.
See also our Queen Mattress vs. California King: What's the Difference?
Other Queen Size Variations
A California queen isn't the only "remix" you'll find of a traditional queen mattress. There are a few other non-standard sizes you can find with some digging, such as the short queen and the Olympic Queen.
The short queen is smaller than a queen, as the name suggests. This mattress is primarily used in RVs and campers, where it's important to keep a mattress lightweight to reduce drag on the vehicle.
The Olympic Queen is wider than a standard queen by 6 inches, and it's great for couples who need more space than a queen but don't want to purchase a king mattress. However, it's difficult to find bedding that's tailored to fit an Olympic Queen mattress.
FAQs
What is the Olympic queen?
An Olympic queen size mattress is the same length as a standard queen, but it's six inches wider for a total of 66 by 80 inches. The Olympic queen is like the California queen in the sense that it's not a part of the standard bed size run, but many manufacturers still make it.
Olympic queens are fantastic beds for couples who need some extra sleeping space but don't have the room for a king size bed. The Olympic queen gives you six inches of extra width, which can be just enough for many couples to sleep more comfortably than they would on a regular queen size mattress.
Are a California queen and California king the same length?
Yes. The California queen and California king mattresses are both 84 inches long. The difference comes in width. The California queen is the same width as the regular queen (60 inches). Meanwhile, the Cal king bed is slightly narrower than the standard king. It's 72 inches rather than 76 inches.
California queens can fit in narrower rooms than California kings. A Cal queen is five feet wide, so it can go in a room as narrow as nine feet. But a Cal king is a full six feet wide. That means you'll need no fewer than 10 feet of width to accommodate a Cal king.
Can couples sleep on a California queen?
Couples who can sleep on a regular queen can also sleep just fine on a California queen. They're both 60 inches wide. However, some couples might do better on a California queen. If one or both partners is several inches over six feet tall, that couple will do better on the seven-foot-long California king.
Is it possible to do a split queen?
It is possible to have a split queen bed. But it isn't easy, and it often isn't cheap either. Unlike with a split king, in which you can use any old twin XL mattresses, you'll need two mattresses specifically designed to make a split queen. Each of these mattresses will need to be 80 inches long and 30 inches wide.
Needless to say, finding a mattress this disproportionately narrow is not as simple as running down to the furniture store. A few online retailers offer split queen mattresses. However, if these don't suit your needs, you might have to have your split queen mattresses custom-made.
What bed frame should I use with my California queen mattress?
The bed frame and bed base you use with your mattress depend on the material your mattress is made of, not its size. For instance, you can use box springs with an innerspring mattress, but you'll need a mattress foundation or platform bed for your latex or memory foam mattress.
That being said, you will need to find a California queen bed frame and base. This can be easier said than done. At least if you choose a platform bed, you won't have to worry about finding more than one piece.
Bottom Line
The regular queen and California queen bed sizes are both great choices for people looking for a mix of space-saving compactness and comfortable wiggle room. Just remember, unless you're over six-foot-four, you probably can stick with a standard queen as the best mattress for you rather than springing for the seven-foot-long California queen.
---
About the author
April Mayer is a sleep expert and writer with a degree in exercise physiology. She has dedicated her career to exploring the relationship between sleep and productivity. Her insightful articles, such as "The Surprising Way Your Mood Might Be Messing With Your Productivity" and "Wake Up to More Productive Mornings," have been featured in reputable publications like Forbes, Greatist, Real Homes, Thrillist, Tom's Guide, and Eat This, Not That. With a passion for helping others lead more productive lives through restful sleep, April offers valuable expertise on foods and vitamins for better sleep. As a trusted member of the Early Bird team since March 2020, she continues to provide informative and well-researched content.
View all posts