Platform beds are a fantastic alternative to traditional bed frames. These sturdy bed frames are great for just about anyone.
Platform beds don't require a bed base like a mattress foundation or box spring. So they can save you money. They're compatible with all mattress types. And they offer tons of stylistic options and a low-profile design.
Those looking to switch to a platform bed may not have anticipated just how many choices they'd have to sift through. Mattress foundations and platform beds are rapidly overtaking box springs as the bed base of choice. This is mainly because heavier mattresses like memory foam and hybrid mattresses are also becoming more popular.
Below, we'll talk about one of the most versatile platform beds on the market and one of the most suitable mattresses for it.
Best Amerisleep Queen Platform Bed
Quick Guide: A 30-Second Summary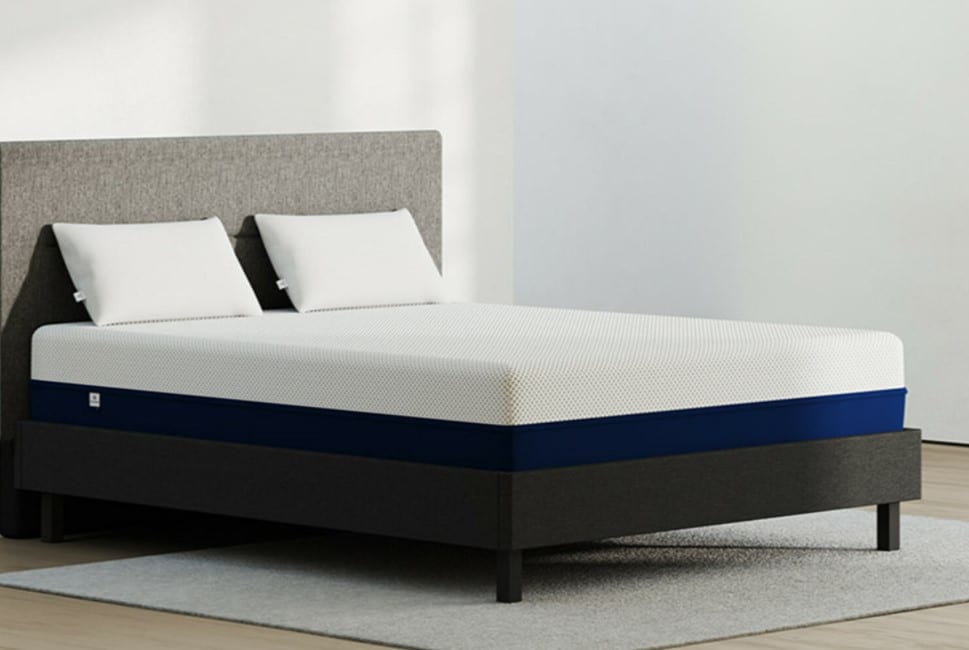 Best Queen Platform Bed Frame
Amerisleep Platform Bed
Price Range

$399 to $599

Material Type

Wood

Availability

All sizes

Warranty

1 Year

Height

13 Inches
Our platform bed frame relies on high-quality wood to establish a durable, breathable base suitable for any kind of mattress. A queen size can accommodate solo sleepers and partners sharing a bed.
Platform Bed Highlights
Neutral gray design for a versatile look
Slats spaced for airflow and maximum support
Inexpensive prices for easy-to-afford support
Recommended For
Foam and spring mattress owners
Hot sleepers
Budget shoppers
Price for a Queen Platform Bed: $499
When it comes to platform beds, this offering by Amerisleep snags the top spot as the best one on the market in terms of design, price, and functionality. We also constructed the Amerisleep Platform Bed to fit in with just about any bedroom style.
At only 13 inches high, this low-profile platform bed boasts a sleek, minimalistic style that will draw focus directly to your bedding, throw pillows, and other decor. That makes it perfect for those who want to show off everything from patchwork quilts to high-loft down duvets.
The charcoal gray upholstered frame features extra-wide hardwood slats that provide the perfect mix of airflow and support. These sturdy, reinforced slats come with rigid center support legs. That means this sturdy platform bed will prevent soft spot development in your mattress and help extend its life by fighting sagging in the middle.
The Amerisleep platform also doubles as a mattress foundation. Its removable legs can be popped right off to allow the platform to be placed on top of a standard bed frame. That means even those with existing bed frames can enjoy this bed base!
Amerisleep's platform bed is easy to deal with from the second you get it out of the box. It assembles in minutes with no tools or screws and zero "handiness" required. Best of all, it offers high quality at an affordable price. The Amerisleep Platform Bed is just $499 for a queen. And free shipping means you don't have to worry about hidden costs.
Quick Summary
Sleek, minimalist style is perfect for those seeking a modern look.
Easy assembly and optional legs make this a bed base for everyone.
The affordable price of $499 puts this platform bed in anyone's budget.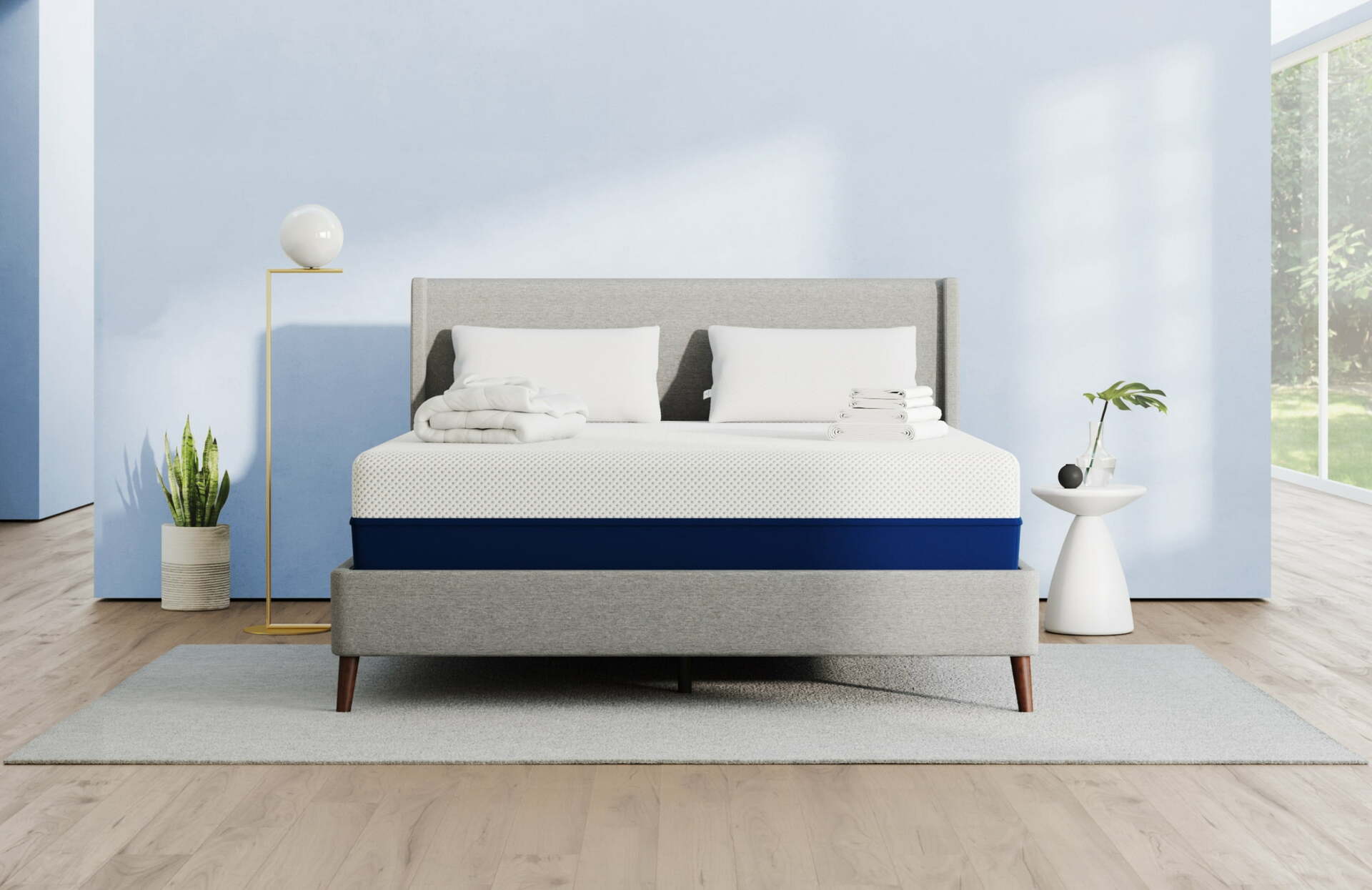 Best Luxury Queen Platform Bed
Amerisleep Bed Frame
Price Range

$719 to $959

Material

Wood

Availability

Full, queen, king

Warranty

1 Year

Height

13 Inches
Our high-end platform bed is made to match any bedroom. With timeless, gray upholstery, the Amerisleep Bed Frame is great for anyone looking to upgrade their bedroom. It has a simple headboard and dark brown wooden legs in case you need any under-bed storage.
Platform Bed Highlights
Gray upholstery & brown legs match almost any room
Slat pack supports your mattress and prevents sags
Bed away from the floor to prevent heat retention
Recommended For
Couples and single sleepers
Guest bedrooms
Minimalists
Price for a Queen Platform Bed: $779
The Amerisleep Bed Frame is another one of our favorites due to its platform bed design and bed frame appearance. This way, you don't have to worry about buying both a foundation and frame for your bed. The Amerisleep Bed Frame's minimalist design suits any bedroom and decor you may have, whether it be unique wallpaper or a colorful quilt.
The Amerisleep Bed Frame has a supportive slat pack made of wood. Each slat is evenly spaced to properly support your mattress, promote airflow through your bed, and ensure there's proper space between your bed and the floor. And the framing around the slats ensures your bed doesn't slip or slide out of place.
You don't have to use the slat pack that the bed frame comes with. You can unroll the slats and instead place an adjustable bed inside the frame. This way, you get the sleek look of the Amerisleep Bed Frame, but the unbelievable support of an adjustable base.
Another great part of the Amerisleep Bed Frame is its quick, easy assembly. Nobody wants to spend hours just putting their bed together, and assembling the Amerisleep Bed Frame should take only a few minutes and doesn't require any tools!
Quick Summary:
Sleek, minimalist design works in any bedroom
Fast, easy assembly
Pairs well with adjustable bed frames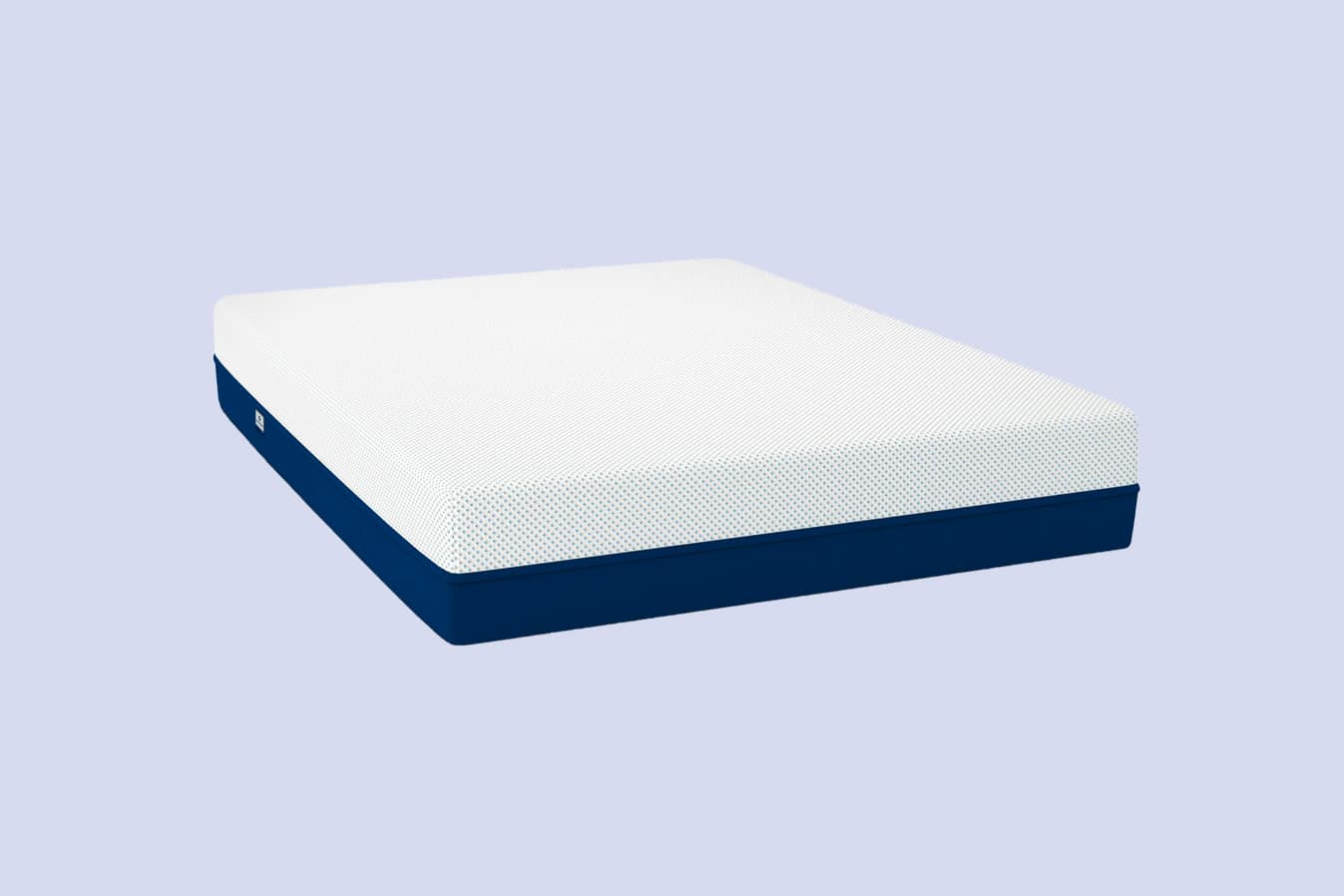 Best Mattress for a Platform Bed
Amerisleep AS3
Price Range

$1149 to $2398

Mattress Type

Memory Foam

Firmness

5 to 6 out of 10 (Medium)

Availability

All sizes

Warranty

20 Years

Thickness

12 Inches
The versatile feel of the Amerisleep AS3 is why the mattress is our top recommendation for anyone who wants a new mattress to pair with their platform bed frame. Whether you're a side, back, combination sleeper, or whether your body tens to run hot or cold as you sleep, the AS3 can give you what you need to rest well.
Mattress Highlights
Plant-based memory foam cradles the body
Five zones of targeted support for greater comfort
Sturdy base structures the mattress for minimal sagging
Recommended For
Side, back, and combo sleepers
Hot sleepers
Couples sharing a queen mattress
Price for a Queen: $1399
Of course, no platform bed is complete without the right mattress. The good news is we make the perfect mattress to complement our excellent platform. The Amerisleep AS3 is one of the most versatile mattresses on the market.
Its medium feel and high-density foam support core offer the perfect balance between pressure relief and lift. This is especially helpful for couples who want to share a queen size mattress. Many partners don't share comfort preferences, so it's essential to find a mattress that accommodates both.
The AS3 features a comfort layer of Amerisleep's proprietary Bio-Pur® plant-based foam. This ultra-breathable foam cushions pressure points and wicks body heat away from you for a cool and comfortable sleep. As a bonus, the Bio-Pur® foam fights allergens like mold and mildew. That makes it a great choice for those with allergies.
Underneath the comfort layer, the AS3 provides targeted pressure relief with its HIVE® transition layer that offers more support to lighter areas of the body and more cushion to heavier ones to keep the spine in neutral alignment.
The Bio-Core® base layer provides durable spinal support and enduring sag resistance. That's why the AS3 comes with a generous 20-year manufacturer warranty.
We also offer the AS3 Hybrid, a bouncier offshoot of our original AS3 mattress. It possesses a similarly balanced medium feel with added buoyancy from a pocketed coil base, making it easy to move in the night and first thing in the morning.
Quick Summary
Breathable Bio-Pur® foam is cushioning and cooling.
Affinity transition layer with HIVE® offers targeted support and pressure relief.
Durable foam in the support layer means this mattress will last for decades.
How to Choose a Platform Bed
There are a few things you need to think about when it comes to choosing a platform bed, but the biggest things to keep in mind are height, slats, price, and style.
Height
As a rule, platform beds are low-profile. This is mostly because you don't have to put box springs on them, but they're also designed to offer a sleeker look. The profile of an average platform bed is just 18 inches. That's perfect for shorter sleepers and those looking for a modern, minimalist style in their bedrooms.
For taller sleepers or those with mobility issues, a platform bed's low profile can pose a problem with getting in and out of bed. It's especially important for you to have an appropriate bed height if you have arthritis or other medical problems.
The good news is there are some things you can do to add height if you're set on a platform bed. Bed risers (plastic blocks that go under your bed's legs) can raise a platform's profile up to 12 inches.
You can also increase your bed's height with a thicker mattress (14 to 15 inches). Sleepers who are tall, short, petite, or plus-size should consider the best mattress for their body type and how that will impact their bed height.
Slats
All platform beds come with slats spaced at regular intervals, but there is a goldilocks zone between too close and too far apart. If slats are too close, there won't be enough cooling airflow between them. If they're too far apart, your mattress could sag between them. That means the ideal slat interval is between one and three inches.
Some platform beds also feature slats that curve upward in the middle. A slight upward bend is an excellent feature to help your bed resist sagging in the middle and extend its life expectancy.
Price
All platform beds save you money in the sense that you won't have to purchase a bed foundation or box spring set to use them. However, the price of a platform bed itself can vary pretty widely. You might pay as little as $150 for a lower-quality platform bed or as much as several thousand dollars for luxury platform beds with features like leather headboards or built-in speakers.
Naturally, queen size bed frames cost more than smaller sizes. Only a king platform bed will cost more.
Style
Platform beds can come in a huge range of styles, from sleek and minimalist to opulent and attention-grabbing. For example, floating bed frames hide the legs to create an illusion of a hovering bed.
While some platform beds have a plain wooden design, many are upholstered bed frames for a more neutral look and comfortable feel. They even make platforms with storage drawers or shelving underneath or in the headboard and footboard. You can even get ultra-fancy platform beds with luxury features like lighting, surround sound, or built-in nightstands.
Versatility
What's the best mattress for a platform bed? Not too much thought has to go into this, as a well-made platform bed can support most mattress types. This also means that if you're pleased with your current mattress, you may not have to replace it when you're buying a platform bed.

Platform Bed Alternatives
If you're not into the idea of a platform bed frame, there are a couple of other alternatives:
Adjustable Bed
An adjustable bed is like a platform in the sense that you shouldn't put box springs or a foundation on it. Unlike platform beds, adjustable bases can move into several different angles to elevate the upper body, legs, or both. That means they're only compatible with flexible mattresses like foam or hybrid ones.
Adjustable bases offer lots of benefits to those who need them. Sleeping with the head and legs elevated can relieve pressure, alleviate pain, and improve circulation. There are also other benefits to an adjustable bed to consider.
Bed Frame
Traditional bed frames come with rails and maybe a slat or two in the middle. They're not made to support a mattress without a mattress foundation or box spring set. That means the profile of a traditional bed frame will be higher, usually between 24 and 36 inches.
Traditional bed frames usually have a bit more clearance underneath them than platforms. This means they'll offer plenty of room for under-bed storage space as well as a higher profile for those who need it.
Mattress Foundation/Box Springs
These bed bases combine with traditional bed frames to create mattress support. Mattress foundations are just like platform beds without legs. They have slats at regularly spaced intervals. The only difference is they're made to go inside a bed frame rather than standing on their own. Naturally, mattress foundation sizes and dimensions vary to best suit different bed frames.
Meanwhile, box springs are a frame with a network of steel coils inside them. These are also made to go with a bed frame. However, mattress foundations and box springs aren't quite the same things.
Unlike foundations, which are compatible with all mattress types, box springs are designed for innerspring mattresses and cannot support heavier ones like hybrids or latex mattresses.
See our Platform Bed vs. Box Spring Guide for more information.
Floor
Should you keep your mattress on the floor? It's fine as a temporary measure while you shop around for a bed base. However, if you can avoid permanently keeping your mattress on the floor, you should. You can expose it to everything from moisture to pests to microbe development. Keeping your mattress on the floor may also void its warranty.
If you do keep your mattress on the floor, avoid putting it directly on the carpet/tile/wood. Use a bunkie board or plywood to provide at least some protection from:
A mattress protector can also keep allegens Verified Source National Library of Medicine (NIH) World's largest medical library, making biomedical data and information more accessible. View source and pests from penetrating your mattress.
FAQs
What's the difference between a platform bed and a bed frame?
The main difference between a platform bed and a traditional bed frame is the slats. Both platform beds and bed frames can come with headboards and footboards. Both may have storage space. And both can be made of wood or metal. Both can also feature fabric or leather upholstery.
However, platform beds feature metal or wooden slats spaced at regular intervals of one to five inches. This setup offers stability and support to mattresses without the need for a bed base.
Bed frames, meanwhile, only have rails and perhaps one or two support slats in the middle. This means bed frames require box springs or a mattress foundation because they will not support a mattress without an additional base.
Which mattresses are compatible with a platform bed?
Platform beds provide a sturdy, solid base to your mattress. That means they have a high weight limit, unlike box springs. Box springs are incompatible with any mattresses other than lightweight innerspring mattresses. And adjustable beds are not compatible with innerspring mattresses because they're rigid and inflexible.
Meanwhile, platform beds (and mattress foundations) are compatible with any mattress type. From memory foam mattresses to hybrids and innerspring mattresses, platform beds can support them all.
How much should I expect to pay for a platform bed?
This is a tough question to answer because platform bed prices can be so variable. Of course, size matters. A twin platform frame will be much cheaper than a king one. Material is another concern, as a solid wood platform bed will likely cost more than a metal frame. Even the type of wood can impact price (i.e., walnut may be more pricey than oak).
All that being said, you can pay anywhere from $150 to $4,000 for a platform bed frame. Don't let that vast range scare you, though. The average you can expect to pay for a quality, no-frills platform bed is between $200 and $800.
Do I need a box spring set with my platform bed?
No. You don't need a set of box springs or a mattress foundation for your platform bed. In fact, it's not a good idea to put an additional bed base on top of a platform bed. Platforms are not made to take a base on top of them.
These bases could slide around on the platform, which could break either the base or the platform itself. Putting box springs or a mattress foundation on top of a platform bed may also void its limited warranty.
What is the ideal spacing between platform bed slats?
We recommend no more than 2.75 inches of space between slats. Platforms have slats instead of solid planks for a reason. You need a few inches of clearance between slats to keep air circulating under the mattress. Impeding airflow could cause moisture buildup inside your mattress, leading to everything from mold growth to odor development.
However, you don't want too much clearance either. Too much space between slats compromises the support under your mattress and could cause it to sag or develop soft spots. That means, as a general rule, you should look for a platform with slats between 1 and 2.75 inches apart. This spacing is a perfect compromise to promote airflow and provide support.
Bottom Line
Platform beds can do a lot for you and your mattress. Their sturdy support can help fight sagging and extend the life of your mattress. Their slatted frames can save you some money because they don't require box springs. And their low profiles offer a sophisticated and modern design that can elevate the style of your bedroom. What's not to love?
---
About the author
Geoff McKinnen is a writer focusing mainly on the healthcare industry and has written articles on everything from foods to help you lose weight to the connection between Alzheimer's and sleep. Geoff's passionate about helping readers improve their well-being to lead happier lives. Outside of work, Geoff enjoys cycling and hiking and believes that by leading a healthy lifestyle, he can help others do the same.
View all posts