Shopping for a new mattress can overwhelm you with the number of choices available online and at local mattress stores. Prices can be confusing, with some beds costing as little as $100 and others priced well over $4,000. When it comes to mattress pricing, many wonder what's a fair and reasonable price to pay for a new bed.
According to Sleep Like the Dead, the average price of a queen size mattress is $1,520, regardless of mattress type, while the most common price is $1,000. Plenty of excellent mattresses fall in this sweet spot of $1,000 to $1,500, making it a good starting point for a mattress budget.
About Amerisleep Mattresses
At Amerisleep, we don't believe in the idea of a "one-size-fits-all" mattress. Instead, we focus on a range of different offerings to help various people sleep well. One of our models might be the best mattress for a side sleeper, while another might be more comfortable for a stomach sleeper.
Each of our Amerisleep mattresses falls into one of five firmness categories and contains our unique Bio-Pur® foam. We offer five memory foam mattresses and three hybrid beds.
Plant-Based Comfort: Bio-Pur® Foam
Traditional memory foam mattresses have one major drawback—the material's tendency to hold onto heat. Body heat builds up and warms the mattress's surface, causing sleepers to wake up uncomfortable. Many manufacturers solve this problem with gel memory foam, but Amerisleep has a more eco-friendly mattress solution.
Bio-Pur® foam is the comfort layer in all of our mattresses. We manufacture it using castor oil, creating a more breathable and responsive material than traditional memory foam.

Our firmest mattress is the AS1. It's also our most inexpensive mattress and fits nicely into most budgets.
The 10-inch mattress has a simple design with two foam layers. On top is 2 inches of Bio-Pur® foam, a cool and adaptable material. At the bottom is 8 inches of Bio-Core® foam, which maintains support and provides a firm feel.
The AS1 provides the lift stomach sleepers need for better rest.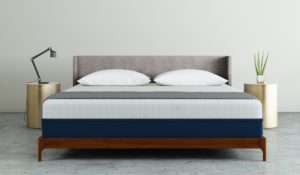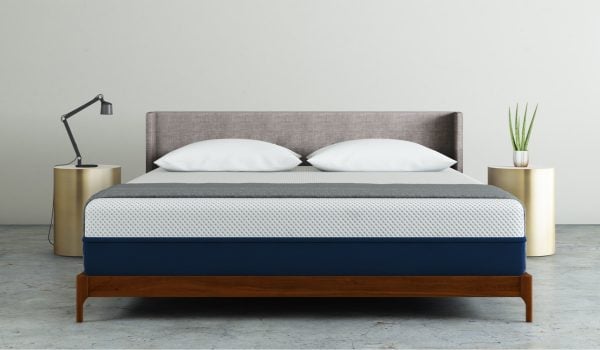 The AS2 is our medium-firm option and recommended mattress for back sleepers. Studies suggest Verified Source National Library of Medicine (NIH) World's largest medical library, making biomedical data and information more accessible. View source that sleeping on a medium-firm mattress is a good way to ease back pain. If you're waking up sore or stiff, our AS2 mattress can help you experience better sleep.
The mattress has three layers of foam:
The top layer is 2 inches of Bio-Pur® foam
The transition layer is 3 inches of Affinity with HIVE® technology
The base layer is 7 inches of Bio-Core® foam
The Affinity layer with HIVE® technology separates the mattress into five support zones. The bed feels softer under your shoulders and hips for more pressure relief. HIVE® technology maintains firm support under your head, back, and feet.
For a touch of added responsiveness, you can try the new AS2 hybrid mattress. The pocketed coils are bouncier than Bio-Core® foam while still offering the same great support.

Our most popular mattress is the AS3 model, with more than 6,500 favorable reviews. The bed's medium feel is perfect for side and combination sleepers.
The AS3 has three foam layers:
3 inches of Bio-Pur® foam
2 inches of Affinity with HIVE® technology
7 inches of Bio-Core® foam
The AS3 is also available as a hybrid mattress, the AS3h.

The AS4 mattress is our medium-soft option and is a great choice for side and petite sleepers. The bed has three layers of foam, including the thickest comfort layer in any Amerisleep mattress:
4 inches of Bio-Pur® foam
1 inch of Affinity with HIVE® technology
7 inches of Bio-Core® foam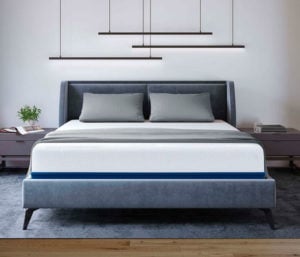 The AS5 mattress is our softest model, and we recommend it for anyone who wants to indulge in a luxury mattress. The AS5 mattress has four foam layers:
3 inches of Bio-Pur® foam
2 inches of Active Flex
2 inches of Affinity with HIVE® technology
7 inches of Bio-Core® foam
Active Flex is found only in the AS5 mattress. This springy material prevents you from sinking in without compromising the mattress's soft feel.
You can also try our AS5 hybrid model.
Amerisleep's Mattresses Prices
All of our mattresses are available in seven standard sizes, from twins to the various king mattresses. You can find the price for all of our memory foam mattresses in the table below.
| Size | AS1 | AS2 | AS3 | AS4 | AS5 |
| --- | --- | --- | --- | --- | --- |
| Twin | $629 | $734 | $804 | $1014 | $1294 |
| Twin XL | $664 | $769 | $839 | $1049 | $1329 |
| Full | $804 | $874 | $944 | $1154 | $1434 |
| Queen | $909 | $979 | $1049 | $1259 | $1539 |
| King | $1119 | $1259 | $1329 | $1469 | $1749 |
| California King | $1119 | $1259 | $1329 | $1469 | $1749 |
| Split King | $1328 | $1538 | $1678 | $2098 | $2658 |
Our hybrid mattresses cost more than their memory foam counterparts. However, they're an excellent choice if you're shopping for a bed with some bounce.
| Size | AS2 Hybrid | AS3 Hybrid | AS5 Hybrid |
| --- | --- | --- | --- |
| Twin | $874 | $944 | $1434 |
| Twin XL | $909 | $979 | $1469 |
| Full | $1014 | $1084 | $1574 |
| Queen | $1119 | $1189 | $1679 |
| King | $1399 | $1469 | $1889 |
| California King | $1399 | $1469 | $1889 |
| Split King | $1818 | $1958 | $2938 |
All Amerisleep mattresses include free home delivery within the continental U.S. If you want information on the cost of shipping to Alaska, Hawaii, Canada, Mexico, or anywhere else, please contact us at (800) 500-4233. Every mattress also comes with a 100-night sleep trial period and a 20-year warranty.
Amerisleep offers excellent deals on its mattresses year-round. Be sure to check our website for the latest offerings.
What Influences a Mattress's Price?
Different factors influence a mattress's price. Companies often consider the bed's materials, size, features, sleep trial, and warranty when deciding on a final price.
Specialty Materials and Construction
Materials and craftsmanship are often the biggest influence on a mattress's price. After all, the more it costs to acquire material, the more expensive the mattress will be.
Natural materials raise a mattress's retail price. Materials such as organic cotton, wool, and latex have to be harvested and produced in a certain way to meet certification requirements. These methods increase production costs, along with certification fees.
The price of an all-foam mattress depends not only on the type of foams it contains but also on its foam density. Foam density refers to how much material a cubic foot contains. A higher density foam mattress has more material than a lower density mattress.
The number of coils in a hybrid or innerspring mattress affects its price, as does the bed's coil gauge. Coil gauge expresses how thick the mattress's coils are, which determines a bed's feel. Thin coils often feel softer, while thick coils provide firm support. Quality mattresses often contain a mix of soft and firm coils for targeted support.
Mattress Size and Thickness
A large, thick mattress naturally contains more material than a small, thin one. When it comes to mattress thickness, we recommend beds that are at least 10 inches tall. Beds under 10 inches tend to wear out quicker than mattresses 10 inches and thicker.
Warranties, Sleep Trials, and Return Terms
Many quality mattresses come with a sleep trial and some sort of warranty. These policies often reflect a company's faith in its mattresses' comfort and durability. However, lengthy sleep trials and generous warranties can increase a mattress's initial purchase price.
Companies suffer a financial loss whenever a customer returns their mattress. So companies calculate the expected loss on mattress returns and raise their prices to cover the cost to make up for this.
As a side note, always read the fine print when it comes to warranties and any sort of return policy. Some policies have hidden fees when it comes to returns and repairs.
We also want to note that an industry-standard mattress warranty covers the first 10 years of ownership.
Extra Features
It's no surprise that many mattress companies incorporate the latest technological advancements into their beds. While features like smart technology can help you track your sleep progress, they also significantly increase a mattress's price.
Buying Online vs. Brick-and-Mortar Stores
In today's modern world, you can buy almost anything online, including mattresses. Bed in a box mattresses are a popular choice, with online mattress companies shipping them straight to your front door.
Most online mattress retailers offer lower prices than a big box store because they have fewer costs to meet. Because most online companies don't have to worry about the costs of maintaining a physical storefront, they can pass their savings onto their customers.
Many consumers find it difficult to pay for a mattress they haven't seen or touched. However, science suggests that you shouldn't rely solely on your senses when picking out the perfect mattress.
Participants in a 2011 study found that trying a mattress out in a store didn't adequately prepare them for how it felt to sleep on a bed every night. Whether they're sold online or at a brick-and-mortar store, many mattresses now come with a sleep trial, so you can try after you buy.
With a sleep trial, you have months to decide if a mattress is the right one for you and the freedom to return or exchange it if you're unsatisfied.
Some shoppers love online shopping because it allows them to avoid pushy salespeople. Other shoppers may enjoy having a salesperson on hand to answer any questions immediately. Most online companies make it easy to speak with a customer service representative if you have any questions, but some simply prefer in-person interaction.
A quick side note: many of the bigger online mattress companies have stores open across the country. They usually offer the same great prices you would find online, giving you the best of both worlds. For example, Amerisleep has select store locations where you can try out our beds and take a mattress-in-a-box home.
Mattress Types
Each type of mattress has its pros and cons. Our brief overview of the four main mattress types should make it easier to decide what the right mattress for you is. We also cover the average cost of a bed for each type.
Memory Foam
Memory foam beds owe much of their popularity to the mattress-in-a-box movement. The material compresses well for home delivery and is quick to regain its shape. Memory foam demonstrates similar responsiveness when you lie down, molding to your body for pressure and pain relief.
Memory foam mattresses are available at all price points, from around $100 to over $2,500. However, if you want a better quality mattress that should last several years, you usually have to spend at least a few hundred dollars. The average memory foam bed costs $1,150 for a queen size mattress, and the most common price tag is $1,100.
Latex
If you're shopping for an organic mattress, you can't go wrong with a natural latex bed. Many contain other materials such as organic cotton and wool batting. A natural latex mattress is also resilient, often lasting 15 or more years.
However, the beds aren't without their drawbacks. Natural latex mattresses are some of the more expensive beds on the market. The average cost for a queen size mattress is $2,100, and the most common price is a slightly lower $2,000.
Innerspring
Innerspring mattresses contain supportive coils between thin layers of foam and fabric. They're conventional mattresses and remain popular even as other bed types become household names.
Like memory foam mattresses, innerspring beds have a wide price range. Some are a few hundred dollars, while others cost a few thousand. The average price for a queen size innerspring mattress is $950, and the most common price is $1,200.
Hybrid
Hybrids combine a coil support system with a foam top, offering the best of innerspring and foam mattresses. We recommend hybrids as a cooling mattress for hot sleepers.
Because hybrid mattresses are a mix of high quality materials, they usually cost more than typical memory foam or innerspring mattresses. A hybrid's average price is $1,700, though some may cost more than $5,000.
When Do Mattresses Go on Sale?
If you want to snag a good deal on a new mattress, keep an eye out for the sales that happen year-round. Some of the biggest mattress sales days include:
Don't Forget Bedding and Bed Frames
When you're calculating the cost of a new mattress, remember to account for any bedding and bed frames you need to buy. A sturdy and supportive bed frame is a key part of mattress care. If you keep your mattress on an unsupportive surface, your bed may sag prematurely.
Foam beds like an Amerisleep mattress should be kept on a solid or slatted surface. Slats should be no more than 3 inches apart; otherwise, the mattress might sink between the slats. Some bed slats are wrapped in no-skid fabric to keep your mattress in place.

We recommend breathable bedding, particularly for warmer summer months. Synthetic materials, such as polyester, are inexpensive but can trap heat instead of releasing it.
We also suggest investing in a sturdy mattress protector for any new mattress. Mattress protectors ensure your bed remains pristine by keeping out liquids, bed bugs, dust, dirt, pollen, and more.
Are you interested in the benefits of an adjustable bed? Check if a mattress brand offers a discounted bundle on a mattress and matching adjustable bed base. Bed bundles provide good value for sleepers with sleep apnea, acid reflux, and regular snoring.
Frequently Asked Questions
How do you know when you need to replace your mattress?
First, consider the age of your mattress. It's not uncommon to replace a bed after 7 to 8 years of use. However, this isn't a hard-and-fast rule because a quality mattress can continue to provide a comfortable night's rest even after a decade.
Next, examine the condition of your mattress. Does it have any visible lumps, tears, stains, or sagging? Extensive wear and tear on a mattress reduces its support and sleep quality, leading to a decrease in your overall health.
Finally, ask yourself how well you're sleeping. If you tend to wake up sore or stiff, the culprit might be your old, unsupportive mattress. Poor sleep symptoms can also be mental instead of physical, such as a low mood or cognitive impairment.
Is it worth it to buy an expensive mattress?
Everyone has a different definition of "expensive," making you the best judge of whether a mattress costs too much. However, we advise against buying overly inexpensive mattresses. Thin, low-quality mattresses usually lack the support, comfort, and durability a thick, higher-quality mattress offers.
What is the average lifespan of a mattress?
The average lifespan of a mattress depends on the mattress type.
Innerspring mattresses often last only 5 to 6 years. Low-quality mattresses may lose support in as little as three years.
Memory foam mattresses last an average of 7 years. However, high-quality memory foam mattresses can still feel comfortable after a decade of nightly use.
Hybrid mattresses last about 7 years. This number may change because manufacturers continue to alter and improve hybrid designs.
Natural latex mattresses can last up to 15 years or more. Synthetic latex mattresses often have a lifespan comparable to the average memory foam mattress.
Reports on air bed lifespans are inconsistent. Some owners say their air mattress only lasted 5 years, while others say their bed lasted a decade. Twenty-five percent of air bed owners had to replace at least one part during its lifetime, according to Sleep Like the Dead.
You can extend your mattress's likely lifespan by rotating it every three to six months.
What kind of mattress does not need a box spring?
Most modern mattresses don't require a box spring to feel comfortable; you only might need one with an innerspring mattress. You can even damage a foam mattress if you place it on a box spring. A box spring's inner coils are too far apart to create consistent support, leaving room for a foam mattress to dip and stretch out of shape.
Do you have an old box spring you still want to use with a new bed? Try placing a piece of plywood over the box spring. Make sure the plywood is moisture-resistant, or else you might lift your mattress one day and find mold and mildew.
What do you do with old mattresses?
Check the condition of your old mattress first. If there's no lumps, tears, stains, or sagging, you could donate it to a local charity or repurpose it as a guest room mattress. If your mattress isn't fit for someone else to sleep on, search for local junk removal and recycling services.
Is a king size mattress worth it?
For some couples, a large king size bed is essential for a good night's sleep. Some partners feel cramped on a queen mattress and need the personal space a king mattress offers. Others may toss and turn or sleep hot, disrupting their partner's sleep if they're close.
The split king variation provides partners with a way to sleep on their firmness preferences without compromising. If you're a side sleeper sharing a bed with a back or stomach sleeper, a split king mattress can meet your unique needs. Split king beds also pair well with adjustable bases.
Others may not need a king mattress to sleep well, but they often enjoy how the bed completes a master bedroom. Many single sleepers love the luxurious amount of space a king mattress offers.
Conclusion
Most sleepers can expect to spend around $1,000 to $1,500 for an excellent mattress. With a little bit of research and patience, you can make sure you're snagging a fair deal on a good bed.
Shopping is much easier with Amerisleep because we offer mattresses for a wide range of sleepers. We consider the AS3 to be our best overall mattress, with a medium feel that suits most sleepers. However, any one of our beds could be your next mattress.
This article is for informational purposes and should not replace advice from your doctor or other medical professional.
---
About the author
Mitchell Tollsen is a graduate student and a freelance writer who's contributed to the Early Bird blog for three years. Mitchell's always been fascinated by the science of sleep and the restorative processes our bodies undergo when at rest. The self-titled "Sleep Expert" is always looking for ways to improve his shut-eye, and throughout the years has implemented numerous lifestyle changes and tried dozens of sleep-promoting gadgets to determine the best ways to truly get better rest.
View all posts