Key Takeaways
Size Difference: A super king size bed is slightly smaller than a standard king size bed, measuring 72 by 78 inches compared to the king's 76 by 80 inches. Super king beds are designed for those who want more sleeping space but have smaller bedrooms.
Availability and Customization: Super king beds are relatively rare and often need to be custom-ordered. This can make them slightly pricier and may require special bedding and accessories. In contrast, king size beds are widely available, and you can easily find mattresses and accessories for them.
Suitability for Couples: Both super king and king size beds offer ample space for couples to spread out comfortably. They are ideal for co-sleepers or couples with different firmness preferences. Super king beds are a good choice for those who want a larger bed but have space constraints in their bedroom, while king size beds are suitable for larger bedrooms.
King beds are an excellent option if you're looking for more sleeping space or a comfy mattress for two sleepers. However, you may share your bed and want more space to spread out, but don't have enough room to fit a king bed.
That's where the super king comes in. The super king size—the king bed's counterpart—measures 4 inches (10 centimeters) thinner than a standard king bed and fits in smaller bedrooms.
A larger bed is especially appealing to co-sleepers or couples for its extra space. And, if you're rather tall, king and super king beds offer height and room other mattresses simply can't.
In our post, we lay out the details and differences of both super king and king beds as well as how you can choose between the two mattress sizes.
What's a Super King Size Bed?
The super king bed is one of the larger beds on the market, measuring at 72 by 78 inches (180 by 200 centimeters) and considered an "oversized mattress." It is thinner and slightly shorter than a standard king size mattress. You'll need your bedroom's dimensions to be at least 12 by 12 feet to accommodate the mattress, bed frame, other furniture, and walking space.
Super king beds are a somewhat rare mattress size and are often custom-made, so you'll have to do some research on where to find them in your local area. Since you typically have to custom order a super king, it's often a tad pricier than standard mattress sizes. Also, due to their rarity, there are some minor size variations depending on the manufacturer, so be sure to double-check the dimensions of the mattress before buying any accessories to go along with it.
Not all bedding companies make bed sheets for a super king, so it can be difficult to find bed sheets. Again, those usually have to be specially made. And when it comes to mattress supports, you will have to get a bed set or foundation sized for your mattress.
Even headboard size can be tricky if you want an oversized bed with a classic look. It may be easiest to look for a wall-mounted standard king size headboard, which won't need to be attached to a smaller bed frame.
Who's a Super King Size Bed Best For?
Couples should feel comfortable on a super king bed as they'll have plenty of space to spread out. If you co-sleep with your children and your partner, a super king bed may be well-suited for you since it can support upwards of 1,500 pounds.
What's a King Size Bed?
The king size bed, also known as the Eastern king, is the most widely available and largest standard mattress size. It measures at 76 by 80 inches, or 193 by 203 centimeters, and is rectangular. When compared to a super king's dimensions, it is a bit taller and wider.
A king size mattress will fit best in a large bedroom no smaller than 13 by 13 feet.
King beds are readily available because they are a standard size. Nearly all mattress companies offer king mattresses and accessories, so you won't need to do too much research when looking for your mattress. In addition, you could save some money because you won't need any custom-made accessories or bedding.
Who Should Buy a King Size Bed?
Like super kings, couples are particularly drawn to king beds since they offer ample room for each sleeper. And, if you and your partner have different firmness preferences, you can use two twin XL mattresses together since they equal the same dimensions of a king. (We call these split kings.) With a split king, sleepers with different preferences can choose their preferred mattress model for their side of the bed.
When sharing a large bed, couples can sleep in their optimal sleeping position without disturbing their partner.
Best Amerisleep King Size Mattresses
Quick Guide: A 30-Second Summary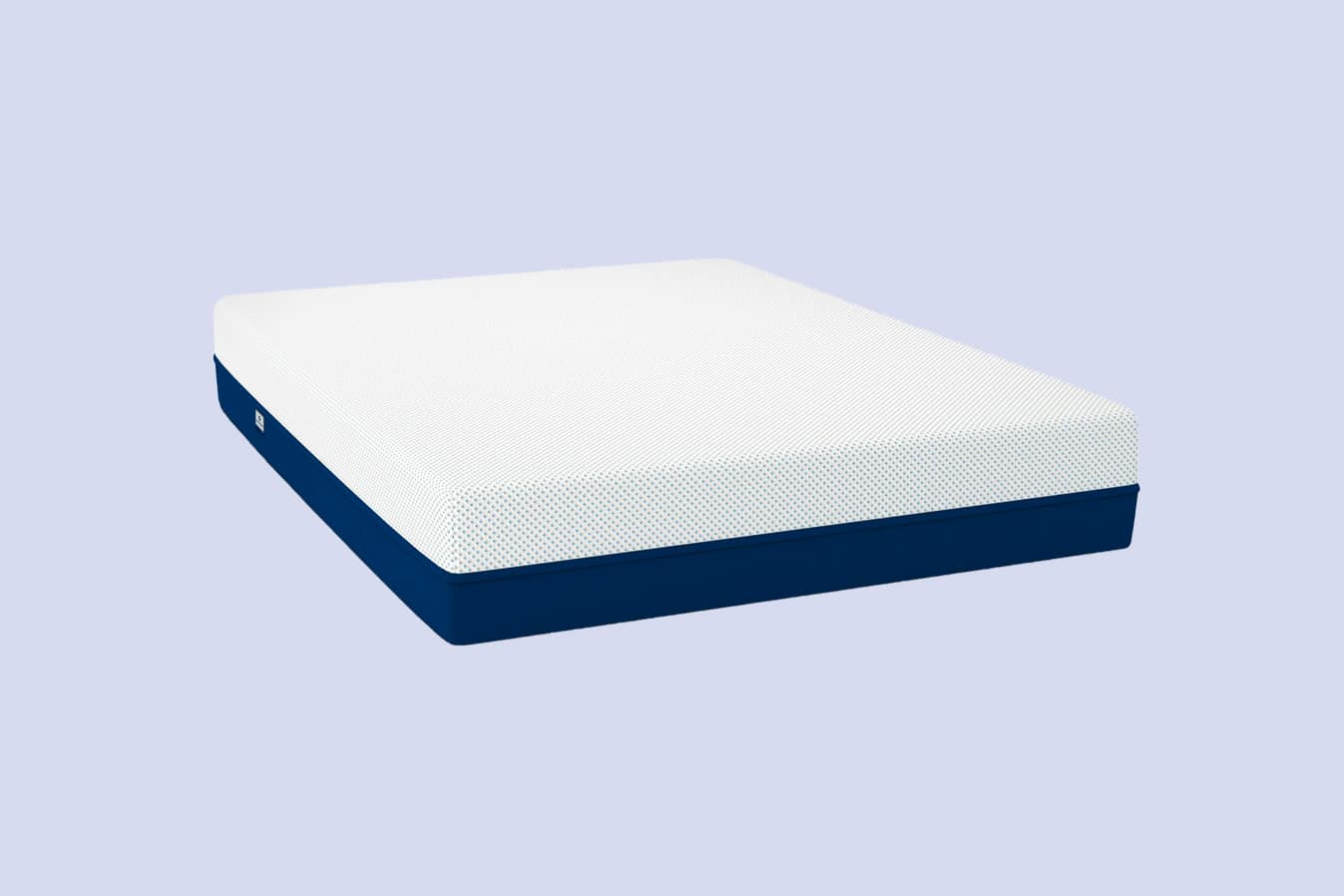 Best King Size Mattress Overall
Amerisleep AS3
Price Range

$1149 to $2398

Mattress Type

Memory Foam

Firmness

5 to 6 out of 10 (Medium)

Availability

All sizes

Warranty

20 Years

Thickness

12 Inches
The AS3's balanced medium feel makes it the perfect choice for couples who are seeking a king size mattress to share. The versatile surface provides comfort and support to most sleeping positions, and even partners who disagree on how a mattress should feel often find the AS3 feels just right to each of them.
Mattress Highlights
Sensitive areas of the body cradled by Bio-Pur®
Five zones of support established through cutouts
Sturdy base foam minimizes chances of soft spots
Recommended For
Side, back, and combination sleepers
Couples with conflicting sleep styles
Hot sleepers
Many partners have different sleeping styles, making it a challenge to find a bed that's compatible with both preferences. One partner may dismiss a bed as too soft for sleep, while the other may find another mattress too firm to enjoy. The AS3 is excellent for couples who want to share a king size mattress without any discomfort.
The AS3 is our most popular model and can significantly upgrade a person's sleep experience. The memory foam model relies on three foam layers to establish a versatile medium feel that suits most sleep styles.
The first layer is Bio-Pur® foam, a material exclusive to our memory foam mattresses. Unlike traditional memory foam, we make Bio-Pur® foam by substituting certain ingredients with plant-derived oils. This foam is more sustainable, breathable, and responsive than traditional memory foam.
The next layer is Affinity foam with HIVE® technology. Hundreds of hexagonal cutouts comprise HIVE® technology, with the cutouts arranged to create variable support. The shoulders and hips feel softer through greater flexibility, providing an extra boost of pressure relief. Meanwhile the head, back, and feet areas focus more on spine support.
The final layer is Bio-Core® foam, a durable base structured for lasting support. All of these foam layers are certified safe by CertiPUR-US®, meaning they are free of potentially harmful materials.
We also offer the AS3 Hybrid, perfect for shoppers who want a king size mattress with springy support.
Every AS3 mattress includes a 100-night sleep trial and a 20-year warranty. The sleep trial starts when the mattress arrives at a customer's front door, giving them months to try out the mattress and make sure it's the right one.
Pricing of Amerisleep King Mattresses
Where To Find Specialty Mattresses
Most companies do not sell oversized mattresses. Instead, oversized mattresses and other specialty beds are rare to come by, so you'll need specialized boutiques or companies to produce them. However, when custom-ordering, you can customize specific details such as the mattress filling, thickness, and firmness.
Choosing the Correct Mattress
When looking to upgrade your mattress, there are certain details to consider when deciding between a king or super king sized bed.
Bedroom Space

Before choosing a mattress size, double-check if it fits in your bedroom by marking the dimensions of the mattress on the floor with measuring tape. You should have at least 30 inches of space between the bed and the perimeter of the room to avoid overcrowding. Bedrooms typically have other furniture, such as end tables, a dresser, or additional seating, and they can get cramped and uncomfortable if you purchase too large of a mattress for the size of your room.
If you want room for extra furniture, choose a smaller mattress; but if you value sleeping space more, go for the larger mattress size.
Bedroom Location
Mattresses, particularly oversized mattresses, are heavy, and it can be cumbersome taking a bed from point A to point B, especially if your bedroom is on the second or third floor of your home. However, companies who offer White Glove Delivery can carry the mattress up the stairs for you, taking this burden off your shoulders.
A large mattress may potentially not fit through your stairwell and bedroom door, though nowadays, most beds are available in bed in a box mattress sets, making them compact and easily transportable.
Number of Sleepers
If you share your bed with a partner, child, or sibling, a king or super king bed frame can comfortably sleep multiple individuals of varying heights and sizes. The sturdy construction of the bed frame ensures stability and support, allowing everyone to spread out comfortably and without bothering each other. So, families and couples can enjoy each other's company while still having their own space.
On the other hand, if you're just a single person, a king may be unnecessarily large and not worth the price. A super king size bed may be useful if you're wanting a large sleeping space or are tall, though a single person rarely needs anything larger than a queen size mattress.
Budget
Before choosing a mattress, take into account the total cost of everything, including your mattress and its foundation, bed frame, and bedding, to check if it fits your budget. Super kings, due to their lack of availability, are usually more expensive than standard kings. King beds and their accessories are more readily available and easy to find at an affordable price.
FAQs
Is a super king the same as a California king?
No, the California king mattress (also known as the Western king) is 72 by 84 inches (183 by 213 centimeters) so it is a bit longer than both a super king and standard king mattress. If you're a tall person and also share a bed, you may consider purchasing a California king.
What bed is bigger than a king?
Bed sizes larger than a king include:
Emperor: 84 by 84 inches (213 by 213 centimeters)
Super Emperor: 90 by 84 inches (229 by 213 centimeters)
Caesar: 96 by 84 inches (244 by 213 centimeters)
Super Caesar: 108 by 84 inches (274 by 213 centimeters)
These oversized beds are often for large families and co-sleeping. Similar to the super king, these oversized beds, as well as their accessories and foundations, are not readily available and often need specially-made.
Do king size sheets fit a super king bed?
No, due to the mattresses' size difference, you'd have loose fabric if you used king size sheets on a super king size bed. Although super king size accessories are not as easily available, you can still get them custom-made for your bed.
Do mattress dimensions vary by country?
Yes, companies offer different dimensions for the same style of bed based on the country you order from. Using king and super king beds as an example:
In the U.S., a king size bed is 76 by 80 inches (193 by 203 centimeters) while in the UK, a king size bed is 50 by 78 inches (150 by 200 centimeters).
In the U.S., a super king size bed is 72 by 78 inches (180 by 200 centimeters) while in the UK, a super king size bed is 72 by 84 inches (180 by 210 centimeters).
When shopping in different countries, always check the mattress dimensions to ensure you are purchasing the correct size for your wants and needs.
Can two adults sleep comfortably on a full sized bed?
Technically, two adults can fit on a full size bed, though it's hardly enough room for them to sleep comfortably. Keep in mind, a full mattress is only 54 by 75 inches (137 by 190 centimeters), giving each person 27 inches of wiggle room to themselves and only 75 inches of length. On a full size bed, there will be little room for two people to stretch out and sleep in their preferred position.
Individuals sharing a bed should at least use a queen size bed. However, a king or a super king will provide even more comfort and individual space for couples and co-sleepers.
Conclusion
There's not one perfect bed size for everyone. When researching mattresses, take into account your needs and your living space before deciding the size of the bed you want.
Unique oversized beds, such as super kings, are great for co-sleeping or couples, though they require at least a 12 by 12 foot bedroom to fit properly. King beds, conversely, are 2 inches wider and 8 inches taller, so they comfortably sleep two people and will fit best in a 13 by 13 foot master bedroom.
If you're looking for a large sleeping space for you and your partner, both a king and super king offer just that. With either option, measure your bedroom before making a purchase to see if the mattress can fit comfortably.
---
About the author
April Mayer is a sleep expert and writer with a degree in exercise physiology. She has dedicated her career to exploring the relationship between sleep and productivity. Her insightful articles, such as "The Surprising Way Your Mood Might Be Messing With Your Productivity" and "Wake Up to More Productive Mornings," have been featured in reputable publications like Forbes, Greatist, Real Homes, Thrillist, Tom's Guide, and Eat This, Not That. With a passion for helping others lead more productive lives through restful sleep, April offers valuable expertise on foods and vitamins for better sleep. As a trusted member of the Early Bird team since March 2020, she continues to provide informative and well-researched content.
View all posts