Bed bases raise the height of your mattress, making it easier to get in and out of bed. Both a platform bed and a box spring are bed bases, but a platform bed doubles as a bed frame. A box spring or a platform bed enhances the comfort and support of your mattress.
Once you have decided on the best mattress, it's time to choose a complementing bed base. Our guide helps you choose the best bed base.
What Is a Platform Bed?

A platform bed is a low profile bed frame with a solid or slatted surface for mattress support. The standard height of a platform bed ranges between 5 to 12 inches.
Other traditional bed frames such as sleigh beds, canopy beds, or four-poster beds may not adequately support a mattress. A box spring or a mattress foundation usually needs to be paired with one of these bed frames.
Platform beds are an affordable option because they serve as a bed frame with a built-in foundation. The solid wood surface has holes or channels promoting airflow and increasing breathability. Space between the wooden slats allows air circulation, cooling your mattress, and determining the kind of support you feel on the mattress.
The smaller the space between slats, the better the support. In most platform beds, slats are placed 2 to 2.75 inches apart, though metal platform beds may have thinner slats that are essentially rods.
Most bed slats are rigid, but some wooden slats are flexible, counteracting mattress and body weight. The slats are bowed outward providing give to the bed. However, rigid slats may make the mattress feel firmer and are more durable.
Types of Platform Beds

Platform beds are available in different styles, such as headboards and footboards, storage drawers, and upholstered. The storage feature found commonly in platform beds makes them a convenient option for small apartments and studios, where space is limited. Some styles are known as floating bed frames, hiding the legs to create the illusion of weightlessness.
Many platform beds mimic the look of a panel bed, the traditional frame that's paired with a mattress and box spring. If you're interested in the differences between these similar frames, see our platform bed vs panel bed guide.
The frames also come in the standard mattress sizes, from twin to king. Shoppers seeking a versatile frame may want to choose a queen platform bed because it can accommodate two people and fit in most bedrooms.
Some platform beds have metal bed frames made of wrought iron or steel with metal grids on the surface. The metal grids may exert more pressure on some memory foam mattresses causing decompression and early degeneration. We recommend checking with the mattress manufacturer about the specifics of a compatible bed base before purchasing a new mattress.
Platform beds made of particleboard or composite wood may be cheaper, but they lack durability. If you want to invest in a high-quality bed for the long term, buying a solid wood platform bed may be wiser.
Platform beds support all mattress types such as foam, latex, and memory foam mattresses. Though innerspring mattresses may be supported by platform beds, they are better paired with box springs.
Still, with a little bit of research, it's easy to find some of the best mattresses for a platform bed.
Pros and Cons of a Platform Bed
A platform bed eliminates the need for a box spring or foundation making them a better buy, but their lower profile may cause some difficulties such as back and knee pain.
Pros:
Compatible with most mattress types
Value option
Modern look
Wide variety of styles
Commonly includes storage features
Cons:
Lower profile makes it difficult to get in and out of bed
Harder to move
Firmer surface may cause pressure points
Try Our Platform Bed Frame
Quick Guide: A 30-Second Summary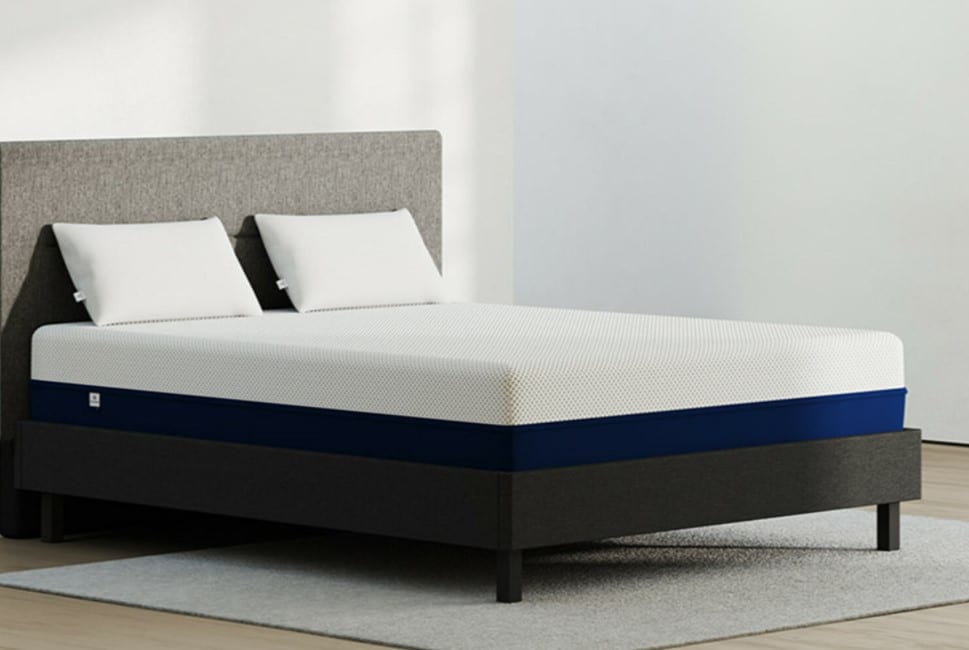 Best Platform Bed Overall:
Amerisleep Platform Bed
Price Range

$399 to $599

Material Type

Wood

Availability

All sizes

Height

13 Inches
When it comes to style, the Amerisleep Platform Bed offers a sleek, minimalist look. So it would fit perfectly in modern houses and industrial apartments alike.
Bed Frame Highlights
Extra-wide slats for more support and a minimal look
Neutral look can slip in with any room style
Air free to move through the base of the mattress
Recommended For
Those looking for sleek, minimalist style
Those who want to avoid tools or complex assembly
Those who have heavy or expensive mattresses
Those looking for a platform bed that can do it all and still look stylish in the process should check out the Amerisleep Platform Bed Frame. Our platform bed is compatible with all mattress types. It also has everything you need for both an amazing night's sleep and a fantastic bedroom look.
Our platform bed frame features slim-lined legs that blend right into its charcoal-gray upholstered framing. Its low profile and simple design allow your bedding to take center stage while matching any color scheme and style you can imagine.
Don't let its modern look fool you. This is still an imminently practical platform bed. One of its best features is that it can assemble in five minutes with no tools. This convenience is fantastic for those who like to switch apartments or want to get a bed for their kids to move out with one day.
Aside from its quick and easy assembly, the Amerisleep Platform Bed also offers some of the sturdiest support around. It features two center rails and a pair of center legs to ensure the middle of the bed is just as supported as the edges.
However, where the Amerisleep Platform really shines is its slats. Most platform beds feature slats that are just a few inches in width. But the Amerisleep platform boasts a hardwood slat system with extra-wide slats.
Once they're in the frame, these slats look more like a bunkie board than a traditional platform bed slat system. This setup allows the slats to offer tons more support than a regular slat system that can allow the mattress to sag through its gaps. But unlike a bunkie board, these slats do have thin gaps between them. The ventilation will keep your mattress dry underneath.
All in all, the Amerisleep Platform Bed is a practical and stylish offering at a more-than-affordable price. Just about anyone can enjoy this bed frame.
Quick Summary
The platform bed frame assembles in five minutes with a few simple steps and no tools required
The sturdy support slats can stand up to even the heaviest mattresses and extend their lifespans
The minimalist style is perfect for those who like to switch up their bed's look regularly
What Is a Box Spring?

A box spring is a wooden box containing a layer of springs, covered by a breathable fabric on top and a dust-barrier fabric at the bottom. Some box springs have a steel frame for enhanced support. Box springs may be placed directly on the floor or on a bed frame for extra height. Keeping it on a bed frame also prevents skidding.
The layer of coils in the box spring promotes airflow. The springs add give to your mattress and absorb your body weight. A box spring also increases the overall bed height by a few inches.
Box springs are a popular choice complementing innerspring mattresses because the layer of coils in the mattress aligns with the coils in the box spring, making your mattress softer. Coils also enhance shock absorption and isolate motion.
While box springs are a great fit for innerspring mattresses, they aren't compatible with memory foam or latex mattresses. Mattress weight may break the coils, leading to reduced support and sag from box spring beds.

Pros and Cons of a Box Spring
A box spring is lighter than a platform bed, but the springs inside are more susceptible to wear and tear.
Pros:
Coils promote cooling
More give
Shock absorption
Cons:
Noise potential
Less durable
Not compatible with most mattress types
Difference Between Platform Bed and Box Spring
A platform bed is a bed frame with a built-in foundation, while a box spring is a mattress foundation that may be placed on a bed frame.
| Parameters | Platform Bed | Box Spring |
| --- | --- | --- |
| Average Height | 18 inches | 25 inches |
| Weight | Heavier than box spring | Relatively light |
| Responsiveness | Provides little give | Springs offer more responsiveness |
| Compatibility | Compatible with most mattress types such as memory foam, latex, and hybrids | Compatible with innerspring mattresses |
| Storage Space | Storage | No Storage Space |
| Price (Queen) | $100-500 | $160-800 |
Other Types of Bed Bases
If the platform bed or box spring doesn't suit your needs, choose either a bed foundation or an adjustable bed base to complement your mattress.
Mattress Foundations

Mattress foundations are a wooden box with slats for enhanced support, covered by a breathable fabric. They are similar to platform beds without storage and headboards and footboards. You may place a mattress foundation on the floor or on a bed frame. Foundations are compatible with all mattress types, making them the most versatile option. The slatted frame provides more support than give.
Our Amerisleep Mattress Foundations are made of solid pine wood with each slat wrapped in a no-slip enclosure. Starting at $225 for a twin size, these mattress foundations are durable and assembled in minutes without tools.
Adjustable Bases

On an adjustable base, you can elevate the head or feet at the desired angle via remote for superior comfort. The benefits of an adjustable bed include not just increased comfort but symptom relief from medical conditions, such as sleep apnea and acid reflux.
Our Amerisleep Adjustable Beds, starting at $1800 for a twin, come with luxurious features like zero-gravity buttons, head and foot adjustments, and programmable presets.
Benefits of Keeping a Mattress on a Bed Base or Mattress Foundation

Keeping your mattress on the floor may reduce comfort and durability. While the floor provides support, it doesn't promote airflow or provide shock absorption—you may overheat.
The floor may be too firm for your mattress, causing decompression and early degeneration. Moreover, sleeping on the floor may bring you closer to insects, dust, bacteria, and allergens. Exposure to these can cause health issues in some sleepers.
FAQs
What is a bunkie board?
A bunkie board is a piece of plywood often wrapped in fabric and placed on top of a foundation for enhanced mattress support. It's typically a couple of inches thick to best withstand the weight of a mattress.
Originally, bunkie boards were used with bunk bed mattresses in place of traditional box springs. However, bunkie boards can also be placed on a box spring, a platform bed, or placed on the floor for mattress support and to prevent skidding.
Why is a box spring not durable?
The coils in the box springs are vulnerable and may break with prolonged use, creating sag and increasing noise potential. Some latex or memory foam mattresses can cause coil damage. We recommend checking with mattress manufacturers about the ideal bed base.
Can any mattress go on a platform bed?
Yes, any of the main four types of mattresses (memory foam, latex, innerspring, and hybrid) can be used with a platform bed. Usually, you don't need a box spring, bunkie board, or another box spring alternative unless the frame's bed slats are spaced too far apart.
Lesser known types such as airbeds and waterbeds may not fit comfortably on a platform bed frame, though this can vary by model.
How thick should a mattress be for a platform bed?
Because platform beds are relatively low-profile, it's often best to go for a thicker mattress to establish a comfortable bed height. If the bed still rests too low to the ground, a set of bed risers can elevate the frame and make it easier to move out of bed.
When it comes to adult sleepers, we always recommend a mattress thickness of at least 10 inches. Mattresses this thick are better at resisting wear and tear, providing durable comfort and support.
How do you keep a mattress on a platform bed?
Many platform beds have features to keep mattresses from sliding out of place, such as side rails or non-skid upholstery. Choosing the proper bed frame size should also minimize the space a mattress has to move out of place. However, if your mattress has a tendency to shift around, you can try placing a non-slip rubber mat underneath or using carpet tape.
Should I Choose a Platform Bed or a Box Spring?
The answer to this question also depends on the type of mattress you have. If you prefer a traditional innerspring mattress, a box spring would be a better choice to improve the comfort of your bed for a good night's sleep.
Platform beds, compatible with all mattress types, are a good option if you don't mind a lower profile. They combine the features of a bed frame with a foundation, making them an affordable choice.
---
About the author
April Mayer is a sleep expert and writer with a degree in exercise physiology. She has dedicated her career to exploring the relationship between sleep and productivity. Her insightful articles, such as "The Surprising Way Your Mood Might Be Messing With Your Productivity" and "Wake Up to More Productive Mornings," have been featured in reputable publications like Forbes, Greatist, Real Homes, Thrillist, Tom's Guide, and Eat This, Not That. With a passion for helping others lead more productive lives through restful sleep, April offers valuable expertise on foods and vitamins for better sleep. As a trusted member of the Early Bird team since March 2020, she continues to provide informative and well-researched content.
View all posts