Key Takeaways
Bunkie Board Definition: A bunkie board is a flat wooden or particleboard barrier, typically 1 to 3 inches thick, designed to be placed between a mattress and the surface it rests on. It serves as a cost-effective foundation for modern foam and hybrid mattresses that require a solid, flat surface for proper support.
Purpose of Bunkie Boards: Bunkie boards are used to create a stable and supportive surface for mattresses, particularly foam and hybrid mattresses, which can sag if not properly supported. They are especially useful when mattresses are paired with bed frames with far-apart slats or as a box spring alternative.
When to Consider a Bunkie Board: You may need a bunkie board if your bed frame lacks a solid foundation, has slats spaced too far apart, if you're using a mattress that doesn't require a box spring, or if you're planning on using a bunk bed frame.
If you've ever shopped for a high-quality mattress or bed frame, you have probably come across the term "bunkie board" (sometimes spelled "bunky boards"). You're likely familiar with box springs and other types of bed frames, such as slatted frames. But what is a bunkie board, and why would you need one? We're here to answer these questions and more.
What is a Bunkie Board?
A bunkie board is a 1 to 3-inch flat barrier, usually made of wood, plywood, or particleboard, designed to fit between your mattress and the surface it rests on. It works with any bed frame or base–metal frames, solid platforms, box springs, and slatted foundations. Before we cover why you might need one, let's take a quick look at how bunkie boards came to be.
History of the Bunkie Board
As you can tell from the name, bunkie boards originally provided a base for a bunk bed mattress. Since traditional innerspring mattresses (the standard mattress for many years) required a box spring for support, and sleepers needed a solution when it came to bunk beds. Thick box springs would not fit well on either the top or lower bunk.
With a mattress and box spring, bunk bed sleepers would hit the ceiling or the bed above them when they sat up. Therefore, the bunkie board was born. These boards replaced the box spring so bunk bed mattresses could sit low.
However, they weren't always called bunkie boards or made the way they are today. Initially, these bed foundations featured one solid piece of wood or plywood that supported the entire mattress. Now, bunkie boards are made of wood stripes and vary in length, width, and thickness.
Bunkie boards work with every mattress size–including twin, twin xl, double, queen, king, and California king. You can even purchase decorative bunkie boards to match the look and style of your bed frame.
Why Would You Need a Bunkie Board?
Traditional spring mattresses work well with box springs. They help to absorb some of the pressure and provide additional support. But more modern mattresses, such as memory foam and hybrid mattresses, do not require a box spring; in fact, most companies don't recommend them. Here's why–foam (including poly-foam, memory foam, latex foam) and hybrid mattresses, can sag if they don't rest on a solid, flat surface.
A foam or hybrid mattress can be placed on a solid base to protect it. If you don't have a bed frame with a solid base, you can put a barrier between the mattress and the frame. That's where bunkie boards come in. These wood barriers can be placed on top of any bed frame or foundation (including slatted frames) to create a solid, sturdy surface for your new mattress.
What Can I Use Instead of a Bunkie Board?
Quick Guide: A 30-Second Summary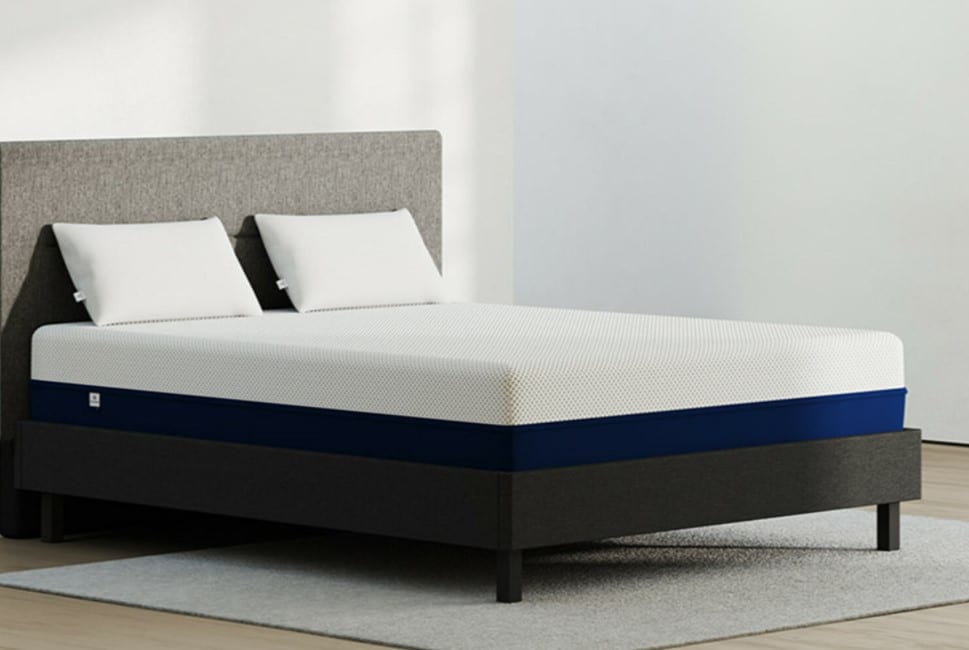 Best Bunkie Board Alternative
Amerisleep Platform Bed
Price Range

$399 to $599

Material Type

Wood

Availability

All sizes

Height

13 Inches
Our Amerisleep Platform Bed is a nice alternative to a bunkie board because it can also give your bed more height as the frame stands 13 inches tall.
Platform Bed Highlights
Wider than average usual slats for more support
Bed frame supports all types of mattresses
Frame design complements most bedroom styles
Recommended For
All sleeping styles
Hot sleepers
Budget shoppers
If you're looking to pair your memory foam, latex, or hybrid mattress with something supportive without the need for a bunkie board, we recommend our Amerisleep Platform Bed.
Our foundation provides the proper support for your mattress, so you can fully enjoy the comfort and support a bed has to offer. Without the right support, the mattress could develop soft spots or start to sag. You may experience back pain if your body isn't getting enough support.
The Amerisleep Platform Bed contains side rails, center support, and slats made from solid wood. The slats are extra wide for even support that still allows breathability, while the side rails ensure the mattress stays in place. You won't have to worry about the bed slipping off the foundation.
The height the frame gives you can not only increase comfort but help you stay healthy. The floor is a source of dust mites, allergens, and bacteria. Placing your mattress on the floor makes it easier for these allergens to penetrate your bed. It may be harder to fall asleep and stay asleep if you wake up with itchy, watery eyes, coughing, or sneezing.
Meanwhile, raising the bed reduces exposure to allergens, Verified Source National Library of Medicine (NIH) World's largest medical library, making biomedical data and information more accessible. View source so you can breathe better and get a good night's sleep without disruptions from allergic reactions.
How Do I Know If I Need A Bunkie Board?
If you have recently purchased a new foam or hybrid mattress, or you are considering one, our suggestions below can help you determine if a bunkie board is right for you.
Solid Foundations
If you plan to place your mattress on a bed frame that already has a solid foundation (no slats), a bunkie board is not necessary. However, if you prefer your bed to have extra height, a bunkie board is a great way to add lift to your mattress without compromising its structure.
Slatted Foundations
If you have a bed frame with a slatted foundation, you can place a bunkie board on top of the slats and rest your mattress on the bunkie board. Depending on how high you want your bed to sit, you can opt for a 1, 2, or 3-inch bunkie board.
Adjustable Foundation
If you have an adjustable bed, you will not need a bunkie board. Placing anything between the mattress and frame will prevent the frame from bending correctly.
Below, we break down the differences between bunkie boards and other bed bases.
Bunkie Board vs. Box Spring
Initially, traditional box springs complimented the innerspring mattress above. Both layers contained spring coils that worked in tandem to manage weight distribution and pressure. But today, most box springs consist of a wood or metal box with a cloth cover. They don't add much in terms of stability or support to the mattress above.
Since not all box springs have a solid surface, they do not provide a reliable base for most foam or hybrid mattresses. With a more modern bed, it is best to get rid of your old box spring and place your new foam bed on either a solid foundation or a bunkie board.
If you prefer to keep your box spring, you can also place a bunkie board on top of it to create a solid surface for the mattress. However, double-check your mattress's warranty before doing so. Some warranties may prohibit the use of a box spring altogether. Also, you will want to be sure your box spring can handle the weight of a bunkie board and a foam mattress.
Bunkie Board vs. Plywood
Instead of a bunkie board, you can place a solid piece of moisture-resistant plywood beneath your mattress. The plywood should be at least ¾ inch thick and should fit the exact size of your bed. This option is cheaper, but be sure measurements for your mattress and frame are exact. Otherwise, it won't fit snuggly. If you decide to keep your box spring, you can place this sheet of plywood on top of the box spring to protect your foam mattress.
However, a bunkie board will last longer, look cleaner, and prevent damage better than a sheet of plywood can. Plywood can often develop chips and may snag on your bedding or mattress. Bunkie boards are measured and treated to support your mattress, so they are easier and safer in the long run.
Bunkie Board vs. Slats
Most latex mattresses can't be placed on a slatted foundation if the slats are more than 2 inches apart. For memory foam mattresses, bed slats shouldn't be more than 2.75 inches apart. If these foam beds rest on the incorrect surface, they will not offer proper support and can become damaged quickly.
Most modern bed frames, either wood or upholstery, have a slatted base. Therefore, it is best to review the mattress warranty to ensure you're placing your new bed on the correct base. If you don't want to bother measuring the distance between slats, you can purchase a bunkie board. These bases will protect your mattress and ensure your warranty stays intact.
Where to Buy a Bunkie Board?

When shopping online, you will find a large selection of bunkie boards. You can also find bunkie boards at retailers that sell mattresses and bedroom furniture. Most furniture retailers can help you locate the correct bunkie board for your bed frame. When using standard US bed sizes, it is easy to find the right size bunkie board, whether you're shopping online or at a mattress store.
Frequently Asked Questions
What is the purpose of a bunkie board?
The purpose of a bunkie board is to create a supportive surface to prevent sagging. Originally, bunkie boards were paired with bunk beds because a box spring would have raised the mattress too high.
However, bunkie boards have become a common supplement for traditional bed frames that were designed to support standard innerspring mattresses and were not made with foam or hybrid mattresses in mind.
Do I need to add a bunkie board if you have slats?
You may still need a bunkie board if your slats are not close enough to support the mattress. Foam and hybrid mattresses need slats that are no more than 2.75 inches apart. Otherwise, the mattress may sag prematurely.
Can you put a foam mattress on wooden slats?
Yes, wooden slats are perhaps the best support system for a foam mattress. The spaces between slats promotes airflow while the slats provide support, as long as the slats are wide and thick enough and are spaced relatively close together. Metal slats are often too thin and too far apart for a foam mattress, which is why wood is generally preferable.
We recommend wooden slats at least 0.75 inches thick and no more than 2.75 inches apart.
What type of mattress is best for wooden slats?
Any type of mattress can be placed on wooden slats, whether it's a spring mattress or a foam mattress. Sleepers who are using a traditional innerspring mattress may want to place their bed on a box spring instead of directly on a set of slats. However, memory foam, latex, and hybrid mattresses can be placed directly on bed slats.
Can you use a box spring with a memory foam mattress?
No, we do not recommend pairing a memory foam mattress with a box spring. The coils inside a box spring are spaced too far apart to support a memory foam mattress. When placed on a memory foam mattress, the bed is more likely to sag prematurely.
How Much Will a Bunkie Board Cost?
The cost of bunkie boards ranges between $50 and $150. The size of the bed will cause the cost to increase. A king bunkie board will likely cost more than a twin bunkie board. Decorative features such as stains and finishes can also influence the price. As you shop, you may also come across some bed frames that come with a bunkie board.
Although box springs have been the standard for many years, bunkie boards offer a sleeker, low-profile look. Plus, they help stabilize the mattress so it can support you the way it is meant to. As you shop for a new mattress, keep in mind the type of frame you plan to pair it with. In most cases, a bunkie board is a convenient and affordable base option, no matter the type of frame you have at home.
---
About the author
Mitchell Tollsen is a graduate student and a freelance writer who's contributed to the Early Bird blog for three years. Mitchell's always been fascinated by the science of sleep and the restorative processes our bodies undergo when at rest. The self-titled "Sleep Expert" is always looking for ways to improve his shut-eye, and throughout the years has implemented numerous lifestyle changes and tried dozens of sleep-promoting gadgets to determine the best ways to truly get better rest.
View all posts