Your mattress's foundation makes a huge difference in how long your bed lasts and how comfortable it is. There are countless foundation options, ranging from simple box springs to adjustable beds. Platform bed foundations save you money, match most bedrooms, and support your mattress.
With all the options out there, it gets hard knowing what mattress will pair well with a platform bed. That's where we come in!
We take you through the best mattresses for platform beds and tell you all about platform beds as a whole.
Best Mattresses for a Platform Bed
Quick Guide: A 30-Second Summary
Best Mattress for Platform Bed Overall
Amerisleep AS3
Price Range

$1149 to $2398

Mattress Type

Memory Foam

Firmness

5 to 6 out of 10 (Medium)

Availability

All sizes

Warranty

20 Years

Thickness

12 Inches
The most popular mattress at Amerisleep is the AS3, a memory foam mattress with a medium feel. This feel supports most sleeping styles.
Mattress Highlights
Plant-based foam establishes a responsive surface
Five zones of underlying targeted support for the body
Bio-Core® support foam promotes a sag-free bed
Recommended For
Back, side, and combination sleepers
Couples
Hot sleepers
The balanced feel of the AS3 makes it a good option for side sleepers, combo sleepers, and couples. The 12-inch bed contains three foam layers.
Most Amerisleep mattresses have a soft, lightweight cover. It draws away body heat and moisture so you stay cool all night.
The AS3's top layer is 3 inches of pressure-relieving Bio-Pur®, a plant-based memory foam. Traditional memory foam contains petroleum-based oils. Petroleum makes the foam hot and releases a strong factory smell. We replace most of the petroleum with castor oil, which is more sustainable, cooling, and won't off-gas.
Next is 2 inches of Affinity transition foam with HIVE® technology, our support system. It contains five support zones to reduce pressure build-up and align your spine. It provides extra support to your legs, back, and head, and cushions your hips and shoulders.
The last layer in the AS3 is Bio-Core® support foam. This foam base supports the top layers and minimizes sags to help your mattress last for years to come.
All the foams in the AS3 are CertiPUR-US® certified. This means the foams are free of heavy metals, phthalates, formaldehyde, and low in VOCs.
The AS3—and all other Amerisleep mattresses—include free shipping and returns, a 100-night sleep trial, and a 10-year warranty. The mattresses come in sizes twin through California king.
Quick Summary:
Bio-Pur® plant-based memory foam is cooling and durable
HIVE® zoned technology prevents pressure points and pain
Bio-Core® base foam maximizes the mattress's longevity
Best Luxury Mattress for Platform Bed
Amerisleep AS5 Hybrid
Price Range

$2049 to $4198

Mattress Type

Hybrid

Firmness

3 out of 10 (Soft)

Availability

All sizes

Warranty

20 Years

Thickness

14 Inches
If you're looking for a high-end mattress with a cloud-like feel, consider the AS5 Hybrid. This soft model can cradle the body with cushioning foam yet respond to movements within seconds.
Mattress Highlights
Bio-Pur® conforms to the shoulders and hips
Active Flex adapts with movements to limit sinkage
Pocketed coils with edge support for easier mornings
Recommended For
Side sleepers
Heavier individuals
Smaller sleepers
The AS5 Hybrid has 3 inches of Bio-Pur® comfort foam—like the AS3 we mentioned before. The AS5 Hybrid has a different firmness level because of its 2-inch Active Flex layer.
Active Flex is a springy material, like latex. Most soft mattresses don't feel supportive, especially for larger individuals. The Active Flex layer makes the AS5 Hybrid more supportive without making it less soft.
The AS5 Hybrid's support unit contains pocketed coils. These coils align the spine while also promoting air circulation. We added extra-firm coils to either side of the AS5 Hybrid to increase the bed's edge support. This means you aren't at risk of rolling off the sides of the bed while sleeping at night.
At the bottom of the AS5 Hybrid is a thin, durable base foam designed to reinforce the upper layers.
This soft mattress is 14 inches thick and feels truly luxurious. We recommend it to side sleepers, joint pain sufferers, and plus-sized people.
Quick Summary:
A soft hybrid bed offers excellent cushioning and support
Bio-Pur® foam and cooling cover prevent overheating
Active Flex foam promotes healthy spinal alignment
Best Eco-Friendly Mattress for Platform Bed
Amerisleep Organica
Price Range

$1199 to $2698

Mattress Type

Latex

Firmness

5 to 6 out of 10 (Medium)

Availability

All sizes

Warranty

20 Years

Thickness

13 Inches
The Organica is our most natural mattress, with the design boasting a range of eco-friendly materials that promote coolness and comfort.
Mattress Highlights
Talalay latex and wool cushion pressure points
Cotton and wool move heat and moisture away
Pocketed coils make it easy to move across the surface
Recommended For
Sleepers seeking a latex mattress for their platform bed
Back, side, and combo sleepers
Hot sleepers
The most sustainable mattress option we offer at Amerisleep is the Organica. This latex hybrid bed is for eco-conscious shoppers looking for a good night's sleep. The mattress is 13 inches thick and has a medium feel, which is good for side, combination, and back sleepers.
The Organica's GOTS organic certified cotton cover features tufted rosettes. The rosettes on the cover look great but also secure the mattress layers together. This way, we don't need to add chemical adhesives to the mattress.
The top layer is an inch of New Zealand Joma Wool®. Wool is a natural flame retardant and temperature regulator. You'll stay cool or warm depending on the temperature so you stay comfortable while sleeping.
Under that is 3 inches of GOLS organic certified Talalay latex. This comfort layer is cushiony without making you feel stuck or unable to move around in bed. Plus, the latex draws away your body heat. The latex is also Rainforest Alliance, Standard 100 by OEKO-TEX®, and eco-INSTITUT® certified.
Next is the Organica's coil support unit. Each steel coil is wrapped in fabric to help the mattress last longer, reduce motion transfer, and prevent squeaks. Like our other hybrid mattresses, the coils on either side of the Organica are reinforced for adequate edge protection.
Finally comes 1 inch of Dunlop latex. This durable latex is a surface for the coils to bounce on and helps maintain the mattress's structure.
Quick Summary:
Medium latex hybrid mattress suitable for side, back, and combo sleepers
Contains two types of latex and pocketed coils
GOTS organic, GOLS organic, Rainforest Alliance, eco-INSTITUT®, and Standard 100 by OEKO-TEX® certified
What Are Platform Beds?
Platform beds aren't a type of mattress, but rather a bed frame with a built-in foundation. All standard bed frames usually have one or two beams to carry an additional foundation, but platform bed frames have slatted or solid foundations made from either metal or wood.
With slatted foundations, there are often between four to ten slats. Ideally, the slats should be no further than 2 to 3 inches apart to ensure your mattress doesn't sag.
Platform beds come in all sorts of styles and have storage options if needed.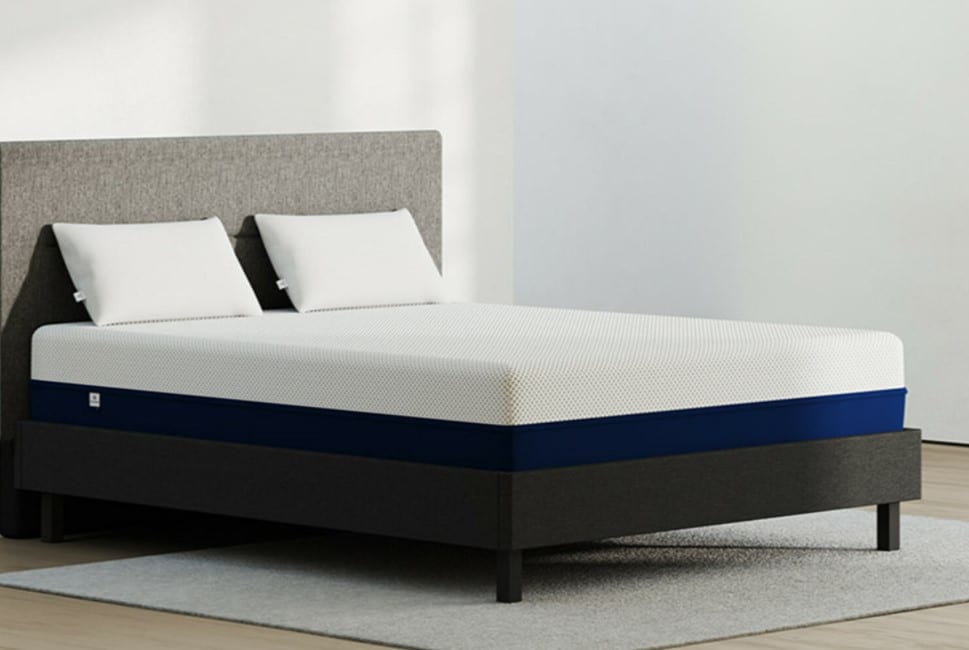 Here at Amerisleep, we offer the Amerisleep Platform Bed Frame, a sleek platform bed perfect for all types of homes. The upholstered frame is modern, simple, and matches practically any bedroom. It pairs well with all Amerisleep mattresses but works with any foam, hybrid, or spring bed you may already have as well.
The Amerisleep Platform Bed Frame is 13 inches tall and made from solid hardwood. It has four attached legs to lift the frame off of the floor and add under-bed storage space. We wrap the frame in a dark fabric for a minimalist look.
Lots of platform beds have ten or more narrow slats, but we fit our platform beds with six extra-wide slats. By using larger slats, the frame evenly supports your mattress to minimize soft spots while still leaving space for airflow.
Some platform beds take hours to set up and require tools you may not have. The Amerisleep Platform Bed Frame takes only five minutes to put together and doesn't require any tools. You simply pop the rails together and lay the slats on top.
With the Amerisleep Platform Bed Frame, you receive free shipping and a 1-year warranty.
Quick Summary:
Minimalist upholstered wood frame matches most bedrooms
Six extra-wide slats minimize sags while promoting air circulation
Suitable for foam, hybrid, and coil mattresses
Benefits of Platform Beds
Platform beds have a lot to offer, whether you're looking to make the most of your living space, save some money, or add a stylish piece of furniture to your room.
Save You Money
One of the best parts of platform beds is that they're cost-effective. Even the larger king or queen platform beds can be affordable options, excellent for couples shopping on budgets.
Since platform bases function as foundations and have decorative frames, you won't need to buy a separate foundation and bed frame. Although not all platform beds are cheap, you can find lots of affordable options that cost less than foundations and bed frames.
Low Profile
Low profile bed frames are trending for their modern and simple look. Most platform beds are low profile, which can be useful for people with disabilities or chronic pain as they won't have to climb onto their mattresses.
Of course, if you don't love a low profile bed, lots of platform beds come in taller heights. If you have a platform base and decide you want a taller overall bed, you can add a foundation between the platform base and mattress.
Come in Many Styles
Platform beds come in a wide variety of styles—from basic wooden frames to ultra-luxurious, upholstered frames. So not only are you getting a reliable foundation, but you can get one that matches your bedroom's style!
With that, platform beds come in different forms. There are daybeds, bunk beds, trundle beds, platform beds with storage space, and more! These types of platform beds are great for maximizing your living space to best suit your needs.
What Kind of Mattresses Work With Platform Beds?
Platform beds are suitable foundations for the most common types of mattresses. If you have an unusual type of bed, always check with its manufacturer guidelines to ensure it's fine to use on a platform frame.
Memory Foam
Memory foam mattresses are popular for their immense pressure relief and "hug-like" feel. If you deal with chronic pain, memory foam beds are always a good choice. They pair well with platform beds without sagging or feeling unsupportive.
If you tend to get hot at night, look for graphite, copper, or cool gel memory foam as these varieties are less likely to overheat. Plant-based memory foam is also another great option as it doesn't trap heat and is more durable than standard memory foam.
Latex
Latex mattresses are made from the sap of rubber trees so they're one of the most sustainable options. They're buoyant, cooling, and durable. While latex beds are pressure-relieving, they're not as plush or cushiony as memory foam beds can be. Instead, latex mattresses keep you lifted and supported at night.
Latex beds tend to be quite pricey—costing over $1000 on average—but this is because they last up to 12 to 15 years and are eco-friendly. You may come across latex beds for cheaper, but be sure they don't contain synthetic or blended latex. Both synthetic and blended latexes contain harsh chemicals and don't perform as well as natural latex.
Innerspring
Innerspring mattresses are a traditional type of mattress made from steel coils. They have a pillow top comfort layer often filled with down, cotton, wool, polyester, or foam. They're popular for being affordable, supportive, and cool.
Most of us expect to use box springs with our innerspring mattresses, but you don't need one if you're using a platform bed frame. Platform beds provide enough support on their own, so you won't need an additional foundation for your innerspring bed.
The main issue with innerspring beds is they aren't durable. The coils in innerspring beds can squeak, scrape against each other, and break. Not only that, but pillow tops grow lumps, go flat, and shift out of place easily.
Hybrid
Hybrid mattresses are another popular choice for platform beds. Hybrid beds have a combination of features from both innerspring and foam beds, thus the name. They have coil support layers—like innerspring beds—and foam comfort layers—like foam mattresses.
For a hybrid to be called a hybrid over an innerspring, it must have a comfort layer thicker than 2 or 3 inches. Hybrid comfort layers are usually made from latex, memory foam, or poly-foam. Hybrid support layers are made from individually pocketed steel coils. Pocketing the coils provides motion isolation and ensures the coils don't squeak or break.
A hybrid mattress is a great option if you're looking for maximum pressure relief, support, and breathability. The foam comfort layer cushions your curves, while the pocketed coil layer supports spinal alignment and maximizes air circulation. Many consider a hybrid to be one of the best type of luxury mattresses.

FAQs
How thick should a mattress be for a platform bed?
There's not a specific mattress thickness best for a platform bed, but we generally recommend having a bed thicker than 10 inches. Any thinner and your mattress might bottom out, meaning you'll be able to feel the platform bed beneath you. Otherwise, there's no need to focus on mattress thickness.
How much weight can a platform bed hold?
There's not one definite weight capacity for all platform beds. Some platform beds can only carry 300 pounds, while others can carry over 1000 pounds. It simply varies on the platform bed you buy. For this reason, we recommend checking the weight limit of the platform bed you're interested in before purchasing it.
Do you need a special mattress for a platform bed?
No, there's not a special type of mattress suited for platform beds. The most common types of mattresses—memory foam, latex, innerspring, and hybrid beds—all work fine on platform beds.
With this in mind, always check your specific mattress's guidelines to ensure platform beds are a suitable foundation for it. If you use the wrong foundation for your mattress, it can void its warranty and leave you liable for possible repairs and replacements.
Do platform beds ruin mattresses?
Contrary to popular belief, platform beds will not ruin your mattress. Platform beds are reliable, sturdy foundations that help a mattress last as long as possible. However, be sure the slats on your platform bed are no further than 2 to 3 inches apart. If the slats are further apart than this, your mattress might sink between the space, leading to sags and soft spots.
Do you need a box spring with a platform bed?
You don't need a box spring with a platform bed since it functions as both a frame and foundation. Besides, only innerspring mattresses pair with box springs, so you won't need a box spring if you have a foam or hybrid mattress. The only time you'd use a box spring on a platform bed is if you want to make your bed taller.
Conclusion
Platform bed frames are a hot commodity nowadays. They're dual-purpose, look great in any bedroom, and offer great value. There are countless mattresses suitable for platform beds, which can make finding the perfect bed difficult. Take advantage of our guide to find a good mattress to purchase for your platform bed!
---
About the author
April Mayer has a degree in exercise physiology and is a firm believer in the power of a good night's sleep. She spends her days reading, researching, and writing about sleep, and her nights, well, sleeping. April's passion lies in helping others lead more productive lives by helping them get sound, restful sleep every night. April primarily writes about foods and vitamins for better sleep and has written several "better sleep guides" covering a wide variety of topics in her time with Early Bird. She's been a member of the team since March 2020. Additionally, as a sleep expert, April has been featured in various publications including Forbes, Greatist, Real Homes, Thrillist, Tom's Guide, and Eat This, Not That.
View all posts