There are many different types of bed frames on the market nowadays. If you're in the market for a new bed, you should look into the numerous alternatives available to choose the best mattress for your needs, especially a panel bed vs. a platform bed.
A platform bed and panel bed are two of the most common types of bed frames. The main distinction is that panel beds require a box spring, whereas platform beds are designed to be a mattress on a platform.
Aside from that, these beds both feature terrific options—but it's essential to consider the little distinctions between them and how they can alter your sleeping environment. Continue reading to find out which of these two is ideal for your bedroom.
What Is A Platform Bed?
The platform bed is a fairly distinct and modern-styled frame. The platform bed has been used in various forms for centuries. These beds feature a large and very sturdy base that eliminates the need for any box spring or other type of mattress foundation and is simply a mattress on a platform.
This is due to the platform's sufficient structure to support a mattress. It's worth noting that, while not required, A foundation or box spring can still be used with platform beds if desired. Sleek and simple, these beds feature headboards and footboards but can also be purchased separately for a more simple look. They are typically made of metal or wood.
Amerisleep Platform Bed Frames
Quick Guide: A 30-Second Summary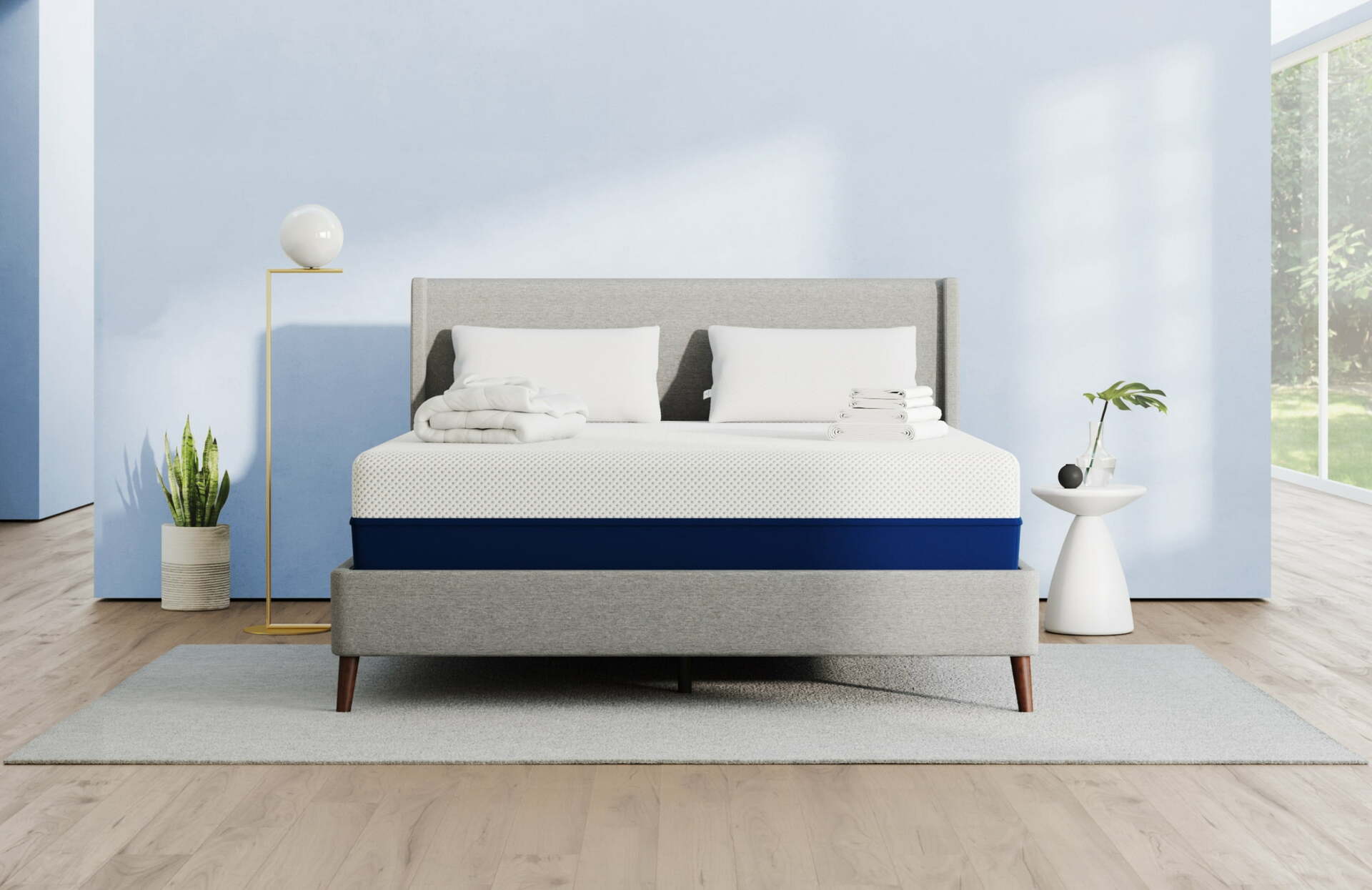 If you like the look of a panel bed but don't want to fool with an additional box spring, bunkie board, or other mattress foundation, we suggest the Amerisleep Upholstered Bed Frame.
Bed Frame Highlights
Headboard provides a classic look
Grey fabric gives the frame a cozy feel
Slats spaced to support any mattress
Recommended For
Those wanting a frame with headboard
Hot sleepers
Couples sharing a bed
The Amerisleep Upholstered Bed Frame is designed to provide a neutral, classic look that can support all types of mattresses. It dresses up a standard platform bed design with a versatile gray fabric, espresso-colored legs, and a headboard for that traditional frame look.
Not only does the frame look great, but it's a simple task to put it together, no tools required. The slat pack slides inside the frame for non-slip mattress support, with side rails for extra security. The frame is designed to work with every major type of mattress, including:
The Amerisleep Upholstered Bed Frame ships free and comes with a 1-year warranty.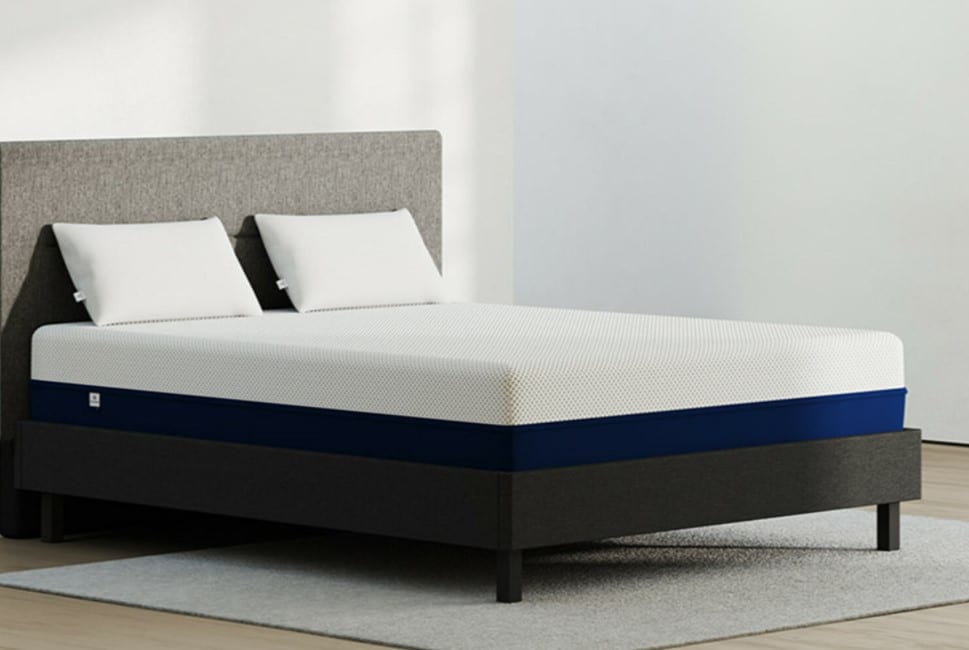 Those who are seeking the affordable and basic comfort of a well-made platform bed, we recommend our original Amerisleep Platform Bed.
Bed Frame Highlights
Wider-than-average slats for support
Room left between slats for airflow
Neutral upholstery for clean look
Recommended For
Any type of mattress
Sleepers seeking a low-profile frame
Those who want a smaller size frame
The Amerisleep Platform Bed is a budget-friendly option for those who want a simple frame. The minimalist design features high-quality hardwood for support. And the frame has wide slats that minimize the gaps that can affect a mattress's feel and overall comfort.
Plus, while the Amerisleep Upholstered Platform Bed is only available in sizes full and up, this model comes in twin size platform beds. Perfect for single sleepers who want to maximize the potential of a small space.
This low-profile bed works well with thicker mattresses, and it's covered with a charcoal gray fabric that lets the frame slide well into any decorated bedroom.
The Amerisleep Platform Bed Frame ships free and comes with a 1-year warranty.
Platform Bed Advantages and Disadvantages
There are benefits and drawbacks of platform beds to consider before purchasing one.
Pros
Avoids the cost of a box spring
Most designs include underbed storage, and may even offer storage spaces beneath like drawers
Available in a variety of modern designs
Frame's low profile provides stability
Provides adequate airflow to the mattress with slats
Cons
Bed's low height can make getting in and out of bed difficult, though a set of bed risers can help
Wooden platform beds may lose support ans can wear out over time
What Is A Panel Bed?
A panel bed frame is a mattress base more traditional in appearance and lacks the extras found on platform beds. However, they offer a broader selection of headboard and footboard designs. Options include cushioned slats, solid wood, metal rods, rough-hewn logs and wicker. These are some ideas for updating the look of your bedroom.
While most modern panel beds lack side rails, footboards, headboards, and other additions, most classic panel beds do. A panel bed is an excellent choice if you like the look and feel of a more traditional bed, though it may be possible to install a headboard on a platform bed.
Their traditional design accommodates larger areas while providing additional benefits such as more breathability, height, more decorative elements, and mattress foundation compatibility. Some panel beds are even large enough for an adjustable bed to slip inside the frame.
Panel Bed Advantages and Disadvantages
Knowing a panel bed's pros and cons can make it easier to reach a decision.
Pros
Frames are available in various designs and styles, giving you various possibilities to pick from.
If you use a box spring, the extra height makes it easier to get in and out of bed.
The box spring can extend the life of a spring mattress.
The bed frame, box spring, and mattress provide enough support for the sleeper.
Cons
If a box spring is required, it increases the cost.
Aside from the additional expense, the box springs must be turned, rotated, and eventually replaced as their springs begin to lose their bounce.
Generally available in classic style and variants, which may not suit a modern bedroom design.
Factors to Consider for Panel Bed vs. Platform Bed
Platform beds and panel beds are both fantastic bed frame choices. However, like other bedroom furniture, there are some crucial factors to consider before purchasing a new bed.
Price
Panel beds as well as platform beds are often more expensive than some other bed styles. While both types of beds may be found at reasonable prices, they are often more costly because they incorporate more elaborate design elements like nailhead trim, tufted upholstery, and wingback-type headboards.
A panel bed is also more likely to require added accessories, depending on the type of mattress you use. A box spring is traditional and meant for innerspring mattresses, but modern mattresses may do better on a bunkie board, set of supportive slats, or a piece of plywood cut to fit.
Platform beds are often basic wood platforms with storage below. They are often less costly than panel beds due to their primary form. However, some platform beds include headboards, which are more expensive than those that do not.
Dimensions of the Room
When deciding on the style of bed frame that would work best in your bedroom, you should also consider the space size. Your bed frame size should leave room for walking and space for bedroom furniture like a dresser and nightstand.
Panel beds appear bigger than platform beds because they need a box spring. This might be a benefit if you have a huge room to fill or a disadvantage if you have a small room in a small place.
If you have a tiny bedroom with little storage, a platform bed with storage drawers might be a good alternative. A panel bed is also more likely to have an included headboard. Some headboards are even designed to double as shelves, offering space for bedroom plants, books, and other miscellaneous objects.
Regarding mattress sizes, both types of bed frames are available in several sizes, from twin to California king. The main thing you need to remember is queen platform beds will always appear smaller and more simple than queen-size panel beds.
Design
Panel beds have more ornamental details, while platform beds have a more solid minimalist appearance. You may also get panel beds with unique designs, such as canopy or sleigh beds. One design may be better suited to your room's aesthetic than the other.
Other considerations include whether you prefer metal bars or wood frames (both panel and platform beds can be constructed from either material), headboard design, upholstered frames vs. bare wood or metal, and what color of frame you like.
See also our guide to decorating for a calm and clutter-free bedroom.
Mattress Style
Your current mattress type should influence the bed frame you select. Some types of mattresses, particularly innerspring mattresses and even some hybrid mattresses, may require the support of a box spring. If a box spring is necessary, a panel bed frame may be the best choice.
Other mattress types, such as memory foam and latex mattresses, may be better without the box spring and thus better suited for a mattress foundation with a platform bed.
One thing to remember is that some mattress warranties specify a specific type of surface or required slat spacing and thickness. If your mattress is of this type, you may want to cover the panels of your platform bed with wooden slats before placing your mattress on top.
Panel Beds vs. Platform Beds: Which Needs a Box Spring?
The choice between a platform bed, a panel bed, and a box spring comes down to stability and comfort. As previously stated, panel beds require a box spring for mattress stability, longevity, and support. It's a positive that the box spring contributes to the overall bed height.
A platform bed, on the other hand, does not require a base or box spring. Some platform beds even double as box spring alternatives, with removable legs that let it slip inside a panel bed.
FAQs
Is a platform bed and panel bed the same?
The primary distinction between panel and platform beds is that panel beds need the use of a box spring or mattress base, whereas platform beds do not. Panel beds also tend to have slightly taller designs than platform beds. Lastly, a panel bed tends to cost more than a corresponding platform bed.
What are the disadvantages of a platform bed?
Platform beds can rest close to the ground, providing a limited amount of underbed storage. Furthermore, because solid platform beds do not allow for much air circulation beneath the mattress, they may create an uncomfortably hot sleep environment for some ruining their night's sleep. Many platform beds have slats for airflow, though.
Are panel beds comfortable?
Yes, a panel bed can comfortably support a mattress and stand at a bed height that makes it easy to slide in and out of bed. However, a panel bed often requires a box spring for added comfort and mattress support. We should also note that a thicker mattress may also raise the sleeping surface higher than expected when used with a panel bed.
Can you convert a panel bed to a platform bed?
You can quickly transform a panel bed into a platform bed with only a few tools. There are two basic techniques for converting a regular bed frame into a platform bed: the slats approach and the plywood method.
With the slats approach, you buy a separate pack of slats at a home improvement store. These slats can be rolled and slipped inside the panel bed. The plywood method is taking a piece of plywood cut to fit into a panel bed, providing a solid and supportive surface. However, the plywood method limits airflow through the bottom of the mattress.
Do I need a mattress foundation with a platform bed?
A platform bed is a bed frame that does not require a box spring or separate foundation. A foundation is a mattress attachment that you may use alone or in conjunction with a bed frame to elevate and support your mattress. You may need to use a mattress foundation with a traditional panel bed, but platform beds are designed to provide adequate support on their own.
Conclusion
Panel beds and platform beds have distinct advantages and disadvantages. However, they are both a perfect fit in their shoes, with one being less expensive and the other being easier to get in and out of. Nonetheless, the option is entirely up to the sleeper, who may choose a lower bed or a more appealing look.
---
About the author
Eric Ridenour is a health and wellness writer with a focus on sleep and nutrition. He has studied health science and psychology at a university level and has consulted several businesses and individuals on the connection between sleep and overall well-being including the effect lack of sleep has on other aspects of health such as exercise, nutrition, and concentration. He is a published author working on his second book.
View all posts