Buying a new bed can be confusing, especially with numerous options flooding the market. Hybrid mattresses are popular for combining the plush, conforming feel of foam with responsive support from a coil base. Latex beds are popular as eco-friendly, durable mattresses providing a responsive bounce.
While hybrids are defined by the coil base and more than 2 inches of memory foam or latex on top, latex beds are defined by the top comfort layer.
Let's compare these two mattress types to help you pinpoint the best mattress for your unique needs.
Quick Guide: A 30-Second Summary
What Is a Hybrid Mattress?
Hybrid mattresses combine the benefits of a traditional innerspring mattress with a memory foam or latex bed. Mattress manufacturers may use the term "hybrid" to sell any bed with two types of materials, but a true hybrid must have a coil base with 2 inches of foam on top.
Hybrids are also popular because they feel like traditional innerspring mattresses, with reduced motion transfer. Innerspring mattresses were used in most American households before memory foam beds became popular.
The thick comfort layers in hybrid mattresses conform to your body providing even support and pressure-point relief. The pocketed coils in the base layer are individually-wrapped in fabric to reduce motion transfer and establish a mattress for motion isolation.
Components of a Hybrid
Hybrids contain several layers leading to many benefits. They have a comfort layer, transition layer, core support structure, and a base layer.
Comfort Layer
The comfort layer in hybrid beds contains memory foam or latex. Memory foam's body contouring feature provides pressure relief and alleviates pain. Latex also conforms to your body, but not as much as close to the body as memory foam. Latex gives a bounce to your bed, so you stay on top and not "sink-in."
Transition Layer
Some hybrids may have a transition layer beneath the comfort layer. The transition layer is made of firm polyurethane foam, reducing pressure on the coil system.
Core Support Structure
Beneath the transition or comfort layer lies the core structure of pocketed coils. The coil layer promotes air circulation, for a cooler mattress.
Base Layer
Under the coil layer is a high-density poly-foam layer for enhancing support and shock absorption.
Pros and Cons of Hybrid Mattresses
Hybrids combine the benefits of innerspring and memory foam or latex beds, but in doing so they end up having some drawbacks.
Pros:
Promotes breathability
Isolates motion
Better edge support
Cons:
More materials make hybrids heavy
Expensive
Broken coils cause mattress sagging, affecting durability
Amerisleep's Hybrid Mattresses
Our hybrid mattresses are designed to alleviate pressure points while providing durable support.
Our plant-based Bio-Pur® foam in the comfort layer conforms to your body reducing pressure points. Partially substituting petroleum with natural plant-based oils makes Bio-Pur® foam cooler than standard memory foam. The soft breathable cover on the mattress wicks away moisture providing a cooler surface.
All of our mattresses come with a risk-free, 100-night sleep trial, where you can try the mattress within the confines of your home. Our hybrids are available in all standard sizes and are backed with a 20-year warranty.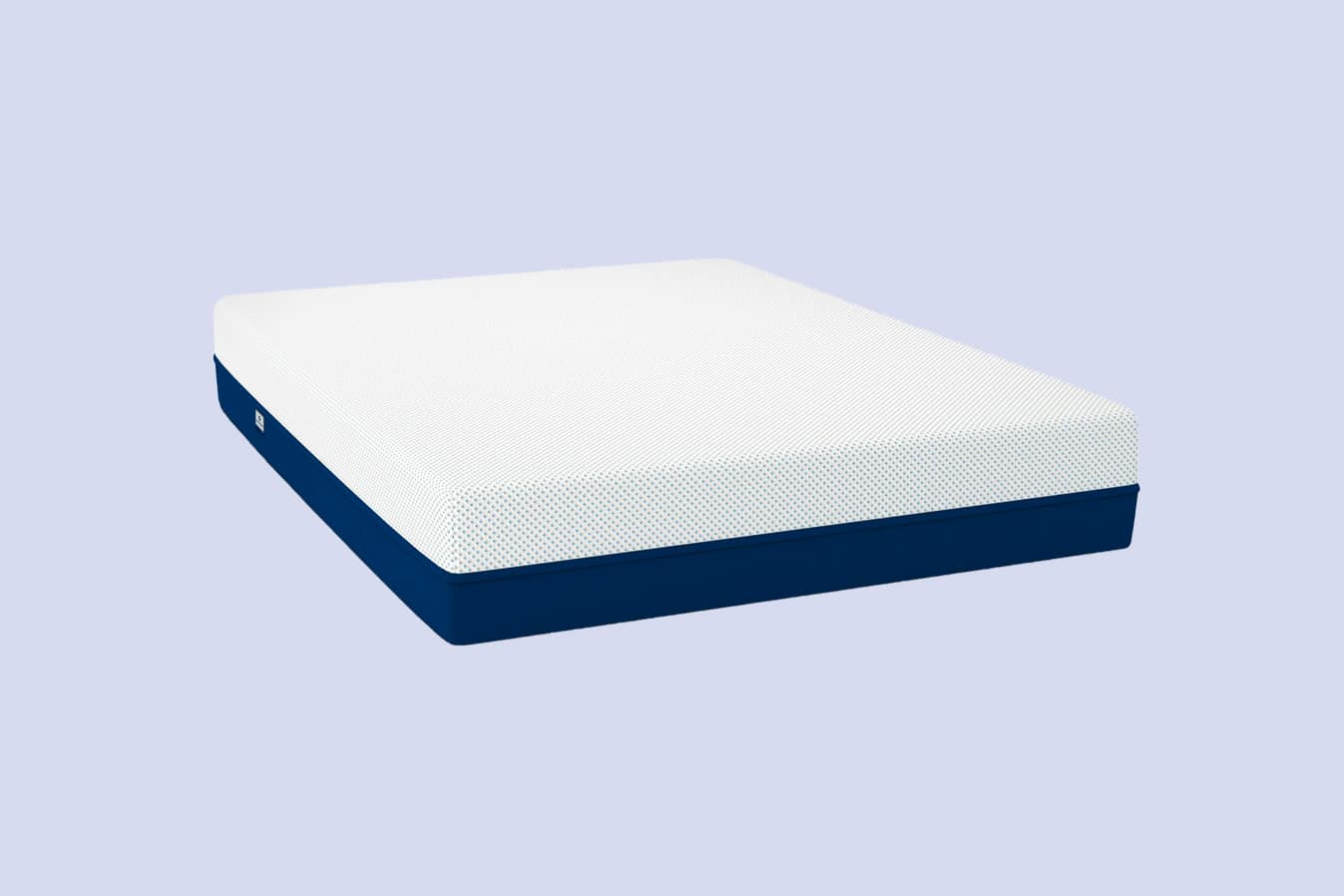 Best Hybrid Mattress Overall
Amerisleep AS3 Hybrid
Price Range

$1249 to $2598

Mattress Type

Memory Foam Hybrid

Firmness

5 to 6 out of 10 (Medium)

Availability

All sizes

Warranty

20 Years

Thickness

12 Inches
The AS3 Hybrid is the most popular hybrid mattress option we offer at Amerisleep. It's a great choice for side sleepers, combination sleepers, and couples. This hybrid variation of our best-selling AS3 provides extra bounce, breathability, and support.
Mattress Highlights
Bio-Pur® is responsive and doesn't trap heat
HIVE® targeted support distributes bodyweight
Extra-firm pocketed coils prevent saggy edges
Recommended For
Most side sleepers and combination sleepers
Hot sleepers
Couples
The Amerisleep AS3 Hybrid contains a unique combination of components to create a supportive and pressure-relieving mattress. Its medium feel is best suited for side sleepers and combination sleepers. It's also a reliable option for guests and couples with differing firmness needs. With over 6,700 reviews, the AS3 Hybrid rates 4.8 out of 5 stars amongst customers.
Inside the AS3 Hybrid are four layers of foam and coils. Over the four layers is a cover built to draw heat and moisture from the body without piling or ripping. We use a similar cover for nearly all of our mattresses.
The top layer of the AS3 Hybrid features our proprietary Bio-Pur® memory foam. Traditional memory foam is prone to sagging, off-gassing, and heat retention. We prevent these issues with Bio-Pur®, a plant-based memory foam that won't sag or trap heat, but still cushions your body.
Next is a layer of Affinity Foam that features HIVE® technology. We enhance the AS3 Hybrid's support and pressure-relieving capabilities with HIVE®'s zoned support. This technology provides extra cushioning around the hips and shoulders and is firmest under your back, head, and shoulders.
As a hybrid mattress, the AS3 Hybrid features a pocketed coil support core. Each coil is wrapped in fabric to prevent motion transfer, squeaks, and breakage. Not only does this stop motion transfer when sharing a bed but it also enhances breathability and spinal support. Like our other hybrid mattresses, the AS3 Hybrid features reinforced coils on the sides of the bed.
Beneath the coil layer is a thin layer of durable foam. This absorbs shock from the coils and protects the bed from sagging.
Amerisleep mattresses are made in the USA. The AS3 Hybrid is CertiPUR-US® certified, meaning it's free of formaldehyde, phthalates, heavy metals, and low in VOCs.
The AS3 Hybrid comes with free shipping, free returns, a 100-night sleep trial, and a 20-year warranty.
Prices of our Queen Size Amerisleep Hybrid Mattress
What Is a Latex Mattress?
Latex is a milky white fluid extracted from the Hevea Brasiliensis tree, commonly known as the rubber tree. The milky white sap is collected in containers and taken to manufacturing units for processing into latex foam. Liquid latex is processed into foam using the Dunlop and Talalay manufacturing methods.
In both these methods, liquid latex is subjected to extreme heat to harden it into a foam. Talalay foam is bouncier than Dunlop, which feels more springy. Both are available in various firmness options.
Some latex mattresses contain synthetic latex made from petroleum-based compounds called styrene and butadiene. Synthetic latex, also known as Styrene-butadiene Rubber (SBR) may be toxic to the lungs, liver, and brain.
Blended latex, containing a mix of natural and synthetic latex is also used in some latex mattresses. Before buying your new mattress, check on the source and percentage of natural latex used in it.
Natural latex has cooling properties, making these beds a good option for hot sleepers. Latex beds are also hypoallergenic because latex naturally resists dust mites, mold and mildew.
If you are keen on investing in an organic bed, check for certifications guaranteeing the authenticity of organic raw materials. Certifications such as GOTS and GOLS are recognized globally.
GOTS (Global Organic Textile Standard)
GOTS certifies raw materials used in your mattress are responsibly farmed and manufactured. Products with a GOTS label are processed, manufactured, packaged, and labeled using at least 70 percent organic natural fibers.
GOLS (Global Organic Latex Standard)
GOLS is an internationally recognized standard for organic latex. Products with a GOLS certification contain latex from organic rubber plantations, which don't use chemical fertilizers or pesticides. A GOLS-certified product must contain more than 95 percent certified organic raw material.
Components of a Latex Mattress
Latex mattresses have a comfort layer and a support structure.
Comfort Layer
Latex mattresses may contain natural, synthetic, or blended latex in the top comfort layer. Organic latex mattresses also contain wool in the top layer as a flame retardant. Wool also wicks away moisture, making the bed cooler.
Support Structure
Latex beds may have a pocket coil or firm poly-foam support structure. Pocket coil support structure lends give to your bed, while a poly-foam base adds firmer support.
Pros and Cons of Latex Mattresses
Latex mattresses containing all-natural latex are expensive, but their benefits may be worth the price.
Pros:
Sleeps cooler
Hypoallergenic
Certified organic beds use minimal chemicals
Durable
Cons:
Consider a Latex Hybrid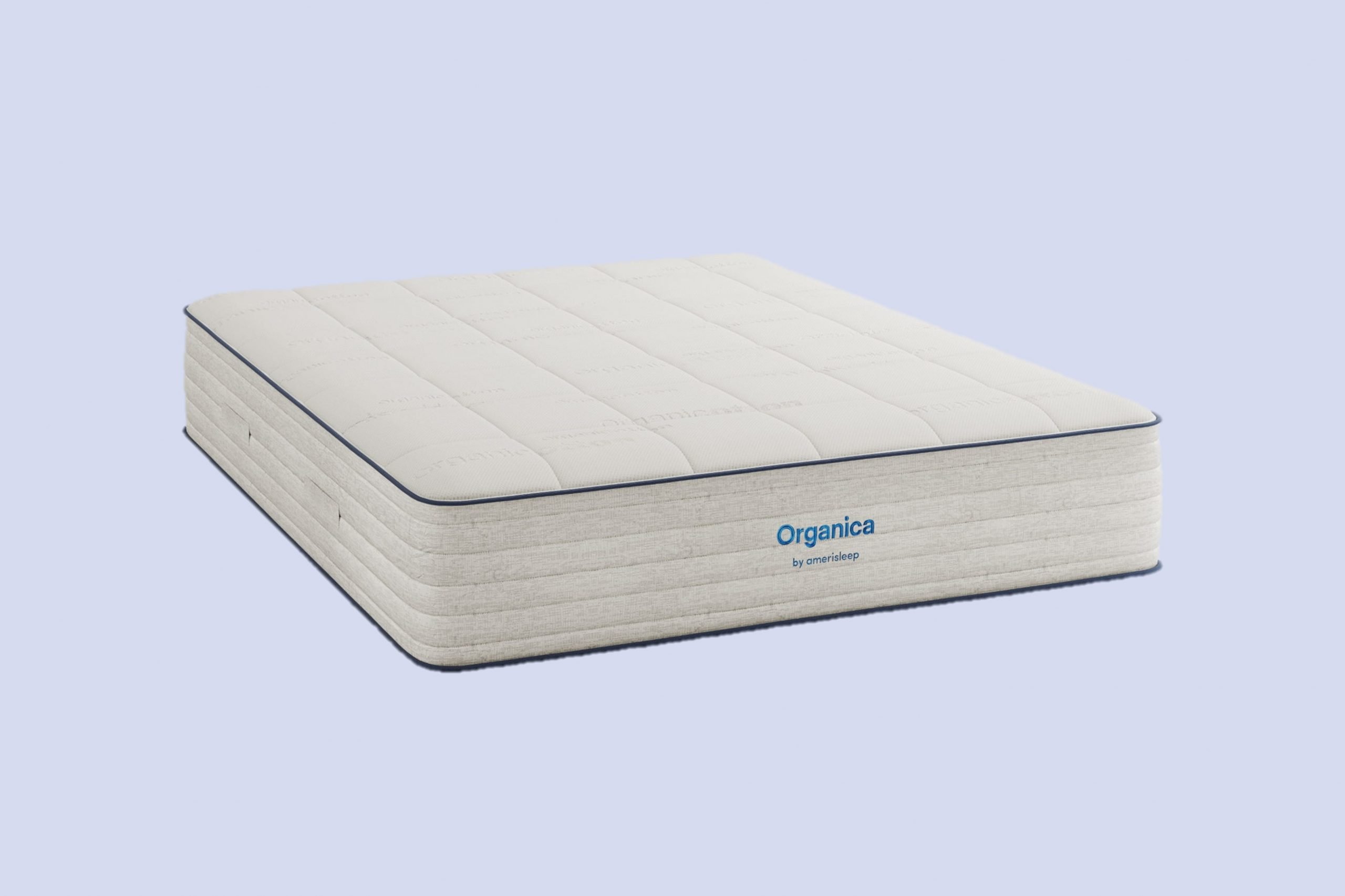 Best Latex Hybrid Mattress
Amerisleep Organica
Price Range

$1049 to $2348

Mattress Type

Latex Hybrid

Firmness

5 to 6 out of 10 (Medium)

Availability

All sizes

Warranty

20 Years

Thickness

13 Inches
Shoppers who enjoy the features of a latex bed and a hybrid mattress may want to consider a latex hybrid mattress, like our Amerisleep Organica. The Organica is separate from our line of numbered mattresses and contains natural materials and bouncy coils.
Mattress Highlights
Cooling cotton and wool on top of latex foam
Pocketed coils react swiftly to movement
Dunlop foam base for a strong, durable structure
Recommended For
Eco-conscious shoppers
Side, back, and combination sleepers
Hot sleepers
The Organica mattress possesses the highest concentration of natural materials of all of our mattress models. The mattress possesses a medium feel that complements most sleeping styles and is excellent for anyone who wants a versatile bed for guests or a sleeping partner.
Four layers make up the Organica, not counting the organic cotton cover. This cover fabric feels cool and crisp, promoting a pleasantly chilled and dry feel throughout the night.
The first layer is an inch of organic New Zealand Joma Wool®. Like the cotton cover fabric, the wool serves as a heat and moisture-wicking material, working to maintain a cool and dry surface while also boosting the bed's cushion. The wool also serves as a natural fire barrier, establishing the Organica as one of the best mattresses without fiberglass.
Next is 3 inches of Talalay latex foam. Talalay latex conforms to the body's curves while feeling springy and supportive, easing pressure while promoting spine alignment and minimizing sinkage.
The mattress's main support core is 8 inches of pocketed coils with edge support. These coils are wrapped to isolate motion, keeping a sleeper's movements from rippling across the surface and jarring a partner out of sleep. The coils along the sides are also thick to firm up the sides and establish mattress edge support, excellent for sleepers with movement difficulties.
Last is an inch-thick base. Without tit, the coils would be more likely to sag prematurely.
The Organica also has quite the list of certifications:
The cotton cover is certified by GOTS, which as we mentioned earlier means the cotton fibers are largely organic and responsibly harvested.
The wool is Standard 100 OEKO-TEX® certified, which means it has been tested for harmful materials.
The latex is also Standard 100 OEKO-TEX® certified and has met with the approval of the Rainforest Alliance and eco-INSTITUT. The Rainforest Alliance means the latex met the organization's standards of economic, social, and environmental responsibility. Meanwhile, eco-INSTITUT tests the VOC emissions of a product.
The Amerisleep Organica is backed by a 100-night sleep trial and a 20-year warranty, like all Amerisleep mattresses.
Similarities and Differences Between Hybrid and Latex Mattresses
Hybrid and latex have more similarities than differences, which can make it difficult for shoppers to make a decision about what the best mattress type is.
Similarities
Both the beds are similar in firmness, temperature-regulation, price, weight, and compatibility with bed bases.
Firmness
Both hybrids and latex mattresses are available in a wide range of firmness options. Memory foam hybrids have a more body-conforming feel to them, while latex hybrids are more responsive.
Temperature Regulation
Coils in the hybrids create air channels promoting breathability in hybrid beds. Latex is naturally cooler, promoting temperature regulation in your bed.
Price
The numerous layers in a hybrid make them expensive. Harvesting and processing all-natural latex can be costly, translating to higher bed prices. High-quality hybrids and latex mattresses range between $900 to $5000.
Weight
Several layers in a hybrid bed make these beds heavy. Natural latex is dense, adding to the weight of the mattress.
Compatibility with bed bases
Both hybrids and latex beds are compatible with adjustable bed bases, platform beds, and foundations.
Differences
There are minor differences between hybrids and latex beds.
| Parameters | Hybrid Mattress | Latex Mattress |
| --- | --- | --- |
| Feel | Bounce coupled with memory foam's body-conforming hug | Contouring with a responsive bounce |
| Motion Isolation | Memory foam comfort layer may have better motion isolation than a latex comfort layer | Latex is dense and isolates motion, but not as much as memory foam |
| Durability | Lasts 8-9 years before coils break causing mattress sagging | Can last over 15 years |
Other Types of Mattresses
If a hybrid or a latex mattress does not suit you, a memory foam or innerspring mattress may be a better option.
Memory Foam Mattress
Memory foam mattresses conform to your body, providing pressure-point relief and reducing pain. Temperature and pressure-sensitive memory foam contours to the natural curvature of your spine, promoting lumbar support. The memory foam comfort layer may contain cooling gels, plant-based memory foam, and copper or graphite infusions for regulating heat. Memory foam beds' support structure contains dense poly-foam, making them more durable.
Innerspring Mattress
Innerspring mattresses have a thin comfort layer made of natural fibers like cotton or wool. Most innerspring beds have a pillow top or euro top—an extra layer of padding made of foam, fiberfill, natural fibers, or memory foam.  The pillow top layer is sewn on top of the comfort layer leaving a gap between the layers. A euro top looks more uniform as the layer of padding is stitched beneath the comfort layer.
The core support structure in innersprings is made of coils, making these beds cooler. Interconnected coils in the base layer transfer motion causing sleep disruptions in these beds.
What to Look Out for When Buying a New Mattress
Buying a mattress is a long-term investment. You want a bed that suits your body type and sleeping position. Both latex and hybrids are available in various firmness levels for a mattress that suits you best.
Body Type

Your body weight has an impact on the performance of your mattress. It responds to your body weight, providing you with the perfect balance of cushion and support required for a good night's sleep. Shopping for a bed means choosing the best mattress for your body type.
Lightweight Sleepers
Lightweight sleepers weigh less than 130 pounds. They require a softer sleeping surface that responds to less weight and conforms to their body, relieving pressure points.
Average Sleepers
Average sleepers weigh between 130 to 230 pounds. A medium mattress is perfect for average sleepers providing them with the required balance of comfort and support.
Plus Size Sleepers
Plus size sleepers weigh above 230 pounds. They require a firmer sleeping surface which prevents them from feeling "sinking" into the mattress.
Sleeping Positions
People prefer different sleeping positions to feel comfortable in bed. Some prefer sleeping on their sides, stomach, or back, while others keep changing between all these positions through the night.
Side Sleepers
Side sleeping is the most healthy sleeping position because it promotes better breathing and reduces acid reflux. Depending on body weight, a comfortable mattress for side sleeping can range from soft to medium. These beds conform to the body, supporting the hip and shoulder regions.
Back Sleepers
Back sleepers need a medium to medium-firm mattress for enhancing spinal alignment. This way when they sleep on their back, the mattress will not sink in too deep maintaining the spinal alignment.
Stomach Sleepers
Stomach sleepers require a firmer mattress to prevent their torso from arching unnaturally. Firm support will help in preventing spinal misalignment, which may cause back and neck pain.
Combination Sleepers
Combination sleepers keep changing positions through the night so a medium mattress is perfect for them. This ensures that they get the perfect balance of comfort and support through each of their changing sleeping positions.
FAQs
Do hybrids off-gas?
Off-gassing is minimal in hybrid beds. The coil layer promotes air circulation reducing the chemical-like smell that sometimes occurs with new beds.
What is a natural latex mattress?
A natural latex mattress contains natural materials such as Talalay or Dunlop latex. If you want an eco-friendly bed, be sure to check the latex is not blended with synthetic latex.
How do I find a durable bed?
One way of determining this is to read through the warranty details of your mattress. Most mattress companies offer 10, 20, or 25-year warranties. Some offer lifetime warranties too. Warranties give you an idea of approximately how long the bed is expected to last.
Conclusion
The feel of your bed depends on the materials in its top layer. The coil layer or the poly-foam structure at the base lends the extra support needed for your comfort. Carefully read all mattress reviews, before choosing the best mattress for yourself.
---
About the author
Mitchell Tollsen is a graduate student and a freelance writer who's contributed to the Early Bird blog for three years. Mitchell's always been fascinated by the science of sleep and the restorative processes our bodies undergo when at rest. The self-titled "Sleep Expert" is always looking for ways to improve his shut-eye, and throughout the years has implemented numerous lifestyle changes and tried dozens of sleep-promoting gadgets to determine the best ways to truly get better rest.
View all posts