When most people are shopping for a bed, they tend to think mainly of the mattress. However, when you're building a whole bed, the frame is just as important as the mattress. A bed frame can make or break your mattress. Sometimes in the most literal sense.
The right bed frame won't just support your mattress. It can also help fight sagging and extend your mattress's life expectancy. An adjustable bed frame can also help improve circulation and decrease pain and pressure while you sleep.
Below, we'll talk about a few of the best bed frames on the market today. We'll also discuss a few ways to pick the right frame for you.
Best Amerisleep Bed Frames
Quick Guide: A 30-Second Summary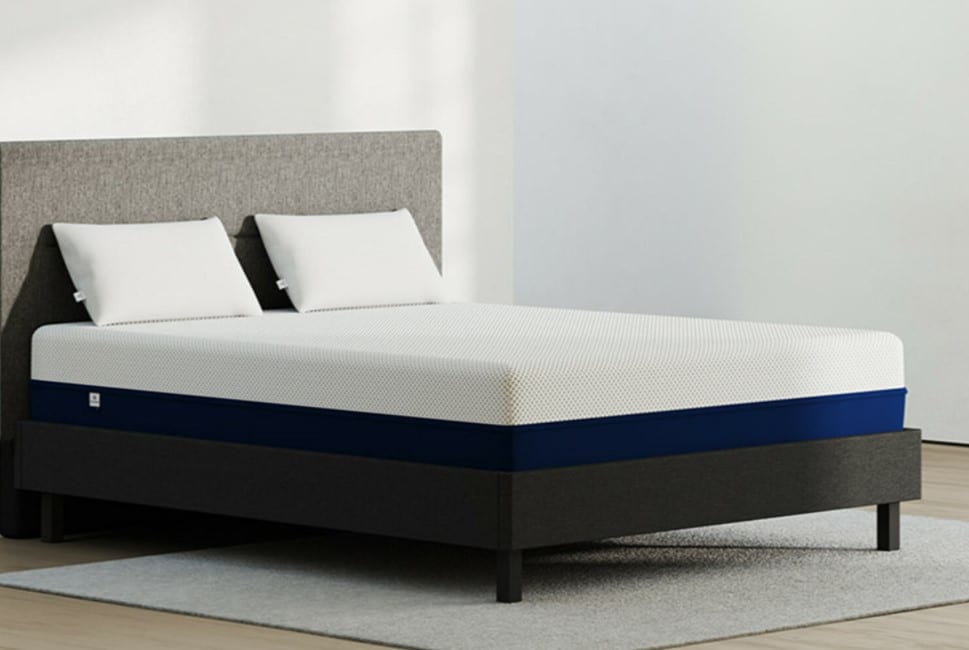 Best Platform Bed Frame
Amerisleep Platform Bed
Price Range

$399 to $599

Availability

All sizes

Warranty

1 Year

Height

13 Inches
When it comes to budget-friendly support with a high-quality and charmingly minimalistic wooden design, we recommend our Amerisleep Platform Bed.
Bed Frame Highlights
Gray fabric upholstery over wood for a neutral look
Extra-wide slats promote maximum support
Wooden frame can be assembled within minutes
Recommended For
All sleeping styles
Budget shoppers and bargain hunters
Hot sleepers
For those who know they want to lie flat, the Amerisleep Platform Bed is a perfect choice. This fabric upholstered, solid wood platform bed features extra-wide, reinforced slats for optimum mattress support. It also boasts removable legs to go from a platform bed to a mattress foundation in a snap.
This platform bed is compatible with any mattress type. It's rigid, so it can accommodate innerspring mattresses. It also has a high weight capacity for heavier mattresses like hybrid and latex mattresses. No matter what mattress you have, this platform can take it.
The hardwood slat system provides even support under every inch of your mattress, from the edges to the middle. This will help extend your mattress's life expectancy by helping it resist sagging and soft spot development.
The whole thing assembles in a few minutes, requires no tools, and doesn't take any handyman skills to put together. Best of all, at the starting price of $399, this platform bed offers a lot of quality for not a lot of money.
Quick Summary
Hardwood slat system requires no additional base and helps fight sagging.
Platform bed assembles in minutes and requires no tools.
At a starting price of $399, this platform is within everyone's budget.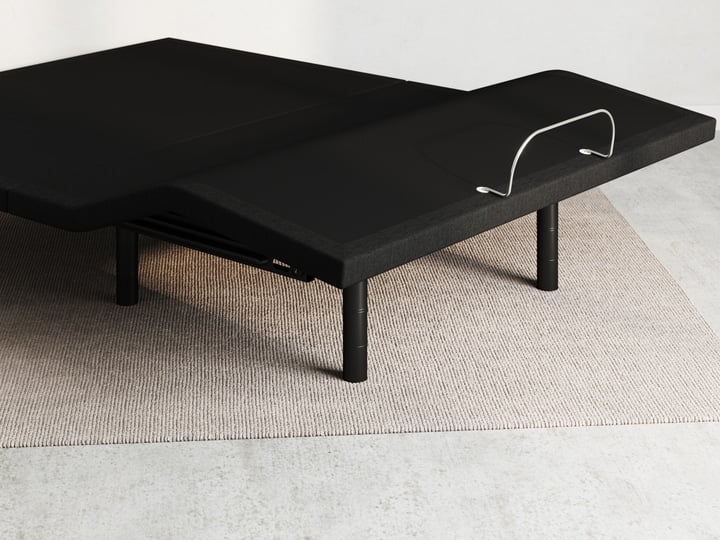 Best Budget-Friendly Adjustable Bed Frame
Amerisleep Adjustable Bed Frame
Price Range

$840 to $1680

Availability

Twin XL, Queen, King, California King, Split King

Warranty

10 Years

Height

3, 6, 9, or 12 Inches
Our most basic adjustable bed model is the Amerisleep Adjustable Bed Frame and it can be an inexpensive way for sleepers to customize their comfort and relieve symptoms of a medical condition.
Bed Frame Highlights
Wireless remote with presets and programmable positions
Zero-clearance design lets you use the bed with a frame
Assembles within minutes without the use of tools
Recommended For
Budget shoppers
People with a medical condition
Couples seeking a king or split king adjustable bed
Those who want to sleep with their heads or legs elevated should consider the Amerisleep Adjustable Bed. This adjustable bed offers adaptable comfort at the click of a button. It allows you to elevate your head, feet, or both to reduce snoring and relieve pain.
This adjustable base features a backlit wireless remote that allows you to change the angle of your bed without worrying about side buttons or cables. You can change positions with ease while lying in bed.
The Amerisleep Adjustable Base features a zero-clearance design. This means the bed can both stand alone as an adjustable platform bed or fit inside your existing bed frame. That allows you to keep your current headboard, footboard, and other decore.
Like the Amerisleep Platform Bed, the Amerisleep Adjustable Base boasts quick and easy assembly with no tools required. And its industrial-grade steel supports make it able to take even the heaviest latex and hybrid mattresses.
Quick Summary
The wireless remote allows for seamless angle adjustment.
Easy, tool-free assembly offers a no-fuss setup.
The zero-clearance design means you don't have to give up your bed frame.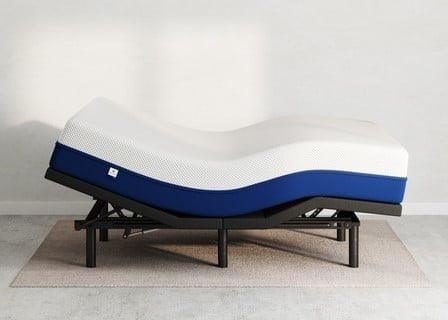 Best Luxury Adjustable Bed Frame
Amerisleep Adjustable Bed+
Price Range

$1260 to $2100

Availability

Twin XL, Queen, King, California King, Split King

Warranty

10 Years

Height

9, 12, or 15 Inches
Out top-of-the-line Amerisleep Adjustable Bed+ offers more features than the basic model, increasing comfort for owners during their sleeping and waking hours.
Bed Frame Highlights
Rolling-wave massagers for quick, easy relaxation
USB charging ports let you keep devices within reach
See at night with remote-controlled under-bed lighting
Recommended For
All sleeping styles
Sleepers who enjoy relaxing massages
Owners of smart home technology
If you want an adjustable bed with a few more bells and whistles, the Amerisleep Adjustable Bed+ has bells and whistles in spades. This upgraded version of the original Amerisleep Adjustable Bed Base offers everything the original does and more.
Possibly the best upgrade featured by the Adjustable Bed+ is the rolling-wave massage feature. This feature offers a full body massage with three intensity settings to soothe sore muscles and help you drift off to sleep.
Another great feature of this adjustable bed is its USB ports. These charging ports allow you to keep all your devices close by and on the charger even if your adjustable bed's power cables take up your wall outlets.
The Adjustable Bed+ also features under-bed lighting controlled by the remote. And it comes with three separate height options to allow you to decide whether you want a 9, 12, or 15-inch profile. Perfect for sleepers of any height!
Quick Summary
The rolling wave massage feature can help relax you to sleep night after night.
Under-bed lighting allows you to safely wander your room in the middle of the night.
Profile options make this bed a great choice for sleepers of multiple heights.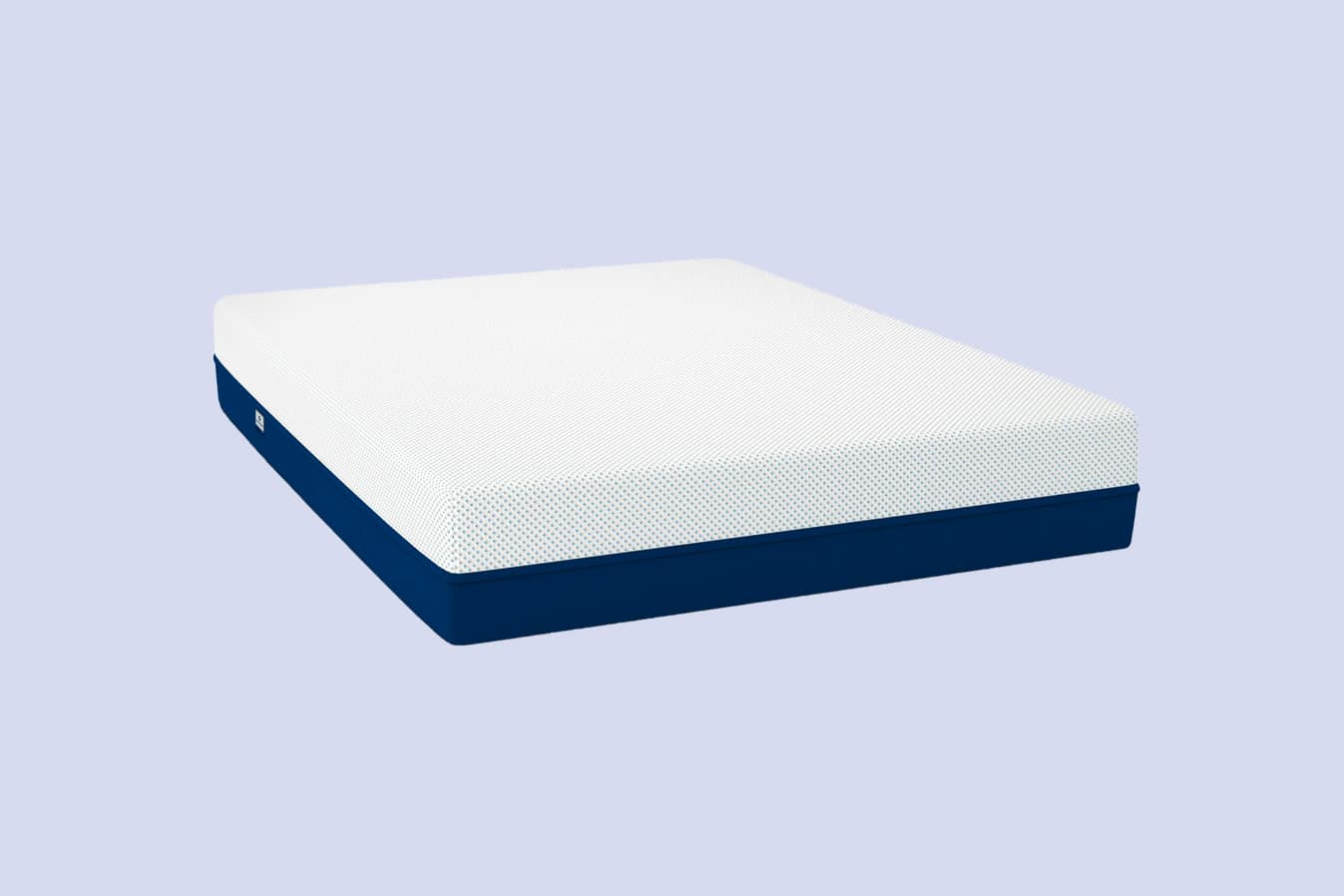 Best Mattress for a Bed Frame
Amerisleep AS3
Price Range

$1149 to $2398

Mattress Type

Memory Foam

Firmness

5 to 6 out of 10 (Medium)

Availability

All sizes

Warranty

20 Years

Thickness

12 Inches
While we offer five numbered mattress models that are each excellent for specific sleepers, the AS3 is the model that can accommodate most sleeping styles. This versatility is why we recommend it for solo sleepers and couples.
Mattress Highlights
Amerisleep's number-one best-selling mattress
Plant-based memory foam is free of harmful chemicals
HIVE® technology establishes support zones for the body
Recommended For
Side, back, and combination sleepers
Couples with similar or different sleep styles
Hot sleepers
Eco-conscious shoppers
Of course, you'll need a mattress to go with all those bed bases. Good thing we makes those too! One of our most popular models is the AS3. This versatile, medium-feel mattress is made to accommodate multiple sleep styles and lots of different preferences.
This plant-based memory foam mattress is perfect for both the rigid platform bed and both adjustable base models. Its Bio-Pur® foam is more breathable and more responsive than traditional memory foam.
That means not only will it keep you cool all night long. It will also bounce back into shape as soon as you move. This makes it perfect for hot sleepers and active sleepers alike! It's also great for sleepers with allergies because the Bio-Pur® foam resists common allergens like mold and mildew.
Below the Bio-Pur® comfort layer, you'll find the HIVE® transition layer, which offers targeted support to different areas of the body. Under that, the Bio-Core® support layer encourages spinal alignment and ensures a mattress that won't sag and will resist soft spots for a full 20 years.
The AS3 memory foam mattress is also available as a hybrid model. The AS3 Hybrid is excellent for sleepers who enjoy a bouncy mattress.
Quick Summary
Bio-Pur® comfort foam is more cooling and breathable than traditional memory foam.
HIVE® transition layer provides zoned comfort to different body areas.
The 20-year warranty means this mattress is built to last.
Types of Bed Bases
In addition to the platform bed frame and adjustable beds we talked about above, there are several types of other bed bases that you can choose from when building your perfect bed.
Traditional Bed Frame
Traditional bed frames are what most people think of when they picture a bed because they're still the most common bed bases. Traditional bed frames have a wide range of possible styles and layouts.
You could have a canopy bed or a bed with built-in storage drawers. You have lots of different profile options. You can choose from a wide range of materials like metal or wood. Pretty much anything you want, you can get with a traditional bed frame.
The one thing traditional bed frames have in common is they require an additional bed base, either box springs or a mattress foundation. This is because traditional bed frames come with rails and maybe one or two center slats. They cannot support a mattress on their own.
Mattress Foundation
A mattress foundation is a wooden or metal frame with metal or wooden slats stretched across it at regular intervals, just like a platform bed. Unlike a platform bed, a mattress foundation has no legs and is not made to stand on its own. That means you'll have to combine it with a traditional bed frame to make a whole bed.
The typical profile of a bed foundation is nine inches. However, if you want a lower-profile bed, you can get a mattress foundation with a low profile. Low-profile mattress foundations can be anywhere from two to six inches.
Box Springs
Box springs are made by framing up a network of steel coils. Box springs were specifically designed to support traditional innerspring mattresses, which is why they're only compatible with this mattress type.
Box springs just don't have the strength to offer the kind of sturdy support that heavier mattresses like hybrids and memory foam mattresses. Pairing a box spring with a memory foam or hybrid mattress tends to result in premature sagging. If you have one of these mattresses, we recommend a box spring alternative.
Platform Bed
Platform beds are wooden or metal bed frames that feature slats at regular intervals. These beds offer tons of stability and a sleeker, more minimalist look than traditional bed frames because they don't require an additional base. This means their profile is around nine inches to a foot lower than the average traditional bed frame.
Just like with traditional bed frames, you can purchase a platform frame with storage space, an upholstered platform bed frame, and just about any other feature you could want. They even make platform trundle beds for guests.
The only issue with platform beds is their lower profile eliminates a lot of under-bed storage space. However, this problem can be easily solved with a trustworthy set of bed risers.
Adjustable Base
Adjustable beds offer the ability to change positions to sleep with your head and feet elevated. Like platform beds, you don't put an additional base on an adjustable bed. Unlike platform beds, adjustable bases are not compatible with all mattress types. Innerspring mattresses are too rigid for these beds and can break if bent too much.
Adjustable bases can be wonderful for your health. They can do everything from improving circulation to relieving pain and pressure. If you wake up with back or joint pain in the morning, you might just need an adjustable bed.
Things To Consider When Building a Bed
You need to keep a few things in mind when building a whole bed. Your bed's profile needs to correspond to your height. Your mattress's material and firmness need to work for you. And possibly most important of all, your bed needs to actually fit in your room.
Bed Height
The height of your bed should correspond to your height. Your optimum bed height is around or just above knee level. Depending on your height, that could be anywhere from 14 to 30 inches. A good way to tell if your bed is the right height is sitting on it. If your feet are flat on the floor and your thighs are horizontal (or close), your bed is a good height for you.
Bed Style
You have so many options. From sleigh beds to four-poster beds to panel beds and more, style is a major thing to consider. Of course, there are no rules with style. It all comes down to your personal preferences and the look of your home.
Mattress Firmness
You need to consider both material and firmness when choosing a mattress. Firmness corresponds to your sleep style and body type. Heavier sleepers and stomach sleepers need firmer beds. Side sleepers and lighter sleepers need softer beds. Everyone else needs something in the middle.
Here are our recommended firmness ranges for each sleeping style:
Mattress Type
Meanwhile, the right type of mattress can be more dependent on your personal preferences. For instance, if you sleep hot, a hybrid or latex mattress may be up your alley. Just remember, if you already have box springs, you'll have to replace them if you get a foam or hybrid mattress. You also won't be able to get an innerspring mattress if you want to have an adjustable base.
As a reminder, the four main mattress types are:
There are other mattress types, like airbeds and waterbeds, but they are far less common.
Room Size
Your room size might limit the size of the bed you can build. Obviously, a California king can't fit in a maid's room. But there's actually a general rule you should follow when choosing your mattress size. You need to ensure there are at least two feet of space around three sides of your bed to have enough clearance to walk around your bed.

FAQs
Can I put my mattress on the floor instead of a frame?
Technically, you can put your mattress on the floor. But whether you should put your mattress on the floor is another question. When you put your mattress on the floor, you're exposing it to all sorts of icky possibilities, like pests and mold. Verified Source Environmental Protection Agency (EPA) Works to control/prevent natural and manmade disasters. View source
You're doing everything from making it easier for pests to get into your bed linens to increasing the likelihood that your mattress will develop problems with mold and foul odors. You may also be inadvertently voiding your mattress's manufacturer warranty. If you want to save money and have a lower profile bed, we recommend a platform bed over putting your mattress on the floor.
If you do decide to put your mattress on the floor anyway, make sure you're laying it on a bunky board, plastic sheeting, or another barrier to protect it from the flooring.
How tall should my bed be?
Generally speaking, your bed should be around the same height as your knee. However, if you don't have any physical disabilities or mobility problems, you have a lot of wiggle room in terms of bed height. Your bed can basically be as short or tall as you want it.
Those who do have mobility issues should stick closer to knee height. When your bed is around this height, you can get in and out without putting too much strain on your body. This can prevent or even alleviate joint or back pain.
Do I need box springs or a mattress foundation?
There are not a lot of advantages to choosing box springs over a mattress foundation. In terms of durability, foundations whip box springs. Their slats can take the weight of any type of mattress. Their rigid support will also help stave off sagging, while box springs will develop sagging issues of their own.
Foundations will outlast box springs by a long shot. They'll never squeak or creak like box springs. And even if foundations cost more initially, they will save you money in the long run because you won't have to replace them as often. That means mattress foundations are virtually always better than box springs.
Is an adjustable base good for my health?
Absolutely! Sleeping with your head or feet elevated can do a lot for your health. Elevating the legs can improve blood flow for those with circulation issues. The zero-gravity position is excellent for relieving pressure on the spine and joints for those with pain in these areas. Elevating the head can help alleviate snoring and sleep apnea symptoms.
An adjustable bed can even help improve the quality and quantity of sleep for those without medical issues. It may also help stomach sleepers train themselves out of sleeping in this unhealthy sleep position.
Are adjustable bases hard to assemble?
That depends. Some adjustable bases come with lots of hardware and require tons of setup. Others might come with just a few interlocking pieces that can all lock into place. To know how tough your adjustable base will be to set up, you may want to take a look at its setup instructions before buying. This can give you a good idea of how much you're biting off in terms of putting together your adjustable base.
Bottom Line
Platform beds and adjustable bases are both wonderful options to enhance your sleep experience. It all depends on what type of mattress you have and whether you want to sleep at an angle. Those who want to save money should stick to a platform bed. Those looking to improve symptoms of certain medical conditions should consider an adjustable base.
---
About the author
April Mayer has a degree in exercise physiology and is a firm believer in the power of a good night's sleep. She spends her days reading, researching, and writing about sleep, and her nights, well, sleeping. April's passion lies in helping others lead more productive lives by helping them get sound, restful sleep every night. April primarily writes about foods and vitamins for better sleep and has written several "better sleep guides" covering a wide variety of topics in her time with Early Bird. She's been a member of the team since March 2020. Additionally, as a sleep expert, April has been featured in various publications including Forbes, Greatist, Real Homes, Thrillist, Tom's Guide, and Eat This, Not That.
View all posts