If a dull constant ache or a sudden shooting back pain keeps you from a good night's sleep, you're not alone. The National Institute of Health reports Verified Source National Library of Medicine (NIH) World's largest medical library, making biomedical data and information more accessible. View source over 80 percent of Americans experience back pain at some point in their lives. It often leads to lost workdays as well. Since you spend one-third of your life in bed, your mattress can go a long way in preventing or alleviating back problems.
Usually, a strained spine causes back pain. To prevent aches and pains, it's best to maintain a healthy posture, even while sleeping. Memory foam mattresses—with their signature body-conforming and pressure-relieving features—can maintain proper spinal alignment. But choosing the right firmness level suitable for your body type is crucial.
In this article, we discuss the best memory foam mattresses for back pain and help you decide which firmness level is right for your sleep position.
Quick Guide: A 30-Second Summary
Best Overall Mattress for Back Pain: Amerisleep AS2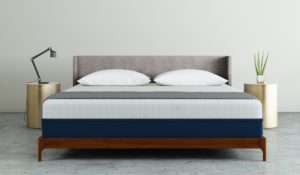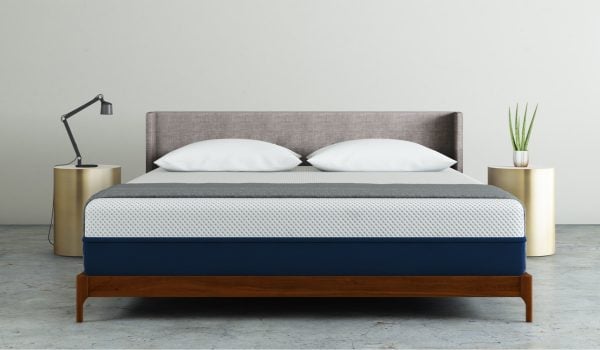 Price of a queen size mattress: $979.30
Best for: Back and Stomach Sleepers with Back Pain
Our Amerisleep AS2 is 12 inches tall, medium-firm mattress with targeted support to your back. The medium-firm AS2 conforms to the natural curvature of your spine, boosting lumbar support; better lumbar support relieves back pain.
The AS2 contains three sleep-enhancing foam layers:  Bio-Pur®, Affinity with HIVE®, and Bio-Core®. Each of them serves a specific purpose, balancing cushion and support as you sleep. All our mattresses come with a cover made of a soft, breathable fabric. This fabric wicks away moisture and keeps you cool through the night.
The top comfort layer includes 2 inches of plant-based Bio-Pur® material. Bio-Pur® foam conforms to your body, providing pressure relief. This plant-based foam is cooler than traditional memory foam, making it an excellent option for hot sleepers. Traditional memory foam uses petroleum-based products. But in Bio-Pur® foam, we substitute a portion of the petroleum with castor oils. Plant oils have a cooling effect. They also make our mattresses eco-friendly.
Our Certi-PUR-US® certified plant-based foams are also free of chemicals like CFCs, formaldehyde, phthalates, PBDEs and are low in volatile organic compound (VOC) emissions. This minimizes off-gassing odors in our mattresses.
The second layer is 3 inches of the Affinity with HIVE® (Harnessing Intelligent Ventilation & Energy) technology. HIVE® tech promotes good posture and provides targeted support to the head, shoulders, back, hips, and feet with the use of strategically-arranged hexagons.
Closely-placed hexagons leave no room for compression beneath your head, back, and feet, providing good support. Spaced-out hexagons beneath your shoulders and hips expand when compressed, offering cushioning comfort.
The last layer is 7 inches of Bio-Core® foam. This sturdy polyurethane foam base layer promotes mattress durability, preventing sags and soft spots. All our Amerisleep mattresses come with a risk-free 100-night sleep trial and a 20-year warranty. Our warranty covers sagging greater than 0.75 inches. Usually, most warranties cover sagging more than 1-inch.
The AS2 is available in all standard sizes, including the split king size.
Product Highlights:
2 inches of eco-friendly Bio-Pur® material conforms to your spine's natural curvature
3 inches of the Affinity with HIVE® layer customize comfort, enhancing back support
7 inches of Bio-Core® foam boosts firmness, needed for a bad back
Best Mattress Combo Sleepers with Back Pain: Amerisleep AS3
Price of a queen size mattress: $1049.30
Best for: Combination Sleepers with Back Pain
Our Amerisleep AS3 is a 12-inch tall, medium mattress. It's perfect for combination sleepers with back pain because it strikes a balance between soft and firm, so it can accommodate a range of sleeping positions.
Combination sleepers need a mattress that's firm enough to support a neutral posture in the stomach or back sleeping position, but also provide enough contour and cushion to alleviate pressure points while in the side sleeping position. Our AS3, with its contouring Bio-Pur® memory foam and a targeted support layer, is an excellent choice for combination sleepers, catering to the firmness needs of sleepers who toss and turn.
The AS3 includes 3 inches of Bio-Pur®, 2 inches of Affinity with HIVE®, and a 7-inch Bio-Core® support layer. Each layer serves a specific purpose—the top comfort layer gives the bed cushion, the transition layer provides targeted support, and the base layer boosts firmness and durability.
The Bio-Pur® foam in the top comfort layer is 3 inches thick, 1 inch thicker than the AS2. The extra thickness makes the AS3 a bit softer than the AS2. This provides required cushioning to side sleepers with a bad back and adequate firmness to nurture back and stomach sleepers' spinal alignment.
The second layer is 2 inches of Affinity with HIVE® to prevent mattress sinkage, while not making it as firm as the AS2. HIVE® layer's customized comfort offers good support to the back, and cushioning for the shoulders and hips.
The last layer is 7 inches of Bio-Core® foam. This base foam strengthens the mattress core and prevents it from sagging.
The AS3's medium feel appeals to many sleepers, making it one of our bestsellers. Usually, lightweight sleepers need softer mattresses, while plus-size sleepers need firmer mattresses. But most average sleepers weighing between 130 and 230 pounds feel comfortable on a medium mattress, leading to the AS3's immense popularity.
Product Highlights:
3 inches of Bio-Pur® cushions the shoulders and hips for improved side sleeping
2 inches thick Affinity with HIVE® prevents mattress sinkage, boosting back support
7 inches thick high-density Bio-Core® foam enhances mattress durability
Best Soft Mattress for Back Pain: Amerisleep AS4
Price of a queen size mattress: $1259.30
Best for: Side Sleepers with Back Pain
If you're a side sleeper avoiding hip pain, you'll love our Amerisleep AS4 because it contains 4 inches of ultra-cushioning Bio-Pur® to nip pain-causing pressure points in the bud.
Most soft mattresses only contain 3 inches of memory foam, but we take comfort a step further with our AS4 by tacking on another inch of Bio-Pur® in the top layer. Our Bio-Pur® is both contouring and responsive, so it does what most other memory foams can't, and that is keeping you lifted while cradled.
Our AS4 is excellent for side sleepers because the comfort layer offers plenty of cushion for the shoulders and hips, eliminating discomfort and preventing future pressure points. The Affinity with HIVE® layer directly below nurtures healthy spinal alignment to prevent you from sinking too far.
The base of our AS4 is 7 inches of sturdy Bio-Core® to offer support and resist sags.
The soft feel of our AS4 makes it a go-to for side sleepers and even combination and back sleepers who love a soft mattress. Despite the softness our AS4 provides, it's still designed to ensure you receive healthy support to avoid aches and discomfort.
All of our mattresses come with free shipping, a risk-free 100-night sleep trial, and a 20-year warranty.
Product Highlights:
4 inches of contouring Bio-Pur® eases pressure points in the shoulders and hips
1 inch of the Affinity with HIVE® keeps the spine in a healthy position and holds the hips in alignment
7 inches of Bio-Core® foam keeps you in a comfy position and resists sinkage
Factors to Consider When Choosing a Mattress for Back Pain
The best mattress for back pain is the one that offers a cradling comfort while maintaining your spine's neutral alignment. Memory foam mattresses can offer both. Both factors are key to getting a night of restful sleep. Better sleep relieves overall body soreness, including back pain.
When buying a new mattress for yourself, look into its firmness, support, and materials. These factors are crucial determinants in choosing the memory foam mattress best suited to you.
Firmness

Mattress firmness refers to the initial sensation you feel when you lie on it. To measure firmness, mattress companies use a 1-10 firmness scale. Usually, 1 is the softest, and 10 is the firmest. The scale runs as follows:
1: Extra-soft
2-3: Soft
4: Medium-soft
5: Medium
6: Medium-firm
7-8: Firm
9-10: Extra-firm
ScienceDirect studies
Verified Source
ScienceDirect
One of the largest hubs for research studies and has published over 12 million different trusted resources.
View source
show that a medium-firm mattress promotes spinal alignment, contrary to popular belief that only a firm mattress does so. The medium-firm mattress is between 6-7 on the firmness scale. It offers adequate push-back support for your back while cushioning your pressure points.
Extra push back may cause pressure-points around your spine, exacerbating your back pain. Insufficient pushback causes the mattress to sink beneath your back. This misaligns your spine, triggering aches and stiffness.
Most average weight back sleepers with back pain feel comfortable on a medium-firm bed. But your comfort also depends on your body weight and sleeping position. For example, plus-size sleepers weighing more than 230 pounds exert more pressure on the mattress. They need a firmer mattress to prevent spinal misalignment. But lightweight sleepers weighing less than 130 pounds may need a softer mattress to conform to their bodies for pressure-point relief.
Your sleeping position also determines your comfort level, so back sleepers with back pain feel comfortable on medium-firm and side sleepers with back pain on a medium. Side and combination sleepers need slightly more cushioning under their shoulders and hips to prevent pressure points in these areas.
Zoned Support
Your body weight is not distributed evenly on your sleeping surface. Some regions of the body like your head and back weigh more, exerting more pressure on the mattress in these regions. More pressure causes mattress sinkage. Mattress sinkage in some areas may misalign your spine.
Memory foam mattresses with zoned support address this concern. They offer more pushback beneath your back and cushioning beneath your hips and shoulders. The pushback prevents mattress sinkage, keeping your spine in neutral alignment. This feature balances comfort and support so you can sleep better.
Materials
Memory foam cradles your body and relieves pressure points. But all memory foam mattresses don't contain the same materials. Memory foam mattresses usually comprise a memory foam top comfort layer above a poly-foam base layer.
The comfort layer may include traditional memory foam, gel memory foam, plant-based memory foam, or memory foam with cooling additives. If you're a hot sleeper, it's better to avoid traditional memory foam. Traditional memory foam can sometimes prevent airflow. It can trap body heat and warm up your mattress.
Overheating causes sleep disruptions. Sleep disruptions can worsen your back pain. NIH research Verified Source National Library of Medicine (NIH) World's largest medical library, making biomedical data and information more accessible. View source shows that poor sleep quality among people with back pain intensifies the pain. Restful sleep mitigates the intensity of the pain, allowing your body to heal.
You need to feel comfortable in bed for a restful sleep. Gel foam, plant-based foam, and memory foam with cooling additives such as copper or graphite keep sleepers cool through the night.
Cooling gel is either swirled into memory foam or added to the top of the comfort layer to dissipate heat.
Another popular cooling method involves using PCMs. PCM is a combination of non-toxic chemicals that change from solid to liquid with heat. Different manufacturers use chemicals in various proportions to make their PCM.
Plant-based foam is an eco-friendly option, keeping sleepers cool. Traditional memory foam uses 100 percent petroleum-based products. But in plant-based memory foam, a portion of the petroleum is substituted with natural plant-oils. Natural oils have a cooling effect.
Additives such as copper or graphite are heat conductors. Copper or graphite beads embedded in the memory foam layer absorb heat, making your mattress cooler. The cooling effect keeps you comfortable.
The material in the support layers determines mattress durability. High-density, firm poly-foam in the base layer prevents sagging and soft spots. It increases your mattress's durability.
How Different Mattress Types Affect Back Pain
Different mattress types have a unique feel to them. They are made using different materials with varied contouring abilities. Contouring is crucial for proper spinal alignment while sleeping. In this section, we discuss how and why different mattress types can affect your back pain.
Memory Foam Mattress
Memory foam mattresses contour closely to your body. They keep your spine in neutral alignment and relieve pressure points for a more comfortable night's rest. Finding the right firmness level suiting your body type and sleeping position is crucial to your comfort.  Memory foam's excellent contouring features are most suitable for supporting the natural curvature of your spine.
The dense structure of memory foam offers superior motion isolation. A partner tossing and turning in bed won't disturb your sleep. Sleep disruptions can intensify your back pain.
Latex Mattress
Latex beds are made of all-natural latex or synthetic latex. We don't recommend synthetic latex foam beds because they disintegrate faster. All-natural latex is made from the rubber tree sap using Dunlop or Talalay manufacturing processes. Dunlop latex is more springy, while Talalay latex is more bouncy. Both types of foams are available in different firmness options.
Latex mattresses also contour to your body, but not as close as memory foam. They can relieve your back pain. But they are not as effective as memory foam beds. They are firmer and bouncier which can be an issue with back-pain sufferers.
If you're looking for an organic bed for your back pain, medium-firm all-natural latex mattresses are your best bet. Latex beds are the most expensive of all mattress types.
Innerspring Mattress
Innerspring mattresses contain a coil layer at the base topped by a thin comfort layer. The comfort layer contains cotton, wool, or foam. Most innerspring mattresses come with a plush quilted pillow top layer nowadays. Pillow top is an extra layer of padding sewn on top of the comfort layer for enhancing cushion. But these materials cannot conform to your body as closely as memory foam or latex.
The steel coils at the base promote air circulation, making your bed cooler. They also make your bed firm. But the coils can press against your back, intensifying back pain. The coils transfer motion, causing sleep disruptions.
Hybrid Mattress
Hybrid mattresses combine features of innerspring with memory foam or latex beds. This type of mattress includes a coil layer at the base, topped by more than 2 inches thick memory foam or latex foam. But in some mattresses, poly-foam is used in the comfort layer. Poly-foam doesn't conform to your body as well as latex or memory foam.
Hybrids feel slightly firmer and bouncier than memory foam or latex, due to the coil layer at the base. Usually, hybrids include individually wrapped pocket coils, minimizing the effect of motion transfer. But the bounce of the coil layer may prevent proper back support.
How Sleeping Positions Affect Back Pain
Your sleeping position determines your spine's neutral position. Maintaining your spine's alignment as you sleep ensures you wake up pain-free in the morning.
If you aren't sure of your sleeping position, think of the position you went to bed in. Then take note of the position you woke up in. If it's the same position, you're either a side, back or stomach sleeper. But if you wake up in a different position the next morning, then you are a combination sleeper.
Back Sleepers
Back sleeping is the one of the best positions for those suffering from back pain because it keeps the spine neutral. But back sleeping can make snoring and sleep apnea worse. The soft tissues of the throat are prone to falling backwards in this sleep position, obstructing the airways. If you suffer from these or other breathing problems, side sleeping is the next best position for back pain.
Use a mid-loft pillow (6 to 7 inches high) to support your head while sleeping on the back. A pillow here also maintains your spine's neutral position.
A medium-firm memory foam mattress is an ideal option for back sleepers. Its comfort layers conform to your body relieving pressure points. The layers beneath provide firm support to your spine.
Side Sleepers
Side sleeping is the most common sleeping position. Most side sleepers tend to tuck their arms beneath their head. This puts them at risk of paresthesia. Paresthesia causes a "pins and needles" sensation in your arms.
Paresthesia limits circulation to the limbs, causing stiffness. Use a mid-loft pillow beneath your head and a thinner one between your legs can keep your spine neutrally aligned and prevent paresthesia.
The best mattresses for side sleepers are usually medium in firmness, and this holds true for side sleepers with back pain. Your shoulders and hips bear the weight of your body in the side sleeping position. A medium mattress offers cushion to the shoulders and hips, preventing pressure points in these regions. It also has the desired level of firmness for spinal support.
Stomach Sleepers
We do not recommend stomach sleeping for those with back pain. This position doesn't support the spine and puts you at risk of back and neck ache. If you're unable to switch to side or back sleeping, a firm mattress is the best option to minimize pain.
Combination Sleepers
Combination sleepers typically prefer a medium mattress to feel comfortable. They change between side, back, and stomach sleeping, so it's better they sleep on a medium. A medium mattress balances firmness and softness. The softness relieves pressure points and the firmness keeps the spine neutrally aligned through different sleep positions.
Types of Back Pain
Your back pain may be so intense that it makes you miss work, or it may be something you wake up with, which eases gradually during the day. Back pain is categorized as acute or chronic, depending on how long you suffer from it.
Acute: Acute back pain usually lasts a few days or weeks. Most instances of lower back pain are acute. It resolves with a few lifestyle changes, such as maintaining a healthy posture, and light exercising. Sometimes it may take a few months to resolve acute back pain. Once resolved, there's no lingering pain sensation.
Chronic: If your back pain continues for more than 4 months, it's called chronic back pain. Without care, acute back pain can convert to chronic. Sometimes, chronic pain can be a side effect of surgery or trauma. Muscle strain, ligament injury, or nerve damage can cause chronic pain. But it doesn't always have a medical cause to it. With age, you may start feeling the pain. Chronic back pain can be treated with physiotherapy or surgery. But in some cases, despite treatment, the pain lingers on. The intensity may reduce, but you still feel some pain.
Back pain is also distinguished by the area affected. Medical or lifestyle factors can trigger lower, mid, or upper back pain.
Lower Back Pain: Lower back pain affects the lowest five vertebrae of your spine, in the lumbar region. This is the most common type of back pain.
Mid Back Pain: Mid back pain is the most uncommon type of back pain. It occurs between the rib cage and the lumbar region.
Upper Back Pain: Upper back affects your thoracic spine. It runs from the area above your rib cage to the lower neck. Upper back pain often radiates to your shoulders as well. It's less common than low back pain but more common than mid back pain.
How Does Back Pain Affect Sleep?
Back pain affects your sleep quality due to various reasons. Here are some factors preventing quality sleep in those with a bad back:
The sensation of pain is more at night because your brain is not preoccupied with other things during sleep
It's difficult to find a comfortable sleep position, delaying the onset of sleep
Pain sensation often wakes you up from sleep
Prolonged use of pain medications may impair sleep quality
Back pain limits physical activities, and lack of physical activities during the day leads to insufficient sleep at night
Can Sleep Help With Back Pain?
Sleep has rejuvenating capabilities. It can heal your body and mind. Quality sleep for 7 to 9 hours at a stretch can prevent or reduce your back pain. Here's how sleep can help:
Growth hormone released during deep sleep stages repairs muscles and relieves pain
Sleep disruptions make your nervous system over sensitive to pain, reducing pain threshold
Insufficient sleep causes depression, and depression can trigger or increase back pain
Causes of Back Pain
Various factors can cause back pain. But regardless of the cause, your back pain gets worse on an uncomfortable mattress. Regular tossing and turning increase pressure points, aggravating your back pain. Here are some of the causes of back pain:
Age-related wear on the spine
Injury to the spine
A bulging or ruptured disc
Muscle or ligament strain
Arthritis
Osteoporosis
Mental stress
Other Sleep Accessories to Prevent or Relieve Back Pain
There are some changes in lifestyle that help maintain your spine's neutral alignment, thus preventing back pain. First, avoid lifting heavy things. We also suggest using ergonomic furniture for a healthy posture, regularly exercising, and getting quality sleep to boost spinal health and keep back pain at bay.
A rejuvenating sleep can have a long term positive impact on your back pain. It can prevent some of the causes that trigger back pain. In cases of existing back pain, quality sleep can heal your body, relieving pain. Your bed plays the most crucial role in promoting sleep quality.
Other sleep accessories such as pillows, adjustable beds, and mattress toppers complement your mattress to enhance sleep quality.
Pillows
Pillows are as crucial as your mattress in keeping your head, neck, and spine aligned when you sleep. If you are suffering from low back pain, you are more vulnerable to neck and shoulder pain too. The pillow loft (height) and firmness determine your comfort. Your pillow should support your head while conforming to the natural curvature of your upper spine region.

Side sleepers and back sleepers need a mid-loft memory foam or latex pillow for their comfort. A solid piece of foam is better than shredded foam because it will offer firmer support to the head. Firm support will prevent your head from sinking into the pillow, risking spinal misalignment.
We don't recommend stomach sleeping because it can strain your spine and aggravate back pain. But if you're not comfortable in any other position, it's better to use a low-loft (2-3 inches) pillow or no pillow at all. Mid or high-loft pillows in the stomach sleeping position can further strain your spine.
Adjustable Base
Adjustable beds give you the option to elevate your head and feet to preferred angles while sleeping. You can sleep in the zero-gravity position on an adjustable base. This increases circulation and relieves pressure points.
Elevating your head and feet regions may enhance lumbar support, reducing back pain. This position decompresses your spine, decreasing muscle tension in the spinal region. Memory foam mattresses, considered an excellent option for relieving back pain, are compatible with adjustable bases.
Mattress Toppers
Mattress toppers are 2 to 4 inches thick mattress accessories. They are placed on top of your mattress to soften or firm up your mattress. If you're waking up with aches in your new bed, chances are you need to adjust its firmness a bit. Look for a soft topper if you want more cushion, or a firm topper if you want more support.
Most toppers are made of memory foam, gel foam, or latex. They are available in all standard mattress sizes online and in mattress stores. But if you feel uncomfortable in your 7 to 8 years old mattress, you may need to replace it. Most high-quality mattresses come with at least a 10-year warranty, that's how long mattresses are usually in good shape. They sag and develop soft spots with time. Sleeping on a sagging mattress disturbs spinal alignment, increasing back pain.
FAQs
Are memory foam mattresses good for back pain?
Yes, memory foam mattresses are the best for relieving back pain. They conform to your body providing pressure-point relief, reducing aches. Memory foam's body-conforming feature is the best in all mattress types. This viscoelastic foam forms to the natural curvature of your spine, promoting lumbar support. Better lumbar support relieves lower back pain, the most common type of back pain.
What firmness of a mattress is best for lower back pain?
It used to be that people thought a soft mattress was the only appropriate firmness for sufferers of back pain, but recent studies suggest a medium-firm mattress is actually best. Additionally, always look for a mattress with a sturdy support layer and a durable foundation so it won't sag.
Can memory foam cause back pain?
A memory foam mattress can cause back pain if you don't find the firmness level best suited for you. The ideally firm mattress for your sleep position keeps your spine in neutral alignment while relieving your pressure points. Side sleepers will be most comfortable on a medium, medium-soft, or soft mattress. Stomach and back sleepers will sleep comfortably on a medium-firm or firm mattress.
Can good sleep relieve a bad back?
Yes. A good night's sleep can reduce back pain. That's because quality sleep can control a lot of other factors, such as stress, that aggravate your back pain. Poor sleep, on the other hand, can make your back pain worse.
Does my pillow affect my back pain?
Yes, your pillow can affect your back pain. When you sleep, your pillow keeps your head and neck aligned with your spine. Misalignment can strain your spine, triggering upper back pain. If you're suffering from lower back pain, you're vulnerable to upper back pain too.
Conclusion
The search for a new bed addressing your back pain concerns can be overwhelming. The right mattress has to be comfortable and offer firm back support while relieving pressure points. Choosing the right firmness level can be a challenge sometimes, but if you follow guidelines specific to body type and sleeping positions in this article, you should be able to find the best mattress.
This article is for informational purposes and should not replace advice from your doctor or other medical professional.
---
About the author
Mitchell Tollsen is a graduate student and a freelance writer who's contributed to the Early Bird blog for three years. Mitchell's always been fascinated by the science of sleep and the restorative processes our bodies undergo when at rest. The self-titled "Sleep Expert" is always looking for ways to improve his shut-eye, and throughout the years has implemented numerous lifestyle changes and tried dozens of sleep-promoting gadgets to determine the best ways to truly get better rest.
View all posts