Purchasing a new mattress is the first step toward a better night's sleep. However, the right bedding and accessories can help protect your new mattress and create an even more inviting sleep space.
At Amerisleep, our mattress accessories and bedding are designed to promote deeper, more restful sleep. Our pillows encourage proper spinal alignment so you can wake with less pain and stiffness, and our mattress foundation ensures even weight distribution to prevent sags and indents that change the structure of the mattress.
While our accessories are made to be paired with any of our memory foam mattresses or hybrid beds, they can also be paired with most modern mattresses to create a more supportive and luxurious sleep environment.
Below, we outline our most popular Amerisleep mattress accessories and explain how they can enhance your sleep and protect your new bed from premature wear and tear.
Best Sleep Accessories

The Amerisleep Comfort Classic Pillow is our original pillow and features our proprietary foam, Bio-Pur®. Unlike traditional memory foam, Bio-Pur® is made with plant-based oils, rather than 100 percent petroleum-based oils.
This unique manufacturing process allows Bio-Pur® to retain less heat and moisture, keeping the pillow cool throughout the night. The soft, airy cover of the Comfort Classic Pillow has hundreds of air channels to push warm air out of the pillow and prevent overheating. This cover is also removable and machine washable, so it is easy to keep the pillow clean and germ-free.
Since Bio-Pur® is so dense, it is resistant to dust mites and other allergens. Plus, this foam is certified by CertiPUR-US® to be free of harmful chemicals and low in VOC off-gassing.
The Comfort Classic Pillow has a 6-inch loft and a medium firmness that works well for most sleep positions. It is also available in two different sizes—standard/queen and king—and comes with a 10-year warranty.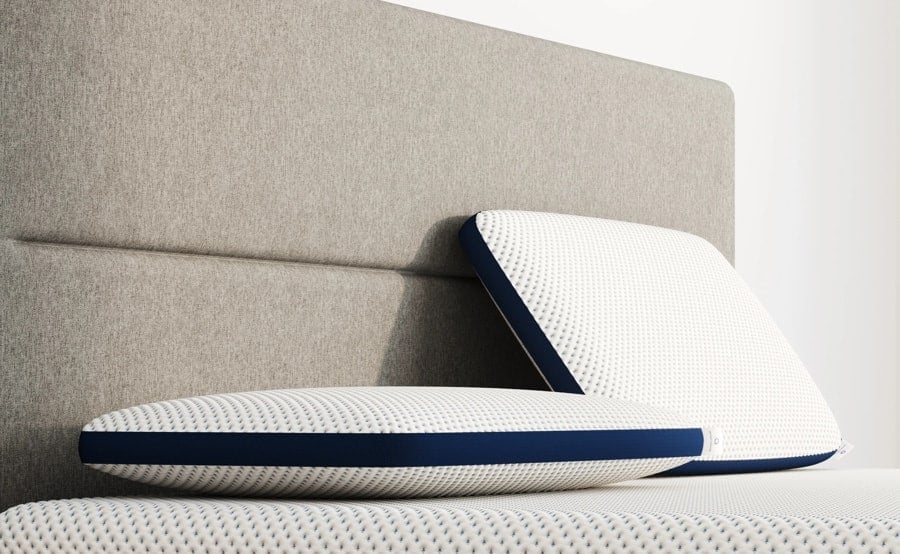 Like the Comfort Classic Pillow, Our Dual Comfort Pillow is also made with our plant-based memory foam, Bio-Pur®. However, the Dual Comfort Pillow comes with two firmness levels—a soft side and a firm side.
A soft memory foam pillow can help relieve pressure points and keep the head and neck supported for back sleepers. For side sleepers, a slightly firmer pillow will keep the head from dropping below the shoulders and forcing the spine out of alignment. The Dual Comfort is also one of the best pillows for combination sleepers or those who want the option of sleeping in either position.
The Bio-Pur® filling and embedded air channels promote circulation, so the pillow never becomes hot and uncomfortable. The Dual Comfort Pillow comes in two different lofts—5 inches and 6 inches—allowing sleepers to choose a height that works best for their body type and sleep position.
Like all our pillows, the Dual Comfort Pillow is available in standard/queen and king size and comes with a 10-year warranty.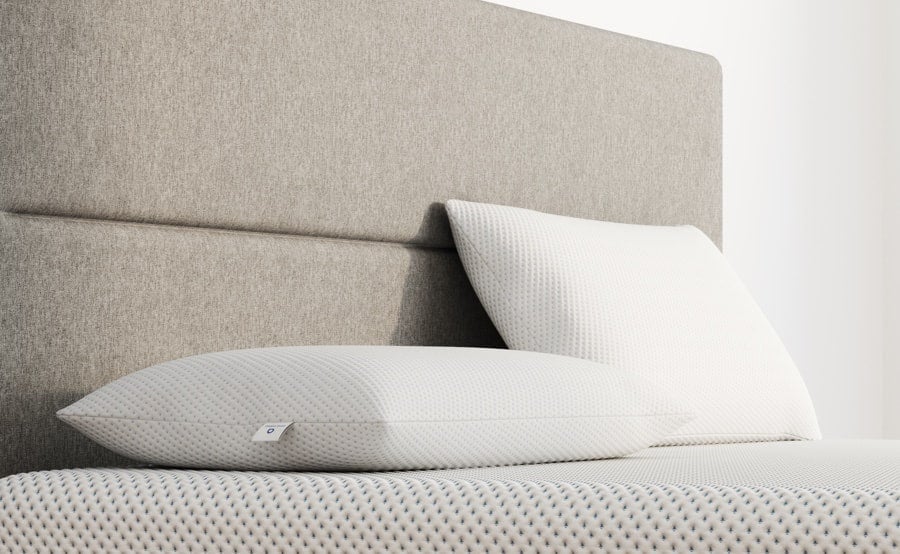 The Flex Pillow offers sleepers more customization than our other two pillows. With hundreds of MicroFlex cushions, this pillow is moldable and contours closely to your head and neck for proper alignment.
Since the MicroFlex cushions are shredded, body heat can pass through this material quickly. The perforated cover also increases breathability and ensures your face and neck remain cool and comfortable.
The Flex Pillow has a medium firmness, ideal for both back and side sleepers. It comes in a standard/queen and king size and has a 6-inch loft.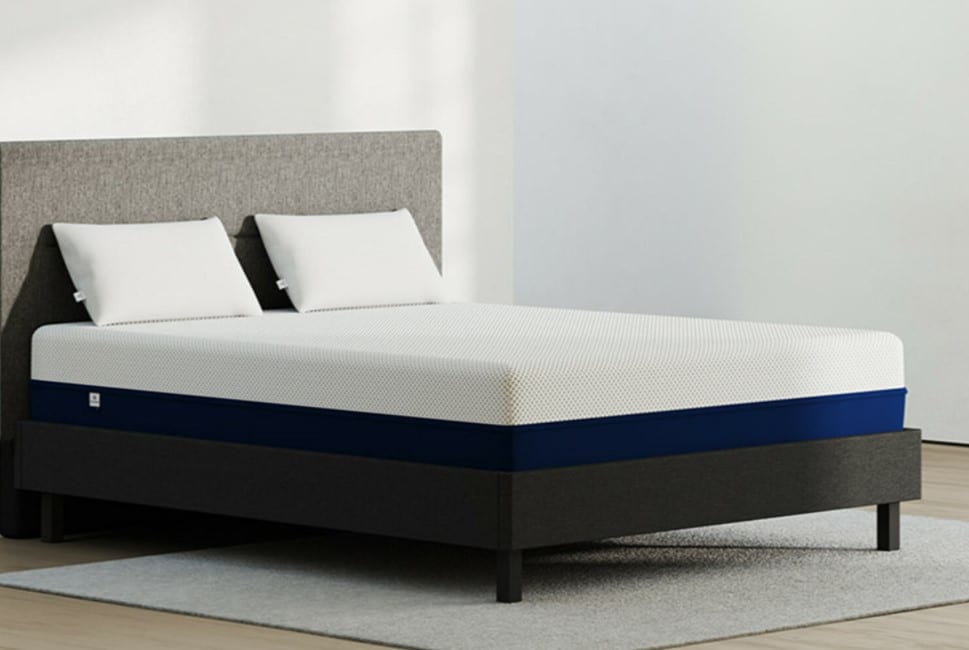 When bringing home a new mattress, it is important you place it on a stable and supportive surface to prevent indentations and sagging. Mattresses with a high percentage of foam, such as memory foam mattresses and hybrid beds, need a frame with a flat foundation or one with slats no more than 2.75 inches apart.
Our Amerisleep Platform Bed is the perfect base to protect your foam or hybrid mattress. Plus, this base eliminates the need for a cumbersome box spring. Our base has a sleek low profile design and is made of solid hardwood. The extra-wide slats create a stable surface to support the mattress and keep body weight evenly distributed.
Amerisleep Platform Bed is a stand-alone bed frame that's 13.5 inches tall and its modern design allows it to blend with all bedroom furniture. It is available in six standard mattress sizes and comes with a 1-year warranty that covers manufacturing defects. Plus, it is easy to put together and requires no tools.

If you are looking for a more advanced bed frame, our Adjustable Bed+ offers many features that make getting deep sleep even easier. With head and leg articulation, The Adjustable Bed+ provides relief from many different sleep disorders, including loud snoring, sleep apnea, and restless leg syndrome.
The Adjustable Bed+ comes with the following features:
Wireless, backlit remote control, making it easy to adjust the bed even in a dark room
USB ports built into the base so you can comfortably connect your devices
Anti-snore preset, allowing you to lift the head of the bed and reduce snoring with the press of a button
Full-body wave massage so you can relax and drift off to sleep quickly
Two preset positions so you can save your favorites
Anti-snore preset
Built-in sleep timer to replace your alarm
Wifi and Bluetooth connectivity to link the bed to the smartphone app
Wall hugging technology keeps the bed close to the wall and your nightstand even when in the upright position
Adjustable legs allow you to use the base within an existing bed frame or use it as a stand-alone frame
25-year limited warranty covering manufacturing defects
Available in five sizes, including twin XL, full, queen, king, and split king

Our Adjustable Bed offers many of the same features as the Adjustable Bed+, including head and leg articulation, wireless, backlit remote, and two programmable presets. But it also has zero-gravity presets and a convenient zero-clearance design.
Since the Adjustable Bed doesn't have as many features as the Adjustable Bed+, it is available at a more affordable price. If you are looking to experience the benefits of an adjustable bed, but have a tight budget, this base is a great option.
Plus, it comes with a 10-year limited warranty and is available in five standard sizes, including twin XL, full, queen, king, and split king. With the split king option, couples have individual control of their side of the bed.

The Lift by Amerisleep™ Mattress Topper is a 3-inch foam topper that can be used to adjust the firmness of your mattress. Lift is available in two different firmness levels—the Comfort Lift is soft while the Support Lift is firm.
If your current mattress is too firm, you may want to increase the softness. The Comfort Lift is cushioning and features our Bio-Pur® foam for close contouring and pressure relief.
If your bed is too soft, a firmer mattress topper can increase support and prevent spinal misalignment. The Support Lift is responsive and made with Affinity foam, which has a slight bounce to keep sleepers lifted on the mattress rather than cradled.
Both of our Lift layers also feature HIVE® technology, strategically placed cutouts along the surface of the foam designed to cushion the hip and shoulder joints, and support the lumbar spine. HIVE® works to provide dynamic spinal support and encourage better sleep postures.
No matter which option you choose, the MicroGrip® technology on the bottom of the topper will prevent slipping without damaging your mattress. Each topper also comes with our signature ventilated cover and a 5-year warranty covering manufacturing defects such as sagging.

Liquids can permanently damage a mattress and cause mold and mildew to develop. However, with the Amerisleep Waterproof Mattress Protector, your bed is safe from spills and accidents. Plus, this protector prevents dust mites, viruses, and bacteria from collecting in the mattress.
Our mattress protector also has a soft, breathable topper made of a cotton-jersey blend. The sides are made with polyurethane and have elastic edging for a secure fit. All materials of the mattress protector are certified by OEKO-TEX® Standard 100 to be free of toxic additives.
The Amerisleep Mattress Protector fits all mattress types between 8 and 18 inches thick, comes in the six standard mattress protector sizes, and comes with a 5-year warranty. It is also machine washable and easy to clean.

Our Allseasons Blanket is dual-sided and perfect for any climate. One side of the blanket features a soft polar fleece material to keep you warm and cozy during the colder months. However, the flip side features Amerisleep's Chill fabric, polyester material with an ultra-high molecular weight, allowing it to wick away heat and moisture to prevent night sweats and overheating.
This throw blanket weighs pounds and is available in one size—60 inches wide by 80 inches long. These dimensions are the same as a standard queen size mattress. The Allseasons Blanket also comes with a 1-year warranty that covers manufacturing and cosmetic defects.

Over Recover+ Comforter is the perfect year-round bedding. The filling features a blend of Tencel lyocell, polyester, and Celliant®, while the cover is made of cotton and Celliant®. The use of Celliant® in both the cover and the filling makes the Recover+ blanket incredibly breathable.
Celliant® is an FDA-determined fabric that absorbs body heat and converts it to infrared energy. As your muscles reabsorb this energy, it increases local circulation, promoting faster recovery and deeper sleep.
Recover+ Comforter comes with a 1-year warranty and is available in three sizes—twin XL, full/queen, and king.

To keep your comforter or duvet clean and in good condition, a duvet cover is essential. The Amerisleep Percale Duvet Cover Set includes the cover and two pillow shams. Both feature a 300-thread count long-staple cotton with a percale weave. This weave makes the material wrinkle-resistant and gives the set a smooth, crisp feel.
Our Percale Duvet Cover Set has flange edges and a hidden zipper for a clean finish. It is available in 4 colors/prints and two different sizes—queen and king. It also comes with a 5-year warranty covering cosmetic and manufacturing defects.

Our Amerisleep Percale Cotton Sheets have a cool, crisp feel, similar to our Percale Duvet Cover. This material is light and breathable, helping you stay cool and dry all night. Made with 300 thread count long-staple cotton, these sheets are ultra-soft and inviting.
Our Percale Sheets come in twin, twin XL, full, queen, king, California king, and split king sizes—and are made to fit a mattress up to 18 inches thick.

Tencel® is a luxuriously soft and breathable material made with sustainable methods. Our Tencel® sheets are available in two different colors—pearl and dove. They are also available in most standard sizes—twin, twin XL, full, queen, king, California king, and split king—and are made to fit a mattress up to 18 inches thick.

Frequently Asked Questions
What should I wear to sleep better at night?
It is best to wear breathable and loose-fitting pajamas to bed. Even during the colder months, it is still a good idea to wear lightweight clothing to bed to prevent overheating. You can always add plush blankets to your bed to keep you warm.
Why can't I sleep even though I am tired?
If you can't sleep even though you are tired, it is likely because your circadian rhythm or sleep routine is off. When you sleep in opposition to the rising and setting of the sun, your hormones, particularly the melatonin hormone, become imbalanced. When melatonin production is slow, it can be difficult for you to relax and fall asleep quickly.
Should I buy a mattress on Amazon?
Yes. Shopping on Amazon is a great way to save on a high-quality mattress. However, when purchasing a mattress on Amazon, it is best to buy directly from the company. When shopping with a third party seller, you will not get the same manufacturer warranty and sleep trial. The best mattresses on Amazon come with at least a 100-night sleep trial and 10-year warranty.
How can I fall asleep faster?
The best way to ensure that you fall asleep quickly each night is to practice good sleep habits and maintain a consistent bedtime and wake up time. Going to bed and waking up at the same time each day will regulate your sleep schedule and make it easier for you to get to sleep on time.
To prevent disruptions to your sleep schedule, avoid blue light at least 2 hours before bed, and keep your bedroom dark and cool (around 60 to 67 degrees Fahrenheit). Herbal teas can also act as a natural sleep aid. Lavender and chamomile teas have a calming, pleasant scent. They have both been shown to lower cortisol levels (the stress hormone), increase serotonin levels and promote deep relaxation.
Should I stay up all night if I can't sleep?
No, it is never a good idea to stay up all night if you can't sleep. Some sleep is always better than none. If you are having trouble falling asleep, get up and leave your bedroom for at least 30 minutes and return to bed once you feel sleepy again.
Conclusion
Whether you are trying to protect your new high-quality mattress or change your existing bed's comfort level, there is an Amerisleep mattress accessory for you. If you are a hot sleeper, our Tencel® or Percale sheets offer a cooler night's sleep.
If your current mattress doesn't have the right firmness for your body type, one of our Lift® Mattress Toppers can change the feel of your bed for more supportive sleep. Above all, it is important that your mattress remains clean and germ-free and that you feel relaxed, cozy, and cool in your sleep space.
---
About the author
Mitchell Tollsen is a graduate student and a freelance writer who's contributed to the Early Bird blog for three years. Mitchell's always been fascinated by the science of sleep and the restorative processes our bodies undergo when at rest. The self-titled "Sleep Expert" is always looking for ways to improve his shut-eye, and throughout the years has implemented numerous lifestyle changes and tried dozens of sleep-promoting gadgets to determine the best ways to truly get better rest.
View all posts