An adjustable bed frame can provide relief from many different illnesses and sleep disorders. Like a hospital bed, an adjustable base allows users to lift their head and legs for a healthier, more comfortable sleep position.
If you are in the market for one of these advanced bed frames, you will notice that they come with several different features. One important feature is "wall-hugging." But, what is a wall-hugging adjustable bed? We answer this question and explain everything you need to know when shopping for a high-quality adjustable bed.
What is a Wall Hugger Adjustable Bed?
Wall-hugger adjustable beds are similar to traditional adjustable beds. They come with head and leg articulation that can be adjusted using a remote control. Like most adjustable beds, wall-hugger beds have a motor that powers the base. In most cases, sleepers can use the base on top of most modern bed frames or as a stand-alone frame.
The "wall-hugging" feature exclusive to these beds keeps the mattress in the same place as you raise and lower the bed. These beds are called waller hugger beds because they stay close to the wall as the head of the bed is lifted. Our Adjustable Bed+, for instance, remains close to the wall but still may move up to 8 inches away from it as it rises.
Standard adjustable beds without this feature, however, will move much farther away from the wall when lifted. This means that you also move forward, away from the wall and your nightstand. With your nightstand behind you, you will have to stretch to reach essential items, such as water, eyeglasses, reading materials, remote controls, medications, and electronic devices.
If the controls for your adjustable bed are on your nightstand or attached to the headboard, you will have to get up to change the bed's position. For seniors, those with disabilities, health issues, joint pain, or limited mobility, this can be inconvenient and possibly lead to accidents.
With a wall-hugger adjustable bed, the mattress slides backward toward the wall when raised to an upright position. This means that you stay next to the wall and your nightstand even while the head of the bed foundation is lifted. As you lower the bed, the mattress also stays in the same position, so no matter how you choose to adjust your bed, you always remain close to your nightstand and the items you store there.
History of the Wall Hugger Adjustable Bed
The modern adjustable bed base was originally designed by Leggett & Platt, well-known furniture manufacturers who have been in business since 1883. Designers at Leggett & Platt understood sleepers often spent time reading, journaling, or working in bed before falling asleep. So, they set out to create a base that would allow users to sit up comfortably in bed without forcing the head and neck into awkward positions.
Leggett & Platt also understood that elevating the head and legs at night could relieve symptoms related to sleep disorders and other health complications.
However, once sleepers on the first Leggett & Platt's bed noticed that they were moving too far away from their nightstands, the company went back to the drawing board. Their wall-hugger technology helped correct this issue, and the next generation of Leggett & Platt beds provided a more comfortable experience to sleepers.
Features of a Wall Hugger Adjustable Bed
When shopping for a wall-hugger bed, there are certain features you should look for to make your sleep experience more enjoyable.
User Friendly
Your wall-hugger bed should be convenient and easy to use. If not, making adjustments to the bed could become a burden. Make sure you understand all of the features on the remote and how to use them. A backlit remote will also make it easy to make adjustments to the bed during the night. WiFi and Bluetooth connectivity will allow you to make these changes from your smartphone.
Smooth Transition
Not all wall-hugger adjustable beds are manufactured by the same company. Therefore, some will move easier than others. Once you start using your adjustable bed, ensure that the bed transitions smoothly from an upright position to a flat position. If you notice any friction, be sure to contact the manufacturer as this issue can often become worse over time.
Warranty
A new wall-hugger adjustable bed should come with at least a 10-year limited warranty. This coverage will protect you in case anything goes wrong with the bed, such as the sound of a beeping adjustable bed. As you shop, be sure the warranty covers both the motor and the base. Some warranties will only cover the motor for a short period of time.
Convenience Features
Certain features, such as under-bed lighting, USB ports, and pre-programmable positions, can make getting comfortable in your adjustable bed easier. For those with disabilities, these features can also prevent accidents and make movement in and out of bed more comfortable.

Wall Hugger Adjustable Bed vs. Standard Adjustable Beds
While standard adjustable beds also offer the benefits of head and leg articulation and come with many of the same features as a wall-hugger bed, wall-hugger bases are much more convenient. When moving a wall-hugging base into your room, there is no need to rearrange furniture or make special accommodations for the bed. You can simply place your new bed in the same spot as your previous bed.
In terms of pricing, the cost differences between a standard adjustable bed and a wall-hugger bed are relatively low. While standard adjustable beds range between $1000 and $1400 for a queen size, wall-hugging adjustable beds range between $1500 and $1900.
Companies that sell adjustable beds often sell two versions, a base with wall-hugging technology and one without. While the base without this tech will likely be cheaper, the convenience of a wall-hugging base will make up for the additional cost. This is especially true for individuals recovering from injury or illness or with limited mobility.
Who Needs a Wall Hugging Adjustable Bed?
Standard adjustable beds have many benefits. These beds can provide relief from symptoms of sleep apnea, Verified Source National Library of Medicine (NIH) World's largest medical library, making biomedical data and information more accessible. View source snoring, and acid reflux. Plus, they can improve blood circulation and alleviate lower back pain. However, adjustable beds with wall-hugging technology are especially beneficial for the following individuals.
Those recovering from injury or illness: Wall-hugger technology will keep your bedside items close. While in recovery, you must be able to quickly access things like water, medications, and your smartphone in case of an emergency. This technology will prevent you from straining or stretching while your body is healing.
Those with limited mobility: If you have arthritis or other ailments that limit your mobility, a standard adjustable bed can help you find a comfortable sleep position. However, getting in and out of bed is often easier with a wall-hugger adjustable bed because you can easily access lamps, remote controls, and other essentials.
Mattresses Types and Sizes for an Adjustable Bed
When it comes to purchasing the best mattress for your adjustable bed, shoppers have several different types and adjustable bed sizes to choose from. Below, we explain the best mattress types for a wall-hugger bed and what sizes these beds are available in.
Mattress Types
The best mattress types for an adjustable bed are memory and latex foam mattresses. These beds are flexible enough to move with the bed without becoming damaged. Plus, the combination of a pressure-relieving foam comfort layer and an adjustable base can create a luxurious sleep space.
While hybrid mattresses can safely be used on an adjustable base, we don't recommend using a traditional innerspring mattress on an adjustable bed. These mattresses are often heavy, and spring coils can become damaged when bent. You can also risk damaging the adjustable base if the mattress is too heavy.
Mattress Sizes
Adjustable beds are available in most standard mattress sizes, including twin, twin XL, full, queen, and king. Adjustable beds for an extra-large king size mattress are harder to find and may need to be ordered from a specialty retailer.
Couples with different comfort needs may prefer a split king adjustable bed and mattress. A split king consists of two twin XL bases and mattresses, each measuring 38 inches wide by 80 inches long. When placed side by side, two twin XLs form a standard king size bed, measuring 76 inches wide by 80 inches long.
By selecting a split king adjustable base, couples can make adjustments to their side of the bed without disrupting their partner. This option also lets couples choose a different mattress firmness on each side of the bed.
Additional Adjustable Bed Features
In addition to wall-hugging, adjustable beds come with many different features. To help you select an adjustable bed that meets your needs, we outline each of these features below and explain how they can help.
USB Ports: Many adjustable bases now come with USB ports built into the base of the bed. This feature allows users to easily charge their phones and devices without getting out of bed or stretching to reach the electrical outlet.
Bluetooth and WiFi Connectivity: Adjustable beds with Bluetooth and WiFi connectivity allow you to link your smartphone or other electronic devices to your bed. This feature can make adjusting your bed easier and more convenient.
Backlit Remotes: Most adjustable bed remotes are backlit so that you can see the buttons clearly even in a dark room.
Wireless Remote Controls: Some standard adjustable beds have remotes attached to the bed, making it difficult to reach them. Attached remotes often fall or have wires that get tangled up in your bedding. Wireless remote controls are much more convenient and easier to access during the night.
Under Bed Lighting: Adjustable bases with under bed lighting can help you safely make your way to the restroom or get up while it is still dark in your bedroom. Under-bed lighting illuminates the perimeter of your bed to ensure that you do not hit nearby furniture or step on any dangerous objects.
Zero-Gravity Preset: Sleepers can find a zero-gravity sleep position on most adjustable beds. However, a bed with a preset zero-gravity setting makes it easier to find this weightless position.
Programmable Preset Positions: A programmable preset allows you to save your favorite position, so it's easy to get comfortable each night.
Anti-Snore Preset: A preset anti-snore button allows users to automatically lift the top portion of the bed to an angle that opens up the airways to alleviate snoring. This feature is great for couples because it allows you to lift your partner's head and reduce snoring without waking them.
Pillow Tilt: Although all adjustable beds come with head articulation, some also have pillow tilting. This feature helps angle the head, so the neck is supported while using the frame and mattress for sitting up in bed.
Massage Features: To help you relax and fall asleep quickly, some adjustable beds come with a vibrating or rolling wave massage.
Adjustable Legs: Adjustable beds with removable or adjustable legs can be used as a stand-alone bed frame or paired with an existing bed frame with slats no more than 2.75 inches apart.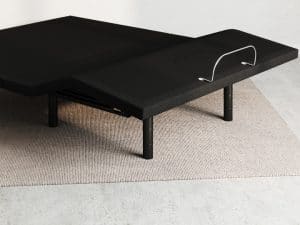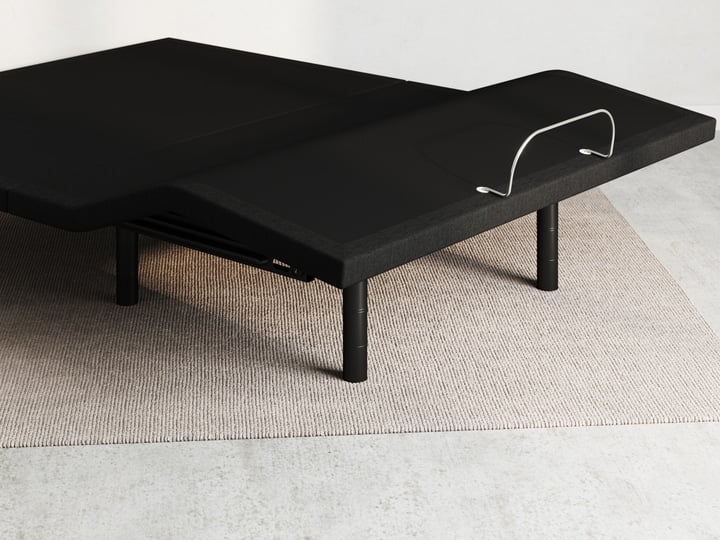 Our Amerisleep Adjustable Bed+ comes with wall-glide technology and many of the advanced features outlined above, including USB ports, Bluetooth and WiFi connectivity, and a wireless remote control.
With a built-in full-body massage, you can relax and fall asleep quickly each night. You can also find a weightless position or save your favorite position with one of the built-in presets. This bed even has an anti-snore setting so couples can lift their partner's head to reduce snoring without disrupting their sleep.
The retainer bar in the bed's base ensures that your mattress remains securely in place and doesn't slide around when the bed is adjusted. Plus, you can use the Adjustable Bed+ as a stand-alone bed frame or pair it with your existing upholstered bed frame. Just take out the slats and slip the base inside.
The bed's height ranges from 9 inches to 15 inches. The base itself is 3 inches thick, while the legs can be set at 6-inch, 9-inch, or 12-inch heights.
The Amerisleep Adjustable Bed+ is available in different sizes, including twin XL, queen, king, California king, and split king. To protect your investment, Amerisleep offers a generous 10-year warranty on the Adjustable Bed+. This coverage ensures that your new adjustable base will help you find a healthy and comfortable sleep position for many years.
Shoppers can purchase the Adjustable Bed+ with their favorite Amerisleep mattress and save even more on a comfortable night's rest. Any Amerisleep bed, including our five memory foam mattresses and four hybrid beds, are suitable for use on an adjustable bed.
Frequently Asked Questions
Can I use my existing bed frame with an adjustable bed?
Some adjustable beds can be used as a stand-alone base or placed on top of an existing bed frame. However, for the bed frame to adequately support the adjustable bed, the frame's slats should be no more than 2.75 inches apart. It is also not a good idea to place an adjustable frame on top of a box spring, mattress foundation, or an unstable base.
You can also attach a headboard to an adjustable base if you prefer to use it as a stand-alone frame.
Are adjustable beds good for seniors?
As we age, we often develop health conditions that make it difficult to get comfortable and sleep soundly. An adjustable bed can provide relief from these ailments so seniors can get better rest. An adjustable bed can also make it easier for seniors to get in and out of bed comfortably.
Do you need a box spring with an adjustable bed?
No. Adjustable beds are designed to support the mattress and the sleeper without any additional mattress foundations or box springs. In fact, an adjustable bed can become damaged if paired with a box spring.
Should you sleep in a zero-gravity position?
A zero-gravity sleep position has many benefits. It allows you to feel weightless, so your muscles can fully relax and heal during sleep. When the spine's vertebrae are no longer compressed, muscle tension in the hips and lower back dissipate, allowing you to wake with less pain and stiffness.
Do adjustable bases ruin mattresses?
Adjustable bases can be used with most modern memory foam, latex foam, and hybrid mattresses. However, some innerspring mattresses may be too heavy and stiff to move with the adjustable base.
Some mattresses with adjustable air layers, often referred to as airbeds, can become damaged if used on an adjustable base because the layers of air may bend and rupture.
Conclusion
An adjustable bed offers many health benefits and can make finding a good night's sleep easier. While an adjustable base with wall-hugging capabilities will not necessarily improve your sleep quality, it can make the process of getting and staying comfortable easier.
While the additional cost that comes with a wall-hugging bed may not be worth it for all sleepers, individuals recovering from an injury or have limited mobility will find this feature extremely helpful.
---
About the author
April Mayer has a degree in exercise physiology and is a firm believer in the power of a good night's sleep. She spends her days reading, researching, and writing about sleep, and her nights, well, sleeping. April's passion lies in helping others lead more productive lives by helping them get sound, restful sleep every night. April primarily writes about foods and vitamins for better sleep and has written several "better sleep guides" covering a wide variety of topics in her time with Early Bird. She's been a member of the team since March 2020. Additionally, as a sleep expert, April has been featured in various publications including Forbes, Greatist, Real Homes, Thrillist, Tom's Guide, and Eat This, Not That.
View all posts