When potential shoppers choose a mattress, it's mostly based on preferred sleep position and body weight— these factors determine firmness levels or how a mattress feels to the sleeper. Each sleep position—side, back, stomach, and combination—needs specific levels of comfort and support to maintain spinal alignment.
About 1 in 3 adults in the U.S. Verified Source Centers for Disease Control and Prevention (CDC) The United States' health protection agency that defends against dangers to health and safety. View source don't get enough sleep at night, and for some, their lack of sleep stems from sleeping on an uncomfortable mattress. A hybrid mattress offers both pressure relief and responsive bounce, and could be the right mattress type for you. Hybrid mattresses come in different firmness options, and can be a good option for side, back, and stomach sleepers alike.
Quick Guide: A 30-Second Summary
Amerisleep Hybrid Mattresses for Side Sleepers
In the last year or so, we've expanded our collection of mattresses to include three hybrid models. We now carry hybrid counterparts for our AS2, AS3, and AS5 mattresses—the AS2 Hybrid, the AS3 Hybrid, and the AS5 Hybrid.
The hybrid models have the same firmness as the all-foam mattresses, but the hybrids are bouncier and a bit more breathable. Plus, our hybrids offer better edge support than our all-foam mattresses because they contain dense coils to reinforce the sides of the bed.
When choosing a hybrid mattress for a side sleeper, you're going to want to stick to either the AS3 Hybrid or the AS5 Hybrid because they offer enough cushion for the shoulders and hips. The AS3 Hybrid is a medium in firmness so it offers firmer support than the AS5 Hybrid, but even our plush AS5 Hybrid is responsive and buoyant enough to provide healthy support and resist sinkage.
Let's talk more about our hybrid mattresses for side sleepers.
Best Hybrid Mattress Overall: AS3 Hybrid

As we mentioned, our AS3 Hybrid is medium in firmness, this means it offers a balance of comfort and support, so the bed should never feel super soft or overly firm. Not only is our AS3 great for side sleepers, but it's also a comfortable option for back and combination sleepers.
Of course, we also recommend our hybrid mattresses to hot sleepers because their pocketed coil systems make them extra breathable. Additionally, our AS3 Hybrid is especially comfortable for couples in particular because it can accommodate a wide range of body types and sleep styles and it isolates motion.
Like the all-foam AS3, the AS3 Hybrid contains three layers and stands 12 inches tall. The first layer of the AS3 Hybrid is 3 inches of proprietary Bio-Pur®, a plant-based memory foam. We design Bio-Pur® to offer all of the benefits of memory foam without any of the drawbacks, meaning Bio-Pur® won't sleep hot or have a quicksand-like feeling like traditional memory foam.
The comfort layer of the AS3 Hybrid is the perfect thickness for side sleepers. It's substantial enough to allow the shoulders and hips to compress completely, but it's not so thick that it causes you to sink uncomfortably far in the mattress. Our Bio-Pur® is the perfect material for relieving aches and pains and promoting more comfortable sleep.
Below the comfort layer lies an 8-inch pocketed coil system designed to deliver targeted support. These coils are carefully arranged so that they allow for more compression under the shoulders and hips and provide extra support for the midsection. Ultimately, these coils facilitate neutral alignment while further preventing pressure points.
At the base of the AS3 Hybrid is an ultra-thin layer of foam to provide sturdy support for the layers above and resist sagging.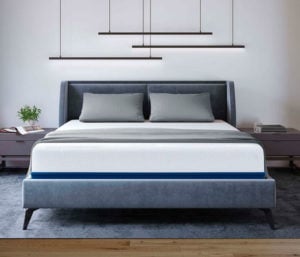 For side sleepers seeking a softer, cloud-like mattress, our AS5 Hybrid is a better choice.
When designing the AS5, the goal was to create a soft bed that doesn't lack support. After trial and error, we finally landed on a soft mattress that's comfortable even for sleepers over 230 pounds, and the AS5 Hybrid is no different. The AS5 Hybrid offers incredible cushioning comfort but has plenty of bounce to keep you lifted.
The AS5 Hybrid is our softest hybrid, and it contains four layers and stands 14 inches tall.
The first layer of our AS5 Hybrid is 3 inches of pressure-relieving Bio-Pur® to cradle your body and help you feel weightless in the mattress. Directly below the comfort layer is a responsive transition layer of Active Flex, a latex-like foam. Active Flex acts as a buffer between the comfort layer and the pocketed coil layer, it allows for deeper compression of the shoulders and hips while also promoting healthy spinal alignment.
Next, is the 8-inch pocketed coil system to offer targeted support to keep you comfortable all throughout the night. This pocketed coil system also promotes airflow and isolates motion. Finally, at the base of the mattress is a 1-inch layer of core foam to provide extra support.
All of our hybrid mattresses come with a risk-free 100-night sleep trial, free shipping, and a 20-year warranty.
Best Latex Hybrid: Organica

For an all-natural hybrid bed with lots of bounce, consider our latex hybrid, the Amerisleep Organica. While all of our mattresses contain environmentally-friendly materials, the Organica features both organic and eco-friendly materials and is backed by a wide array of third-party certifications.
At 13 inches tall, the Amerisleep Organica contains Joma Wool®, Talalay latex, pocketed coils, and Dunlop latex. The mattress's cover is a GOTS organic certified cotton cover with tufted rosettes.  Overall, the Organica has a medium feel and is excellent for side and combo sleepers. 
Joma Wool® is not only plush and durable, but it's also a natural flame retardant. Beneath the wool is Talalay latex, a contouring, pressure-relieving material. It's also quite springy, so you sleep on your mattress rather than inside of it. 
The Organica's pocketed coil layer is responsive and supportive, and we reinforce the perimeter of our coil systems with double-density coils to improve edge support. Wrapping the coils in fabric minimizes motion transfer and noise, so people who share a bed won't disturb each other when tossing or turning. This open coil layer also enhances the mattress's overall breathability. 
Our mattress is STANDARD 100 by OEKO-TEX® certified, meaning the wool and latex are free from harmful chemicals. The mattress is also certified clean by the Rainforest Alliance and eco-INSTITUT, so you know our mattress is sustainable and low in VOC emissions.
What is a Side Sleeper?
Side sleeping is the most common in comparison to other sleep styles— roughly 74% of Americans sleep on their sides. It's also known as the healthiest sleeping position. Side sleeping allows for better breathing, reduces acid reflux, and lessens the pressure on vital organs, like the heart.
Despite its benefits, side sleepers are prone to pain points in the shoulders and hips due to the pressure those joints take on in the side sleeping position. When it comes to side-sleeping, the best mattress is usually soft to medium in firmness, as these beds are best at cushioning and relieving pressure in the shoulders and hips.
Other Sleeping Positions
Other sleeping positions include back, stomach, and combination. Each sleep position needs a specific firmness to provide sleepers with the best comfort possible for better sleep and fewer aches.
Back Sleepers
Back sleeping enables natural spinal alignment by its direct contact with the sleep surface. Back sleepers have a higher risk of developing sleep apnea—gravity causes soft tissue to collapse at the back of the throat or the tongue falling back, obstructing airways.
Back sleepers need a medium to firm sleep surface to relieve pressure points in the shoulders and hips and maintain neutral spinal alignment.
Stomach Sleepers
Stomach sleeping is the least common and least healthy due to the excess pressure it puts on the spine. Stomach sleepers have a higher risk of neck strain— twisting the head to the side to breathe and lower back pain— gravity pulls weight down in the midsection, forcing the spine's natural curve to straighten.
Stomach sleepers need a medium-firm to firm mattress to keep the body resting on the surface without deep sinkage.
Combination Sleepers
Combinations sleepers toss and turn each night, switching between 2 to 3 sleep positions regularly. A medium to medium-firm mattress is the best option for combination sleepers, offering a balance of comfort and support while maintaining spinal alignment throughout the night.
What is a Hybrid Mattress?
A hybrid mattress combines pressure-relieving memory foam and responsive support of innerspring coils— essentially, two beds combined into one perfect mattress. Unlike other mattress types, hybrids may contain more layers of foam and innerspring coils, making it heavier to move. Because of the coils in the base, hybrids are not usually sold bed in a box style like memory foam or latex mattresses.

A hybrid mattress typically contains three different layers— comfort, transitional, and support. Some hybrid beds also include a pillow top or Euro-style topper to offer extra plush comfort.
Comfort
The comfort layer of either memory foam or latex is at least 2 inches thick to provide conforming, pressure relief. Most hybrids contain comfort layers 3 to 5 inches thick. Anything thinner than 2 inches is not considered a hybrid.
Transitional
The transition layer is usually made of foam (poly-foam, memory foam, or latex) and lies between the comfort and support layers. The transition layer provides extra cushioning and support and also reduces motion transfer.
Support
The support layer contains hundreds of individually-wrapped steel innerspring coils to reduce noise and lessen the risk of sleep disruptions. The support layers lend the mattress its durability and provide even support to the body.
| | |
| --- | --- |
| Pros | Cons |
| Pressure relief | Heavy |
| Edge support | Expensive |
| Motion isolation | Less pressure relief |
| Responsive bounce | Some motion transfer |
| | Overheating |
| | Noise potential |
Benefits of a Hybrid Mattress for Side Sleepers
The right hybrid mattress can provide all the comfort and support that side sleepers need, including firmness level, responsiveness, and cooling. Most side sleepers need a mattress between a soft to medium firmness to fill in the large gaps between the body and the surface, and to ease pressure buildup in the shoulders and hips.
Firmness Levels
Firmness level is based on your preferred sleep position (in this case, side sleeping) and body weight. Body weight is divided into three categories—light, average, and heavy. While side sleepers need a softer mattress, a mattress with too much softness or not enough softness could result in misaligning the spine and creating more pressure points.
Light: 130 pounds or less
Light sleepers need a soft to medium-soft mattress to allow their bodies to slightly sink into the mattress to cushion and relieve pressure points.
Average: 130 to 230 pounds
Average sleepers need a medium to medium-firm mattress for just the right amount of balance of pressure relief and support.
Heavy: 230 pounds or more
Heavy sleepers need a medium-firm to firm mattress to both conform to the body to relieve pressure points and evenly support the body without risk of sagging.
Responsiveness
Hybrid mattresses are more responsive than memory foam and latex beds, providing a responsive bounce to prevent side sleepers from feeling stuck. A hybrid's responsive surface also makes it easier to switch from one side to the other during sleep.
Cooling
Hybrid mattresses provide cooling, both through the memory foam comfort layer and the innerspring support layer. Memory foam with cooling properties like gel to absorb and disperse body heat, or copper or graphite infusions to pull heat away from the body, can better regulate temperature. Plant-based memory foam can also help through it's breathable and responsive structure, allowing for better airflow. The open structure of the innerspring coils enables better air circulation inside the base layer.
Cost of a Hybrid
Because of the number of materials they contain, hybrids come at a higher price point. Cost ranges between $800 at the low end and over $4000 for high-end models. The average cost of a queen-size mattress is $2077.
Material Quality
Before committing to a mattress purchase, check the quality of the foam and coils. Most hybrids last between 7 to 9 years, but that time frame mostly depends on the materials' quality. Low-quality materials lead to the mattress breaking down and sagging within 1 to 2 years of purchase.
Foam
Memory foam should have firm support to rest on, reaffirming an even surface. Another way to check the quality is through the warranty. Most mattresses come with a standard 10-year warranty, covering manufacturing defects and sagging greater than 1 inch (measurement depends on the brand). If the warranty is shorter than 10 years or if the mattress doesn't come with a warranty don't buy it—it could be a sign of a poorly-made bed.
Also, take a look at customer reviews older than 3 months—first-hand accounts from verified consumers can give you a better idea of what to expect from a potential mattress.
Coils
There are two ways to determine a coil's quality—gauge and count. A coil's gauge is the thickness of a coil (millimeters). The higher the measurement, the thinner the coil.
Thinnest: 18mm
Thickest: 12mm
In the same sense, a thinner coil offers softer support, while thicker coils provide firmer support. Be wary of a base layer containing thin gauge coils—thinner coils have less support and are prone to sagging.
Coil count is another way to determine mattress quality. Coil count refers to the number of steel coils in a single mattress layer, ranging between 800 to 1200. A high coil count doesn't equal a high-quality mattress, particularly if the mattress contains a high number of high gauge coils as its main support system.
Other Mattress Types
If you're not sure if a hybrid is the right mattress for you, other mattress types including memory foam, innerspring, and latex are available in different firmness options for the best fit.
Memory Foam Mattress
A memory foam mattress is one of the most popular mattress types available on the market. Memory foam conforms to the body's natural curves through a combination of heat and pressure, relieving pressure points. Memory foam beds also have little to no motion isolation and sleep silently, so sleepers are less likely to wake from movement. Memory foam mattresses are some of the best mattresses for back pain because they have great pressure relief.
Because of their density, memory foam does run the risk of overheating, but choosing a memory foam mattress with cooling properties, like breathable plant-based memory foam, or heat-absorbing gel memory foam resolves this problem.
Innerspring Mattress
An innerspring mattress is traditionally known for its bouncy surface and edge support, making movement easier at night and preventing sleepers from rolling off the bed. Innerspring mattresses also regulate temperature through the open structure of its coils, enabling better air circulation.
Innerspring mattresses have less pressure relief from its thin comfort layer of foam or fiberfill (usually in pillow top form)— the thin layer isn't able to adequately relieve pressure points. These types of mattresses also have more motion transfer and noise potential because of the steel coils.
Latex Mattress
A latex mattress has similar properties to memory foam— contouring, pressure relief and motion isolation with little to no noise. Latex has a sponge-like feel, and unlike memory foam, is more responsive and cooler.
A drawback to a latex mattress is its high price point— depending on if the mattress contains natural latex. There are two forms of natural latex; Dunlop and Talalay. Dunlop is 100% natural latex, and a denser, more durable material. Talalay contains natural latex, but also polyurethane fillers to produce its signature soft feel.
FAQs
What mattress firmness is best for side sleepers?
Mattresses in the medium to soft range are most comfortable for side sleepers because they cushion the shoulders and hips to prevent pressure points. To narrow down the ideal firmness even more, think about body type. Side sleepers over 230 pounds should opt for a medium mattress while petite sleepers will like something on the softer side.
Are memory foam mattresses better than hybrids for side sleepers?
Both memory foam and hybrid mattresses work well for side sleepers because they each have a comfort layer of foam to eliminate pain in the shoulders and hips. Just make sure the hybrid or memory foam mattress you're choosing is the right firmness and contains a comfort layer at least 3 inches thick—thicker comfort layers contour to the shoulders and hips better than thinner layers.
Do hybrid mattresses need a box spring?
Nope! In fact, most hybrids are not compatible with box springs. Box springs only work with innerspring beds; mattresses with foam layers should not be placed on box springs because the bouncy support box springs offer can damage foam layers. Hybrids are best paired with solid or slatted mattress foundations.
How long do hybrid mattresses last?
Hybrids last around six to nine years, depending on their quality and how well they're maintained. Using a mattress protector with your hybrid can prolong its lifespan and help it last closer to a decade. Hybrids don't usually last as long as all-foam mattresses, but they outlast innerspring beds by a couple of years.
Do you need to flip or rotate a hybrid mattress?
Unless your hybrid mattress is labeled as "dual-sided" or "flippable," it should not be flipped. And it probably doesn't need to be rotated, either. Most mattresses sold today, including the majority of hybrid beds, are built with a top-down construction; so they have specific comfort and support layers. Flipping a mattress with a top-down construction leaves you sleeping on the support layers instead of the softer, more cushioning comfort layers. This is not only uncomfortable, but it can actually damage the mattress and void your warranty.
Most high-quality mattresses sold today can be used without rotating, too. Some sleepers may still prefer to rotate their mattress, and there is nothing wrong with rotating if you want to, but it's not necessary.
Finding the Best Hybrid Mattress for Side Sleepers
Hybrid mattresses can be ideal options for side sleepers— the combination of pressure relief and responsiveness ensures pressure relief in the shoulder and hip areas while making it easier to switch from one side to the other. Hybrid beds sleep quieter and have better motion isolation than innerspring mattresses, and also offer a more responsive surface than memory foam or latex beds. Since you're most likely a side sleeper, choose a hybrid mattress based on your body weight to improve your sleep quality.
This article is for informational purposes and should not replace advice from your doctor or other medical professional.
---
About the author
McKenzie Hyde is a Certified Sleep Science Coach and a full-time writer focused on sleep health and the mattress industry. She currently writes articles on a variety of topics, ranging from sleep hygiene to the newest trends in the mattress and bedding industry. Just some of the topics she has covered include best sleep practices for students, the consequences of going without sleep, and choosing the right bed if you suffer from back pain. McKenzie Hyde holds a Master of Arts degree from Utah State University where she studied literature and writing. While there, she taught argumentative writing and wrote a variety of articles and analyses for literary and academic journals.
View all posts