Adjustable beds are no longer solely designated for hospital use. Now, they're commonly found in bedrooms. Many people in peak physical condition enjoy using adjustable beds for their advanced features, such as massagers and under-bed lighting. Others, like chronic pain sufferers, rely on an adjustable bed to make sleep easier.
Is an adjustable bed worth it, and can it help you experience a better night's rest? We'll go over what to look for in an adjustable bed and what health conditions it can help ease in our guide.
Best Adjustable Beds
Quick Guide: A 30-Second Summary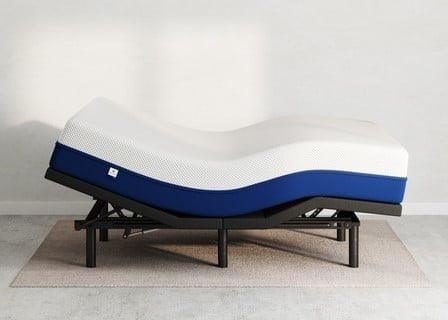 Are you seeking a top-of-the-line adjustable bed that can provide a luxurious night's rest? Then we recommend trying out Adjustable Bed+, named for how it goes beyond expectations when it comes to tailor-made comfort.
Our Adjustable Bed+ features advanced head and foot articulation, allowing a variety of positions. Not only can you raise the head of the mattress to sit up in bed or lie at an incline, but you can save your positions to return to them over and over again.
When you sit up in bed, you remain close to the wall and your nightstand with our base's wall glide technology. As the mattress's head rises, the panels move back and flow upward instead of lifting you away from the wall.
You operate the adjustable bed frame with a backlit, wireless remote controller, making it easy to change positions even in the darkness of your bedroom. Whisper-quiet motors power the base's movements, so have no fear of waking up family members if you want to shift in the night.
Sleepers can also download a mobile app and adjust the bed with their smartphone. When you're not using your smartphone, you can charge its battery with one of the base's USB ports. Plus, if you have an Amazon Alexa or Google Home, you can set up your adjustable bed to respond to voice commands.
Perhaps our most notable feature is the rolling wave massagers inside the Adjustable Bed+. Are you sore after a long workout or a strenuous day on the job? Just lie down and let the bed's massager soothe away your aches and pains.
You can customize the bed down to your preferred bed height—simply set up the base to stand between 9 to 15 inches tall. Paired with one of our mattresses, ranging from 10 to 14 inches thick, you can have a bed between 19 to 29 inches tall.
The Adjustable Bed+ includes an inclusive 10-year warranty. A queen size model is $1400, and you can bundle it with a mattress and various accessories. Available sizes include twin XL, queen, king, California king, and split king.
Setup of the Adjustable Bed+ is simple, no tools required. We offer in-home setup of the base to make it even simpler for you to put your new bed together.

While our basic Adjustable Bed Base model is just as well-made as our Adjustable Bed+, it contains fewer bells and whistles to keep the price more affordable for the average shopper.
The bed base comes with a backlit remote—just press a button for an instant adjustment. The remote includes the flat and zero-gravity preset, along with the space to program in your favorite positions. The ultra-quiet motors help ease you into a comfortable position, promoting a relaxing night's rest.
Though it's a basic model, the adjustable bed base features a zero-clearance design that lets you use the base with your choice of bed frame. Just place the base on a flat surface, such as a sturdy platform bed.
A queen size model is $1050 and comes with a 10-year limited warranty. Like the Adjustable Bed+, you can package our standard adjustable bed with a new mattress, sheets, pillows, and protector for further savings. The bed's height can also be as low as 6 inches or as high as 10 inches.
You can choose a twin XL, queen, king, split king, and California split king size base.
Why Do You Want an Adjustable Bed?
Answering the question "What do I want an adjustable bed for?" makes it easier to find the model right for you.
Do you just want to be able to sit up in bed to read or raise your legs to lower pressure on your back? Then you probably skip the models that advertise "fun features" and choose a no-frills, low-cost model.
However, if you're shopping for a model that makes it easier to live with a medical condition, you might need to budget for a higher price range. You can even improve a problem as simple as snoring with an adjustable bed.
Health Benefits of a Quality Adjustable Bed
Many people choose an adjustable bed because they want to reduce symptoms of a medical condition. You might benefit from an adjustable bed if you have:
Obstructive sleep apnea
Snoring
Acid reflux (GERD)
Edema
Arthritis
Heart conditions
Obstructive Sleep Apnea
As the name suggests, obstructive sleep apnea Verified Source Medline Plus Online resource offered by the National Library of Medicine and part of the National Institutes of Health. View source is a sleep disorder Verified Source National Library of Medicine (NIH) World's largest medical library, making biomedical data and information more accessible. View source where something blocks your airways, causing you to stop breathing. Normal breathing resumes with a snort, choking sound, or loud snore. These constant sleep interruptions can leave a person feeling drowsy during the day.
Adjustable beds can elevate the upper body and prevent the collapse of soft throat tissue that's often behind sleep apnea.
Snoring
Snoring Verified Source National Library of Medicine (NIH) World's largest medical library, making biomedical data and information more accessible. View source and sleep apnea can occur together, but they are not the same. Not all snorers suffer from sleep apnea. People with sleep apnea don't always snore. Still, even if your snoring isn't a symptom of a serious issue, it can keep your partner from sleeping well.
Snorers can tilt their upper body upward with an adjustable bed, making it easier to breathe and quieting snores.
Acid Reflux
Acid reflux Verified Source National Library of Medicine (NIH) World's largest medical library, making biomedical data and information more accessible. View source is when your stomach contents refuse to stay in your stomach and then make their way up your esophagus. Many people deal with chronic acid reflux, a condition known as GERD, Verified Source Medline Plus Online resource offered by the National Library of Medicine and part of the National Institutes of Health. View source while others may simply experience it occasionally after a greasy dinner.
Elevating your head and throat with an adjustable bed ensures your stomach's contents stay put while you sleep.
Edema
Edema Verified Source Medline Plus Online resource offered by the National Library of Medicine and part of the National Institutes of Health. View source is swelling caused by excessive fluid in your body's tissues. The condition tends to manifest in your legs and feet. Using an adjustable bed to elevate your legs at night can reduce swelling.
An adjustable bed can also relieve swelling caused by a more standard injury. Even a commonplace sprained ankle can be easier to bear by elevating the foot of the bed.
Arthritis
Like edema, arthritis Verified Source National Library of Medicine (NIH) World's largest medical library, making biomedical data and information more accessible. View source is a condition that comes with inflammation, specifically joint inflammation. This inflammation can make it uncomfortable to move, depending on what parts of the body are affected. There are several different types of arthritis Verified Source National Library of Medicine (NIH) World's largest medical library, making biomedical data and information more accessible. View source that show up in varying parts of the body. While it's common in older people, children can develop arthritis, too.
An adjustable bed can better distribute body weight and prevent pressure points from accumulating. Many people with arthritis also find it easier to move out of an adjustable bed in the morning. They raise the head of the bed so that they're sitting up, then swing their legs over the side of the mattress.
Heart Conditions
People with heart conditions Verified Source National Library of Medicine (NIH) World's largest medical library, making biomedical data and information more accessible. View source or poor circulation often experience strain when they lie flat in bed, their hearts struggling to pump blood throughout their bodies. Angling the mattress in the zero-gravity position makes it easier for blood to flow through the body.
How Much Does an Adjustable Bed Cost?
Typically, an adjustable bed costs as little as $1000 or as much as $3000 for a queen size model. Shoppers with a restrictive budget often choose to pass on an adjustable bed, choosing a platform bed frame or wedge pillow instead.
A platform bed is a less expensive option that can still support most mattresses, while inexpensive wedge pillows can raise the body to relieve symptoms of medical conditions. However, they often can't match the elastic comfort of an adjustable bed.
Are you interested in saving money by choosing a small size model? Look for a twin XL size frame because most brands don't offer standard twin size adjustable beds.
Want to get a good deal on an adjustable bed without overspending your budget? Keep an eye out for the promos that drop around the year's big sales days, like Memorial Day and Black Friday. Mattress brands often mark down their adjustable beds by at least a couple hundred dollars.
If you can't wait for a sale and happen to need a new mattress, too, check if the company offers a discounted bundle. Bundles are a great way to snag a mattress and bed base at a low price and are usually offered year-round.
For example, Amerisleep customers can save up to $1600 with our adjustable bed bundle.
Shoppers may also be able to save on an adjustable bed with their insurance. Medicare sometimes covers adjustable, at-home hospital beds as durable medical equipment. It's worth noting that both your doctor and the durable medical equipment supplier must be enrolled in Medicare to qualify for coverage.
If your doctor recommends an adjustable bed, but your budget is tight, try speaking with your insurance provider to see if you're covered.

How Do You Want Your Adjustable Bed to Look?
Comfort and price should be your top considerations as you shop, but the look of an adjustable bed can be important to think about, too. A bedroom should relax you. However, you might not be able to unwind if your mind is focused on how your adjustable bed clashes with the rest of your bedroom's style.
Many prefer modern frames with upholstery and neutral colors. Some shoppers also prefer pairing an adjustable base with an existing bed frame. To give the base a more traditional look, many models let you add headboards and footboards.
Common Features of an Adjustable Bed
Many different adjustable beds share similar features. Some are ubiquitous, such as a remote controller, while others are reserved for high-end models, like a massage feature. Knowing what features you want and what you can live without makes it easier to choose the right adjustable bed frame.
Remote Control Adjustment
What would be the point of an adjustable bed with no way to adjust it? That's why every model includes a remote of some kind, with buttons that let you raise and lower your mattress. High-quality models include buttons for programmable memory positions, simplifying the setup of your favorite position.
Some models have wired remotes attached to the base, but others come with wireless remotes. Many brands also allow you to download an app that turns your cell phone into a second remote using Bluetooth® technology.
Changeable Height
Many adjustable beds come with adjustable legs, allowing you to customize your bed's height. If the adjustable legs aren't included, you might be able to purchase them separately.
Curious what the best bed height is? Most people find a bed that's between 16 to 24 inches tall comfortable, measured from the surface of the mattress to the floor. Try sitting on the side of your mattress and seeing how your feet touch the floor. Ideally, your feet should rest flat while your knees align with your hips.
Split Models
Couples don't always want to sleep in the same position on an adjustable bed. To ensure that neither partner has to skimp on their comfort, many companies offer split queen, king, and California king models. Often these models consist of two foundations to make it easier for partners to independently adjust their side of the bed.
Presets and Programmable Slots
Presets are buttons on an adjustable base's remote that move the bed into a prefigured customization. A preset button keeps you from having to constantly adjust the bed by pressing the up and down buttons.
Common included presets are:
A zero-gravity to elevate the legs and upper body above the hips, to improve blood flow and reduce pressure on the lower back area.
An anti-snore button to raise the mattress's head and the sleeper's upper body, keeping a person's airway unobstructed.
A flat button to return the bed to its original position.
High-quality adjustable bases usually include at least one or two programmable presets. A traditional remote can only offer so many buttons, limiting the number of potential presets. However, it's possible for an attached phone app to offer indefinite preset slots.
Wall-Hugging and Retention
Both wall-hugging and retention technology keep a mattress in place while the bed rises, ensuring your comfort.
As the name suggests, wall-hugging technology keeps the head of the mattress close to the wall. Some adjustable bases move away from the wall because the head of the mattress tilts forward, but bases with a wall-hugging feature usually have the panels slide back and upward.
A retention system keeps a mattress from sliding when the base is in motion. Some adjustable beds come with retainer bars at the foot of the base, while others use specialized upholstery to lock the mattress in place.
Under-Bed Lighting
Some models come with lights under the foundation, making it easy for sleepers to navigate in the dark with the simple press of a remote button. A few models even allow the user to dim or brighten the lights, keeping them from disturbing a partner's rest.
The drawback of under-bed lighting is that it can make it impractical to use the under-bed area as a storage space. If you stack too much stuff under the bed, the items can block the light.
Massagers and Vibrating Alarms
To increase comfort potential, many manufacturers build massagers into adjustable beds. The electric motors create a rippling effect that massages a person's body, usually with settings to increase the massager's intensity.
Some beds with massage features allow owners to set a silent alarm that gently shakes them out of sleep. It's excellent for people who dislike waking up to the blaring sound of a traditional alarm.
USB Ports
USB ports along an adjustable base allow sleepers to charge their smartphones and other gadgets. Of course, sleepers have to be careful about keeping these devices close to their bed. They can prove a distraction that keeps them awake, either because they check their phone when they should be falling asleep or because a midnight notification wakes them up.
Sleep Position and Adjustable Beds
Anyone can use an adjustable bed, no matter what their favored sleeping position is. The key is to choose a mattress with a firmness that complements your sleeping position, easing pressure and providing support.
Back sleepers can kick back and literally put their feet up with an adjustable bed, reducing stress on their lower back area and preventing back pain. We recommend medium, medium-firm, and firm mattresses for back sleepers.
Side sleepers can raise the head and foot of the bed for better circulation and reduced pressure in the shoulders and hips. We suggest soft, medium-soft, and medium mattresses for side sleepers.
Stomach sleepers risk misaligning their spines and suffering chronic back pain from their position. Why? Because gravity pushes down on their lower torsos, drawing their spines out of neutral alignment. We suggest medium-firm or firm mattresses for stomach sleepers. An adjustable bed can also help stomach sleepers switch to a healthier sleeping position.
Return Policy, Warranty, and White Glove Delivery
When you're looking over an adjustable bed's features, you just don't want to look at the mechanical extras. An adjustable bed's features include its sleep trial, return policy, and warranty. Many brands also offer white glove delivery for an additional charge.
Return Policy
Most adjustable bases are final sale items, meaning they cannot be returned. You should be certain an adjustable base is the right model for you before committing to a purchase.
However, if you purchase a mattress with an adjustable base, the mattress should come with a sleep trial. If you find the mattress uncomfortable after breaking it in, you should be able to return it for a full refund.
Warranty
It's not unheard of for an adjustable base to experience malfunctions from a faulty part. For example, if a part comes loose, you might hear your adjustable bed beeping.
That's why it's crucial to have a good warranty that covers replacement parts. Most companies offer a limited warranty that covers 10 years, although what's covered typically changes after the first few years. Higher-quality bases usually have longer and more inclusive warranties.
White Glove Delivery
Most companies offer free shipping on an adjustable base, but many also offer white glove delivery as an included feature or an add-on service. If you choose white glove delivery, a team of professionals will not only deliver your base but unbox it, set it up, and remove all packaging. They will also haul away your old mattress if you ordered a new one.
White glove delivery is a good option for people who live alone or have a physical disability that may keep them from setting up their beds themselves.
Don't Forget to Choose the Right Mattress
No matter how top-notch an adjustable bed is and what mind-blowing features it offers, a lackluster mattress can significantly ruin the comfort it offers. A bad mattress can leave parts of the body unsupported, leaving sleepers waking up with dull aches or searing amounts of pain. Conversely, the best mattresses help you wake up energetic and ready to start your day.
Many shoppers wonder if an adjustable bed can ruin their mattress. The answer is that it shouldn't, but you have to choose a mattress that can flex with the base's panels. Memory foam, latex foam, and hybrid mattresses are all excellent choices for an adjustable bed because their layers can curve and bend without compromising the mattress's integrity.
Waterbeds, airbeds, and traditional innerspring mattresses are not recommended when it comes to adjustable beds. The consequences of pairing these mattresses with an adjustable frame can be as simple as an uncomfortable night's rest or as severe as damaging your mattress and immediately needing to replace it.
Traditional innerspring coils, different from a hybrid's pocketed coils, may bend out of shape. An air or water bladder might develop a puncture on an adjustable bed.
Memory Foam
A memory foam mattress is an excellent choice for anyone suffering from chronic pain, thanks to the bed's conforming nature. Memory foam reacts to heat and pressure, so the material quickly molds itself around a person's body, supporting their muscles and spine.
Comfortable memory foam mattresses are available at most price points, although thinner models typically feature less support and contouring.
Latex
A latex mattress feels similar to a memory foam mattress, though a latex bed is often cooler to the touch with a firmer feel. Still, latex foam does an excellent job of contouring to your body and relieving pressure. Natural latex mattresses are also durable and can last well over a decade, though many choose to pass on all-latex mattresses because they usually carry high price tags.
Hybrid
A hybrid mattress mixes elements from a foam mattress with a pocketed coil base. The result is a bed that's naturally cooler and bouncier than a standard memory foam mattress while offering more pressure-relieving cushion than a traditional innerspring mattress.
Our Mattresses
Amerisleep offers all three of these mattress types in various firmnesses. Remember, the right firmness for you is influenced mostly by your favorite sleep position.
| Mattress Model | Mattress Type | Mattress Feel | Price for a Queen |
| --- | --- | --- | --- |
| AS1 | Memory Foam Mattress | Firm | $909 |
| AS2 | Memory Foam Mattress | Medium-firm | $979 |
| AS2 Hybrid | Memory Foam Hybrid | Medium-firm | $1329 |
| AS3 | Memory Foam Mattress | Medium | $1049 |
| AS3 Hybrid | Memory Foam Hybrid | Medium | $1399 |
| AS4 | Memory Foam Mattress | Medium-soft | $1259 |
| AS5 | Memory Foam Mattress | Soft | $1539 |
| AS5 Hybrid | Memory Foam Hybrid | Soft | $1889 |
| Amerisleep Organica | Latex Hybrid | Medium | $1609 |
We sell twin, twin XL, full, queen, king, California king, and split king size mattresses. However, we should note that we do not sell twin size adjustable beds.
Every Amerisleep mattress includes free shipping, a 100-night sleep trial, and a 20-year warranty. If you're not satisfied with your Amerisleep mattress after thoroughly trying it out for a month, you can return it for another mattress model or ask for a full refund.
Frequently Asked Questions
Can I use a headboard with an adjustable bed?
Yes, you can usually attach a headboard to an adjustable frame. Our Adjustable Bed+ comes with brackets for easier attachment. If your adjustable base does not already have headboard brackets, you can add them on with a headboard bracket kit.
Do you need special sheets for an adjustable bed?
You don't have to buy special sheets to use with an adjustable bed. However, sheets with extra deep pockets may move better with the base.
Do your sheets tend to slip off the mattress as it moves? Try securing the sheet's corners with a sheet strap or suspender. Many sheet strap sets cost only a few dollars.
How long do adjustable beds last?
A good adjustable bed lasts at least 10 years. It's possible for a base to last much longer, especially since parts can often be replaced instead of the whole frame. That's why it's a good idea to look for an adjustable base with a warranty that spans at least a decade.
Are split king beds comfortable?
For many couples, split king size mattresses with adjustable beds are the peak of customized comfort. They're technically two separate mattresses, pushed together to form a king bed. Partners can choose a different firmness for their side, keeping them from compromising on their sleep style and comfort preferences.
Each side of a split king mattress can also be set up at different angles and elevations when used on an adjustable bed. However, other couples don't appreciate the slight dip in a split king mattress where each half of the bed meets. This dip is less noticeable if both sides are angled on an adjustable bed but can make it awkward for a sleeper to move if the mattress is flat.
Are adjustable beds good for side sleepers?
Yes, an adjustable bed is perfectly suitable for side sleepers. They can raise their upper bodies to reduce pressure on their shoulders, hips, and neck.
It's important for side sleepers to make sure they're sleeping on the right mattress, too. A good mattress for side sleeping offers a soft, conforming feel that cushions a side sleeper's shoulders and hips, relieving bothersome pressure points that can build up into aches and pains.
Conclusion
Finding the right adjustable bed often requires research, especially if you plan on bundling it with a new mattress. Many bases have a few preset configurations, but plenty of people like to experiment with positions until they find the most comfortable one.
You might even be able to try out an adjustable base at a store before you buy it for that extra peace of mind. For example, customers can try out the Amerisleep bases at many of our store locations.
---
About the author
McKenzie Hyde is a Certified Sleep Science Coach and a full-time writer focused on sleep health and the mattress industry. She currently writes articles on a variety of topics, ranging from sleep hygiene to the newest trends in the mattress and bedding industry. Just some of the topics she has covered include best sleep practices for students, the consequences of going without sleep, and choosing the right bed if you suffer from back pain. McKenzie Hyde holds a Master of Arts degree from Utah State University where she studied literature and writing. While there, she taught argumentative writing and wrote a variety of articles and analyses for literary and academic journals.
View all posts