Key Takeaways
Environmentally Friendly Disposal: When replacing old pillows, consider environmentally friendly disposal methods and crafts that can upcycle them for household use. This helps you to avoid sending them to landfills.
Repurposing Options: Old pillows can be repurposed in various ways, such as making floor cushions, reviving stuffed toys, creating cleaning rags, filling another pillow, or using them for insulation and packaging. Pillows can also be used for draft-blocking, chimney draft prevention, or as knee pads during gardening.
Donation and Assistance: Donating old pillows to homeless shelters or animal shelters is a compassionate option.
We spend one-third of our lives sleeping, so saying goodbye to your faithful fluffy sleeping companions may be difficult. But when the time comes, it comes. Whether you wake up with a crick in your neck or your pillow has changed colors, you'll realize that an old pillow needs to be replaced.
So, what do you do with your old pillows when you get a new one or set of pillows? If possible, avoid throwing pillows directly into the garbage because they end up in landfill, which harms our environment.
Fortunately, there are numerous environmentally friendly ways to dispose of your pillows, including repurposing pillows, donating, and recycling pillows. We'll go over your options in this brief guide.
Uses for Old Bed Pillows and Pillow Stuffing
1) Floor Cushion Seats
Repurpose old pillows with new fabric to make floor seats for your family and guests to sit on the floor around your coffee table, as an alternative to foam seat cushions. You can even find some colorful fabric and make new pillow covers.
2) Give Stuffed Toys a New Lease on life
If your child's favorite stuffed animal looks saggy or has lost its fluff through tears, some old pillow stuffing can give it new life. Cut a hole in the pillow, remove some stitches to create a hole in the stuffed animal, stuff it, and sew it back together.
3) Create Rags
Remove the pillow stuffing from your old pillows. Then, cut the remaining fabric into square pieces and use them as cleaning rags!
4) Fill Another Pillow
Do you have a pillow that might benefit from additional stuffing? You may utilize the old pillow stuffing from old pillows that have seen better days. Remove the filling from the old pillows and replace it with the new ones.
5) Multiply Into Throw Pillows
Use two pillows to extend the life of a cushion that has become thin and lumpy. Place your two lightest pillows in a pillowcase or pillow sham together. You'll have a suitable firm cushion that should last at least a few months!
6) Recycle Your Feathers
Remove the feathers from an old feather pillow and put them in your compost pile. They decompose well in compost!
7) Make a Donation
If replacing a pillow, your previous one may still be in fine condition. If this is the case, try giving your old pillows to a homeless or local animal shelter. (Remember that washing your pillows before giving them to homeless or animal shelters is a good idea.)
Much like donating a mattress, you may need to do a little research to find a place that takes your old pillow. However, there are places that will use or recycle an old pillow, much as there are for aging mattresses.
8) Door Sealant
Make a fast and easy draft-blocking device out of an old pillow. Put it in front of your draftiest door, and you'll notice a significant improvement!
9) Prevent Chimney Drafts
Never fear if you have a drafty chimney rather than a door! Old pillows are also helpful in this situation. Place a few old pillows in a trash bag to keep them safe from the weather, and load them up your chimney. It will assist in keeping those chilly drafts out of the house.
10) Safeguard a Package
When shipping a fragile product, use the filling from an old bed pillow as packing material. If you like, pack the entire cushion into the box!
11) Moving Assistant
Use old bed pillows to preserve your belongings while you're moving. Place them between bikes to protect them from scratches. If you must lean other goods against a piece of furniture in the truck or van, use a cushion to prevent scuffing or rubbing while in transportation.
12) Knee Pad
Use an old bed pillow as a knee pad when gardening or performing yard chores. Your knees will appreciate you, and you won't need to purchase a knee pad or seat cushion.
13) Insulate Everything
In a pinch, used pillows provide excellent insulation! You may use the filling (or the entire cushion) to insulate an attic water heater or more with an old pillow.
14) Treat Your Critter
Your hamster might like the stuffing from old bed pillows in its cage. Use it to coat the bottom of its cell, then change it as it becomes filthy.
15) Travel Pillow
If your family frequently takes road trips, utilize your old bed pillows to make the next journey even more comfortable! Stitch a U-shaped pattern to help relieve neck pain while sleeping and traveling.
16) Construct a Pet Bed
Your pet deserves a comfortable place to sit! But if you have old pillows, you can spend a small amount on luxury pet beds! You can just put the entire pillow on the ground as carpet padding or place it inside a current pet bed.
When Should You Replace Your Pillows?
How often should you replace your pillows? The answer depends on the type of pillow. However, we generally suggest replacing your pillows every 1-2 years.
Throughout their lifetime, your pillows host millions of duster particles and dust mites. As a result, changing them once every couple of years will keep your bed clean. Furthermore, your pillows will sag with time and no longer give enough neck and head support. As a result, you must dispose of them and replace them with new firm pillows.
Cleaning and caring for your pillows may extend their life. However, you must replace them if they no longer give the same degree of comfort.
When Should You Throw Away Old Pillows?
How will you know when to say goodbye to your old pillows? When your pillows no longer provide comfort and support, it's time to replace them. Before you replace your pillows, look for these indicators.
The pillows have lost their form.
The filling has a lumpy texture.
You have a neck ache as a result of sleeping on your pillows.
Your pillows are stained.
They are ripped.
Even after cleaning, the pillows have a foul stench.
There are fuzzy spots or powdery growth that indicates mold or mildew.
Why You Need a New Pillow
Now that you know what to do with old pillows, it's time to locate the perfect replacement! You will gain several advantages by swapping your old pillows with new ones, including the following:
Better Neck and Back Support
A fresh pillow is crucial for lulling your body into a restful night's sleep. It is advised that you locate a pillow that allows you to maintain your neck horizontally along with a mattress for improved back and neck support.
The best pillows for neck pain will depend on what your sleeping position is, as some positions stress the head and neck more than others.
Better Cleanliness
Pillows are a breeding ground for dust and bacteria that accumulates over time, so knowing how to wash pillows correctly is essential. However, because pillows can be difficult to clean without causing damage, it's preferable to change them every couple of years.
Better Sleep
Are you continuously fluffing your pillow to get the last few lumps to fall exactly where you want them? A fresh pillow will provide a much better night's sleep.
Best Amerisleep Pillows
Quick Guide: A 30-Second Summary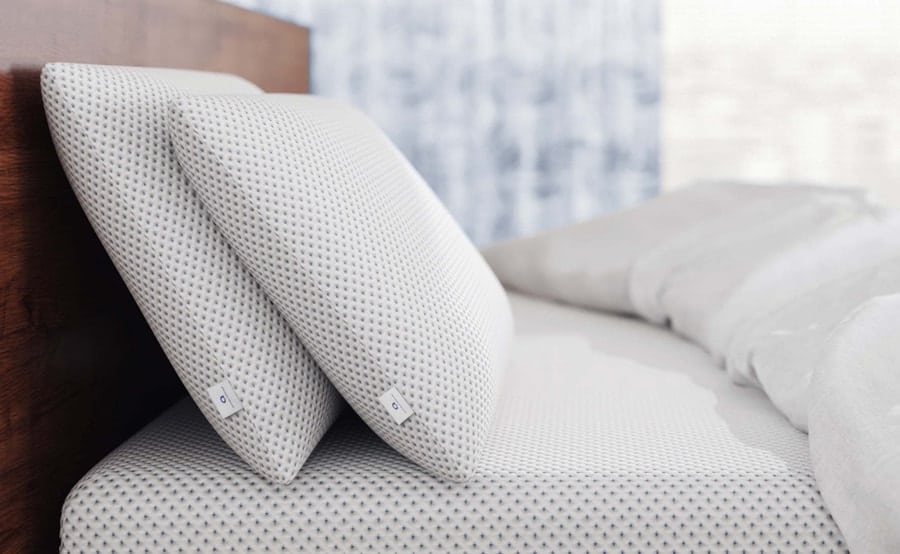 Best Pillow Overall
Amerisleep Comfort Classic Pillow
Price Range

$110 to $130

Pillow Type

Solid Memory Foam

Availability

Queen, King

Warranty

10 Years

Thickness

6 Inches
Our original pillow, the Comfort Classic, is our tried-and-true method of improving sleep. The pillow's airy yet supportive foam fill keeps the head and neck comfortably supported all night long.
Pillow Highlights
CertiPUR-US® certified foam fill
Plush, conforming foam relieves pressure
Airy cover for swift heat dispersion
Recommended For
Hot sleepers
Side sleepers
People who want a no-fuss pillow
Our top recommendation for a new pillow is the Amerisleep Comfort Classic Pillow, a thick pillow that bridges the gap between your neck and mattress. The Comfort Classic is perfect for side sleepers who want a pillow that keeps their head from drooping in the night, causing neck strain.
The pillow is filled with our specialty Bio-Pur® foam, an eco-friendly memory foam that is highly breathable and responsive. As a pillow fill, Bio-Pur® is quick to gently hug your head and neck for support.
This foam fill is also certified by CertiPUR-US®, a third-party organization that looks at foam production to ensue it's free of potentially harmful materials and with low VOCs for minimal off-gassing. The pillow is also made in the USA in compliance with safety standards.
The Amerisleep Comfort Classic Pillow ships for free and is backed by a 10-year warranty.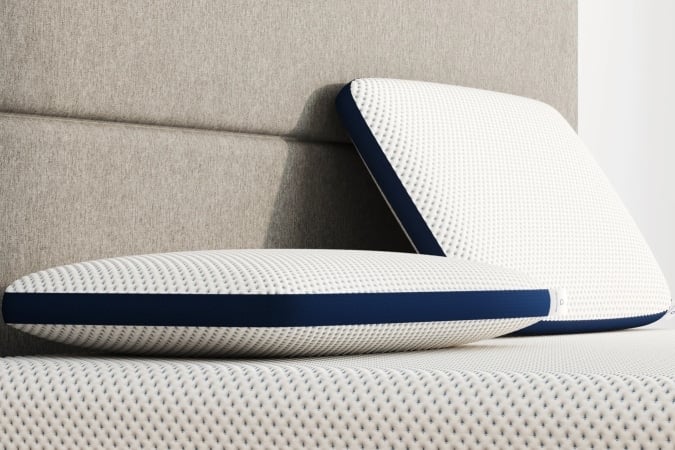 Best Dual-Sided Pillow
Amerisleep Dual Comfort Pillow
Price Range

$130 to $170

Pillow Type

Solid Memory Foam

Availability

Queen, King

Warranty

10 Years

Thickness

5 or 6 Inches
Pillows often feel either soft or firm, but our Dual Comfort Pillow gives sleepers the freedom to experiment with what feels most comfortable with their sleep style.
Pillow Highlights
Soft or firm sides for different positions
Bio-Pur® foam certified by CertiPUR-US®
Removable pillow cover with light feel
Recommended For
Back sleepers
Side sleepers
Hot sleepers
The Amerisleep Dual Comfort Pillow has soft and firm sides, each feel suited for different sleep styles. We recommend the soft feel for back sleepers and the firm side for side sleepers. It's great for sleepers who enjoy switching up their styles or want a versatile pillow for visitors.
Like the Comfort Classic Pillow, the Dual Comfort Pillow is filled with Bio-Pur® foam, a plant-based memory foam. As we mentioned, this foam is certified by CertiPUR-US®, an independent organization that reviews foam production for consumer safety.
The Dual Comfort Pillow is delivered to you for free and has the protection of a 10-year warranty.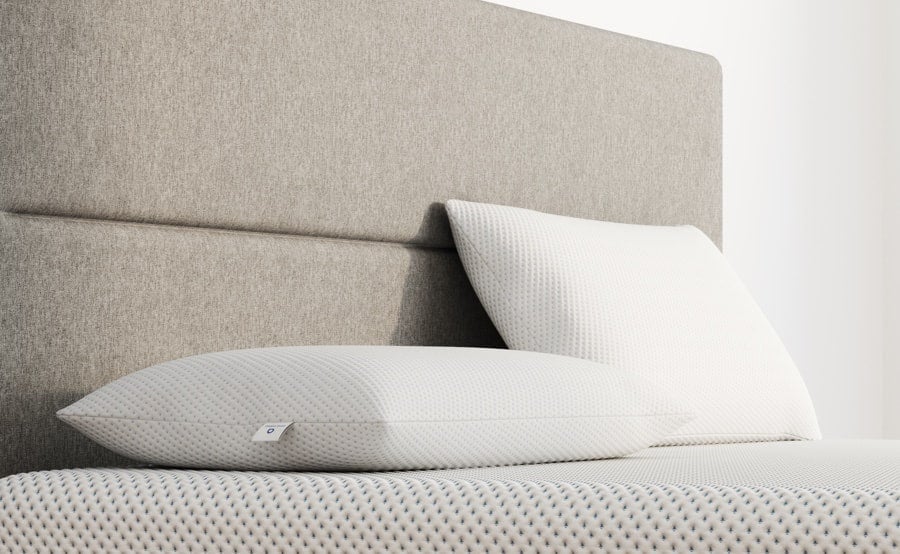 Best Adjustable Pillow
Amerisleep Flex Pillow
Price Range

$100 to $120

Pillow Type

Shredded Foam

Availability

Queen, King

Warranty

10 Years

Thickness

6 Inches
Some sleepers prefer a pillow with a downy feel that they can fluff and flatten, instead of a pillow with a block of foam inside. The Amerisleep Flex Pillow offers breathable, adjustable comfort with its shredded foam fill.
Pillow Highlights
Foam is shredded for easy customization
Separate foam pieces enable easy airflow
Cooling, breathable cover fabric
Recommended For
Hot sleepers
Most sleeping styles
Shoppers on a budget
The Amerisleep Flex Pillow is our only pillow with non-solid foam fill. Filled with MicroFlex cushions that can be shifted and re-arranged to suit a sleeper's comfort. Air can easily circulate between these pieces of foam, boosted by the pillow's cooling cover fabric.
Like with our Bio-Pur®foam pillows, the foam inside this pillow is CertiPUR-US® certified. With less chance of a chemical "new pillow" smell and a breathable design, the Flex Pillow is just about good-to-go as soon as you pull it out of the box.
As with our other pillows, the Amerisleep Flex Pillow ships free and comes with a 10-year warranty.
Other Green Living Guides
If you want to live a more sustainable and eco-friendly life and minimize what you throw in the trash, we have a few more articles you may be interested in reading.
FAQs
Are old pillows recyclable?
You cannot just place them in the curbside recycling container. They will not accept pillows to recycle. Look for a textile recycling facility accepting pillow donations near you to drop off and recycle pillows.
You may also try donating your pillows to a charity. However, they may only accept decorative pillow donations and throw pillows. You may not be able to donate used sleeping pillows to charity.
Why do old pillows turn yellow?
We all sweat at night, and sweat can seep through your pillowcase and onto your pillow over time. This will eventually turn your pillow yellow. The most common cause of pillow yellowing is sweat stains. However, other reasons pillows tend to turn yellow are from drool when you sleep, wet hair, and natural body oils.
Aside from sweat, face cream and other beauty items can also accumulate on pillows overnight. We recommend putting them on an hour or two before bedtime to give them time to soak before you fall asleep. This helps limit the quantity of product on your pillow.
When should I replace old pillows?
The pillow's lifespan is mostly influenced by the quality and type of pillow purchased. As a general rule, pillows will typically last between 18 months to 3 years. Care and maintenance can help your pillow last longer.
You can help your pillows last longer if you wash them regularly and take adequate care of them. Investing in a pillow protector can also keep them in good condition.
Are old pillows unhealthy?
When you open an old pillow, you may find a swarm of mold spores, mildew, fungus, dust mites, and mite excrement. All of these are an issue for allergy sufferers. Plus, there are also germs to consider in old cushions
Long-term mold exposure can lead to health problems such as itchy eyes, difficulties breathing, and a runny nose.
Can I put pillows in the washer?
This is dependent on the type of pillow you own. For example, synthetic down and feather pillows wash easily in the washing machine. However, we recommend combining tennis balls with feather pillows to reduce clumping.
On the other hand, one-piece latex and memory foam pillows are more sensitive and cannot be machine-washed. Shredded foam pillows may be machine washable, but it's best to double-check. Read the instructions provided by the manufacturer for pillow maintenance to ensure you're taking care of the pillow properly. See our guide to laundry care symbols.
Conclusion
Even the best pillows will one day need replacing, but if you don't want to simply throw out your pillows, there are plenty of ways to repurpose them. Upcycling the fabric and fill of your pillows is another way to work on reducing your carbon footprint and living a 'greener' life.
---
About the author
Eric Ridenour is a health and wellness writer with a strong focus on sleep and nutrition. With a background in health science and psychology, Eric has a deep understanding of the connection between sleep and overall well-being. His expertise has been sought by various businesses and individuals, and his work has been featured in reputable publications such as Thrive Global, Drug Report, and Authority Magazine. Eric's commitment to promoting better sleep and comprehensive wellness is evident in his writing and consultations. He is a published author working on his second book.
View all posts