Neck pain is an all too common ailment, but you don't have to suffer forever. Switching out your pillow can help soothe chronic neck pain. This makes it easy to sleep and helping your muscles repair. But, finding the right pillow can be confusing.
There's not one perfect pillow for everyone as it depends on your sleeping position. Find a pillow that maintains proper alignment and provides neck support. Let's go over the best pillows for neck pain, along with the general rules for choosing a pillow suitable for you!
Best Amerisleep Pillows for Neck Pain
Quick Guide: A 30-Second Summary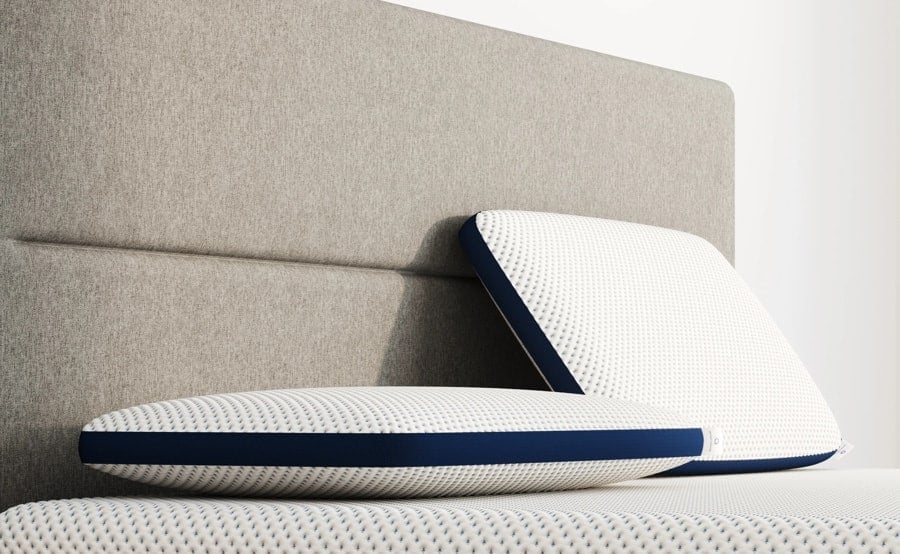 Best Overall Pillow for Neck Pain
Amerisleep Dual Comfort Pillow
Price Range

$130 to $170

Pillow Type

Solid Memory Foam

Availability

Queen, King

Warranty

10 Years

Thickness

5 or 6 Inches
The Amerisleep Dual Comfort Pillow has two firmnesses, one on each side, to suit side and back sleepers with neck pain. The firm side provides support while the soft side can cradle the head and ease pressure points.
Pillow Highlights
Bio-Pur® foam fill with two feels
Choice of 5-inch or 6-inch loft
Tapered edges provide neck comfort
Recommended For
Side sleepers with neck pain
Back sleepers with neck pain
Hot sleepers with neck pain
Our top-rated pillow for neck pain is the Amerisleep Dual Comfort Pillow. Most pillows only have one firmness, but not the Dual Comfort Pillow. One side of this cervical pillow is firm and the other is soft, ensuring all types of sleepers can enjoy it. This contour pillow features tapered edges to cradle your neck. This ensures you receive the best cervical support possible.
The Dual Comfort Pillow's cover is a breathable knit. It dissipates heat and moisture from the pillow so you don't get hot.
We make the Dual Comfort Pillow with our proprietary Bio-Pur® memory foam. Bio-Pur® is a plant-based memory foam that's safe for the environment breathable. Plus, you won't need to worry about fluffing the pillow or it going flat.
The Dual Comfort Pillow comes in both low- (5-inch) and mid-loft (6-inch) variations.
Quick Summary:
Has both a firm and soft side
Bio-Pur® plant-based foam is cooling, responsive, and sustainable
Tapered edges allow for closer support and cushioning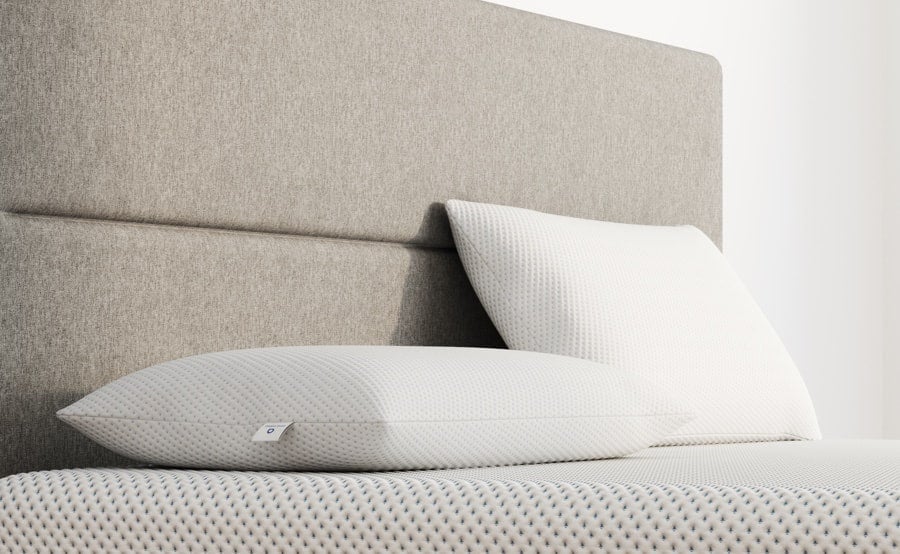 Best Adjustable Pillow for Neck Pain
Amerisleep Flex Pillow
Price Range

$75 to $100

Pillow Type

Shredded Memory Foam

Availability

Queen, King

Warranty

10 Years

Thickness

6 Inches
The Amerisleep Flex Pillow can adapt to the head and neck in any position, providing adjustable support and comfort.
Pillow Highlights
Tiny foam pieces make up the adaptable fill
Soft, breathable pillow cover maintains coolness
Thick loft provides plenty of support for necks
Recommended For
All sleeping styles
Hot sleepers with neck pain
Budget shoppers with neck pain
One of the most unique pillows we offer is the Amerisleep Flex Pillow. You can mold the pillow into any shape and loft you need for a customized feel. When you leave the pillow as is without molding it, it's about 6 inches thick.
We created MicroFlex cushions for the Flex Pillow, tiny pieces of foam that adapt to any shape. Each Flex Pillow contains hundreds of MicroFlex cushions. The cushions are breathable, but air can escape from between them to ensure you don't overheat.
Although the MicroFlex cushions are so flexible, they spring back into shape. This way, you can readjust and mold the pillow without it feeling flat or unsupportive.
Quick Summary:
MicroFlex cushions adapt to any shape and loft
Air circulates throughout the shredded foam pieces
Customizable pillow option suits most types of sleepers
Best Breathable Pillow for Neck Pain
Amerisleep Comfort Classic Pillow
Price Range

$90 to $115

Pillow Type

Solid Memory Foam

Availability

Queen, King

Warranty

10 Years

Thickness

6 Inches
Our original Comfort Classic Pillow combines adds cooling channels to our conforming memory foam for increased comfort.
Pillow Highlights
Exclusive Bio-Pur® foam fill provides stable comfort
Plush fabric cover possesses an airy weave
Circular cooling channels boost airflow
Recommended For
Hot sleepers with neck pain
Side and combination sleepers with neck pain
Eco-conscious shoppers
Being hot at night only makes it harder to get to sleep when you're dealing with neck pain. With our cooling Amerisleep Comfort Classic Pillow, you can beat the heat and the pain. The pillow is 6 inches thick, making it a great choice for side and back sleepers.
Similar to our Dual Comfort Pillow, the Comfort Classic Pillow's fill is Bio-Pur® foam. Not only does Bio-Pur® foam stay cool thanks to its plant-based design, but we added cooling channels throughout the pillow to promote air circulation. Plus, the Comfort Classic Pillow features the same breathable cover fabric as our other pillows.
With the Comfort Classic Pillow, you'll stay supported all night long. Your pillow won't go flat and it'll bounce back into shape if you switch positions at night.
Quick Summary:
Bio-Pur® foam and built-in air channels prevent overheating
6-inch loft suits both side and back sleepers
Springy foam prevents pillow from feeling flat or unsupportive
What Causes Neck Pain?
Neck pain is an increasingly common ailment, with roughly 1 in 3 Americans Verified Source National Library of Medicine (NIH) World's largest medical library, making biomedical data and information more accessible. View source suffering from it annually. The intensity of neck pain can vary from person to person and based on what's causing the pain to begin with.
Common causes Verified Source Mayo Clinic Ranked #1 hospital by U.S. News & World Report and one of the most trusted medical institutions in the world. The staff is committed to integrated patient care, education, and research. View source of neck pain include:
Poor posture
Muscle strain

Verified Source

Medline Plus

Online resource offered by the National Library of Medicine and part of the National Institutes of Health.

View source
Aging
Herniated or bulging disks

Verified Source

Medline Plus

Online resource offered by the National Library of Medicine and part of the National Institutes of Health.

View source
Spinal stenosis

Verified Source

Medline Plus

Online resource offered by the National Library of Medicine and part of the National Institutes of Health.

View source
Injuries
Osteoarthritis

Verified Source

Medline Plus

Online resource offered by the National Library of Medicine and part of the National Institutes of Health.

View source
Meningitis

Verified Source

Medline Plus

Online resource offered by the National Library of Medicine and part of the National Institutes of Health.

View source
Fibromyalgia

Verified Source

Medline Plus

Online resource offered by the National Library of Medicine and part of the National Institutes of Health.

View source
While there are many causes of neck pain, the symptoms tend to be similar. When suffering from neck pain, you may experience muscle spasms, stiffness, reduced range of motion, headaches and migraines, poor sleep, and pain during repetitive activities.
How Neck Pain Affects Sleep
Proper sleep is crucial for muscle recovery and pain relief. However, being in pain makes it difficult to get comfortable and fall asleep. Even if you do fall asleep, some people might be in such intense pain that they don't stay asleep.
Neck pain and sleep have a bidirectional relationship, meaning the pain worsens your sleep and the poor sleep worsens your pain.
Consider Your Sleeping Position
Your sleeping position plays an important role in choosing a supportive pillow and relieving your neck pain. How you sleep impacts the pillow loft and firmness best suited for you.
Side Sleeping
Side sleeping is a great position for neck pain so long as you use the right pillow for side sleeping. We recommend side sleepers use a firm, high loft pillow thicker than 6 inches to ensure the head and neck stay neutral to the spine.
Why a firm pillow? An overly thin or soft pillow will leave your head unsupported and cause your neck to curl unnaturally.
Back Sleeping
When back sleeping, we suggest using a medium loft pillow between 5 or 6 inches thick. Medium or firm-feels often establish the best pillows for back sleepers to support the natural curve of the neck and prevent pain. Any overly thin or thick pillow will also throw the spine out of alignment and further exacerbate pain.
Stomach Sleeping
Frankly, stomach sleeping is one of the worst positions to sleep in if you're dealing with neck pain. When sleeping on your belly, your neck is twisted to the side, which exacerbates neck pain. We suggest trying a new sleeping position to minimize your neck pain, but of course, it isn't always easy to permanently switch sleeping positions.
In the meantime, we advise using a soft, thinner pillow or not using a pillow at all. A low loft pillow minimizes any strain on your neck to ease neck pain while stomach sleeping.
Compare Pillow Fills
Once you've determined your ideal pillow firmness and loft, it's time to consider what type of pillow you want. Your pillow's material affects its feel, price, durability, and support levels.
Memory Foam
Memory foam is one of the best fills for neck pain sufferers. A memory foam pillow has a "hug-like" feel because it conforms under the neck muscles, maximizing pressure and pain relief.
A common complaint with memory foam pillows is they trap heat and aren't very springy, leaving your pillow feeling flat after using it all night. Look for memory foam pillows made with gel, graphite, or plant-based oils. These types of memory foam stay cool, are extra responsive, and last longer than standard memory foam does.
There are two types of memory foam pillows: shredded and solid. A shredded memory foam pillow is soft, flexible, and breathable. Conversely, a solid memory foam pillow is sturdy, durable, and supportive.
Latex
Latex is another foam fill, but it's an eco-friendly material made from rubber trees. Unlike memory foam, latex has more bounce and is naturally breathable. It provides excellent pressure relief without leaving you trapped or unable to move around comfortably.
Latex pillows are hypoallergenic and resistant to dust mites, mold and mildew. Of course, if you have latex allergies, avoid latex pillows.
When looking at latex pillows, avoid synthetic or blended latexes. Both are chemical-based and won't perform the same way natural latex pillows would. Plus, they aren't as safe for the environment as natural latex.
Down
Down is a well-known, luxury pillow fill made from the underbelly feathers of ducks and geese. It's a popular fill for its excellent loft, breathability, and cloud-like feel, but it isn't necessarily the best pillow out there.
Down and feather pillows aren't supportive and offer minimal pressure relief. So, while they may feel nice to the touch, they aren't anything extraordinary. You have to fluff down pillows regularly to help them maintain their shape, and they need to be spot-cleaned or taken to a dry cleaner. And despite being unsupportive, down pillows get expensive since they're made from animals.
Down Alternative
Whether you have allergies, a small budget, or want something easy to care for, down alternative pillows may interest you. Down alternative is a polyester fiber fill designed to mimic real down, without the high cost or animal parts.
Compared to down, down alternative pillows go flat and lumpy quickly. Even with regular fluffing, you'll need to replace a down alternative often. They also trap heat and moisture, which gets uncomfortable. So, while down alternative pillows are cheap initially, they may cost you a lot long-term due to needing constant replacements.
Microbead
Microbeads are tiny, unexpanded polystyrene beads (EPS). Microbeads are squishy and contour well under your head and neck, which is great for relieving pain. You're most likely to find microbeads inside of horseshoe neck pillows—also called travel pillows—since they're reliable for sleeping upright.
While microbead pillows are cooling and supportive, they're not the most eco-friendly pillow option. It takes roughly 500 years for polystyrene beads to biodegrade, plus they pollute the ocean and are harmful to sea life.
Buckwheat
Buckwheat pillows are a firmer, breathable pillow option made from buckwheat hulls. Buckwheat is similar to microbeads because it conforms closely to the head and neck. However, buckwheat is a natural material and biodegrades much quicker than microbeads.
The problem with buckwheat pillows is that they are expensive, uncommon, and noisy. Buckwheat hulls crunch and scratch each other when you move around, which can be disruptive to your sleep. Plus, buckwheat pillows can feel overly stiff and heavy compared to other fills.
Water
Water pillows are uncommon but can be great for relieving neck pain. They can be any firmness or loft depending on the amount of water you add to the pillow and conform easily to your head and neck. Plus, water pillows never go flat or lumpy since you just need to add water to them.
The main risk involved with water pillows is potential leaks. While uncommon, a water pillow may rip and soak your bed, which voids mattress warranties.

FAQs
Will a neck pillow help my neck pain?
Neck pillows are great for relieving neck pain, but they come in different shapes to suit different situations. For instance, horseshoe neck pillows are excellent for traveling because they prevent your neck from turning to the side when sleeping upright. Similarly, cervical neck pillows provide closer neck and head support for side and stomach sleepers to minimize pain.
Is it better for my neck to sleep without a pillow?
Sleeping without a pillow can be beneficial for your neck pain if you sleep on your stomach. We don't recommend stomach sleeping when dealing with any neck pain, but switching sleep positions isn't always easy. In the meantime, going pillowless places less strain on your neck, minimizing pain.
Conversely, if you sleep on your side or back, we recommend using a pillow to keep your neck level with your spine.
Is sleeping with two pillows bad for your neck?
Using two pillows under your head is unnecessary. If you feel unsupported using just one pillow, it's likely too thin or soft for your sleeping position. Still, two pillows on top of each other are usually too thick for all sleeping positions. An overly thick pillow will cause your neck to curve unnaturally, straining the muscle and leading to pain.
Rather than using one overly thin pillow or two overly thick pillows, we recommend getting one high loft pillow to ensure your head is well-supported and aligned.
What's the best sleeping position for neck pain?
The best sleeping positions for neck pain are side or back sleeping. Both side and back sleeping put minimal strain on your neck which is why they're optimal for reducing neck pain. Avoid sleeping your stomach at all costs if you have neck pain. Stomach sleeping severely strains your neck because you're forced to turn your head to the side for hours.
Also, be sure to use a suitable pillow and mattress for either position to properly align your head and neck. The best mattresses for neck pain maintain a healthy spine alignment and ease tension in the shoulders.
What is the fastest way to relieve neck pain?
Several ways to relieve neck pain are by stretching your neck and shoulders, applying heat or ice to your neck, avoiding jerking motions, and gently massaging the area. If those don't help, consider taking over-the-counter acetaminophens or NSAIDs.
Long-term, we recommend using a good pillow and mattress to keep your neck aligned, exercising regularly, and ensuring you maintain good posture throughout the day.
Conclusion
While a new pillow won't always cure your neck pain, it can make your pain more manageable and make sleeping easier. Always consider your sleeping position when deciding what pillow to choose since it affects how much support you need to stay aligned.
We recommend using Amerisleep pillows as they offer a balance of bounce, support, and breathability. Every Amerisleep pillow comes with free shipping and a 10-year warranty.
---
About the author
April Mayer has a degree in exercise physiology and is a firm believer in the power of a good night's sleep. She spends her days reading, researching, and writing about sleep, and her nights, well, sleeping. April's passion lies in helping others lead more productive lives by helping them get sound, restful sleep every night. April primarily writes about foods and vitamins for better sleep and has written several "better sleep guides" covering a wide variety of topics in her time with Early Bird. She's been a member of the team since March 2020. Additionally, as a sleep expert, April has been featured in various publications including Forbes, Greatist, Real Homes, Thrillist, Tom's Guide, and Eat This, Not That.
View all posts