Next to your mattress, your pillow plays the biggest role in your comfort and support at night. A good pillow promotes good posture, blood circulation, and prevents pain and headaches.
Like mattresses, pillows come in a variety of firmnesses and thicknesses. Choosing the right pillow firmness comes down to your sleeping position and weight. We recommend firm pillows to side sleepers, back sleepers, and plus-sized individuals.
We go over the best firm pillows offered at Amerisleep, along with all the in's and out's of getting a firm pillow. With Amerisleep pillows, you receive free shipping and a 10-year warranty covering defects.
Best Firm Pillows from Amerisleep
Quick Guide: A 30-Second Summary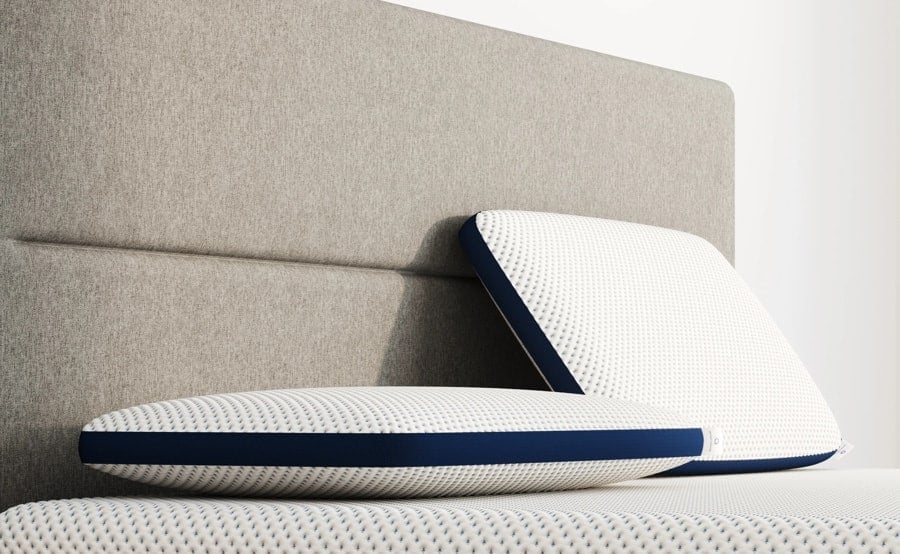 Best Firm Pillow Overall
Amerisleep Dual Comfort Pillow
Price Range

$130 to $170

Pillow Type

Solid Memory Foam

Availability

Queen, King

Warranty

10 Years

Thickness

5 or 6 Inches
One side of the Amerisleep Dual Comfort Pillow is firm and excellent for side sleepers, and the other soft and perfect for combination sleepers.
Pillow Highlights
Dual-sided to suit different sleep styles
Conforming, plant-based Bio-Pur® foam
Design promoted airflow through the pillow
Recommended For
Side sleepers
Back sleepers
Hot sleepers
The best firm pillow we offer is the Dual Comfort Pillow. This dual-sided pillow has a different firmness on either side. Plus, it comes in two thicknesses to suit all types of sleepers. One side is firm—perfect for side and back sleepers—and the other is soft, which suits combination sleepers.
It's normal to get hot at night, but that doesn't mean it's comfortable. We use a cooling cover and added air channels throughout the pillow to keep hot air out and ensure you sleep comfortably.
We added our signature Bio-Pur® foam to the Dual Comfort Pillow. Bio-Pur® is a plant-based memory foam that partially contains castor oil in place of petroleum-based oils. This way, the pillow is more breathable, sustainable, and won't off-gas. There's a slight contour on both sides of the pillow so it conforms better under your neck.
Quick Summary:
Available in 5 and 6-inch lofts
Plant-based Bio-Pur® foam is breathable and CertiPUR-US® certified
Functional option for side, back, and combo sleepers
Best Cooling Firm Pillow
Amerisleep Comfort Classic
Price Range

$90 to $115

Pillow Type

Solid Memory Foam

Availability

Queen, King

Warranty

10 Years

Thickness

6 Inches
Our original memory foam pillow, the Amerisleep Comfort Classic, has a thick, supportive design to promote a healthy head and neck alignment.
Pillow Highlights
Thick design fills gap between neck and mattress
Airy Bio-Pur® foam keeps cool at night
Solid memory foam core resists flattening
Recommended For
Side sleepers
Back sleepers
Combination sleepers
For a reliable, breathable, and supportive option, check out our Comfort Classic Pillow. This lightweight and bouncy pillow supports your head and neck without going flat or lumpy. Customers love the pillow for relieving their chronic neck pain and stiffness. This firm, 6-inch pillow keeps your head lifted to promote proper spinal alignment and is a reliable option for most sleepers.
The Comfort Classic Pillow has a Bio-Pur® fill and a breathable knit cover, but it only comes in one firmness. We added cooling channels to the pillow to ensure you stay cool and comfortable all night long.
Quick Summary:
Thick and firm pillow excellent for back and side sleeping
Cooling block of Bio-Pur® prevents heat retention
Doesn't require fluffing to maintain a high loft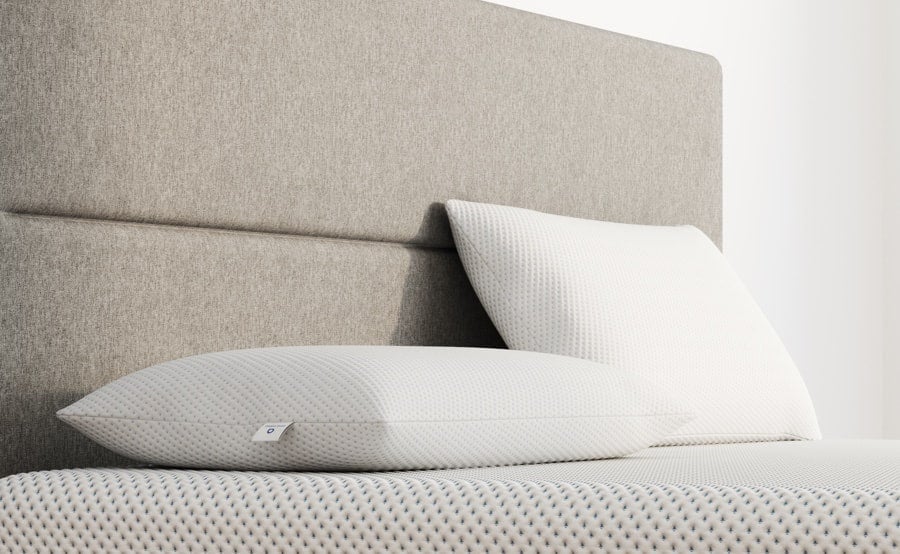 Best Adjustable Firm Pillow
Amerisleep Flex Pillow
Price Range

$75 to $100

Pillow Type

Shredded Memory Foam

Availability

Queen, King

Warranty

10 Years

Thickness

6 Inches
As the name suggests, the Amerisleep Flex Pillow has an adaptable design that can suit various positions.
Pillow Highlights
Hundreds of shredded memory foam pieces
Thick pillow can be flattened or fluffed up
Air circulates through the cover and fill
Recommended For
Hot sleepers
Side, back, and combination sleepers
Shoppers seeking a durable pillow
If you switch positions throughout the night, check out the Amerisleep Flex Pillow. You can mold this adjustable pillow into whichever shape for your sleeping position. Thanks to the pillow adaptability, it doesn't go flat and springs back into shape with a quick fluff.
The Flex Pillow has the same cooling cover as other pillows we offer. In its original form, the Flex Pillow is about 6 inches thick, but you can adjust it to be thicker or thinner as needed.
Inside the Flex Pillow are hundreds of MicroFlex cushions, shredded foam pieces. These eco-friendly cushions allow for loft adjustments to suit your preferences. Air can also escape between the cushions, ensuring the Flex Pillow never gets too hot at night.
Quick Summary:
Cooling cover and shredded foam allows for maximum airflow
Contains hundreds of tiny MicroFlex cushions
Easily mold the loft and firmness to suit any position
Who Should Use Firm Pillows?
Firm pillows aren't for everyone. Your sleeping position mainly determines pillow firmness, followed by your body type. Your sleep style and size impact your posture and how much support you need to stay aligned at night.
Side Sleepers
Compared to all other people, side sleepers benefit the most from using firm pillows. When you sleep on your side, there's a large gap between your head and your mattress. A firm and thick pillow for side sleeping is perfect for filling this space and supporting your head and neck.
Too soft of a pillow won't support the weight of your head properly, throwing your spine out of alignment. Poor spinal alignment leads to stiffness, pain, poor circulation, headaches, and migraines. And being uncomfortable will just worsen your sleep.
Back Sleepers
Some, but not all back sleepers may prefer the support and sturdiness of a firm pillow. Firm pillows fill the gap between your head and shoulders, keeping your spine aligned.
Do you want a firm pillow for back sleeping? Then avoid overly thick options as they'll lead to misalignment. The best pillows for back sleepers offer a slip feel that won't push the cervical spine out of misalignment.
Back sleepers may also consider using a firm pillow under their knees at night. Placing a pillow under your knees relieves lower back pain and promotes good posture.
Plus-Sized People
As a larger person, you'll place more weight onto your pillow, so soft pillows may not be supportive enough for you. Using a firm pillow minimizes sinkage and ensures you stay supported at nighttime. Petite people can use firm pillows if it suits their sleeping position. However, plus-sized people are comfortable on firm pillows regardless of their sleeping position.
Types of Firm Pillows
Deciding what type of pillow is the next step to finding the perfect one for you. Here are a few popular types of pillows you'll come across when shopping. Here are a few popular types of pillows you'll come across when shopping.
Memory Foam
Memory foam pillows are an excellent firm option if you're looking for pain and pressure relief. The fill cushions your head and neck to soothe pressure build-up and align your spine.
We recommend memory foam pillows with cooling features because they can trap heat. This includes gel infusions, cooling cotton, knit, or bamboo fabric covers, or cooling channels.
You can find memory foam pillows in two forms: solid and shredded. Solid memory foam pillows contain a single block of foam and are firm, sturdy, and lofty. Conversely, shredded memory foam pillows feature ripped-up pieces of foam. They're adjustable and breathable, but require occasional fluffing to maintain their loft.
Latex
Latex is a sustainable foam made from the sap of rubber trees. It's highly durable, cooling, and responsive. Latex is a hypoallergenic material that is resistant to allergens and dust mites.
Latex is pressure-relieving but doesn't have the same "hug-like" feel as memory foam. Instead, it tends to feel firmer and keeps your head lifted, which is great for some sleepers.
Just like memory foam pillows, latex pillows come in both shredded and solid forms. However, there are two types of latex you may come across: Dunlop and Talalay. Dunlop latex is durable and firm, while Talalay latex is soft and cushiony.

Feathers
Feather pillows are a natural pillow fill produced from the topcoats of ducks and geese. This durable material is lightweight, fluffy, and lofty.
Feather pillows aren't the softest or most supportive. Feathers have quills, sharp ends that can poke through the pillow. The quills can scratch you and lead to the feathers falling out. Along with that, feather pillows need regular fluffing to prevent lumps.
Down
Down is another popular fill made from geese and ducks. Rather than the sharp feathers from their overcoats, down is the soft feathers from goose and duck underbellies. Down has the same fluff and loft as feathers without the spiky quills.
Although down pillows feel luxurious, they offer little to no support. Not only that but down pillows are tedious to maintain and may aggravate some allergies.
Down Alternative
Like the name suggests, down alternative is a synthetic version of down. Down alternative is a hypoallergenic fill made from polyester fibers. It's cheap, easy to maintain, and won't aggravate any allergies.
While down alternative is cheap, it's not the best pillow fill out there. It traps heat, gets lumpy and flat easily, and isn't supportive. You'll end up having to replace a down alternative pillow often, costing you more money long-term.
Buckwheat
Buckwheat is a hypoallergenic, plant-based pillow fill popular throughout Asia. Buckwheat pillows contain firm and durable buckwheat hulls. Unlike other pillow fills, buckwheat biodegrades rapidly and doesn't harm the environment.
Buckwheat offers excellent head and neck support, but it tends to feel slightly stiff. Also, the hulls crunch and scratch together when you move, which may be disruptive to your sleep.
Water
While they may sound odd, you may come across some water pillows when searching for a firm pillow. Water pillows are vinyl bags filled with water and wrapped in soft knit covers. Beyond being filled with water, these pillows are unique for their adjustability. Water pillows can be softer or firmer and thicker or thinner based on the amount of water you add.
The main issue with water pillows is the potential leaks. If your pillow has any tears or holes, it can soak both you and your mattress. Water damage to mattresses voids most warranties, meaning you'll be responsible for repairs that would have been otherwise covered. Not only that, but water pillows are heavy and difficult to move, which is simply annoying to deal with.
FAQs
Are firm pillows better?
No, there's no one best pillow firmness. Firmness needs vary based on your sleeping position and body type. So, what's best for one person might be terrible for another.
Still, firm pillows are best for people who sleep on their sides and plus-sized individuals. Some back sleepers may also prefer firm pillows to prevent their heads from curving backward.
Can a pillow be too firm?
Yes, a pillow can be too firm based on your size and sleeping position. We recommend firmer pillows to side sleepers, plus-sized sleepers, and some back sleepers. However, pillows may feel overly firm to stomach sleepers and petite people. Too firm of a pillow can misalign your spine, leading to stiffness and pain, along with difficulty sleeping.
What pillow firmness is best for side sleepers?
We recommend firm pillows for side sleepers because they need as much support as possible to keep their heads and neck aligned. Soft pillows won't maintain their shape as well as firm ones, causing side sleepers' heads and necks to fall out of alignment. With that, we suggest side sleepers use high loft pillows to further promote good sleep posture.
How often should you change your pillows?
Generally, we recommend replacing your pillows every 1 to 2 years to stay well-supported and comfortable. Over time, pillows develop lumps, soft spots, bacteria build-up, and allergens. You'll be left unsupported, uncomfortable, and exposed to unnecessary germs with an old pillow.
How often should you wash your pillows?
It's best to wash your pillows once every six months, or biyearly. If you tend to sweat a lot at night or are acne-prone, wash your pillow once every three months to minimize bacteria build-up. Cleaning your pillow protector weekly also helps keep your pillow as clean as possible.
Most pillows are machine washable but always double-check the manufacturer's cleaning guidelines. Improperly cleaning your pillow will wear it down quickly and void most warranty policies.
Conclusion
Firm pillows are great if you sleep on your side or back or are a larger individual. Optimize your sleeping experience by investing in a high-quality, firm pillow. Take advantage of our pillow guide when comparing different options and fills to ensure you purchase the best pillow for you.
---
About the author
Mitchell Tollsen is a graduate student and a freelance writer who's contributed to the Early Bird blog for three years. Mitchell's always been fascinated by the science of sleep and the restorative processes our bodies undergo when at rest. The self-titled "Sleep Expert" is always looking for ways to improve his shut-eye, and throughout the years has implemented numerous lifestyle changes and tried dozens of sleep-promoting gadgets to determine the best ways to truly get better rest.
View all posts