If you are an eco-friendly shopper, the GOTS label on a product be significant to you. The Global Organic Textile Standard (GOTS) is the worldwide leading textile processing standard for organic fibers. This certification provides credible assurance of responsible manufacturing with the least chemical inputs. Ultimately, it ensures quality organic fabric for end consumers.
Any natural fiber product, including yarn, clothes, or home textiles, can be GOTS certified. In this article, we discuss the significance of the GOTS label and the important prerequisites products must meet to receive this certification.
Significance of the GOTS Label
The GOTS was created to meet the need for an internationally recognized standard including all organic fibers such as cotton, silk, wool, and bamboo. (It does not include leather products.) The aim of the standard is to make quality, sustainable textiles without harming the environment.
In 2002, four organizations got together to standardize the GOTS guidelines. The Organic Trade Association (OTA) of the United States and three other member organizations from Germany, the UK, and Japan comprise the core team.
To earn a GOTS label, every product must include a majority of organic natural fibers. There are two GOTS label grades, they are based on the percentage of organic fiber in the product:
GOTS Organic: Must contain at least 95 percent certified organic fibers.
GOTS Made with Organic: Must contain at least 70 percent certified organic fibers.
The remaining 5 to 30 percent of fibers in these products comprise recycled synthetic fibers such as polyester or regenerated fibers like lyocell. Recycled synthetic fibers are made with recovered industrial waste from landfills or waterbodies. Their production needs less water and fuel, compared to virgin synthetic fibers.
Regenerated fibers are made with natural materials such as wood cellulose. This cellulose undergoes a chemical manufacturing process, leading to fine regenerated fibers. The semi-synthetic fibers are neither natural like cotton or silk, nor synthetic like polyester.
GOTS products must not include more than 10 percent synthetic fibers, barring a few exceptions. Products like socks, leggings, and sportswear may contain 25 percent synthetic fibers. This is permitted to enhance the moisture-wicking abilities of the products.
Important Factors for GOTS Certification
The GOTS certification covers the entire organic textiles supply chain. It includes fiber production, processing, and manufacturing. Product packaging, labeling, trading, and distribution methods are also considered before certifying a product.
At every stage, stakeholders of the GOTS company ensure minimal chemical use. The result is a responsibly made sustainable textile. A GOTS product reduces the chances of allergic reactions caused by chemicals.
A product earns the GOTS label only if it goes through GOTS certified operators at every stage. For example, the textile must be manufactured and processed in GOTS certified buildings. Even traders and suppliers handling product packaging must be GOTS certified.
Since a packaged product reaches retailers, they usually don't need a certification to sell a GOTS product. Some retailers may add final touches, like embroidery, to the product. In such cases, the retailers also need a GOTS certification. If retailers handle the final stage of packaging, they need the certification.
In this section, we discuss the different criteria materials need to meet for certification.
Fiber Production
The raw materials for the organic fiber must be farmed in accordance with international or national standards. The GOTS relies on IFOAM Organics International to set these farming standards. The International Federation of Organic Agriculture Movements (IFOAM) is the worldwide umbrella organization for the organic agriculture movement.
Organic agriculture is required to sustain the health of soils, ecosystems, and the people involved in the farming process.
Organic farmers must use natural-based substances for fertilizers and pesticides instead of chemicals.
Processing and Manufacturing
The organic fiber must be clearly identified to separate them from the conventional fiber. This reduces the chances of fiber mix-up.
Dyes, auxiliaries, and process chemicals are evaluated for toxicity and biodegradability. They must meet certain standards to be considered safe for use.
Toxic heavy metals, formaldehyde, aromatic solvents, genetically modified organisms (GMO) and their enzymes are prohibited. They can be toxic to the environment and human health.
The textiles should not be treated with chlorine bleach. Instead, oxygen bleach must be used because it's more environmentally friendly than chlorine bleach. Oxygen bleach is also more gentle on fibers and protects the fabric color.
The knitting or weaving oils used to protect product accessories from rusting must not contain heavy metals.
Azo dyes releasing carcinogenic compounds are prohibited.
Wet processing units must maintain full records of the use of chemicals and energy. Water consumption levels must also be tracked.
Health Safety
The raw materials or the finished products must not contain any chemical residues. Certain chemicals such as formaldehyde or phthalates emit gases, affecting our health. They may cause nausea, dizziness, or exhaustion. Limiting these chemicals reduces the chances of toxicity in our indoor environment.
The products must not include nickel, chrome, or PVC (polyvinyl chloride) accessories. These chemicals may trigger asthma or other allergies in some people.
Environmental Standards
The wastewater from all wet processing units must be treated in a functional treatment plant.
Proper sludge disposal is mandatory. It prevents byproducts from leaking into the environment.
Packaging and Labeling
The packaging material must not contain PVCs.
Paper or cardboard used in packing must be recycled, or certified by appropriate global agencies. FSC (Forest Stewardship Council) and PEFC (Programme for the Endorsement of Forest Certification) are recognized certifying agencies. They aim to protect forests, by providing responsibly sourced wood.
Printing methods must not include phthalates and PVCs.
Quality of the Textile
The finished products must be checked for light, wash, and rub fastness. These are standardized methods for ensuring colorfastness.
The final product's shrinkage value is also assessed to meet GOTS guidelines.
Social and Humanitarian Criteria
Employers at GOTS certified units are hired according to the key norms of the International Labor Organisation (ILO).
The working conditions must be safe and hygienic.
All employees must be provided fixed minimum wages.
They should not be overworked or treated harshly.
Discrimination should not be practiced.
Child labor should not be allowed.
Consider Our Latex Mattress
Quick Guide: A 30-Second Summary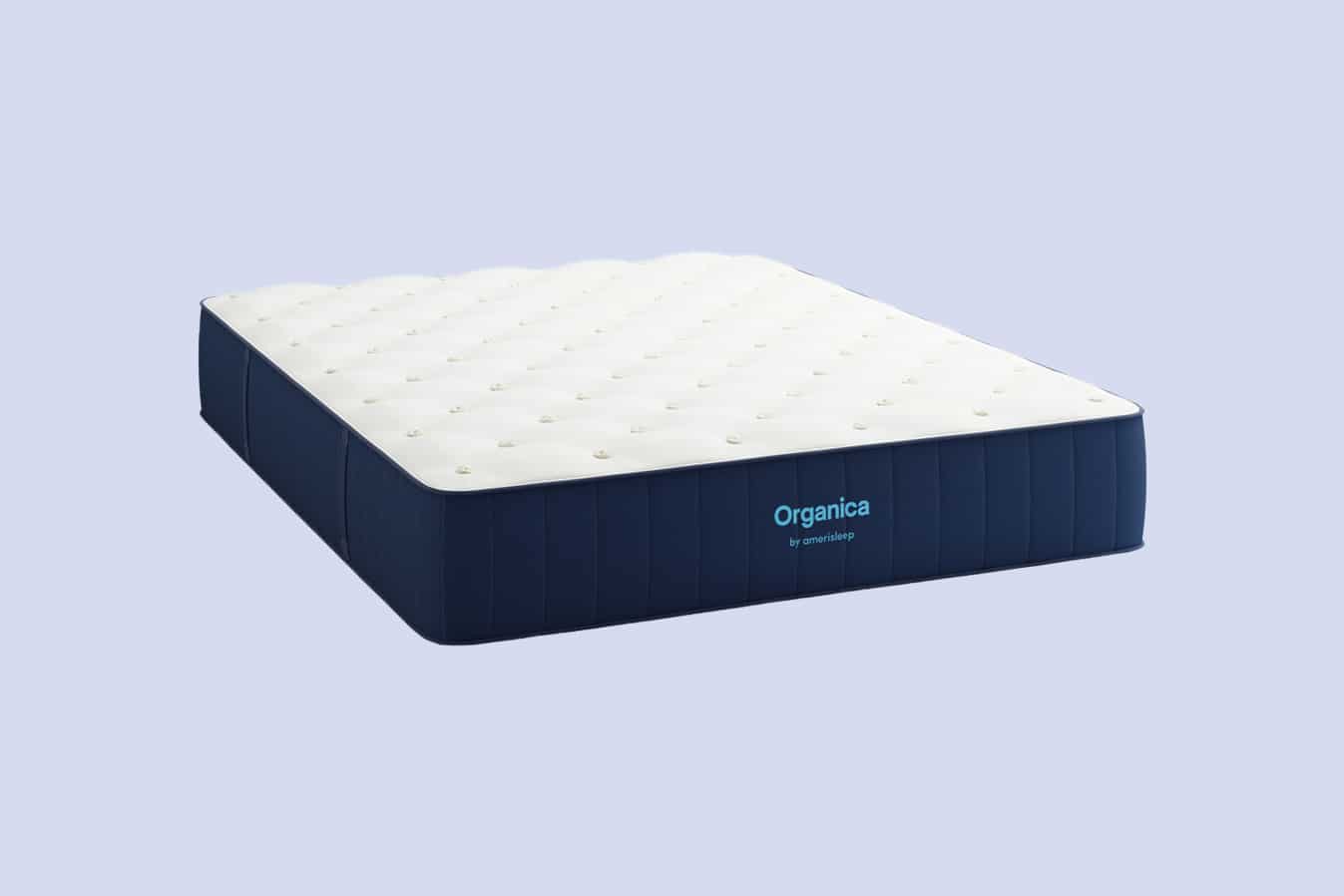 Best Natural Mattress
Amerisleep Organica
Price Range

$1199 to $2698

Mattress Type

Latex Hybrid

Firmness

5 to 6 out of 10 (Medium)

Availability

All sizes

Warranty

20 Years

Thickness

13 Inches
Our Organica mattress contains GOTS-certified organic cotton, designed to provide a sustainable and comfortable soft feel. The cotton cover is wrapped around other eco-friendly materials,  all of which establish a versatile "green" mattress.
Mattress Highlights
GOTS certified organic cotton for a cool, dry surface
Natural latex foam and organic wool for cushion
Pocketed coils
Recommended For
Side, back, and combination sleepers
Hot sleepers
Couples
When designing the Organica mattress, we wanted a bed that featured a plethora of natural materials for sustainable, durable comfort. That includes a GOTS-certified organic mattress cover over four other layers.
The cotton cover is sustainably harvested, providing a more reduced carbon footprint than a non-organic cotton cover. The cotton fibers are also woven to maximize airflow and move moisture away, ensuring sleepers rest undisturbed by heat or sweat build-up.
Underneath the cotton cover is an organic wool fire barrier. Aside from helping the mattress resist an open ignition source, the wool provides a heat-wicking cushion, working with the crisp cotton for a cool feel.
Next is Talalay latex foam, the primary comfort layer. Latex is like memory foam as the material conforms to the body for pressure point relief. However, it has a more natural production process than even the most eco-friendly memory foam. Latex is also known for its cool, buoyant feel.
The mattress's main support comes from a set of pocketed coils. The wrappings around each coil ensure that individual springs respond independently to movements, keeping your every motion from rippling across the mattress. The coils that line the sides of the mattress are denser than the rest, establishing resilient edge support.
These coils are kept structured by the underlying base of Dunlop latex foam.
The Organica comes with a 100-night sleep trial and a 20-year warranty, the same as our other Amerisleep mattresses.
How to Check GOTS Certifications?
A GOTS Certified product sports a logo confirming the certification. If you want to verify the authenticity of the GOTS label on a specific product, check the GOTS public database. It includes the list of all producers and products certified by GOTS. Choose the appropriate product category on the website to cross-check the details on the GOTS logo.

FAQs
What is the meaning of GOTS Certification?
The Global Organic Textile Standard (GOTS) is a leading textile processing standard for natural fiber products. This certification is widely accepted in retail sectors as a quality assurance for organic textiles. The global standard also includes social and ecological criteria in the entire textile supply chain. GOTS products are made in factories maintaining good working conditions, according to ILO guidelines. These products contain negligible amounts of chemicals, making them environmentally friendly.
What is the Organic Content Standard (OCS)?
The Organic Content Standard of Textile Exchange (OCS) tracks the organic status of textiles. It verifies the content of organically grown materials in a final product. An OCS product must contain a minimum of 5 percent organic fiber. Unlike GOTS, OCS standards do not check any other aspects of the textile supply chain.
Is GOTS better than OEKO- TEX?
The GOTS is a global standard for organic textiles, while OEKO-TEX covers organic and non-organic textiles, but both are internationally accepted standards. A product with a GOTS or OEKO-TEX certification goes through extensive testing. If you have chemical sensitivities, a GOTS product is better for you because it includes organic materials grown without chemical fertilizers or pesticides.
Is organic cotton better than regular cotton?
Organic cotton is better than regular cotton because it is grown without chemical fertilizers and pesticides. Organic cotton also meets high-level environmental criteria keeping the soil, air, and water free from chemical contaminants. However, organic cotton is more expensive than regular cotton.
When shopping for cotton products, whether organic or non-organic, look for long-staple or extra-long staple (ELS) cotton. The length (staple) of the cotton fibers determines the product's quality and durability. Typically, long-staple or ELS cotton products are more luxurious and durable than short-staple cotton.
How do I get my GOTS Certificate?
Textile processors, manufacturers, and traders can apply for a GOTS certification by contacting a GOTS approved certification body in their country or a neighboring country. Auditors and inspectors from the certification agencies check if all GOTS guidelines are met. Upon meeting guidelines, the agencies confer the GOTS Certificate.
Conclusion
With growing consciousness about the harmful effects of some chemicals, there is a remarkable demand for organic fibers in today's world. Certain chemicals can be toxic to human health and the environment.
The GOTS standard limits the use of harsh chemicals such as formaldehyde and phthalates, which may emit harmful gases. Since there are GOTS certifying agencies in more than 45 countries, these products have a broad appeal and are accepted in major markets across the world.
---
About the author
Sanchita Sen is a full-time writer focusing on the sleep health and mattress industry. She is a former journalist who has written numerous articles on the healthcare sector. Some of the topics she has covered include how to lucid dream, fever dreams, melatonin for sleep, and best gel memory foam mattress. Sanchita holds a Master of Arts in Communications from Convergence Institute of Mass Media and Information Technology Studies. She is also a published author, who seeks inspiration from both real life and the world of fiction.
View all posts