Compare Amerisleep Mattresses
Available Versions
Learn more
Profile Height
Learn more
Memory Foam Mattress
Layer Construction
Learn more
Hybrid Mattress
Layer Construction
Learn more
Ultra-Breathable Cover
Learn more
Price
1
(Memory Foam/Hybrid)
1Prices reflect current promotion or sale.

Firmness
Firm: Best for those who like sleeping on their back and stomach. Firm mattresses offer plenty of support with minimal contouring for the body.
Medium-Firm: Medium-firm mattresses are comfortable for back sleepers and petite stomach sleepers. We also recommend our medium-firm mattresses to back sleepers with back pain.
Medium: Medium mattresses offer a well-balanced mix of comfort and support. They're great for side, back, and combination sleepers and are ideal for couples looking for a "comfortable middle ground." We suggest side sleepers with aches and pains choose a medium mattress.
Medium-Soft: Medium-soft mattresses are best for side and combination sleepers, as well as petite back sleepers. These mattresses provide plenty of responsive support, but they offer a bit more cushioning and have a cloud-like feel.
Soft: Unrivaled in their ability to contour, soft mattresses are perfect for side and combo sleepers. Despite all of their cushioning comfort, soft mattresses are still supportive enough to prevent you from sinking too far.

Sleep Style
Back: Back sleeping is healthy because it allows your spine to rest in a neutral position. Despite the benefits of back sleeping, only 8 percent of us snooze this way. Back sleepers tend to like medium-firm, medium, and medium-soft mattresses. Ultimately, a back sleeper's mattress should be supportive enough to keep the spine in alignment and stop your hips from sinking too far in the bed.
Stomach: Stomach sleeping is the unhealthiest sleeping position because it strains your lower back and causes aches and pains. If you're a stomach sleeper, we recommend transitioning to side or back sleeping. That said, firm and medium-firm mattresses are the best for stomach sleeping because they prevent the torso from sinking and the back from arching.
Side: Side sleeping is the most common sleeping position. The biggest complaint with side sleeping is aches in the shoulders and hips. With that, side sleepers need softer mattresses to relieve pressure under those heavy parts of the body. Medium, medium-soft, and soft mattresses are usually the most comfortable for this sleeping position.
Combo: Combination sleepers change positions throughout the night, so they need a mattress to accommodate different sleeping styles. Usually, combination sleepers love medium mattresses because they offer the best balance of comfort and support, but medium-soft and soft-mattresses can work too.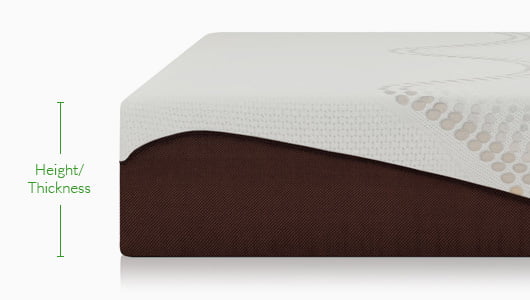 The height of your mattress plays into your overall comfort. Something too thin and you may find it uncomfortable to get in and out of bed. Something too thick and it won't work with an adjustable bed frame. All of our mattresses are between 10 and 14 inches thick, meaning they'll work with virtually all bed frames and never feel super tall or too low to the ground.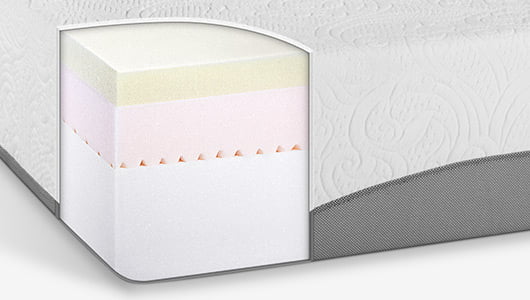 Memory Foam Mattress Layer Construction
Comfort Layer: The comfort layer is a soft, cushioning top layer you feel when you lay down on a mattress. In memory foam mattresses, this layer contours to your body to relieve pressure and help you feel weightless.
Responsive Transition Layer: Most memory foam mattresses have a transition layer. Ultra-firm memory foam mattresses may lack these (like our AS1), but these layers add a little more cushion to further prevent aches and pains. Plus, many brands design their transition layers with a bit of bounce to keep you lifted.
Base Support Layer: At the bottom of every memory foam mattress is a sturdy layer of dense foam to offer support and prevent sagging and sinkage. Memory foam mattresses should never be flipped because it leaves you sleeping on this sturdy layer, ultimately hindering your night's sleep and causing damage to the bed.
Hybrid Mattress Layer Construction
Foam Layer: A true hybrid mattress has at least 2 inches of foam in the comfort layer. Some hybrids may have two layers of foam above the pocketed coil system, as well. As long as two inches of foam precedes the coil layers, you know you have a genuine hybrid.
Pocketed Coils: Every hybrid mattress has a pocketed coil system to provide bouncy support. Pocketed coils offer a few notable benefits: they promote airflow, isolate motion, and prevent you from feeling "stuck" in the foam layers.
Base Foam: Most hybrid mattresses contain a thin layer of foam at the very base to offer extra support to the coil layer above. This bottom layer of foam gives the coils a surface to rest on and prevents wear and tear.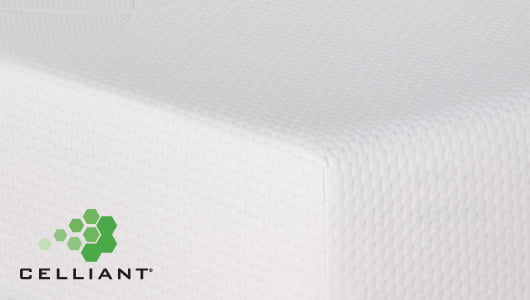 Ultra-Breathable Cover
A common complaint with memory foam mattresses is heat retention, that's why we encase our mattresses in a breathable, soft-to-the-touch cover. The cover on every Amerisleep mattress is lightweight and airy to prevent heat from being trapped within the bed.
Fire Guard
Instead of using chemical-based flame retardants, we wrap every mattress in a Greenguard Fire Sock. The rayon fiber material is made from natural cellulose and doesn't contain any harmful chemicals—it keeps you safe without posing any health risks.
Available Versions
There are numerous different mattress types, but we sell both memory foam and hybrid mattresses. For years, our collection consisted of our 5 memory foam mattress models. Now, we sell 3 hybrid mattresses, too. With 8 different options, you're sure to find a comfortable Amerisleep mattress.

Our memory foam mattresses feature eco-friendly Bio-Pur®, a plant-based memory foam, and sturdy Bio-Core®, a durable base foam. Our Bio-Pur® contours to your body while the supportive core resists sagging.

In each of our memory foam mattresses besides the AS1, we also include a transition layer—Affinity with HIVE® technology. The Affinity layer works to distribute your weight and help you feel as if you're floating in the mattress. The HIVE® technology within cradles pressure points and offers full-body support to maintain healthy sleeping postures.

Our AS5 mattress also contains a latex-like transition layer to enhance the bed's responsiveness. It's hard to find a comfortable soft memory foam mattress because they usually allow for too much sinkage. We listened to customer reviews and built our soft mattress with an extra layer to prevent this issue.

We now make and sell hybrid counterparts for our AS2, AS3, and AS5 models (called AS2 Hybrid, AS3 Hybrid, and AS5 Hybrid). These mattresses have the same firmness as their memory foam equivalent, but instead of Bio-Core® in the base, these beds have a layer of pocketed coils.

The layer of pocketed coils in our hybrids features three-zone targeted support. These coils keep the head, feet, and torso lifted and allow for extra compression under the shoulders and hips. Plus, each coil is pocketed, meaning they move independently and isolate motion. Every hybrid also has a base layer of foam as well as foam edging to offer extra structural support and reinforce the sides of the bed.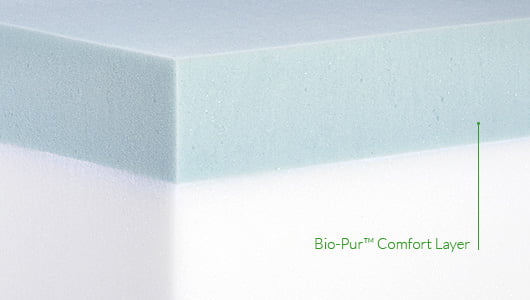 Bio-Pur® Comfort Layer
With its advanced open-cell design, Bio-Pur® contours to your body without causing you to feel overheated or trapped within the foam. Our innovative memory foam is made with plant-based materials, reducing the number of petrochemicals in our beds. Bio-Pur® adapts to every movement and keeps you comfortable all night long. Our eco-friendly foam is better for your sleep and our environment.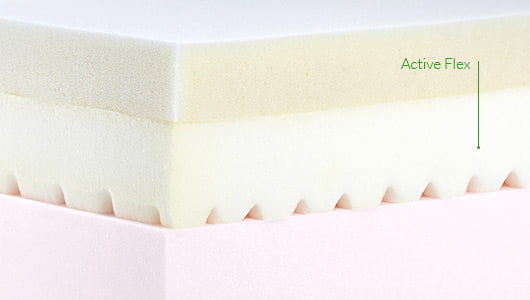 Active Flex
Found exclusively in our AS5 models, Active Flex foam is unlike any other, as it's both contouring like memory foam and responsive like latex. Proprietary Active Flex is included as the transition layer in our AS5 mattresses to enhance softness while preventing sinkage. This foam responds quickly and provides an extra bounce.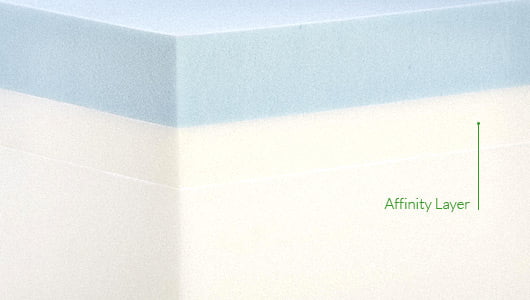 Affinity
Affinity is a transition foam in our hybrid mattresses that serves as a buffer between the contouring Bio-Pur® above and the pocketed coil system below. Affinity works to distribute body weight and prevent concentrated pressure build up. With the inclusion of this layer, sleepers can truly feel like they're floating as they drift off to sleep.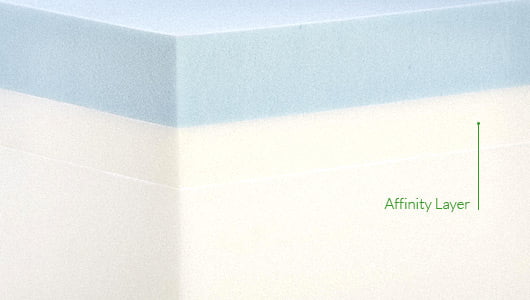 Affinity with HIVE®
The Affinity with HIVE® layer in our memory foam mattresses transitions between the Bio-Pur® and Bio-Core® (or pocketed coil) layers. Affinity reinforces Bio-Pur®, enhancing its responsiveness and supportiveness. HIVE® technology within this layer offers zoned support to keep the shoulders and hips cushioned and the spine in a neutral position.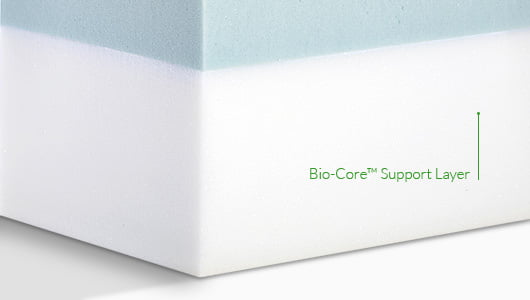 Bio-Core® Base Layer
Bio-Core® is the base of our memory foam mattresses. It provides consistent and durable support for the memory foam layers above and helps ensure our mattresses don't lose their firmness or develop sags over time.
Pocketed Coils
Our hybrid mattresses contain a system of pocketed coils arranged to offer zoned support. These coils act similarly to HIVE® technology to maintain alignment and alleviate pain-causing pressure points. Plus, these coils promote breathability and prevent motion transfer because they're pocketed and move independently of one another.
Base Foam
At the very bottom of our hybrid mattresses is a thin layer of durable poly-foam to act as a base for the pocketed coil system. The base foam in our hybrids offers structural support to resist wear and tear. The durability of this foam is just one reason we're able to offer an industry-leading 20-year warranty with our hybrids.