Compare Amerisleep Mattresses
Profile Height
Learn more
Layer Construction
Learn more
Ultra-Breathable Cover
Learn more
Active Flex Layer
Learn more
Affinity Layer with SMT
Learn more
1Prices reflect current promotion or sale.

Firmness
Firm: For those who like sleeping on their back and stomach, firm will offer plenty of support with little to no contour of the body.
Medium Firm: Medium firm is perfect for any sleeping position that is looking for a supportive surface for sleeping all night.
Medium Plush: Great for those looking for a moderate amount of contour while still being supportive. Ideal for side and combo sleepers.
Plush: Plush will contour perfectly to every part of your body while still being supportive. It is perfect for side and combo sleepers looking for contour.
Extra Plush: Unrivaled in its ability to contour, extra plush is perfect for side and combo sleepers that want to have their mattress contour to them without sacrificing support.

Sleep Style
Back: This position for sleeping is quite common. To keep the spine in alignment make sure your hips don't sink too much into the bed.
Stomach: Sleeping on your stomach needs a firmer mattress so that your hips don't sink and your neck and spine are straight and in alignment.
Side: This is the most common sleeping position. You should look for something that will contour to your body and keep your hips and shoulders in alignment.
Combo: For those that move about at night or don't have a set sleeping style, you should choose a firmness depending on preference.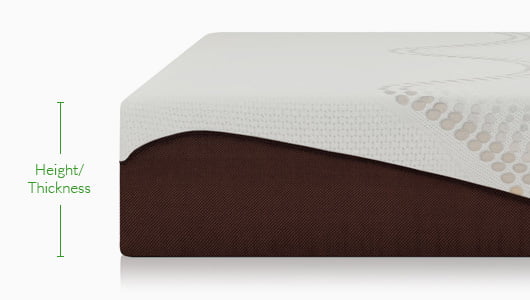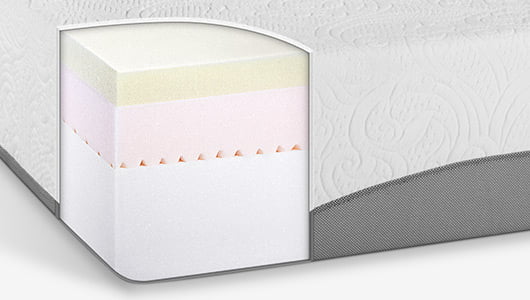 Layer Construction
Comfort Layer: This is where your body interacts with the mattress. This layer will contour to your body.
Responsive Transition Layer: On higher profile mattresses having a transition layer will allow for increased contour while still having a quick and responsive feel.
Base Support Layer: At the bottom of every mattress is a layer for support. You do not come in contact with this layer as it is firm to keep you from sinking into the mattress an uncomfortable amount.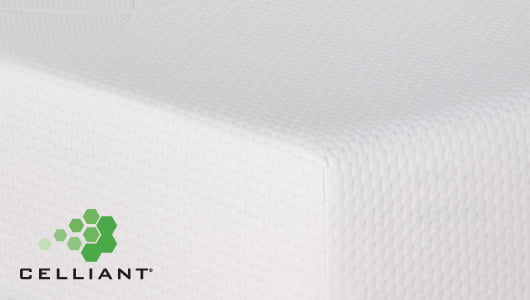 Ultra-Breathable Cover
Our mattresses feature a soft, ultra-breathable polyester cover.
Fire Guard
Our Greenguard Fire Sock wraps each mattress and acts as a flame retardant. The rayon fiber material is made from natural cellulose and doesn't contain any harmful chemicals. It will keep you safe and healthy at night.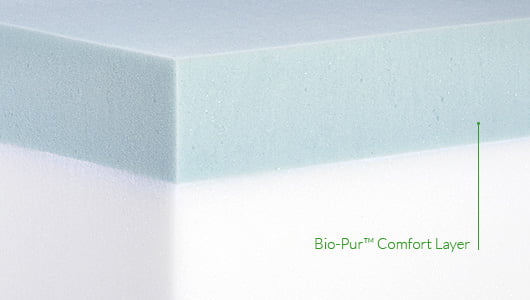 Bio-Pur™ Comfort Layer
With its large open-cell design Bio-Pur® will soothe you to sleep by conforming to you and keeping you cool. Our original memory foam uses plant-based materials which allows us to reduce our need to use petroleum. Bio-Pur® will adapt to your needs as you get comfortable to sleep.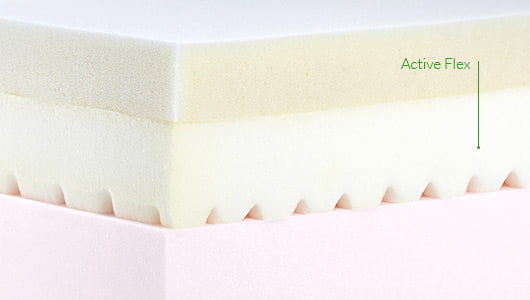 Active Flex Layer
Our revolutionary foam is the most advanced in fast, adaptive comfort and pressure relief. Active Flex is used toward the top of the mattress to help your bed actively conform to you. This foam responds quickly and provides an extra bounce in bed.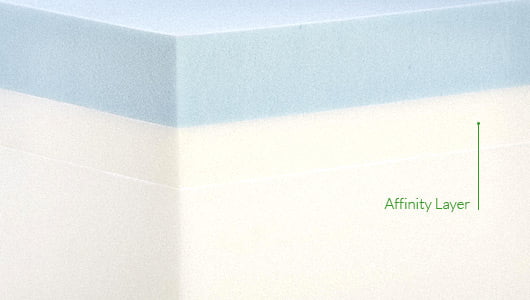 Affinity Layer with SMT
Affinity layers work to transition between the other layers in the mattress to enhance their responsiveness and supportiveness. This layer will soften the feel of the bed while keeping you supported.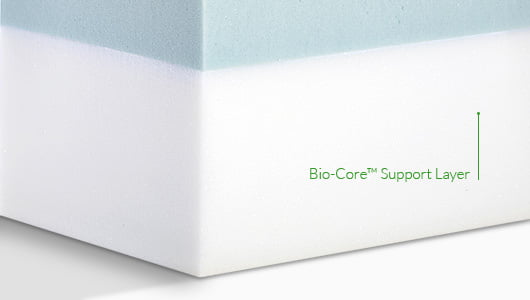 Bio-Core Base Layer
Bio-Core is the base support of our mattresses. It provides consistent and durable support for the other memory foam layers, and helps ensure our mattresses don't lose their firmness or sag over time.