Key Takeaways
Material Quality Impacts Price: The materials used in a mattress significantly affect its cost. High-quality materials like natural fibers, organic cotton, and latex are more expensive than synthetic materials. Fiberglass-free mattresses, which use materials like wool, silica, and plant fibers instead of fiberglass, can also be more expensive due to their eco-friendly and health-conscious properties.
Mattress Durability Matters: The longevity of a mattress can justify its cost. A good quality mattress can last 7 to 10 years or more, making it a worthwhile investment in long-term sleep quality. Higher-quality materials and construction contribute to a mattress's durability.
Advanced Features Increase Price: Mattresses with advanced features, such as adjustable firmness, heating or cooling capabilities, hypoallergenic properties, edge support, and sleep sensors, tend to be more expensive. These features enhance sleep quality and convenience but also add to the overall cost of the mattress.
Depending on the mattress brand and model, mattresses can cost anywhere between a few hundred dollars to the upper thousands. It's easy to see why that might leave you asking, "Why are mattresses so expensive?"
Before you purchase a mattress, you should understand what goes into its cost.
There are a few driving points behind this range of price, including but not limited to: materials, special features such as extra thickness or greater edge support, and the length of time a mattress typically lasts a household.
Mattresses are a necessity in most households. They can have a direct impact on your health and while their general purpose remains the same, the technology and research behind a mattress, its density, and the high demand for a good quality mattress contribute to rising prices.
Beyond that, delivery and shipping for a mattress and buying in-store will often add to the price of a new mattress.
Adding to that, there isn't much demand for a used mattress so your options for buying a mattress remain either buying in-store or online.
Read on to learn more about what goes into a mattress, what some special features might mean for you, and how where you purchase your mattress can impact how much it costs you.
Let's start off by looking at some of the materials in a mattress that can impact how much it costs.
Mattress Materials

The materials used to create a mattress are a significant factor in making mattresses so expensive. Better quality materials will increase the price of a bed. Some materials, such as organic materials, are also more costly to produce than high-quality synthetic materials.
Here's a quick rundown on common mattress materials.
Fiberglass-Free
There are a multitude of reasons one might opt for fiberglass free, despite fiberglass being commonly used in mattresses as a flame retardant.
Some of these reasons include health precautions; fiberglass can irritate your throat, eyes, and skin if released from the mattress. Others might seek a mattress without fiberglass for environmental reasons. Fiberglass is made from a composite of materials, including plastic.
When mattress companies choose to make mattresses that are fiberglass-free they often replace the fiberglass with more expensive and natural materials like wool. So a mattress without fiberglass can also be one of the more eco-friendly mattresses on the market, excellent for anyone seeking to reduce their carbon footprint.
Wool, silica, and plant fibers are commonly used to create a fiberglass-free mattress and aren't as irritating and potentially dangerous for humans to interact with. For many, knowing they are purchasing a mattress without fiberglass is a benefit of latex mattresses.
That said, you can find memory foam mattresses without fiberglass. It takes some research, but it can be done.
However, if you do choose to buy a mattress that uses fiberglass, it's important to keep the cover of your mattress intact. The cover prevents the fiberglass from being released into your home where it can be hard to clean up and can cause health issues. For extra security,
Natural Fibers
If you are shopping for a mattress that uses high-quality materials like natural fibers, that might be why when you shop the mattresses are so expensive.
Beds are made using a multitude of materials, including felt, cotton, foam, and linen.
For example, materials in a more expensive mattress might be GOTS-certified organic cotton or GOLS-certified organic latex raising the overall cost of the bed.
Individually Wrapped vs. Innerspring Coils
For a more comfortable mattress, materials such as individually wrapped coils are used. Individually wrapped coils are a way of increasing the comfort level of a more traditional metal coil mattress, also known as an innerspring mattress.
In a bed that uses innerspring coils, the coils are all connected and react to pressure as a whole. Any movement on the mattress results in a reacting motion across the entirety of the bed. This can be uncomfortable for those who share their bed.
In comparison, with individually wrapped coil mattresses, the coils are covered in a type of fabric or foam, allowing them to move and react to pressure individually, moving with the weight of your body and position on the mattress.
New mattresses that use individually wrapped coils cost more because they use more materials, but the added benefit is an overall increase in the mattress's comfort level.
Hybrid Mattresses
Hybrid mattresses combine two different types of mattresses. A hybrid mattress uses coil technology with a comfort layer of memory foam or latex foam on top.
As discussed earlier, innerspring coils react to pressure singularly differently. Hybrids have pocketed coils and are a technological advancement that has made mattresses more comfortable. Both the pocketed springs and comfort layers are the result of extensive research and testing.
Foam
Foam is made from plastic polymer components or latex. High-quality, such as GOLS-certified foam mattresses will naturally be more expensive due to the price of the materials. The quality of density for a foam mattress can also impact the price of a mattress.
Different mattress manufacturers and retailers use different recipes to craft their mattresses. For example, some brands have developed high-quality and low-density foam mattresses that are lighter than other types of foam mattresses.
Memory Foam
Memory foam is made out of a special polyurethane. It molds to the body and responds to pressure. Memory foam is prevalent in mattresses, but it's still a technologically advanced material.
Memory foam was first invented by NASA to be used in spaceships. The material is shock absorbent and was used for seat belts and cushions. It has since been repurposed to be used in mattresses, but it was invented by some of the greatest minds in history.
There are different types of memory foam mattresses, each having its own strengths.
The types of memory foam are:
Open Cell: Open cell is less dense than closed cell memory foam. It allows for greater airflow.
Traditional (closed cell): Traditional memory foam uses closed cells. The closed cells trap heat.
Gel: Gel memory foam is a memory foam mattress with gel pods added to the top layer or gel infused into the foam. The gel adds more support and cooling.
Reflex: Reflex foam is a lower-cost polyurethane alternative to memory foam. It uses bubbles instead of holes that bounce back to their original shape when pressure is relieved from the surface.
Plant-Based: Plant-based memory foam is made using mostly plant-based compounds. It is impossible for a memory foam mattress to be 100% plant-based. However, it is a great option for the environmentally concerned.
While shopping for a foam mattress you should consider the amount of support you need for a good night's rest. The density of a mattress doesn't impact the "feel" of the bed, but it can affect the lifespan and level of support offered by your mattress.
Lower-density mattresses unless specially engineered, often offer less support, but allow for greater airflow. Higher-density mattresses usually offer greater support but can trap more heat depending on the materials used.
The quality of foam used can affect how long your new mattress lasts before showing signs of use. However, most mattresses can be used for several years before needing to be replaced. This factors into the overall cost of mattresses.
Mattress Duration

A good mattress can last 7-10 years before it begins to sag or show other signs of use. Beyond sagging, some signs you should replace your mattress are if you are experiencing aches and pains after sleeping or if you are no longer waking up feeling well-rested.
The quality of materials used in a mattress has a direct impact on the cost and length of time the bed lasts before needing to be replaced.
When considering how much your mattress features in your day-to-day life, a higher quality, durable mattress is a better long-term investment. You won't need to replace it as often and you will get better quality sleep.
Saving Money with Amerisleep Mattresses
Quick Guide: A 30-Second Summary
Amerisleep is committed to offering affordable mattresses without skimping on quality, ensuring that every Amerisleep mattress offers long-lasting support and comfort. We offer a 100-night sleep trial and a 20-year warranty with every mattress, to better safeguard a shopper's investment.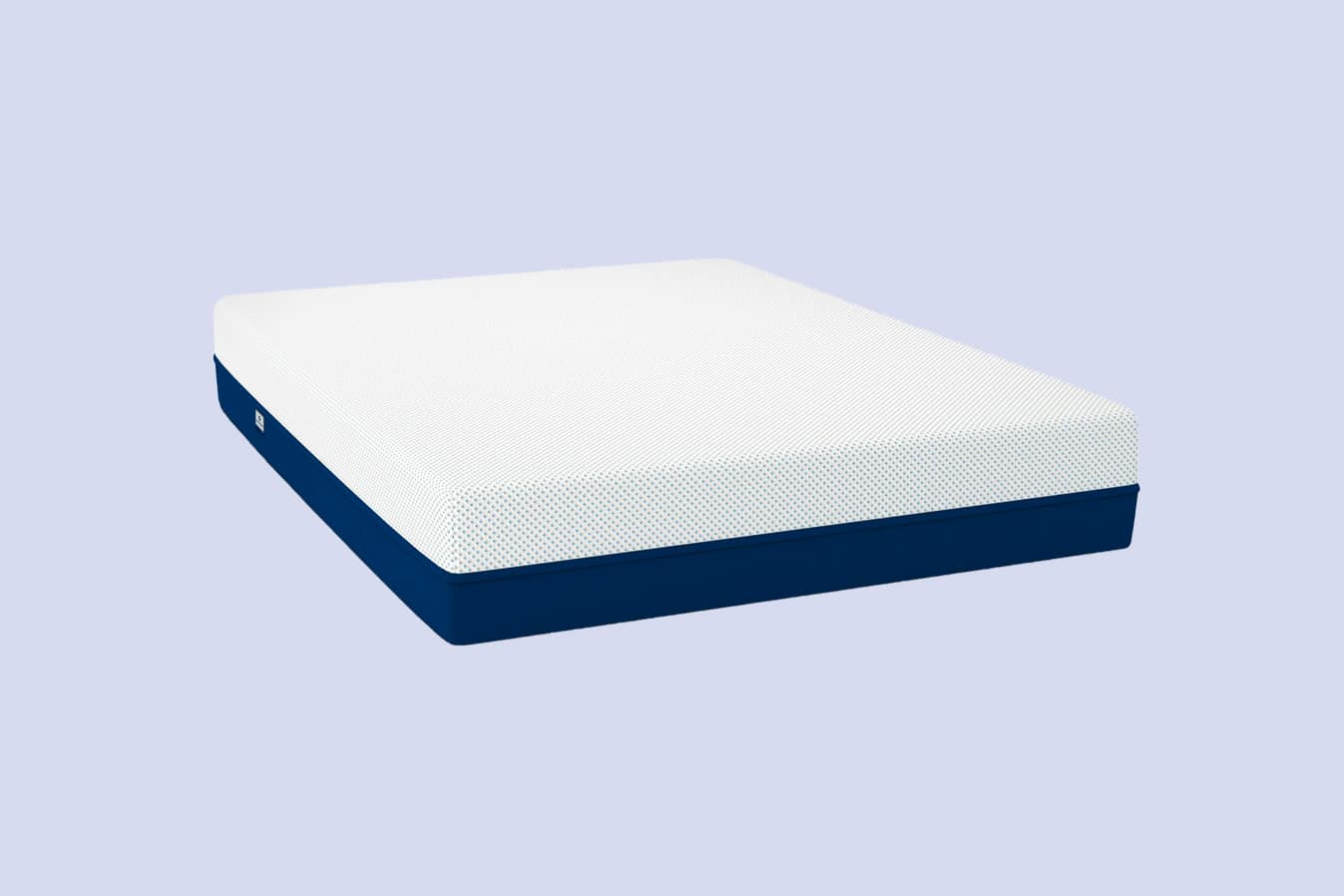 Best Mattress Overall
Amerisleep AS3
Price Range

$849 to $1798

Mattress Type

Memory Foam

Firmness

5 to 6 out of 10 (Medium)

Availability

All sizes

Warranty

20 Years

Thickness

12 Inches
The AS3 is a memory foam mattress capable of suiting most sleeping styles while relying on affordable foams for its extensive comfort and support.
Mattress Highlights
Plant-based memory foam top
Targeted support from transition foam
Base foam for long-lasting support
Recommended For
Side, back, and combination sleepers
Hot sleepers looking for a cooling bed
Couples seeking affordable comfort
The Amerisleep AS3 is our most popular mattress, with memory foam comfort and durable, supportive underlying foams. Its medium feel is designed to suit most sleeping positions and body types, though we do also offer firmer and softer mattresses for more specialized sleep needs.
Encasing the AS3 is a cover fabric of Refresh, a material that goes beyond standard heat-wicking fibers. The cover fabric absorbs heat and converts it into infrared energy, which can penetrate the body and increase local bloodflow for more restorative rest.
The comfort layer is Bio-Pur® foam, a plant-based memory foam. By replacing some synthetic petrochemicals with plant oils, the resulting foam is more responsive and breathable.
Next is a layer of Affinity foam with HIVE® technology. The hexagonal cutouts that form HIVE® technology provide extra softness in the shoulders and hips while maintaining support in the head, back, and feet.
The base is Bio-Core® foam, a material designed to stand strong and resist sagging from use.
There's also the AS3 Hybrid mattress, which pairs Bio-Pur® foam with a base of pocketed coils for motion-isolating support. The perimeter of the AS3 Hybrid establishes resilient edge support for easier mornings moving out of bed.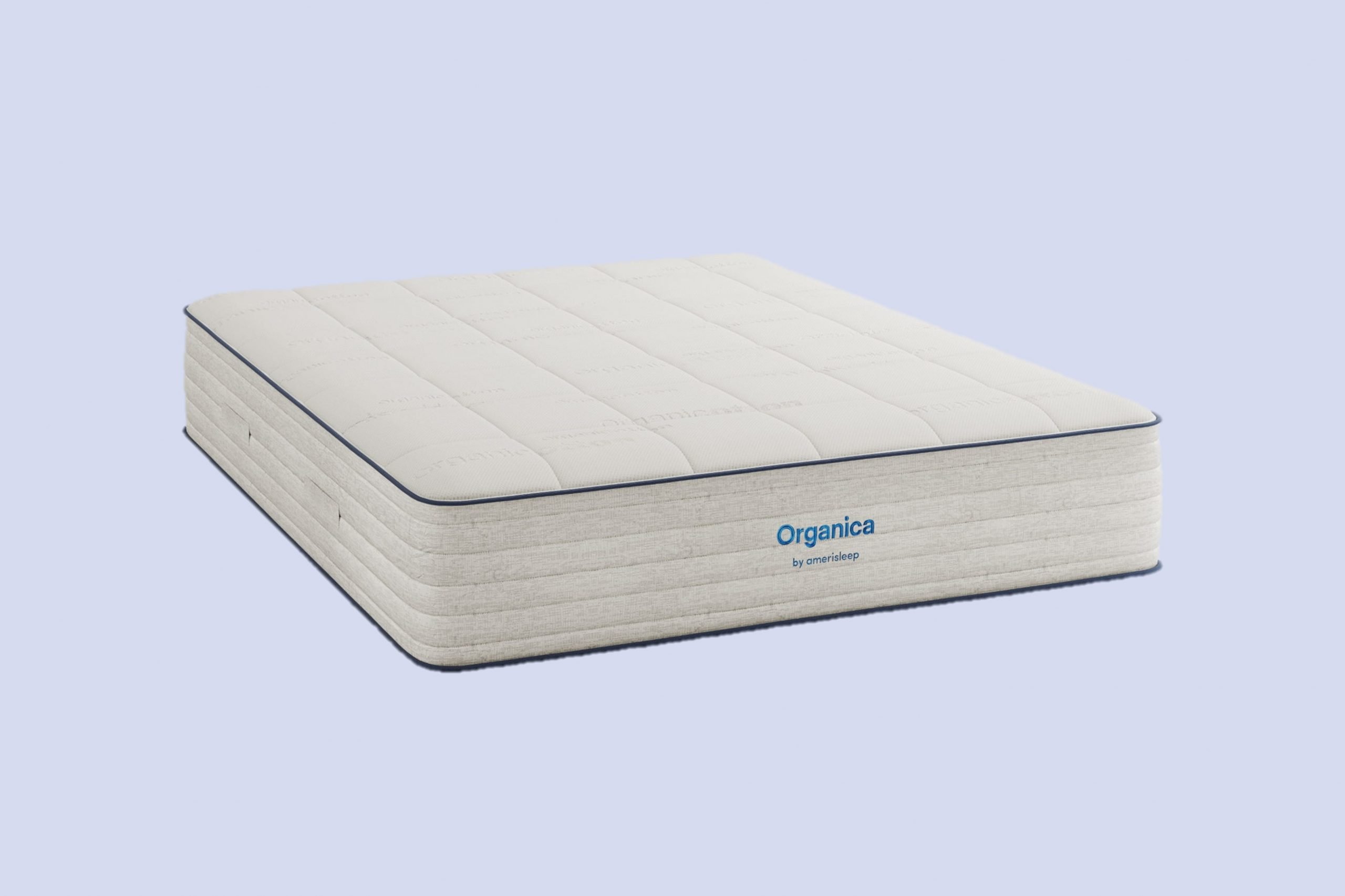 Best Latex Mattress
Amerisleep Organica
Price Range

$1049 to $2348

Mattress Type

Latex Hybrid

Firmness

5 to 6 out of 10 (Medium)

Availability

All sizes

Warranty

20 Years

Thickness

13 Inches
Latex mattresses are known for their durability and responsiveness, along with a concentration of natural materials. Our Organica mattress increases the bounce of latex by pairing the material with buoyant wrapped coils.
Mattress Highlights
Multiple certifications for quality materials
Cotton cover and wool flame barrier
Pocketed coils support bouncy latex
Recommended For
Sleepers with non-latex allergies
Most sleeping positions
Those seeking natural comfort
Latex mattresses can be quite costly, but the Amerisleep Organica offers durable, natural comfort at affordable prices. However, this doesn't come at the expense of lessened quality, as the Organica has a number of certifications for its materials:
The Organica's cover fabric of organic cotton feels gently smooth, staying cool and dry even as you lie stretched all night long. The next layer is organic wool, boosting the cotton's cool feel while serving as natural flame protection.
The primary comfort layer is 2 inches of soft, contouring Talalay latex, ready to meet the body's curves and whisk away tension. Underneath is another inch of Talalay latex with a firmer medium feel, creating a responsive transition. The support core is 8 inches of pocketed coils on an inch-thick base.
Impact on Health

Mattresses are expensive, but they are also a necessity for most when it comes to a good night's rest, and they are constantly evolving to better fulfill that purpose. The best mattress for you will help you get a good night's sleep.
Sleep is encoded in our DNA, Verified Source Oxford Academic Research journal published by Oxford University. View source Studies suggest that sleep patterns like being a "night owl" versus being a "morning person" are inheritable. Sleep is a chemical process that your body needs to function properly. Ideally, your mattress supports your ability to sleep.
The inability to sleep can result in several health issues ranging in severity. Sleeping well can positively impact your cardiovascular health and your metabolic health. It can also reduce the likelihood of workplace accidents.
Back Pain

You spend a large portion of your night lying on your bed. During that time, your back is in direct contact with your mattress.
If you suffer from back pain, the right mattress can alleviate your back pain by giving you proper support and avoiding pressure points.
Medium-firm mattresses provide the most significant relief for those who sleep on their back or stomach with back pain.
Side sleepers might find that medium or softer mattresses are better mattresses for back pain.
Sleep Apnea

Sleep apnea is a chronic condition that can result in individuals affected waking up more frequently in the night and can impact their ability to breathe while they sleep.
A mattress cannot medically treat sleep apnea, but it can offer some relief. For those who suffer from sleep apnea, a supportive mattress can offer relief. Sleep apnea can be reduced Verified Source Oxford Academic Research journal published by Oxford University. View source by lessening obstruction of the airways by lifting heads.
Side sleepers are more likely to be positively impacted by a supportive mattress. A supportive mattress provides appropriate lift for their head, neck, and body.
Adjustable beds are excellent for individuals with sleep apnea that sleep on their backs. They give these sleepers the option of elevating their heads in a way that feels comfortable to them.
Restless Leg Syndrome (RLS)

A mattress cannot cure restless leg syndrome, but it can reduce the impact that it has on your sleep.
Restless Leg Syndrome is characterized by involuntary movement of the lower body. This movement can wake the individual with RLS and anyone who they might be sharing their bed with.
Mattresses, like foam or hybrid, that are designed to absorb motion are a great solution for preventing RLS from disrupting your sleep.
Mattress Special Features

A mattress isn't one-size-fits-all, and for health or comfort purposes, you might prefer a mattress that meets your singular needs.
Special features will make a mattress more expensive, and while linked with the cost of better materials, these requirements can be unique to the individual purchasing the mattress.
Special features include orthopedic qualities, cooling capabilities, hypoallergenic qualities, edge support, and extra thickness. These types of good-quality mattresses are often more expensive.
Orthopedic Qualities
If you suffer from chronic back pain and aches, a good orthopedic mattress might ease your discomfort at night. While retailers advertise some mattresses as having orthopedic qualities, they often don't have anything to truly differentiate them from other types beyond their firmness.
A mattress that is qualified as medium-firm has been shown to have the greatest impact on improving back pain. Mattresses with this level of firmness can also help correct posture depending on your sleep position.
Cooling Capabilities
Mattresses with cooling technology use expensive materials to wick away heat. These materials often cost more than those that retain heat. Naturally, more material like what a soft and cool cloud mattress offers also increases the price.
If you are a "hot sleeper," a mattress with cooling capabilities would likely improve your sleep quality. In fact, even if you don't consider yourself a hot sleeper, scientists have found that sleeping in a cool environment has the potential to improve your sleep quality.
If you live in a hot environment, a mattress with cooling capabilities could help ease your discomfort at night. You can supplement the potential of a cooling mattress by further taking steps to cool down your room.
Hypoallergenic
Hypoallergenic mattresses use special materials to deter common allergens from being absorbed into the mattress.
Foam, latex, and dust-resistant covers are preferred when making a hypoallergenic mattress.
These higher-quality materials are used by mattress companies to prevent dust mites from building up. They also are effective at keeping out other pollutants and allergy triggers like pollens and microorganisms.
If you suffer from severe allergies or asthma, a hypoallergenic mattress could alleviate some of your symptoms.
Edge Support
Edge support is used to refer to the supportiveness of the edge of your mattress. It's often found in hybrid mattresses, though other types of mattresses may also feature edge support.
Edge support creates a strong framework for your mattress. If you are concerned about rolling off your bed for any reason, a mattress with edge support will likely help you with these issues.
Edge support can also make getting into and out of bed easier, making it a helpful feature for anyone seeking a mattress for arthritis or other conditions that restrict movement.
Extra Thickness
Extra thick mattresses are over 16 inches deep or tall and are considered unnecessary for most adults to achieve better sleep. However, someone might be motivated to purchase an extra thick mattress for preferential reasons.
We should also note that due to their weight and size, extra thick mattresses cost more to make and deliver. So an extra thick bed isn't likely to be one of the best affordable mattresses.
Mattresses that are suitable for the majority of the adult population can range from 8-16 inches thick and are split between standard: 8-12 inches thick; and thick, deep, or tall: 12-16 inches thick. Even a tall mattress can be one of the best mattresses under $2000, depending on its size and materials.
If you would like to know more about how thick your mattress should be to provide you with the most comfortable sleep, feel free to read this more in-depth article on mattress thickness.
Buying In-Store Mattresses

Something as seemingly innocuous as buying your mattress in-store can be another reason why you are wondering, "Why are mattresses so expensive?" Mattress stores need to mark up the prices of their beds to see a profit margin.
What is the best place to buy a mattress, then? While buying in-store provides you with the option of "testing" a mattress before buying it, making buying from stores attractive, purchasing your mattress from an online retailer will usually help you save money.
Running a Store
Running a store costs owners money, and in order to make up for that and see profit margins, most stores mark up the prices of their products to account for their overhead costs.
If they display mattresses from multiple mattress manufacturers, their products will likely have a higher price; buying products made in-house is generally less expensive than purchasing from another party.
You can save money on a new mattress by looking for deals in these stores.
Shipping and Delivery
Mattresses are heavy, which means delivery and shipping for mattresses can cost a lot of money. A store has to have their mattresses shipped and delivered to their store location first before they can display them or send them to your home. The cost of this is reflected in their prices.
However, many online mattresses are also mail order mattresses, including free home shipping. Such mattresses usually arrive in a box, compressed and rolled up for easier portability. Once the mattress is taken out and unwrapped, it will begin expanding to its full size.
Marketing and Advertising
Another reason behind the cost of mattresses is the cost of marketing. The mattress market is saturated with options, and stores and brands need to spend money on advertising in order to stand out in a competitive market.
The marketing and advertising necessary to make mattress sellers visible can add to the cost of running a store. All of these can contribute to the prices you see while shopping for a new bed. Buying a new mattress online could help you save money and avoid some of the added costs of buying in-store.
Technology in Mattresses

Mattresses are produced using more high-tech materials now than in the past to increase sleep quality. The sleep technology used in mattresses was created through careful study and as consumers adjust to some of these newer features, what is acceptable as a standard mattress has changed.
A high-quality luxury mattress with these new features will be more expensive.
Heating or Cooling Materials

Some brands have begun to include technology that can warm up or cool down your bed. This can be useful for those in extreme climates or for people who struggle to sleep if their environment isn't at the right temperature. However, having this kind of technology will raise the price of a mattress.
Heating or cooling materials are usually used with foam mattresses, as this material tends to absorb heat faster than it releases it.
Heated mattresses use heated wires to maintain a warm surface temperature on the mattress. In comparison, some mattress brands that boast advanced cooling mattresses use electric fans to cool the mattress from underneath.
Scientists have also developed mattress materials that don't use electricity that can have a similar impact and establish a cooling mattress. Open-cell mattresses are a great example of this. Their open structure disperses heat more effectively than more tightly woven materials.
In the past, this also meant that they were less supportive but several companies have developed open-cell foam that provides the same level of support as closed-cell and traditional foam. Some mattress companies have also begun to use copper, gel, or graphite as a material to release heat in mattresses.
Of course, you want to make the most of a mattress that minimizes hot sleeping by dressing it with cooling sheets and pillows. One trick to stay cool while sleeping is to stick your sheets in the freezer a few hours before bed,
Adjustable Firmness

Mattresses that feature adjustable firmness use smart technology to increase the pressure to best suit your needs. It is helpful for those who might share a bed. It can also be great if you're unsure of what pressure you sleep with best, sparing you the trouble of looking for the right mattress firmness.
Other companies allow you to manually adjust the firmness by switching the foam materials inside to raise or lower the firmness. There are also companies that have mattresses that are flippable with each side having a different firmness level.
Flippable mattresses and manually adjustable mattresses are also excellent at extending the lifespan of your mattress by giving you the option of switching over to the next side or changing the foam when body impressions become a concern.
Sleep Sensors

Sleep sensors are devices placed beneath the top layer of a mattress that can help you better understand how you sleep. They track your movement, heart rate, sleep time, and breathing.
Sleep sensors share similarities with other devices used to track your health, such as monitors for heart rate variability while sleeping, that you typically wear. Yet sleep sensors in the mattress spare the inconvenience of needing to wear a device while you sleep. Employing sleep sensors in a mattress will also cause a mattress to be more expensive.
Buying Secondhand Mattresses

You can save by shopping for a secondhand mattress instead of a new mattress, but despite being a necessity in most homes, they don't sell well secondhand. Most people prefer to buy new mattresses, which are more costly, than risk the uncertainty of a used mattress.
In the long term, buying a new mattress from a retailer instead of secondhand will likely help you save money. You can't accurately know how much wear and tear a secondhand mattress has unlike a new mattress.
The limited resale value of mattresses is based mostly on hygiene concerns. It is difficult to be sure that the person you're buying from second-hand used a mattress cover and took good care of the mattress.
However, that is not the only reason for the limited secondhand market for mattresses; some states don't allow the resale of used mattresses.
Some concerns for a used mattress are bed bugs, Verified Source Environmental Protection Agency (EPA) Works to control/prevent natural and manmade disasters. View source stains, allergens, Verified Source National Library of Medicine (NIH) World's largest medical library, making biomedical data and information more accessible. View source and body impressions from the previous owner. It is generally recommended to buy a new mattress for these reasons. Even with pictures and an in-person inspection before purchasing, it can be hard to tell if you're buying a good mattress.
Unless you are certain the previous owners used a mattress protector, you should consider spending money on a new mattress.
Frequently Asked Questions
How long does a mattress last?
How long you can expect a mattress to last depends on the type of mattress and material used. Mattresses with springs have a greater risk of sagging as they age, with hybrid mattresses lasting longer on average than traditional innerspring mattresses. Foam mattresses are overall more resilient, with latex foam resisting wear and tear better than memory foam.
Spring mattresses may last around 5 to 7 years, while memory foam mattresses should last 7 to 10 years or more. Latex mattresses can last a couple of decades.
Frequency of use is another factor that determines how long a mattress lasts. A mattress in a guest room that only sees occasional use may last decades, while a mattress used nightly may only last a handful of years.
What's the difference between cheap and expensive mattresses?
There are a number of expected differences between lower-priced and higher-priced mattresses, such as material quality. Some budget mattresses may also rely on slimmer thicknesses, using fewer materials to save on costs.
Cheaper mattresses also may not come with a proper sleep trial or even a return policy. Instead, the company may offer an inexpensive mattress as a final sale item, so shoppers have no way to get their money back if the bed isn't comfortable. These mattresses may also have a shorter-than-average warranty, maybe about 5 or so years.
Is $3000 too much for a mattress?
It depends on the type of material used and the size of the mattress, but generally, you shouldn't have to pay $3000 for a comfortable and durable mattress. Traditional king beds and split king mattresses with latex foam or pocketed coils may be around this price point, particularly if they're around 14 inches or thicker.
If you're paying more for a mattress, it's important to make sure it comes with a lengthy sleep trial and mattress warranty. For a more expensive mattress, the warranty should offer at least 20 years of protection.
What's the average price of a queen mattress?
Queen mattresses tend to cost around $1000 to $1100 for a memory foam or innerspring mattress, though latex and hybrid mattresses tend to cost a few hundred dollars more. While you may be able to find a budget queen mattress for less money, it's important to remember that you don't want to skimp on quality when it comes to better sleep.
We suggest looking for queen mattresses that are at least 10 inches thick and it should come with a sleep trial and a mattress warranty that spans at least the first 10 years of ownership.
What type of mattress is most expensive?
When it comes to the most expensive types of mattresses, natural latex beds and hybrid mattresses are the most costly options on the market. Hybrid mattresses blend different types of comfortable materials together, which raises their production costs. Similarly, latex mattresses have high production costs from their natural and organic materials.
Why Mattresses Are So Expensive
Mattresses are more expensive than ever, but they are also better designed. There are several reasons for the high price of a new mattress. In comparison to the past, they use better materials and have a greater focus on meeting individual needs.
Your bed can directly impact your life by affecting how you sleep, and it can last a decade or longer. Choosing a high-value mattress with sturdy materials will stretch out the time until you need to replace a mattress.
You can also save by buying from an online retailer or looking for brands that feature 0% APR mattress financing and free delivery on their products. It is also easy to find a great deal and pay less by shopping online.
---
About the author
Geoff McKinnen is a writer focusing mainly on the healthcare industry and has written articles on everything from foods to help you lose weight to the connection between Alzheimer's and sleep. Geoff's passionate about helping readers improve their well-being to lead happier lives. Outside of work, Geoff enjoys cycling and hiking and believes that by leading a healthy lifestyle, he can help others do the same.
View all posts