Mattress pads and toppers serve the dual purpose of protection and comfort. Mattress pads add a plush layer to your bed. Mattress toppers are a thicker version of mattress pads, enhancing or altering the feel of your bed.
Both mattress accessories—pads and toppers, also protect your bed from wear and prolong its life. If you're looking to add a bit of comfort to your mattress while protecting it from stains, choose a mattress pad. Mattress toppers are better for those looking to soften a firm mattress or increase the firmness of a soft mattress.
If you're looking to upgrade your current mattress, consider a mattress pad or topper.
What Is a Mattress Pad?
A mattress pad is a thin layer of padding made of cotton, wool, feather, synthetic fibers, latex, or memory foam. This layer of comfort is covered by a quilted fabric. Mattress pads make your bed feel softer while protecting it from damage and accidental spills and stains.
Mattress pads are thinner than toppers and easier to clean, some even machine-washable. They're attached to a fitted sheet, with zippers or straps in the corners to tuck underneath the mattress, preventing them from moving when you change sleeping positions.
Types of Mattress Pads
A variety of materials are used in making mattress pads, including cotton, wool, feather, fiber, latex, and memory foam.
Cotton Mattress Pads

Cotton mattress pads are popular because of their plushness and durability. These mattress pads last long and are affordable too, though prices are higher for organic cotton. However, cotton mattress pads may not offer robust protection from spills and stains because cotton is absorbent, causing spills to soak through the mattress. Unless backed by special treatment or blended with another material, cotton mattress pads may not offer much protection.
Wool Mattress Pads
Wool mattress pads are soft and breathable, wicking away moisture. Wool, made from shearing sheep, is an expensive natural material. Maintenance of wool mattress pads may be difficult because most can't be machine-washed. Wool mattress pads are also unable to prevent spills from soaking through.
Feather Mattress Pads
Feather mattress pads contain feathers from duck and geese. Sometimes down, softer feathers found under the plumage may be used too. Feather mattress pads are soft, cozy, and warm, but are expensive and ineffective in blocking spills.
Fiber Mattress Pads
Polyester, rayon, and down alternatives, known as fiberfill, are used in making these mattress pads. Some synthetic fibers offer excellent stain-resistance, but the fiber mattress pads may be noisy. Their maintenance may be difficult too because they can't be machine washed.
Latex Mattress Pads
Latex mattress pads contain natural or synthetic latex or a blend of both. Depending on its thickness, latex mattress pads contour to your body and offer bounce. They may be expensive and difficult to maintain, but offer some protection against spills and wear. Latex mattress pads are most effective when paired with latex mattresses.
Memory Foam Mattress Pads
Memory foam mattress pads aren't common. They conform to your body and provide plushness to your bed, but aren't thick enough for pressure-relief. Their maintenance may be difficult because they can't be washed easily and are ineffective in blocking stains.
Benefits of Mattress Pads
Adds cushioning to your bed
Lightweight
Some are machine washable
Some protect against damage and wear
What Is a Mattress Topper?
Mattress toppers are thicker than mattress pads and are used to alter the feel of your bed. The additional layer on an old mattress may firm it up and provide extra support.
While mattress pads add plushness, mattress toppers may be used for adding plushness or firmness to your bed. Our Lift® by Amerisleep mattress topper is available in two varieties—Comfort Lift® for more cushion and Support Lift® for added firmness. So whether your bed feels too soft or too firm, our Lift® topper can be a solution.
Types of Mattress Toppers
Mattress toppers offer greater protection from wear and tear, but the materials they contain may not be effective in blocking spills and stains.
Memory Foam Mattress Topper
Memory foam mattress toppers are popular for contouring, pressure point relief. If you are waking up with body aches, a memory foam mattress topper may help you. They're also available in gel memory foam.
Latex Mattress Topper
Latex toppers are responsive and provide additional support to your bed. Natural latex is hypoallergenic, resistant to dust mites, bed bugs, mold, and mildew—a good option for those with allergies.
Wool Mattress Topper
Wool mattress toppers are soft and supportive and excellent at regulating temperature. Wool keeps you warm in winter and cool in summer by wicking away moisture.
Featherbed Mattress Topper
If you want the cloud-like fluffy feel of a pillow top or Euro top mattress, then featherbed mattress toppers are for you. Pillow top mattresses may feel matted after prolonged use, but featherbed mattress toppers can be shaken and fluffed up periodically for prolonged use.
Of course, some may prefer the more solid feel of memory foam, as we discuss in our memory foam vs pillow top guide.
Benefits of Mattress Toppers
Thick enough to alter the feel of your mattress
Extends durability of your mattress
Some may alleviate back pain or body aches
Consider the Amerisleep Mattress Topper
Quick Guide: A 30-Second Summary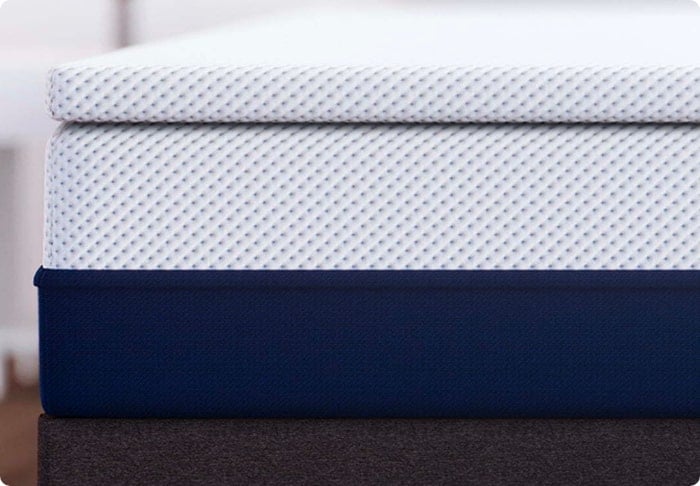 Best Memory Foam Mattress Topper
Amerisleep Lift Topper
Price Range

$199 to $349

Topper Type

Memory Foam

Firmness

4 or 6 out of 10 (Medium-Soft to Medium-Firm)

Availability

All sizes

Warranty

5 Years

Thickness

3 Inches
If you want to give your mattress a major facelift without replacing it, take a look at the Lift Mattress Topper by Amerisleep.
Mattress Topper Highlights
Two firmness levels for more cushion and support
Breathable cover helps wick away heat and moisture
HIVE® technology offers targeted pressure relief
Recommended For
Sleepers who need to change their firmness level
Hot sleepers seeking extra cooling technology
Sleepers with back, shoulder, or hip pain
The Lift by Amerisleep is a thick topper that sports a few of the best features of the Amerisleep mattress lineup. First off, the Lift is one of the few mattress toppers that comes in two firmness options. There's the Comfort Lift and the Support Lift.
The Comfort Lift is the softer choice. It features the same ultra-contouring, plant-based Bio-Pur® foam that comes in Amerisleep mattresses. That means it can help add a few extra inches of contouring and cushioning to your existing mattress, reducing its firmness level to fit your needs.
Meanwhile, the Support Lift is the firmer option. If you want to up your existing mattress's firmness level, this is the way to go. The Support features buoyant Affinity foam to offer you more lift and counter sinkage if you feel your mattress is too soft. Both Lift firmness levels are three inches thick, meaning they will both alter your mattress's feel to better fit what you want.
Both the Support and Comfort versions of the Lift come with the same ultra-breathable ventilated cover featured in the Amerisleep mattress lineup. The cover helps keep air circulating around your body to keep you cool all night long.
This cooling effect is enhanced in the Comfort Lift because of the ultra-breathable Bio-Pur® foam. That means this soft mattress topper won't overheat you just because it hugs your body. It won't impede airflow because the air just passes right through.
Both the Comfort and Support feature Amerisleep's proprietary HIVE® technology. The HIVE® zoned pressure relief system offers five zones of comfort to different body areas. That means each zone of your body, from your head and shoulders to your knees and feet, gets the exact balance of support and cushioning it needs for optimum comfort.
Both versions of the Lift topper come in the standard mattress size run and follow the standard dimensions. That means no measuring or calculating. Just order the size that corresponds to your mattress size, and you're good to go!
Difference between Mattress Pads and Toppers
Both mattress pads and toppers offer some degree of protection to your mattress.
| Parameters | Mattress Pads | Mattress Toppers |
| --- | --- | --- |
| Thickness | Less than 1 inch | Greater than 1 inch |
| Protection from Wear | Not as effective as mattress toppers | Thickness allows superior protection |
| Protection from Spills | Some materials prevent spills from soaking through | Not resistant to spills or stains |
| Maintenance | Many are machine-washable | Heavy and cumbersome to clean |
| Purpose | Adds a bit of softness and improves protection | Can alter the feel of your mattress, making it softer or firmer. |
FAQs
How is a mattress pad different from a mattress protector?
Mattress protectors provide a greater degree of protection from spills and stains than mattress pads or toppers. Mattress protectors contain fibers such as rayon and polyester, and for waterproofing, vinyl and plastic may be used.
Can I buy a memory foam mattress topper instead of a memory foam mattress?
If you put a memory foam topper on an innerspring mattress, it may relieve pressure and reduce body pain temporarily, but this can't substitute a high-quality memory foam mattress. Memory foam mattress toppers may serve as an option for trying out memory foam, without investing in a mattress.
How Do I Decide What I Need?
If your bed feels too soft or firm and you want to alter its feel, then you need a mattress topper. This thick layer placed on the surface of your mattress also protects it from wear, promoting durability.
If you want to add a layer of plushness to your bed, a mattress pad on top of your mattress will work. If your intention is to protect your bed from spills and stains, then waterproof mattress protectors are your option.
---
About the author
Sanchita Sen is a full-time writer focusing on the sleep health and mattress industry. She is a former journalist who has written numerous articles on the healthcare sector. Some of the topics she has covered include how to lucid dream, fever dreams, melatonin for sleep, and best gel memory foam mattress. Sanchita holds a Master of Arts in Communications from Convergence Institute of Mass Media and Information Technology Studies. She is also a published author, who seeks inspiration from both real life and the world of fiction.
View all posts