Powered by Amerisleep, EarlyBird brings together a dedicated team of sleep science coaches, engineers, and product evaluators. We meticulously examine Amerisleep's family of products using our unique product methodology in Amerisleep's state-of-the-art laboratory. Our commitment to sustainability is reflected in our use of eco-friendly foam in our products. Each article we publish is accurate, supported by credible sources, and regularly updated to incorporate the latest scientific literature and expert insights. Trust our top mattress selections, for your personal sleep needs.
A latex-free mattress is a type of mattress that is made without any latex materials in its construction. Latex is a natural material derived from the sap of rubber trees and is commonly used in mattresses due to its durability, comfort, and responsiveness. However, some people may have a latex allergy, which can cause a range of symptoms such as skin irritation, respiratory problems, and even anaphylaxis in severe cases.
Mattress manufacturers have developed latex-free alternatives that offer similar levels of comfort and support to address latex allergy concerns. A latex-free mattress is typically made from materials such as memory foam, polyurethane foam, or natural fibers like cotton, wool, or bamboo.
These non-toxic mattresses may also incorporate advanced technologies like gel-infused foams or pocketed coils to enhance cooling, pressure relief, and motion isolation.
If you have a latex allergy or sensitivity, a latex-free mattress can provide a safer and more comfortable sleep environment. It's important to check the label or contact the manufacturer or a brand's customer service team to confirm that the mattress is truly latex-free and free from other potential allergens and irritants.
Best Latex-Free Amerisleep Mattresses
Quick Guide: A 30-Second Summary
We go the extra mile by offering free shipping on all our mattresses, along with a 100-night sleep trial and a 20-year warranty, giving our customers peace of mind when investing in their sleep. You can also sleep healthier with eco-friendly materials that are CertiPUR-US® certified, low in VOCs, and resistant to allergens Verified Source Medline Plus Online resource offered by the National Library of Medicine and part of the National Institutes of Health. View source without harsh chemicals.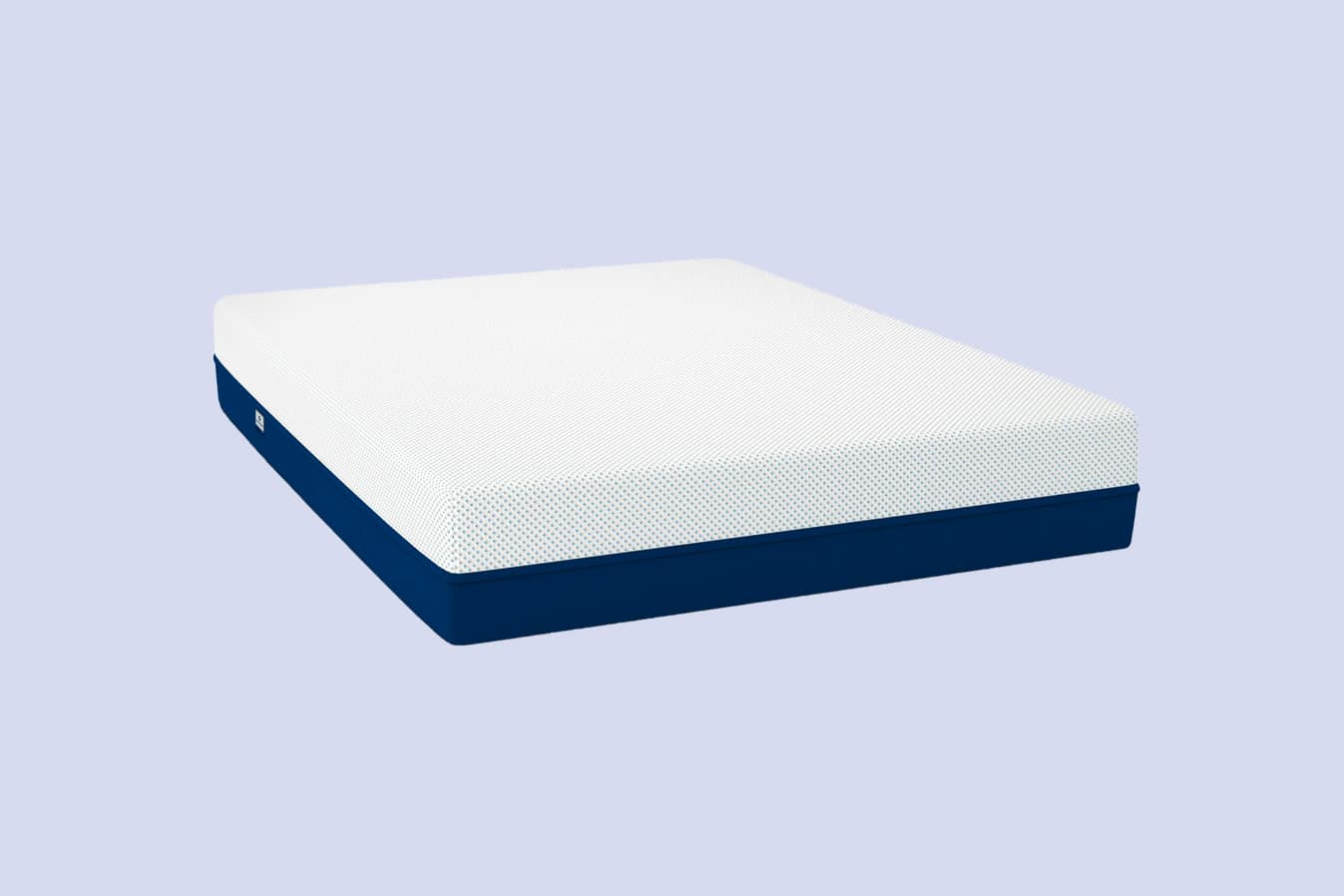 Best Mattress Without Latex Overall
Amerisleep AS3
Price Range

$1049 to $2198

Mattress Type

Memory Foam

Firmness

5 to 6 out of 10 (Medium)

Thickness

12 Inches
If you are looking for a latex-free mattress that offers excellent motion isolation and numerous features, the Amerisleep AS3 could be an ideal choice for you.
Mattress Highlights
Revolutionary cooling cover fabric
Eco-friendly memory foam
Comfort with zoned support technology
Recommended For
Side, back, and combination sleepers
Hot sleepers
Couples
The Amerisleep AS3 stands out as one of the top mattresses available today, boasting a versatile medium feel and a plant-based memory foam that caters to a wide range of sleeping styles. We've found this makes it the ultimate all-rounder mattress, perfectly suited for anyone looking for a comfortable and supportive sleep experience.
The Refresh Cover is composed of a unique fiber that draws heat away from your skin, ensuring that you stay cool throughout the night. With an average temperature decrease of up to 7 degrees during an eight-hour sleep cycle, you can quickly and comfortably fall asleep.
At the heart of the AS3 mattress is the innovative Bio-Pur® memory foam comfort layer. The material combines the contouring and pliability of traditional memory foam with the buoyancy and breathability of latex.
Unlike traditional memory foam, Bio-Pur® overcomes issues such as heat retention and slow response time, adapting to your body shape while quickly returning to its original form when you change positions. Additionally, the use of plant-based materials ensures a hypoallergenic and mildew-resistant sleeping surface, promoting a healthier sleep environment.
The AS3 mattress also features the HIVE® transition layer, segmented into five distinct support and pressure relief zones. Our design ensures that every part of your body receives the appropriate balance of comfort and support. This contributes significantly to the mattress's versatility, supporting your lumbar region while relieving pressure points throughout your body.
The support layers of the AS3 mattress culminate in the Bio-Core® base foam, a high-density foam that provides exceptional lift and support to keep you comfortably atop the mattress. Its ultra-firmness contributes to the mattress's structural integrity, increasing its lifespan and enabling it to deliver on its impressive 20-year warranty.
Quick Summary:
Enjoy an exceptional sleep experience with plant-based memory foam that overcomes common issues found in traditional memory foam.
Experience customizable comfort and pressure relief with the zoned transition layer featuring five zones of support.
Get a valuable investment with the high-density foam support core, which provides excellent durability and support for a comfortable and supportive sleep surface.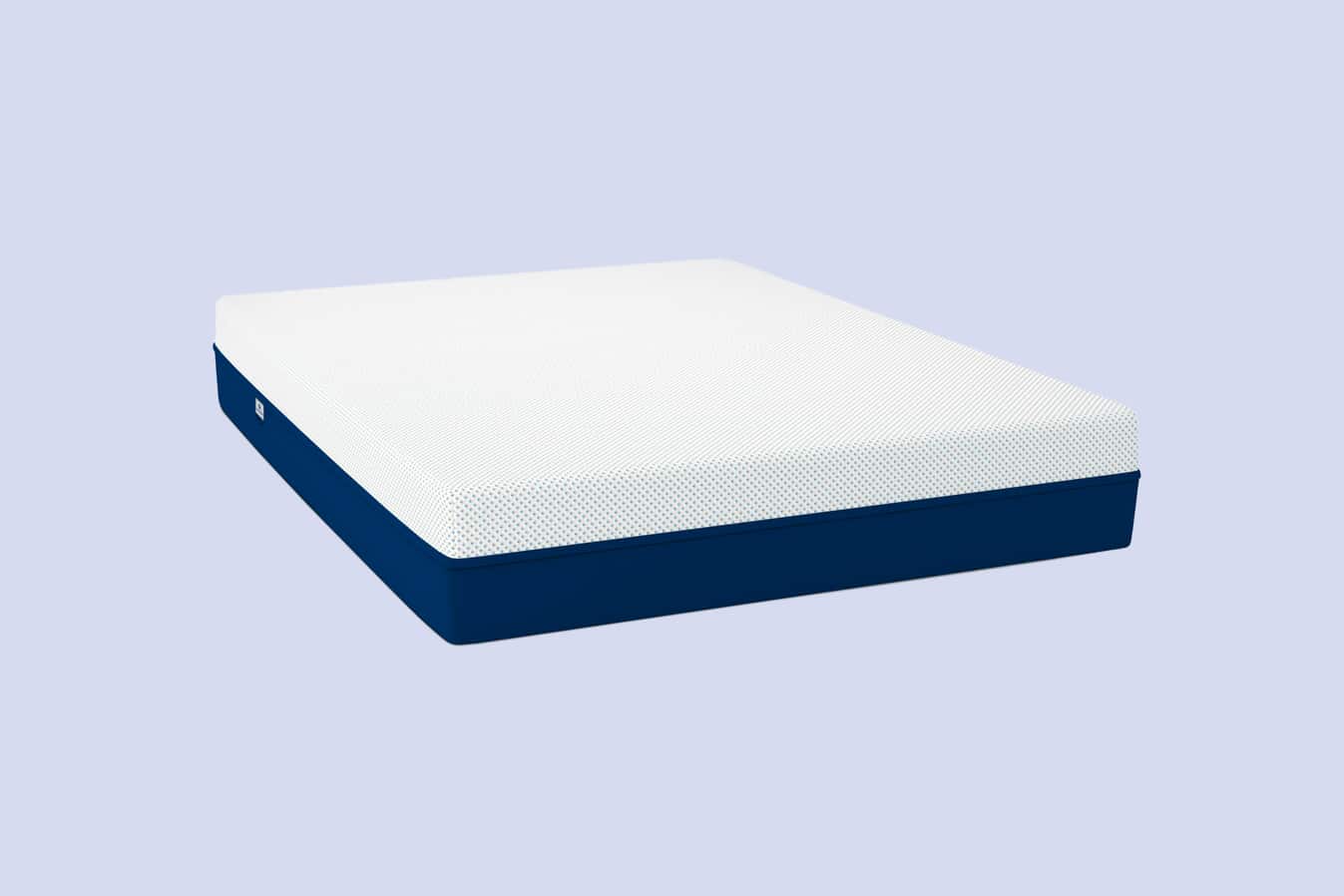 Best Firm Mattress Without Latex
Amerisleep AS2
Price Range

$849 to $1798

Mattress Type

Memory Foam

Firmness

7 out of 10 (Medium-Firm)

Availablity

All sizes

Warranty

20 Years

Thickness

12 Inches
Our Amerisleep AS2 is a medium-firm mattress that features HIVE® technology for targeted support and pressure relief, making it a great option for those seeking a comfortable and supportive sleep surface.
Mattress Highlights
Bio-Pur® foam promotes airflow
Targeted support from HIVE® technology
Sag-resistant base foam layer
Recommended For
Back and combo sleepers
Some stomach sleepers
Hot sleepers
The Amerisleep AS2 mattress is specifically designed to provide targeted back support for those who sleep on their back. Getting a good night's rest is essential, and your sleep surface plays a significant role in your overall comfort. That's why we created the Refresh Cover for our mattresses.
Moreover, the AS2 boasts of plant-based Bio-Pur material with an open-cell design that allows for better airflow than conventional foam. This feature means that you'll remain cool, comfortable, and well-rested, with less tossing and turning and sweating throughout the night.
The HIVE® technology in the Affinity foam transition layer provides targeted support and pressure relief. HIVE® is a zoning system that divides the mattress into five ergonomic zones, each with its unique pattern of hexagonal cutouts. These cutouts are designed to vary in size and density, providing different levels of support and cushioning to different parts of the body.
The zones near the head, shoulders, and legs are softer to provide pressure relief, while the zones near the hips and lower back are firmer to provide support. HIVE® helps to distribute body weight evenly, reducing pressure points and promoting spinal alignment. The base of Bio-Core® further strengthens the AS2's support.
Quick Summary:
Sleep cool and comfortably with memory foam that promotes airflow and relieves pressure points.
Get responsive and supportive sleep with supportive foam that prevents heat build-up and bounces back quickly.
Cover fabric promotes gentle, cooling sensations.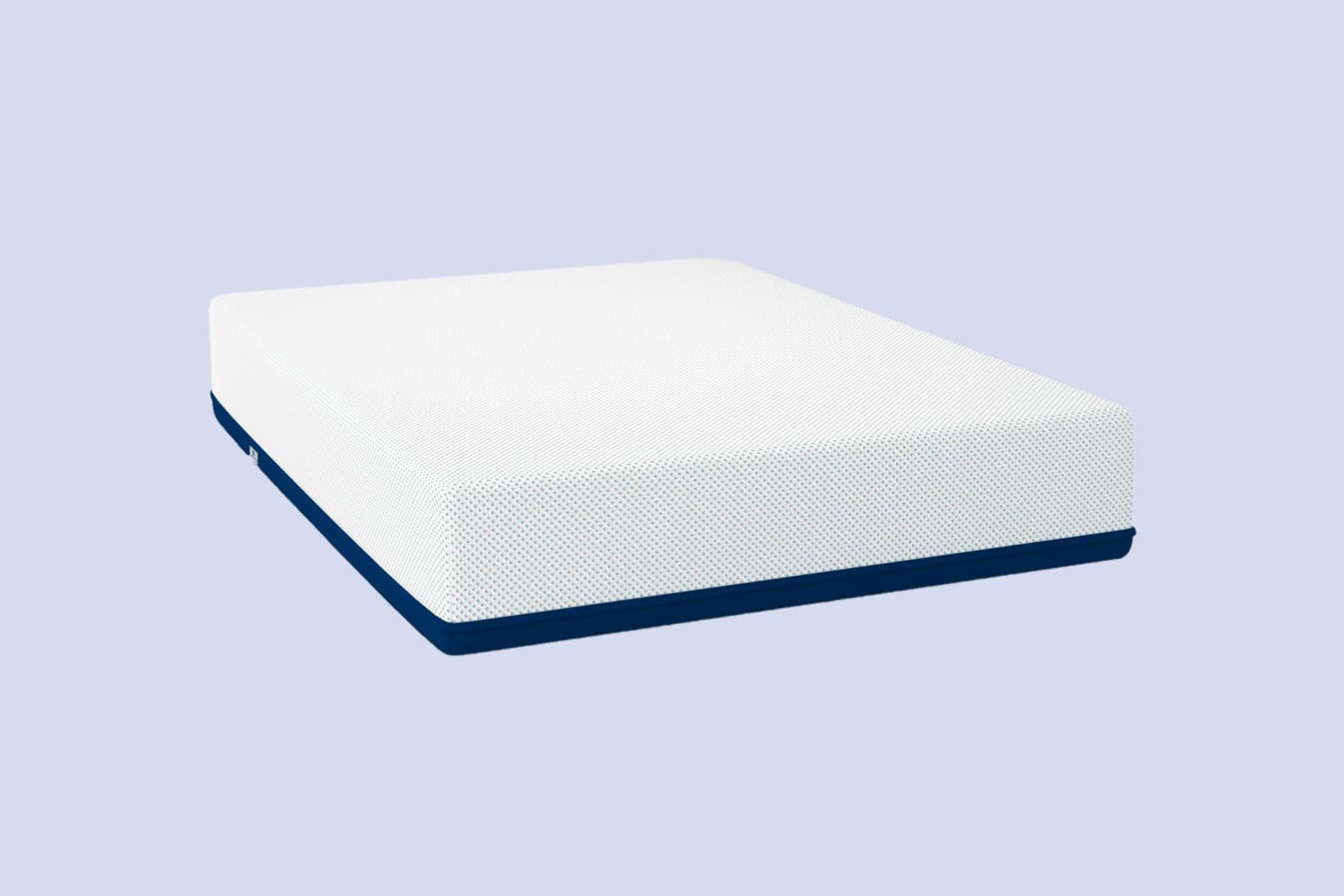 Best Soft Mattress Without Latex
Amerisleep AS5
Price Range

$1449 to $2998

Mattress Type

Memory Foam

Firmness

3 out of 10 (Soft)

Availability

All sizes

Warranty

20 Years

Thickness

14 Inches
With the Amerisleep AS5, you can enjoy a restful night's sleep without experiencing pain in your pressure points. This mattress ensures that your body is well-supported and your pressure points are relieved of any discomfort.
Mattress Highlights
Plush foams provide pressure relief
Cooling as mattress contours to body
Support layers offer buoyancy and lift
Recommended For
Side sleepers
Hot sleepers
Different body types
The Amerisleep AS5 is a luxurious mattress that's ideal for anyone seeking exceptional comfort and support. With its softest feel in the collection, it's perfect for smaller or heavier sleepers, and at 14 inches, it's lofty and easy to climb in and out of bed.
The AS5 features a four-layer construction, starting with a 3-inch Bio-Pur® foam layer, followed by a 2-inch Active Flex layer, a 2-inch Affinity layer that utilizes HIVE® technology, and a 7-inch Bio-Core® base. This highly-rated design is similar to the AS3, but with extra support, providing a soft yet supportive sleeping surface.
In conclusion, the AS5's advanced construction and extra supportive design make it an exceptional choice for anyone seeking a luxurious, durable, and comfortable mattress.
Quick Summary:
The Active Flex layer provides softness without excessive sinkage.
The durable base foam offers spinal support and longevity.
The breathable cover and foam work in tandem to keep the mattress cool.
How Do I Know if My Latex-Free Mattress is Non-Toxic?
To ensure that your mattress is non-toxic, you should consider several factors. First, look for certifications from organizations such as:
Global Organic Textile Standard or GOTS
Global Organic Latex Standard or GOLS
Oeko-Tex Standard 100
These certifications ensure that the mattress is made with non-toxic materials and doesn't contain harmful chemicals.
Additionally, check the materials list for the mattress and avoid those that contain synthetic materials, flame retardants, or other chemicals. Instead, choose mattresses made with natural materials like organic cotton, wool, or latex and mattresses free of fiberglass and flame retardant chemicals.
Another important factor to consider is off-gassing. Some mattresses emit a strong odor when unpacked, which can be a sign of lingering VOCs from production. If you notice a strong odor, let the mattress air out in a well-ventilated area for a few days before using it. Reading reviews from other customers who have purchased the mattress can also provide insight into its quality and safety.
Finally, don't hesitate to contact the mattress manufacturer if you have any questions or concerns about the safety of the mattress. They should be able to provide you with more information about the materials used in the mattress.
By considering these factors, you can make an informed decision about whether or not your mattress is non-toxic. If you're unsure, it's always best to choose a mattress that is explicitly labeled as non-toxic or made with natural materials.
Types of Latex Free Mattresses
There are several types of mattresses without latex available on the market. Memory foam is a well-known counterpart to a latex mattress, along with traditional spring and hybrid mattresses. There are also other less conventional mattresses such as wool and cotton mattresses or airbeds, though these may take some looking.
Memory Foam Mattresses
Memory foam mattresses are among the best mattresses for motion isolation, as they consist of multiple layers of dense polyurethane foam, each designed to support your body and provide joint relief. This cradling effect is especially beneficial for individuals with sore joints or those who are lightweight.
Purchasing a memory foam mattress with built-in cooling gel, helps to wick heat away from your body, ensuring a comfortable sleep for both partners. Moreover, the design ensures that you won't be disturbed by your partner's movements.
Side sleepers and combination sleepers tend to find memory foam mattresses the most comfortable. However, given the variety of firmness options available, anyone can find a memory foam mattress that suits their needs and those of their partner.
Innerspring Mattresses
The innerspring mattress style is a classic option that has been around for a while. One of its standout features is its breathability and excellent edge support. Mattresses with good edge support prevent you from rolling off the bed. This type of mattress typically has a thin top comfort layer and a support system consisting of steel coils.
While innerspring mattresses are relatively affordable, they may require a box spring to function correctly. It's worth noting that light sleepers or individuals with specific joint support needs may find a different mattress more suitable for their needs. Coil mattresses can be noisy and may cause discomfort for some sleepers, necessitating the use of a mattress topper to alleviate body aches.
Hybrid Mattresses
Hybrid mattresses provide a seamless blend of traditional spring beds and memory foam mattresses, with a comfort layer of 2-to-3 inches made of either latex foam or viscoelastic foam. This mattress is supported by a coil base, ensuring even weight distribution and some body-hugging. Additionally, hybrid beds offer edge support, which can be especially beneficial for individuals with mobility issues.
For side sleepers who prefer a bouncier bed, memory foam hybrid mattresses are an excellent choice. Unlike innerspring mattresses that can feel too firm against their bodies, hybrid mattresses for side sleepers offer pressure point relief and a comfortable sleeping surface.
Air Mattresses
An air mattress is a type of mattress that is inflated with air instead of being filled with foam, coils, or other materials. Air mattresses can be inflated manually with a pump or automatically with an electric pump. They can be made of PVC vinyl, nylon, or other materials.
Air mattresses are often used as temporary sleeping solutions for guests or for camping trips, but more upscale models can also be used as a regular bed. Some air bed models can serve as a customizable luxury mattress, as they have adjustable firmness levels, allowing the user to switch up the firmness to their preference.
Cotton Mattresses
While many of the best latex-free mattresses do not use organic materials, there are a couple of types that do. A cotton mattress is a type of natural mattress that features cotton as the primary material. Cotton is a natural fiber that is widely used in textiles, including bedding. Cotton mattresses can be made entirely of cotton or can include other materials such as foam, latex, or wool.
When used in natural mattresses, cotton is breathable and can help regulate body temperature, making it a good choice for people who tend to overheat at night. Cotton is also hypoallergenic and can be a good choice for people with allergies or respiratory issues. However, cotton mattresses may not provide as much support as other types of mattresses, especially if they are thin futon mattresses that do not contain additional materials like foam.
Wool Mattresses
A wool mattress is a type of mattress that contains wool fibers as a primary component. Wool is known for its insulating properties, making it an ideal material for use in bedding. Wool mattresses can be made entirely of wool or can include other materials. Wool mattresses are hypoallergenic and resistant to dust mites, which can be beneficial for people with allergies or respiratory issues.
Wool is also known for its moisture-wicking properties, which can help regulate body temperature and keep the sleeper dry and comfortable throughout the night. However, wool beds can be more expensive than other types of mattresses due to the cost of wool and the labor required to make them.
Mattress Firmness
In the mattress industry, mattresses are made with differing firmnesses to better suit the various kinds of sleepers. Choosing the right mattress firmness depends on your sleeping position. Why? Because each position requires different levels of support and firmness to maintain proper spinal alignment and reduce pressure points.
It can also depend on your weight, with larger and smaller sleepers needing to consider mattresses for different body types.
Side Sleepers
For optimal comfort, side sleepers should look for a soft, medium-soft, or medium mattress to alleviate pressure points and prevent joint and back pain. A mattress with good contouring and support can help align the spine and reduce discomfort, leading to a more restful sleep. Personal preferences and specific health concerns should also be taken into account when choosing a mattress for side sleepers.
Back Sleepers
Medium to medium-firm mattresses are recommended for back sleepers to maintain spinal alignment and prevent hip sinking. Such mattresses for back sleepers help reduce pressure points and prevent pain, leading to a more comfortable sleep. When selecting a top mattress, features such as motion isolation and temperature regulation should also be considered.
Stomach Sleepers
Extra firm to firm mattresses are best suited for stomach sleepers to reduce back strain caused by overextended spines. This helps maintain proper spinal alignment and prevent discomfort. Stomach sleepers should look for a mattress with good support and firmness, as well as features like breathability and durability. Without the proper mattress for stomach sleeping, individuals may wake up sore and stiff.
Combination Sleepers
Combination sleepers who switch positions frequently throughout the night should opt for a medium to medium-firm mattress to ensure proper spinal alignment and reduce neck strain and snoring. A mattress for combination sleepers should have good contouring and support can help relieve pressure points and reduce discomfort when changing positions.
Lightweight or Petite Sleepers
For lightweight sleepers (typically those weighing less than 130 pounds), a mattress with a softer to medium level of firmness (between 3-6 on the firmness scale) can be more suitable. This is because a softer mattress can provide better contouring and pressure relief, allowing their body to sink in and maintain proper spinal alignment. A mattress for petite sleepers can also help prevent discomfort and pressure points that can lead to aches and pains.
Heavy or Plus-Sized Sleepers
On the other hand, plus size sleepers (typically those weighing over 230 pounds) may prefer a firmer mattress (around 7-9 on the firmness scale) to provide adequate support and prevent sinking too deeply into the mattress. Such a mattress for heavier sleepers can help evenly distribute the sleeper's weight, supporting their spine and preventing them from sinking too far into the bed.
Mattress Sizes
Most mattresses free of latex are offered in standard mattress sizes, particularly memory foam and spring mattresses. It might feel overwhelming to choose the right size, but just consider how much available room space you have, your mattress budget, and whether you plant to sleep alone or with a partner.
| Mattress Size | Dimensions in Inches |
| --- | --- |
| Twin | 38 inches by 74 inches |
| Twin XL | 38 inches by 80 inches |
| Full | 54 inches by 75 inches |
| Queen | 60 inches by 80 inches |
| King | 76 inches by 80 inches |
| California King | 72 inches by 84 inches |
| Split King | Two mattresses, each 38 inches by 80 inches |
Frequently Asked Questions
What is the best mattress for someone who is allergic to latex?
For people with latex allergies, it is essential to choose a mattress that does not contain latex. Memory foam mattresses are a popular option as they conform to your body and provide pressure relief and support. Innerspring mattresses and hybrid mattresses are also latex-free options to consider.
Natural fiber mattresses made with materials like cotton, wool, or silk are hypoallergenic but may not provide the same level of support as other mattresses. It's crucial to check the materials list of any mattress you're considering to ensure it does not contain latex or other allergens.
Finding the best latex-free mattress depends on a variety of factors, including your sleeping preferences, budget, and any specific health concerns or allergies you may have. By doing your research and carefully considering your options, you can find a mattress that provides both comfort and peace of mind, even without latex.
How can you tell if a mattress has latex?
Determining whether a mattress contains latex or not can be challenging. Manufacturers may not state it clearly on the product label, but you can look for a "latex-free" label, check the materials list, and contact the manufacturer for more information.
It's crucial to take extra precautions if you have a severe latex allergy, such as choosing a mattress that is explicitly labeled as "latex-free" or made from alternative materials like memory foam, innerspring, or natural fibers. By doing so, you can ensure that you get a good night's sleep without risking an allergic reaction.
How do I know if my mattress is non-toxic?
To ensure that your mattress is non-toxic, you should look for certifications such as the Global Organic Textile Standard (GOTS) and Global Organic Latex Standard (GOLS). The GOTS & GOLS certifications verify that the materials used are organic and free from harmful chemicals. You can also check for materials such as natural latex, organic cotton, and wool, which are generally considered non-toxic.
Can I use a regular box spring with a memory foam mattress?
When it comes to using a box spring with a memory foam mattress, it's not recommended as it may not offer sufficient support for the mattress. Memory foam mattresses are designed to provide even support across the surface, and a regular box spring may cause uneven pressure points and reduce the lifespan of the mattress.
Instead, a solid or slatted foundation is recommended for consistent support. A platform bed frame or solid wooden foundation can serve as a solid foundation, while a slatted foundation should have slats no more than 3 inches apart and center support to prevent sagging.
If you prefer the height of a box spring, you can opt for a low-profile box spring designed specifically for use with memory foam mattresses. These box spring alternatives provide a more stable base for the mattress and are shorter in height than traditional box springs. It's advisable to check with the mattress manufacturer for specific foundation recommendations.
Does a mattress with synthetic latex count as a latex-free mattress?
No, a mattress with synthetic latex does not count as a latex-free mattress. Synthetic latex is a material that is made from chemicals and does not come from natural sources like the sap of a rubber tree.
While synthetic latex may not trigger the same allergic reactions as natural latex, it still contains latex proteins that can cause sensitivities or allergies in some individuals. Therefore, it is important to note that even though it is called synthetic latex, it is not completely free of latex.
Why would I want a hybrid mattress?
A hybrid mattress provides a good balance of support and comfort, making them a great choice for people with different body types and sleeping positions. The innerspring coils offer a sturdy foundation, while the memory foam or latex foam layers provide pressure relief and contouring support.
Many hybrid mattresses include cooling materials, such as gel-infused foam or breathable covers, that help regulate body temperature and prevent overheating during the night. Hybrid mattresses can also provide good motion isolation, which means that movement on one side of the bed won't be felt as much on the other side, a beneficial feature for couples.
Can I get a latex-free organic mattress?
Yes, while latex mattresses are perhaps the most popular organic bed, you can definitely find latex-free organic mattresses on the market. Organic latex-free mattresses are often made with materials like organic cotton, organic wool as a natural flame retardant, and natural latex alternatives like organic soy foam, natural coconut coir, or organic cotton batting.
When searching for a latex-free organic mattress, be sure to check the product description or contact the manufacturer to confirm that there are no latex or synthetic materials used in the product. It's also a good idea to look for certificated materials like GOTS-certified organic cotton fabric or certified organic wool batting.
Bottom Line
In conclusion, if you have a latex allergy or sensitivity Verified Source Medline Plus Online resource offered by the National Library of Medicine and part of the National Institutes of Health. View source , there are many high-quality latex-free mattress types available on the market today. Whether you prefer a firmer or softer feel, there's a latex-free mattress to meet your unique needs and preferences.
When selecting one of the best mattresses without latex, be sure to consider factors such as materials, support, comfort, and customer reviews to help you find the best option for your individual needs. With the wide variety of latex-free mattresses available today, you're sure to find the perfect fit for your sleep preferences and lifestyle.
---
About the author
April Mayer is a sleep expert and writer with a degree in exercise physiology. She has dedicated her career to exploring the relationship between sleep and productivity. Her insightful articles, such as "The Surprising Way Your Mood Might Be Messing With Your Productivity" and "Wake Up to More Productive Mornings," have been featured in reputable publications like Forbes, Greatist, Real Homes, Thrillist, Tom's Guide, and Eat This, Not That. With a passion for helping others lead more productive lives through restful sleep, April offers valuable expertise on foods and vitamins for better sleep. As a trusted member of the Early Bird team since March 2020, she continues to provide informative and well-researched content.
View all posts