If you wake up with a runny nose, itchy throat, or watery eyes every time you sleep on your bed, your duvet could be the culprit. The down fill inside traditional duvets may trigger allergic reactions, leading to the need for hypoallergenic duvets.
Hypoallergenic duvets are filled with down alternatives, which are less likely to irritate allergies. They are equally warm and comfortable, without being as expensive as traditional down duvets.
Learn More: Shop the Amerisleep Hypoallergenic Duvet
What are Duvets?
The word duvet means "down" in French. "Down" refers to the soft, fluffy feathers under the wings or bellies of geese or ducks.  It's a light, breathable material providing thermal insulation, making it perfect for filling duvets.
Duvets are also known as inserts because they are placed inside duvet covers. Usually, duvets are plain white or beige in color, but you can get them in other colors, fabrics, or patterns, too. Some covers are removable, and they may be zipped, buttoned, or tied, securing the duvet insert.
Duvets form the top layer of your bedding, adding to the aesthetic appeal of your bedroom. Duvet and coverlets can fulfill the same function of completing your bed.
However, unlike a coverlet, They also keep you warm and cozy through the night. However, the dust in the natural down filling may cause allergic reactions in some people. Despite washing down thoroughly, this natural fill may still contain traces of dust.
What are Hypoallergenic Duvets?
Hypoallergenic duvets are best for those prone to allergies. They protect from dust mites, mold, and mildew. These hypoallergenic duvets look just like traditional duvets, but they have a different filling inside. Instead of down, the large fabric pouches are filled with natural, semi-synthetic, or synthetic materials.
Things to Consider Before Buying a Hypoallergenic Duvet
Hypoallergenic duvets are meant to enhance your sleep quality, negating certain disadvantages of traditional duvets. Before buying your hypoallergenic duvet, it may be helpful to look into some crucial factors such as its filling, fabric cover, and stitching pattern.
Filling Materials

In hypoallergenic duvets, the filling material is key. Instead of down, they may have natural materials such as silk, wool, or cotton, semi-synthetic materials such as lyocell, or synthetic materials such as siliconized fiber, or polyester. Silk duvets are the most expensive of these. The amount of stuffing (fill power) inside your duvet determines its weight and the warmth it provides.
The nature of the stuffing inside the duvet determines whether you can wash it or not. For example, silk duvets feel extremely soft and luxurious, but they can't be machine washed. They should be hand washed and air dried or dry cleaned. It's best to read the instructions on the care label. Other hypoallergenic duvets may be machine washed on a gentle cycle with a mild detergent.
Fabric Cover
Cotton and polyester are the two most commonly used fabrics in duvet inserts. Any hypoallergenic stuffing material can be filled inside these large, flat, fabric bag-like duvet inserts.
When you are allergy-prone, it's best to research every aspect of your bedding, including the duvet cover.
Stitching Pattern
Duvet inserts have intricate stitches all over to evenly distribute the filling  and prevent it from getting too clumpy or flat in certain parts. If the stitches aren't uniformly spaced, the filling may shift. A duvet insert with a shifting fill can't provide you with even warmth and comfort required for quality sleep.
Look for a duvet with criss-cross stitches because they are the most effective at holding the filling in place. Most duvets have the typical square-type patterned stitches, preventing fill shifts.
Size
Though duvets are available to suit all standard mattress sizes, it may be better to cross-check duvet dimensions before buying. While making the bed the top layer of your bedding, the duvets, hang on all three sides of the bed. Typically we follow the 12-16 rule for duvets, which means they are at least 12 inches longer and 16 inches wider than the bed size. Longer and wider duvets drape over your bed aesthetically and leave  more room for you to toss and turn underneath.
Our Amerisleep Duvets and Duvet Covers
Quick Guide: A 30-Second Summary
| | |
| --- | --- |
| Best Hypoallergenic Duvet | Amerisleep Recover+ Duvet |
| Best Hypoallergenic Duvet Cover | Amerisleep Percale Duvet Cover Set |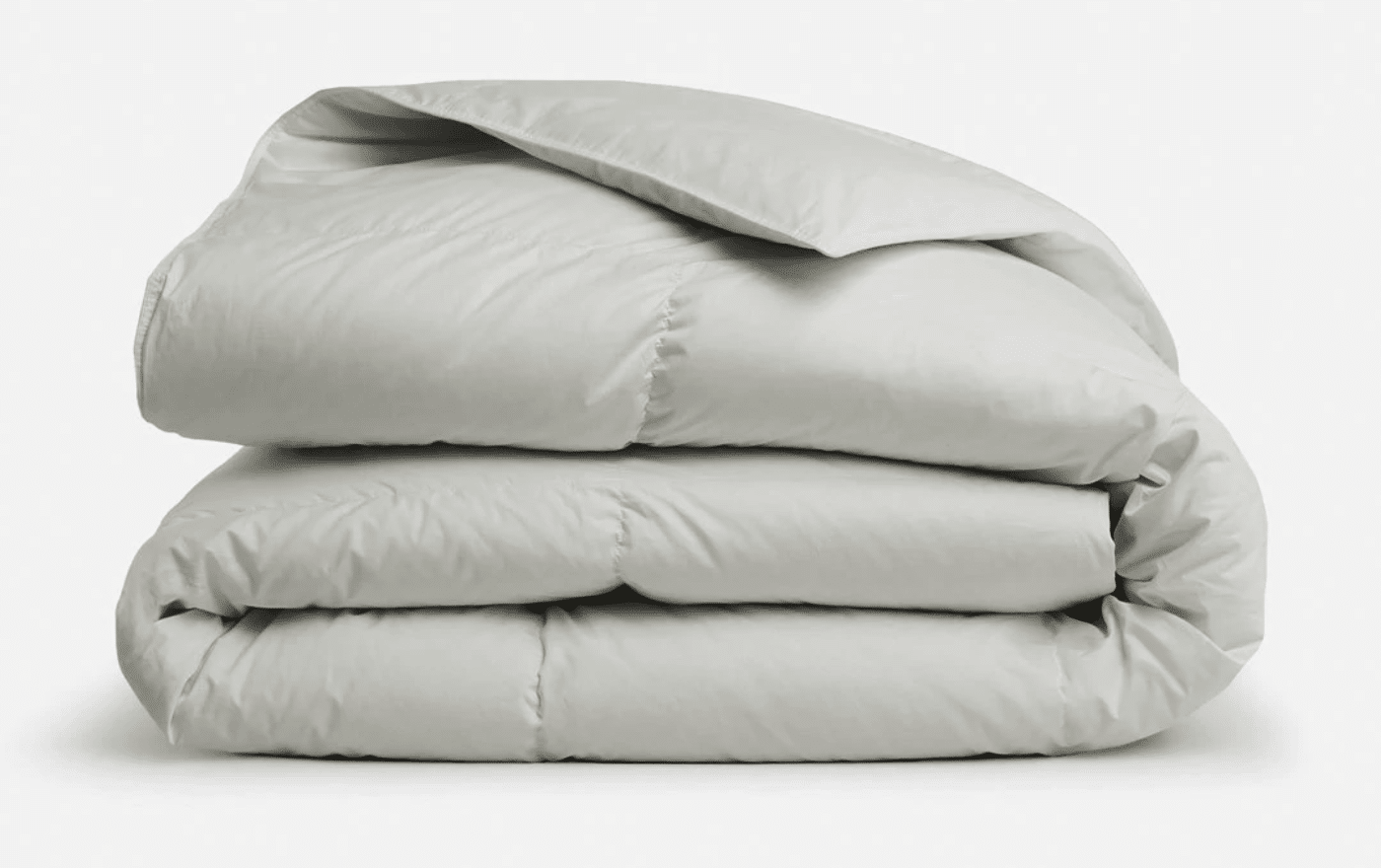 Best Hypoallergenic Duvet
Amerisleep Recover+ Duvet
Price Range

$250 to $350

Materials

Cotton, polyester, lyocell

Availability

Twin XL, Full/Queen, King

Warranty

1 Year
Designed to feel temperature-neutral all year, our duvet relies on specialized technology and top-notch fabrics to stay cool and comfortable.
Duvet Highlights
Recover+ technology converts heat into infrared
Contains eco-friendly lyocell and cotton
Easy to care for with a machine washer
Recommended For
All sleeping styles
Hot sleepers
Budget shoppers
Our Recover+ Duvet inserts are designed for a deeper, restful sleep. The luxurious blend of lyocell, Recover+ technology, and polyester makes our duvets feel fluffy and breathable, like a hug from the cloud.
The semi-synthetic material lyocell is cool and breathable, wicking away extra moisture. It prevents overheating, making our duvets perfect for year-round use. Lyocell originates from the cellulose found in the wood pulp of eucalyptus, birch, or oak trees. They are chemically treated in a "closed-loop" production process, making it an eco-friendly product. Lyocell's production process prevents the release of byproduct waste into the environment.
Our duvet inserts have a fabric cover of cotton infused with Recover+ technology to safely convert body heat into infrared energy, increasing local circulation for a restful sleep and faster recovery.
The Recover+ Duvet inserts can be machine washed in your home washing machine on a gentle cycle with a mild detergent. However, like all duvets, it's best to use our Recover+ Duvet inserts with duvet covers.
Prices of Amerisleep Duvets
Our Recover+ Duvet inserts are available in three standard sizes and they are backed by a 1-year limited warranty. We will replace your duvet free of charge if you notice any manufacturing or cosmetic defects within this period.
| Duvet Sizes | Dimensions | Price |
| --- | --- | --- |
| Twin XL | 68 inches by 88 inches | $250 |
| Full/Queen | 90 inches by 94 inches | $290 |
| King | 104 inches by 94 inches | $350 |
Our Amerisleep Duvet Cover Set
Our Percale Duvet Cover Set includes a duvet cover and two shams. We use long-staple cotton weaved in tight-knit percale style for a smooth, and crisp feel. Cotton is an excellent hypoallergenic material, perfect for sleepers who are sensitive to synthetic materials.
Our duvet covers look smart and sleek, with flange edges hiding the zippers. The inside corners have cloth ties to hold the duvet insert in place, preventing blanket bunching. The set comes in four different designs, with grey colors chosen to complement any bedroom style. These duvet covers also have a 300 thread count, giving them a soft and luxurious feel.
The Percale Duvet Cover Set ships free and includes a 5-year warranty.
Prices of Our Amerisleep Duvet Cover Sets
Our Duvet Cover Sets are available in two standard sizes and are backed by a five-year limited warranty. You can choose a plain or patterned cover to suit your style. Our duvet cover sets match our percale cotton bed sheet sets, giving you the option to color-coordinate all your bedding accessories.
| Size | Dimensions | Price |
| --- | --- | --- |
| Queen | 92 inches by 96 inches | $140 |
| King | 106 inches by 96 inches | $150 |
FAQs
What's the difference between hypoallergenic and anti-allergic?
If a product is hypoallergenic, it's made with materials less likely to trigger allergies. Duvets, pillows, mattresses, and bed sheets can all be hypoallergenic as long as they are made with materials preventing the growth of allergens such as dust mites, mold, and mildew. While hypoallergenic products are naturally resistant to dust mites and allergens, anti-allergenic products have been specially treated to resist them.
How do you know if you are allergic to down duvets?
If you are waking up with a runny nose, frequent sneezing, or red and watery eyes, you may be allergic to your bedding. Down duvets may contain some traces of dust in them, despite washing them thoroughly before stuffing in your duvet cover. It's best to switch to a hypoallergenic duvet to avoid these skin irritants.
What's the difference between duvet and comforter?
Comforters are thinner and less fluffy than duvets. They come in a wide variety of designs and patterns, unlike duvets which are usually plain white. While duvets are used with a duvet cover, comforters are used with a top sheet, serving as a hygienic barrier between the sleeper and the mattress.
Why does thread count matter in duvet covers?
Thread count refers to the number of vertical and horizontal threads per square inch of fabric. A thread count in the range of 200 to 700 is considered optimum for a smooth and luxurious feel.
Beware of numbers higher than 700 because some manufacturers use multi-ply yarns to artificially inflate the thread count and thus increase the price. Multi-ply yarns are prone to breaking faster, causing the fabric to have a rough feel. Since duvet covers come in direct contact with your skin, it's better to have one that feels soft and smooth.
Conclusion
Bedding materials may trigger allergic reactions, affecting your sleep quality. If you are waking up frequently with allergy-like symptoms, then it may be time to switch to hypoallergenic duvets.
---
About the author
Mitchell Tollsen is a graduate student and a freelance writer who's contributed to the Early Bird blog for three years. Mitchell's always been fascinated by the science of sleep and the restorative processes our bodies undergo when at rest. The self-titled "Sleep Expert" is always looking for ways to improve his shut-eye, and throughout the years has implemented numerous lifestyle changes and tried dozens of sleep-promoting gadgets to determine the best ways to truly get better rest.
View all posts