Key Takeaways
Try Deep Pocket Sheets: To keep sheets secure on an adjustable bed, use fitted sheets with deep pockets or sheets that come with built-in high-quality elastic bands to prevent shifting during bed adjustments.
Keeping Sheets in Place: If you still struggle with keeping sheets from slipping off, consider using adjustable bed sheet fasteners or sheet straps with locking mechanisms, clipped diagonally across the mattress, to prevent sheet bunching and slipping.
Why Use an Adjustable Bed: Adjustable beds offer various health benefits, including reducing back pain, minimizing acid reflux, alleviating symptoms of asthma and sleep apnea, improving circulation, and aiding individuals with mobility issues. They may also help tackle insomnia by promoting better circulation and reducing stress.
Adjustable beds allow you to elevate your head and feet, enhancing your comfort. But this same movement can make your sheets shift around. A shifting bed sheet can be annoying, causing sleep disruptions.
Regular sheets are meant to stay flat, tucked under the mattress. When you elevate your head or feet, the sheets often bulk up in the middle and the edges slip off the corners. You need to find deep-pocketed fitted sheets, sheets with elastic straps, or sheet fasteners to keep your sheet on an adjustable bed and mattress combo.
How to Keep Sheets on an Adjustable Bed
When you tilt the adjustable bed to elevate your head or feet region, the movement may make your sheet shift. This movement comes with the challenge of preventing sheets from shifting. Traditional bed sheets can't live up to this challenge because they may not have deep pockets or elastic straps attached to keep the sheets secure.
Fitted Sheets with Deep Pockets
Flat sheets that are tucked underneath the mattress may slip off easily when the bed tilts at an angle. The elastic edges on the perimeter of deep-pocketed fitted sheets hold them on the mattress even if it moves. Fitted sheets without deep pockets will slip off the edges when the mattress tilts, disrupting sleep.
Adjustable Bed Sheet Fasteners or Sheet Straps
Adjustable elastic bands with locking mechanisms at both ends are used to clip sheets underneath the mattress, preventing sheet bunching. Adjustable bed sheet fasteners or sheet straps keep the sheets snug on the mattress, despite bed movement.
Usually, sheet straps are clipped diagonally across the mattress in a criss-cross pattern. Two straps are required to clip all four corners. Adjustable bed sheet fasteners or sheet straps can be bought online, or at hardware stores and supermarkets.
High-Quality Elastic Bands
Some sheets come with in-built elastic bands attached to all four corners to keep the sheets around the mattress. These high-quality elastic bands are not visible because they sit underneath the bed.
Quick Guide: A 30-Second Summary
Amerisleep Percale Cotton Sheet Sets
Our Amerisleep Percale Cotton Sheet Set includes one flat sheet, one fitted sheet, and two pillow covers. The fitted sheets have 18 inch deep pockets making them compatible with adjustable beds and tall mattresses.
With a 300 thread count, these cotton sheets are soft-to-the-touch and breathable. The long-staple cotton woven in the tight percale style makes these sheets strong and durable. Long cotton fibers are less prone to breaking and resistant to pilling.
Cost of Amerisleep Percale Cotton Sheet Sets
Apart from all standard sizes, we also offer the split king option which is especially beneficial for couples using the split king adjustable bed. Our sheets have a low wrinkle design and are backed by a 5-year warranty.
| Size | Price |
| --- | --- |
| Twin | $110 |
| Twin XL | $120 |
| Full | $130 |
| Queen | $150 |
| King | $170 |
| California King | $170 |
| Split King | $180 |
Amerisleep Tencel® Sheets
The smooth and super absorbent Tencel® Sheets come with our patented Smarty-Bandzz® technology, which secures the sheets to your mattress. Unlike traditional fitted sheets, our sheets with Smarty-Bandzz® technology, have elastic bands that wrap around the entire bottom of the mattress. These bands are 1.5 inches wide and sewn horizontally to keep the sheets in place.
Cost of Amerisleep Tencel® Sheets
Our cool and luxurious Tencel® Sheets with Smarty-Bandzz® technology and a 300 thread count are available in all standard sizes. These sheet sets include one fitted sheet with high-quality elastic around the entire outer edge, one oversized flat sheet, and two pillow covers. The split king set comes with two fitted sheets.
| Size | Price |
| --- | --- |
| Twin | $155 |
| Twin XL | $190 |
| Full | $215 |
| Queen | $230 |
| King | $275 |
| California King | $275 |
| Split King | $315 |
Benefits of an Adjustable Bed
The option to elevate your head and feet while sleeping relieves pressure points, reduces aches, and offers many health benefits. Adjustable beds are especially helpful for those with certain physical disabilities or medical conditions, which is why they are used in hospitals. Given their numerous advantages, adjustable beds are now popular in American households.
Provides Flexibility
When you want to sit and read on your bed, your adjustable bed can "convert" to a recliner position, so you can read comfortably. You don't have to worry about positioning a pillow behind your back for support. The adjustable bed can tilt to your preferred angle to support your head while you sit up in bed.
Reduces Back Pain
Elevating your head and feet may enhance lumbar support and reduce back pain. You can adjust the back support by tilting the bed to your preferred angle. Proper spinal support relieves pressure points, reducing aches and pains.
Minimizes Acid Reflux
When you lay flat on your back, undigested food creates stomach acid, which moves upwards towards the esophagus, causing heartburn. Keeping your head slightly elevated prevents stomach acid from traveling back into the esophagus.
Relieves Symptoms of Asthma, Sleep Apnea, and Snoring

Symptoms of asthma, obstructive sleep apnea (OSA), and snoring can be alleviated with adjustable beds. Elevating your head while sleeping keeps your airways open and prevents these common sleep disturbances.
Improves Circulation
Sleeping on an adjustable bed in the zero-gravity position with the head and legs slightly elevated enhances blood flow to the heart. The heart, in turn, pumps more blood to your hands, legs, and all other body parts, improving circulation. Improved circulation helps relieve tension, muscle discomfort, and even arthritis pain.
Easy to Get In and Out Of
Raising one end of the mattress serves as support while getting in and out of bed. This feature is especially helpful for those with impaired mobility or joint pains who find it difficult to get in and out of bed.
Tackles Insomnia
If you are among the 30 percent of adults Verified Source National Library of Medicine (NIH) World's largest medical library, making biomedical data and information more accessible. View source of adults who suffer from insomnia, then an adjustable bed may help you. Raising your head and feet improves circulation and reduces stress, potentially preventing sleeplessness.
Consider the Amerisleep Adjustable Bed+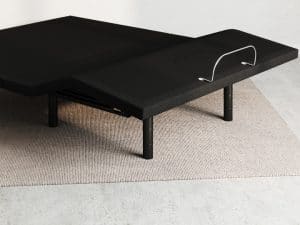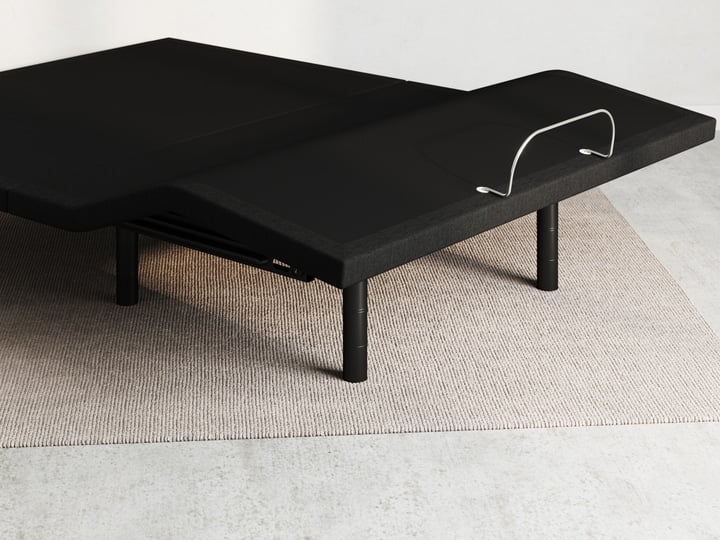 Our Amerisleep Adjustable Bed+ can be controlled through a remote or an app on your phone. You can also set up to work with voice commands to Amazon's Alexa or Google Home, for the complete smart home experience. It comes with special features such as full-body massagers, under-bed lighting.
With a wireless remote or through your phone, you can elevate the head and feet region of your bed to suit your convenience. The mattress's head can be raised by as much as 65 degrees, so you can comfortably sit up and read in bed.
You can enjoy a full-body massage on our adjustable bed. Our beds are equipped with massagers using wave technology to help you unwind, relax, and drift off to sleep. The massager intensity can be controlled with the remote or an app. You can switch on the under-bed lights to illuminate your pathway while you walk to the bathroom.
Our beds are designed with wall glide technology to keep you in place as the base adjusts. Some beds may move you away from the wall when the head and feet are angled, creating a gap between you and the side table. It becomes difficult to reach for water or your table lamp, but wall glide technology ensures you don't move when the bed tilts.
One common complaint with many adjustable beds is a constantly shifting mattress. Our beds include a non-skid surface and a retainer bar to address this concern. The retainer bar allows you to keep your mattress in place as you make adjustments.
Prices of the Amerisleep Adjustable Bed+
With four USB ports on either side of the bed, a built-in alarm, and a sleep timer, Amerisleep Adjustable Bed+ offers unparalleled luxury. Our adjustable bed is backed by a 10-year-warranty covering defects in craftsmanship and materials.
| Adjustable Bed+ Size | Price |
| --- | --- |
| Twin XL | $1260 |
| Queen | $1400 |
| King | $2100 |
| California King | $2100 |
| Split-King | $2100 |
FAQs
Do you need special sheets for adjustable beds?
You need sheets with some special features to keep them on the mattress as it moves with the adjustable base. Fitted sheets with extra deep pockets, oversized flat sheets clipped with sheet straps, or suspenders underneath the mattress secure your sheets to the bed.
Can you use a headboard with an adjustable bed?
Yes, you can use a headboard and bed frame with an adjustable bed. Adjustable beds are available in standard sizes so you can use them with a compatible headboard or bed frame. If your frame has slats, make sure you remove them so the adjustable bed can sit down within your bed frame.
What type of mattress can be used on an adjustable bed?
Memory foam, latex, and hybrid mattresses are the best for adjustable beds. You may use some innerspring mattresses with adjustable beds, but it depends on the brand. Contact the brand's customer service for more information. Typically, innersprings can get bent out of shape on an adjustable bed because of the coil layer.
Conclusion
You may have to research a bit to find the perfect sheets for your adjustable bed, but the extra time is worth the cause because adjustable beds come with many advantages. They allow you to elevate your head and feet to relieve pressure points, reduce aches, improve circulation, and alleviate breathing difficulties, improving your sleep quality.
---
About the author
Stacy Liman is a journalism graduate student and a freelance writer with a focus on mindfulness and content marketing. Her passion for understanding and writing about the science of sleep enables her to provide valuable insights into achieving healthier and deeper rest. Stacy's commitment to helping people improve their sleep drives her exploration of new mattresses and sleep-promoting gadgets.
View all posts