Key Takeaways
Fiberglass as a Fire Retardant: Fiberglass is used in some memory foam mattresses as a fire retardant to meet federal flammability standards. It is considered an affordable, heat-resistant, and safe option for preventing mattresses from catching fire.
Not All Memory Foam Mattresses Contain Fiberglass: Not all memory foam mattresses contain fiberglass. The use of fiberglass as a fire barrier varies among mattress manufacturers. Generally, it is more common in budget-friendly mattresses, while higher-end brands offer fiberglass-free fire retardant options.
Be Informed about Mattress Construction: When shopping for a memory foam mattress, it's essential to inquire about the materials used in the fire barrier and whether fiberglass is present.
One of the main reasons why many people use a memory foam mattress is its unique ability to relieve pressure. When you sleep on a memory foam mattress, you will often feel as though you are resting on a cloud. 
This is one of the main reasons why people prefer this type of mattresses to traditional mattresses. However, some shoppers have expressed concerns about their ingredients, and fiberglass has joined the list.
Fiberglass is typically found on more inexpensive mattresses and has an outer cover to protect you from harmful materials. Generally, many more costly mattress brands have fiberglass-free fire retardant layer options.
Fiberglass has come under question as a material for the way it can irritate the body if it escapes the mattress. However, it's important to know not all polyfoam mattress companies use fiberglass as a flame retardant.
In this post, we're going to discuss whether or not all memory foam mattresses sold have fiberglass in them and the benefits and drawbacks of using a memory foam mattress. Want to learn more about how fire retardant materials such as fiberglass fibers work in a memory foam mattress? Read on, then.
What Is Fiberglass?
Fiberglass is a form of fiber-reinforced plastic manufactured from glass fiber. Because of this, fiberglass is sometimes referred to as glass-reinforced plastic or glass fiber-reinforced plastic. Typically, glass fiber is woven into the fabric, randomly distributed, or flattened into a sheet.
Depending on the desired use, several glass varieties can be used to create glass fibers. A composite made of fiberglass and resin is incredibly robust and long-lasting.
Fiberglass is very flexible, light, and sturdy. Fiberglass is a superior building material because it can be molded into various intricate designs. Bathtubs, boats, airplanes, roofs, and other products frequently employ fiberglass. Mattresses use it for flame protection.
Why Is Fiberglass Used in Foam Mattresses?
The main reason why many memory foam mattresses contain fiberglass particles is to prevent them from catching fire. All foam mattresses must comply with flame retardant requirements.
All mattresses, even those made of memory foam, can catch fire. Memory foam mattresses, however, are constructed of synthetic components, making them extraordinarily combustible and hazardous when burned. Because of this, mattresses in the US are required by law to include chemicals that impede fire.
There are three reasons why fiberglass is used.
It Is Inexpensive And Safe
This is one of the most affordable, non-toxic, and long-lasting mattress fire retardants. Similarly, the fire barrier complies with USA Federal Law's fire criteria.
It Is Extremely Heat Resistant
The memory foam mattress's fiberglass construction provides exceptional heat resistance and an insulating effect. In other words, it acts as a heat absorber. As a result, this material is used to make up for other materials' shortcomings.
Safer Than Other Harsh Chemicals
This material is less likely to injure people than other harsh compounds. This is because this material has fewer carcinogens than other risky substances. When fully penetrated in the interior cover of the mattress, it is not at risk unless it comes into touch with the skin.
Why Do Mattresses Need Fire Protection?
Fire retardants against combustible materials is the law when it comes to mattresses manufactured in the USA. According to the 2007 Standard for the Flammability of Mattresses and Mattress Pads (Standard), 16 CFR part 1632, mattresses must conform to this federal standard.
The government estimates that more than 20,800 bed-related fires have occurred every year. The fires accounted for a total of around 2,200 injuries and 380 fatalities in 2002. Updating the standard to fight flammability in fire-prone mattresses has given families more security in case of a home property fire.
Fiberglass is a thermal barrier and temperature insulator, acting as a protective layer that, if your mattress catches fire for whatever reason, will melt rather than burn freely. With a fiberglass barrier, the spread of the fire is also slowed down so it will take longer for the flames to get to the flammable elements inside your mattress.
Do All Memory Foam Mattresses Have Fiberglass?
The quick response is no, not all mattresses. Memory foam mattresses vary in their use of fiberglass material. A quality mattress without fiberglass is relatively easy to find but it can be costly. The majority of foam mattresses made with this material are from budget companies.
The majority of memory foam mattresses have a polyurethane foam base. This type of foam is very durable but has one major drawback. It can cause allergies and skin irritation. If you have asthma, you may also suffer from lung irritation.
They use this type of foam to make the mattress more comfortable. In addition to the foam base, memory foam mattresses are available with various mattress covers. These coverings can include cotton or wool, but some are made with microfiber. There are some benefits to using memory foam mattresses, and it's good to understand what are common memory foam mattress myths.
Our Mattress Recommendation
Quick Guide: A 30-Second Summary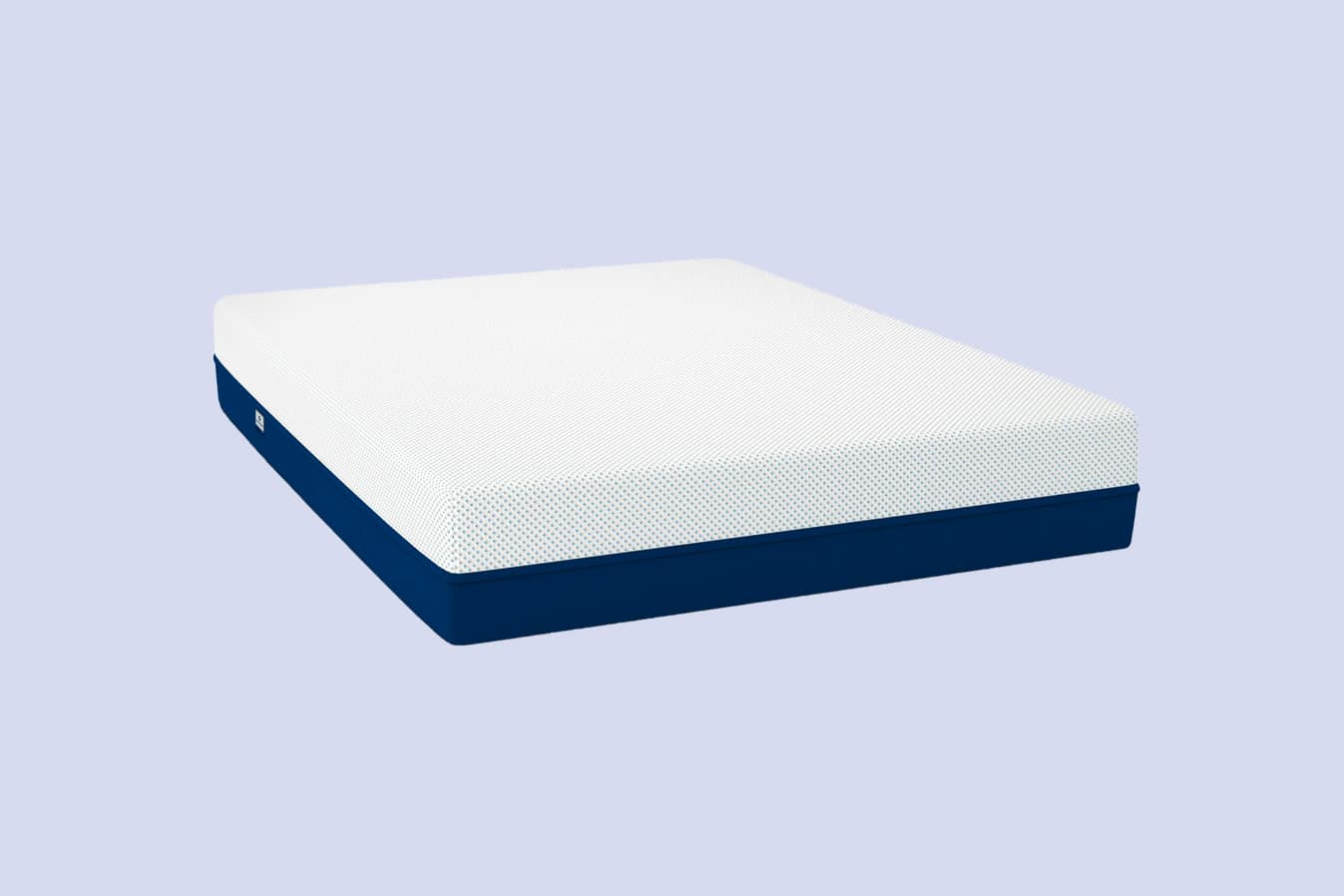 Best Memory Foam Mattress Without Fiberglass
Amerisleep AS3
Price Range

$1049 to $2198

Mattress Type

Memory Foam

Firmness

5 to 6 out of 10 (Medium)

Availability

All sizes

Warranty

20 Years

Thickness

12 Inches
The Amerisleep AS3 offers not just a fiberglass-free construction, but versatile comfort and enduring materials.
Mattress Highlights
Plant-based memory foam cushion
Targeted support for the body
Sturdy base foam for spine support
Recommended For
Side, back, and combination sleepers
Hot sleepers
Couples with different sleep styles
Aside from being free of fiberglass, the Amerisleep AS3 is designed to promote comfort for the widest possible range of sleepers. Its medium feel suits most sleeping positions with its mix of support and pressure, while its airy foams and technological cover stays cool at night.
The first foam layer is Bio-Pur® foam, a plant-based alternative to traditional memory foam. By replacing a portion of strandard ingreidents with plant-derived oils, Bio-Pur® delivers a more responsive and breathable feel than standard memory foam.
The second foam layer is Affinity foam with HIVE® technology. This sleep technology establishes five zones of support, ensuring the bed cradles the shoulders and hips and supports the head, back, and feet for a healthy spine alignment.
The last foam layer is Bio-Core® foam, a material carefully engineered to boost the bed's durability and support. With Bio-Core® structuring the mattress, you don't need to worry about the AS3 sagging and developing soft spots.
The AS3 includes free shipping and comes with a 100-night sleep trial and a 20-year warranty.
How Do You Know if Your Mattress Has Fiberglass?
Fiberglass is frequently woven into a layer inside the mattress, so you can only see it if you remove the cover from your mattress.
Most likely, the white, nearly translucent, shining substance will resemble plastic strands but is fiberglass particles. However, due to the propensity of fiberglass to break and shed, smaller fragments will likely tear from the woven layer. These fragments are hard to notice and might poke through the cover or seep out of the mattress. Additionally, tiny pieces may fly into the air, enter air conditioner systems, or be breathed in.
The materials used in the inner and outside of a mattress and the cover are often listed on the mattress label.
Examine the mattress label to ascertain whether, where, and how much fiberglass is present in the mattress. If you need help, ask the manufacturer about the particular materials or fire retardant components.
Glass-reinforced plastic, glass-fiber reinforced plastic, glass fiber, glass wool, and fiberglass-reinforced plastic are a few more terms that are frequently used to refer to fiberglass. Every mattress maker is expected to provide a list of all the materials used in their models' inner and outer construction, along with the proportion of each substance used.
The mattress sticker should make it apparent if a mattress contains fiberglass and caution against removing the mattress cover if it does. Investing in fiberglass-free mattress covers might assist in extending protection because mattresses and their coverings deteriorate with time.
Other Potential Signs of Fiberglass
"Made in China" Labels
Most businesses, including mattress makers, benefit significantly from the low cost of doing business in China. Additionally, more relaxed rules mean that it always comes at the customer's price, causing severe health hazards. This is why it's important to check if a mattress is made in the USA or if it hails from a country with less stringent safety standards.
Mattresses Made of Polyfoam
A proper memory foam mattress often costs a lot of money. Other mattress producers could use Polyfoam instead, which may contain fiberglass and other less expensive ingredients. Such mattresses are promoted as having memory foam.
Low Price
Cheaper mattresses that cost $400 or less for a larger size are almost certainly fiberglass-filled. Additionally, less costly mattresses may use possibly dangerous materials among other cost-cutting techniques.
It can be intimidating to find a mattress on a budget, but it's possible to find a fiberglass-free and otherwise eco-friendly mattress without overspending.
"Don't Remove The Cover" Label
Mattress manufacturers do not want you to expose the fiberglass by removing the mattress cover. Not all mattresses with non-removable covers have fiberglass, but enough do for you to be cautious.
Greenwashing Terminology
As a reminder, 'greenwashing' is the term used for selling that tries to make a mattress sound more natural and non-toxic than it is. Many shoppers want an eco-friendly mattress, so unscrupulous retailers will try to take advantage of it.
It makes sense for a buyer to reject a fiberglass mattress in favor of a high-quality mattress without fiberglass. The majority of mattress manufacturers frequently utilize words like "glass wool," "silica," and "glass fibers" to purposefully deceive customers when reading the mattress tags.
Anytime you see this in a foam mattress, be aware that it's a warning sign. If you want a non-toxic and chemical-free mattress without fiberglass, look also for certifications that can attest to its quality.
How to Handle a Fiberglass Mattress
You likely have already tested your mattress for fiberglass particles or researched if your particular model contains it. Fiberglass itself is not poisonous, so you shouldn't be alarmed if yours has fiberglass as a fire retardant. Once it's out of the mattress, though, it won't be very nice. Therefore, leaving the fire barrier intact with a quality mattress cover is important.
If your mattress cover develops a hole, the tiny fibers of fiberglass within will be able to escape quickly. Since budget mattresses tend to use fiberglass as a cost-saving measure, many use other lower-quality materials, and their coverings are likely similarly less costly and robust. Meanwhile, more expensive mattresses use more premium materials, so it can be worth it to invest more in your comfort.
If you do have a mattress with fiberglass, use a premium mattress protector to shield your mattress. So if the cover wears thin, the added barrier will keep it from spreading or coming in contact with you.
Never take the cover off a mattress because it has a fiberglass layer that is a fire retardant. You run the danger of releasing the fiberglass if you remove the cover. Lastly, replace the mattress with a safer choice if you don't like sleeping on a mattress covered with fiberglass.
FAQs
Is it safe to sleep on a mattress with fiberglass?
When released from their coverings, fiberglass can affect sleepers' health. However, provided the mattress and mattress cover remain secure and undamaged, any fiberglass inside the bed is generally safe for you to use. As an extra precaution, you can cover the mattress with a mattress protector.
How do I know if my memory foam mattress has fiberglass?
There are several indicators of fiberglass in a mattress. The simplest and clearest is if it says so on the care label. Pay attention to creative terms for fiberglass, such as 'glass wool.'
If your mattress is made of polyfoam or is made in China, there is also a good chance it has fiberglass. Lastly, while it's not a clear sign that your mattress has fiberglass, a non-removable cover is a good reason to investigate further.
Where is the fiberglass in a mattress?
You should only see fiberglass if you remove the cover from your mattress, as it's typically woven into a fire sock. The white, nearly translucent, and shining substance will most likely resemble plastic strands and tends to shine under a flashlight. However, if your mattress cover wears out, you may see these sparkling shards on top of the mattress.
Why do some mattresses have fiberglass?
Fiberglass is often used in mattresses because it is a low-cost flame retardant. That pleasant, comfortable mattress in your bedroom can be rather flammable, particularly if it is constructed of memory foam. Fiberglass was originally appealing because 
Are memory foam mattresses safe?
Memory foam is safe, yes. Despite some common myths and assumptions, memory foam does not promote cancer or other health problems.
Some shoppers are turned off the material by its off-gassing potential. However, memory foam's chemical odor frequently goes away after a few days, and some higher-quality models have it disappear within hours of being unboxed. A very small percentage of sleepers may experience mild discomfort from the off-gassing smell, but these symptoms should disappear with the odor.
Conclusion
You'll find memory foam mattresses that are not only comfortable but also offer excellent support. A well-made memory foam mattress can be great for people who have trouble sleeping. And you don't have to give up this comfort to enjoy a mattress free of fiberglass.
But how do you know if a memory foam mattress is really made with fiberglass? The answer is simple: look for a certification label and contact the manufacturer if you need more clarification.
---
About the author
Eric Ridenour is a health and wellness writer with a strong focus on sleep and nutrition. With a background in health science and psychology, Eric has a deep understanding of the connection between sleep and overall well-being. His expertise has been sought by various businesses and individuals, and his work has been featured in reputable publications such as Thrive Global, Drug Report, and Authority Magazine. Eric's commitment to promoting better sleep and comprehensive wellness is evident in his writing and consultations. He is a published author working on his second book.
View all posts