Recreation vehicles, or RVs, are a great way to travel across the country and make memories with your family. RVs have become increasingly popular over the last few years because they allow users to enjoy the comforts of home on the road. In fact, RV ownership rose to an all-time high in 2019, with nearly 9 million American households claiming to own an RV.
Whether used for a short getaway or longer road trips, motorhomes, fifth wheels, and pop-up trailers provide comfort and respite while you are away from home. However, the mattresses that come standard in most RVs are not always comfortable—many of them consist of a thin foam pad. Additionally, some RV manufacturers may not provide mattresses at all.
To ensure you get a good night's sleep so you can enjoy your trip, we suggest upgrading your RV mattress to something to something tailored to your needs. To help you find the perfect addition for your RV, we outline the best RV mattresses. Plus, we outline the various mattress sizes and types to consider as you shop.
Best RV Mattresses from Amerisleep:
Amerisleep AS3 – Best Memory Foam RV Mattress

The Amerisleep AS3 makes the ideal RV mattress because it is designed to suit many different sleep styles and body types. Whether you are a side sleeper or combination sleep, you are sure to find a good night's sleep on the AS3. The medium firmness of this mattress also makes it a great option for couples with different sleep habits.
With three inches of pressure-relieving Bio-Pur® foam in the comfort layer, sleepers stay cradled and supported throughout the night. Bio-Pur® is made with an open-cell structure and plant-based oils. This construction method allows it to retain less heat and moisture, so there is no risk of overheating or waking up sweaty during the night. The lightweight cover with ventilation channels also increases airflow and reduces heat-trapping.
With a CertiPUR-US® certification, our mattresses have minimal VOC off-gassing when brought into your RV. This means you won't experience the unpleasant "new mattress" odor because there are fewer chemicals used for construction.
The AS3 features a transition layer of Affinity foam with HIVE® technology. While the comfort layer cushions and protects the joints from pressure points, HIVE® ensures the hips and shoulders remain lifted and aligned. This feature prevents spinal misalignment, so your muscles can fully relax and recover during sleep.
The base of the AS3 features Amerisleep's firm support foam, Bio-Core®. This material stabilizes the mattress and prevents the soft foam layers from developing sags and indents.
The AS3 also comes with a 20-year warranty covering sagging greater than .75 inches. This coverage ensures you will experience true comfort on your new RV mattress for many years.
Amerisleep AS2 – Best RV Mattress for Back Sleepers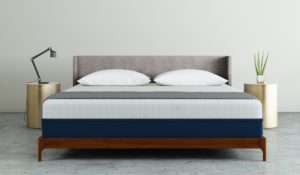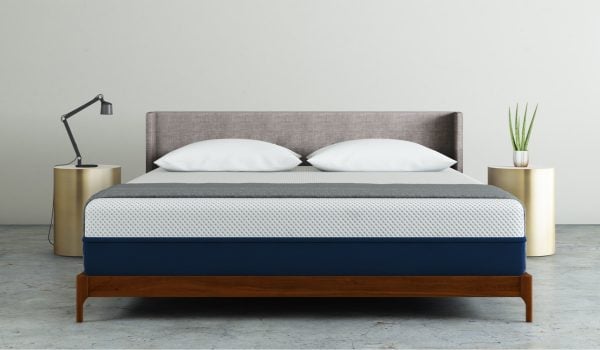 For back or stomach sleepers, the Amerisleep AS2 may be the best option when considering a new RV bed. This mattress has a medium-firm feel, which helps reduce excess sinkage and spinal misalignment. With the AS2, you don't have to worry about waking up with lower back pain while traveling in your RV.
The 2-inch Bio-Pur® comfort layer is soft enough to alleviate pressure and tension. However, because it has less give than a soft or medium mattress, it keeps the hips lifted and aligned with the shoulders to maintain a neutral spine.
Beneath the Bio-Pur® top layer is Amerisleep's Affinity foam with HIVE®, a unique support system that responds to different levels of pressure. Near the hips and shoulders, where we are the heaviest, hexagonal cutouts in the foam are spaced further apart for more cushioning. Along the back and neck, cutouts are closer together to provide firm support and prevent alignment issues.
Both foam layers of the AS2 rest on a foundation of firm polyurethane foam called Bio-Core®. This base provides further support and protection against over sinking and keeps body weight evenly distributed to prevent premature sagging and wear and tear.
Like all Amerisleep mattresses, the AS2 also comes with a 20-year limited warranty covering indentations greater than .75 inches.

The AS5 is Amerisleep's softest memory mattress, and it is now available as a hybrid model. Amerisleep's AS5 Hybrid has the same pressure-relieving Bio-Pur® comfort layer as their all-foam mattress, but with a base of pocketed spring coils rather than support foam.
The top layer of the AS5 Hybrid has 3 inches of ultra-soft Bio-Pur®, which provides deep contouring for instant relaxation. Since Bio-Pur® is made with plant-based oils, it won't trap heat the way traditional memory foam does, allowing sleepers to stay cool and comfortable throughout the night.
Most soft mattresses tend to cause too much sinkage, creating the uncomfortable sensation of being "stuck" in the mattress and unable to move freely. However, the Active Flex transition layer in the AS5 Hybrid prevents this. Active Flex is a latex-like response foam with a slight bounce to keep the hips lifted on the mattress.
Although the AS5 Hybrid is soft and conforming, sleepers won't have to worry about waking up with lower back pain due to awkward and uncomfortable sleep positions. This mattress is perfect for heavier individuals (those over 250 pounds) who prefer a softer bed but want to avoid excess sinking.
The pocketed spring coils in the base of the AS5 Hybrid move separately rather than as a unit. These coils provide more accurate contouring and motion isolation than traditional innerspring coils. Plus, each coil is made with upcycled steel to provide an eco-friendly support system. The coils along the side are denser than the others to provide better edge support.
With Amerisleep's generous 20-year warranty, you can rest assured your mattress will be repaired or replaced if it begins to sag prematurely or if it develops indentations greater than .75 inches. With this coverage, you ensure your RV mattress is in good condition whenever you are ready to embark on your next adventure.
How to Shop for an RV Mattress
From bunk beds, Murphy beds, pop-up trundle beds, to pull-out sofa beds—RVs come equipped with several different bed frames. While many people believe these beds require a specific mattress type, most modern mattresses are designed to accommodate the frames.
However, to determine the best RV mattress for you, it is important to consider the size and mattress type. Below, we provide some guiding information to help you bring home the perfect RV mattress.
RV Mattress Sizes
RV bed frames come in a wide range of sizes. Before you start shopping for a new RV mattress, be sure to consider the shape of your RV bed frame and the exact dimensions of the mattress cut out, including height or thickness.
The following chart outlines the most common dimensions for RV mattresses.
Mattress Size
Dimensions
RV Twin
28 inches by 75 inches to 40 inches by 80 inches
Twin XL
38 inches by 80 inches
Truck Bed
35 inches by 79 inches to 42 inches by 80 inches
RV Bunk Bed
28 inches by 75 inches
30 inches by 75 inches
30 inches by 80 inches
34 inches by 75 inches
35 inches by 79 inches
Three Quarter
48 inches by 75 inches
RV Full or Double
53 inches by 75 inches
Short Queen (RV Queen)
60 inches by 75 inches
Queen
60 inches by 80 inches
RV King
72 inches by 75 inches to 72 inches by 80 inches
California King
72 inches by 84 inches
RV Mattress Types
Modern mattresses are made of several different layers that determine the comfort and thickness of the bed. The following four mattress types are most commonly used in luxury RVs.
Memory Foam
Memory foam RV mattresses are the most common because they tend to have a lower profile, between 10 and 12 inches, and they provide the ultimate comfort and pressure relief for most sleepers. Plus, a high-quality memory foam bed can last up to 10 years. Considering you may not use your RV mattress as frequently, the mattress may last even longer.
Memory foam has the unique ability to contour to the body so muscles can relax and heal during sleep. When resting on a memory foam bed, sleepers wake with less pain, feeling rejuvenated, and wake up ready for the day.
However, the one drawback of a memory foam bed is they tend to trap heat and moisture, causing sleepers to become hot and sweaty during the night. Therefore, we recommend a memory foam made with plant-based oils, like our Bio-Pur® comfort foam, or a gel memory foam.
Plant-based foams naturally dissipate body heat, while gel memory foam helps pull heat away from the surface of the mattress, keeping it cool and inviting.
Latex Foam
Latex mattresses contour similar to memory foam models. However, latex tends to be bouncier and keeps sleepers lifted on the mattress instead of cradled. This responsiveness works well for heavier individuals because it prevents uncomfortable sinkage.
Memory and latex foam mattresses have excellent durability—lasting 10 to 12 years. Latex foam is also resistant to bacteria, viruses, dust mites, mold, and mildew, which is perfect if you have severe allergies or other sensitivities.
Hybrid
Hybrid mattresses have a 2 to 3-inch foam comfort layer, typically memory or latex foam, and a base of spring coils. Most modern hybrids feature pocketed coils—coils wrapped in fabric for added comfort and pressure relief. These springs also contour more effectively and have less motion transfer than traditional innerspring coils.

If you prefer the slight bounce of a traditional coil mattress, you may prefer a hybrid model. While the foam top layer contours and protects against pressure points, the coil base helps lift the body and reduce excess sinking.
Hybrid mattresses are often thicker than memory and latex foam beds. Therefore, be sure the bed frame in your RV can accommodate the extra height of a hybrid before purchase.
Innerspring
Innerspring mattresses have been popular for many years. Therefore, older RVs and campers often have coil mattresses. These mattresses come with an attached pillow top for added comfort. However, pillow tops tend to be thinner and do not provide the same pressure relief as a hybrid or all-foam bed.
Traditional coil springs also tend to break and bend easily, causing lumps and indentations to form. If you frequently travel to humid environments, these coils may quickly become rusted and brittle. Innerspring beds are also heavy and bulky, and difficult to move when used in an RV.
Air Mattresses
Although inflatable air mattresses are often the go-to for camping, they are not recommended for use in an RV. These mattresses are not comfortable for long-term use and can become damaged when placed on top of a standard RV bed frame.
Frequently Asked Questions
How do I keep my RV mattress from sliding?
If your RV mattress does not fit snugly inside of the bed frame, it may slide around during the night or when the vehicle is moving. To prevent this, rubber matting can be placed under the mattress. This an affordable and easy solution to prevent a sliding mattress.
How can I make my RV mattress more comfortable?
If your RV bed is uncomfortable, you can add a memory foam mattress topper to change the bed's firmness. If the mattress is too firm, a plush topper will increase comfort and provide contouring and pressure relief. If the mattress is too soft, a medium-firm or extra firm topper will provide some much-needed support and promote a healthy spinal position.
A mattress pad with a .5 to 1 inch of foam can also increase the softness and comfort of an extra firm RV mattress.
What is a Murphy bed in an RV?
A Murphy bed, also called a wall bed, is hinged on one end, allowing it to flip up for storage against the wall. This bed style is often used in RVs because it helps maximize space while providing a comfortable sleeping area.
What's the difference between an RV mattress and a regular mattress?
RV mattresses are essentially the same as regular mattresses. However, RV mattresses come in unique RV sizes that are slightly different from standard mattress sizes. For example, an RV mattress labeled as a "queen" will likely be a few inches shorter or narrower than a standard queen bed—this is often referred to as a short queen mattress. Therefore, it is important to measure your RV bed frame before purchasing a mattress for it.
What is a jiffy sofa in an RV?
A jiffy sofa is a couch or loveseat with a storage space underneath. A panel typically covers this storage area. Some jiffy sofas may also fold out into a bed.
Conclusion
Whether you use your RV once a year or live in it full time, it is important to have a comfortable and supportive mattress. A good night's sleep can help you feel more productive, energized, and focused, which is especially important when you are away from home or on vacation. If your RV came with a mattress you find inadequate, consider replacing them with something more suited to your body type and sleep style.
This article is for informational purposes and should not replace advice from your doctor or other medical professional.
---
About the author
April Mayer has a degree in exercise physiology and is a firm believer in the power of a good night's sleep. April's passion lies in helping others lead more productive lives by helping them get sound, restful sleep every night. April primarily writes about foods and vitamins for better sleep and has written several "better sleep guides" covering a wide variety of topics in her time with Early Bird.
View all posts