Your mattress may trouble you with respiratory issues, allergies, skin problems, stress, or other health problems. People in the United States are getting increasingly conscious about the harmful effects a mattress may have on their health.
Artificially produced synthetic materials, chemical fire retardants, and certain adhesives and glues used in some mattresses may be a threat to your health. Awareness about these health threats has led to the need for healthier options—and thus the eco-friendly mattress was born. Natural materials like plant-based foams, organic latex, organic certified cotton, and organic wool batting are some of the components used in the best eco-friendly mattresses.
Best Eco-Friendly Mattresses of 2023
Quick Guide: A 30-Second Summary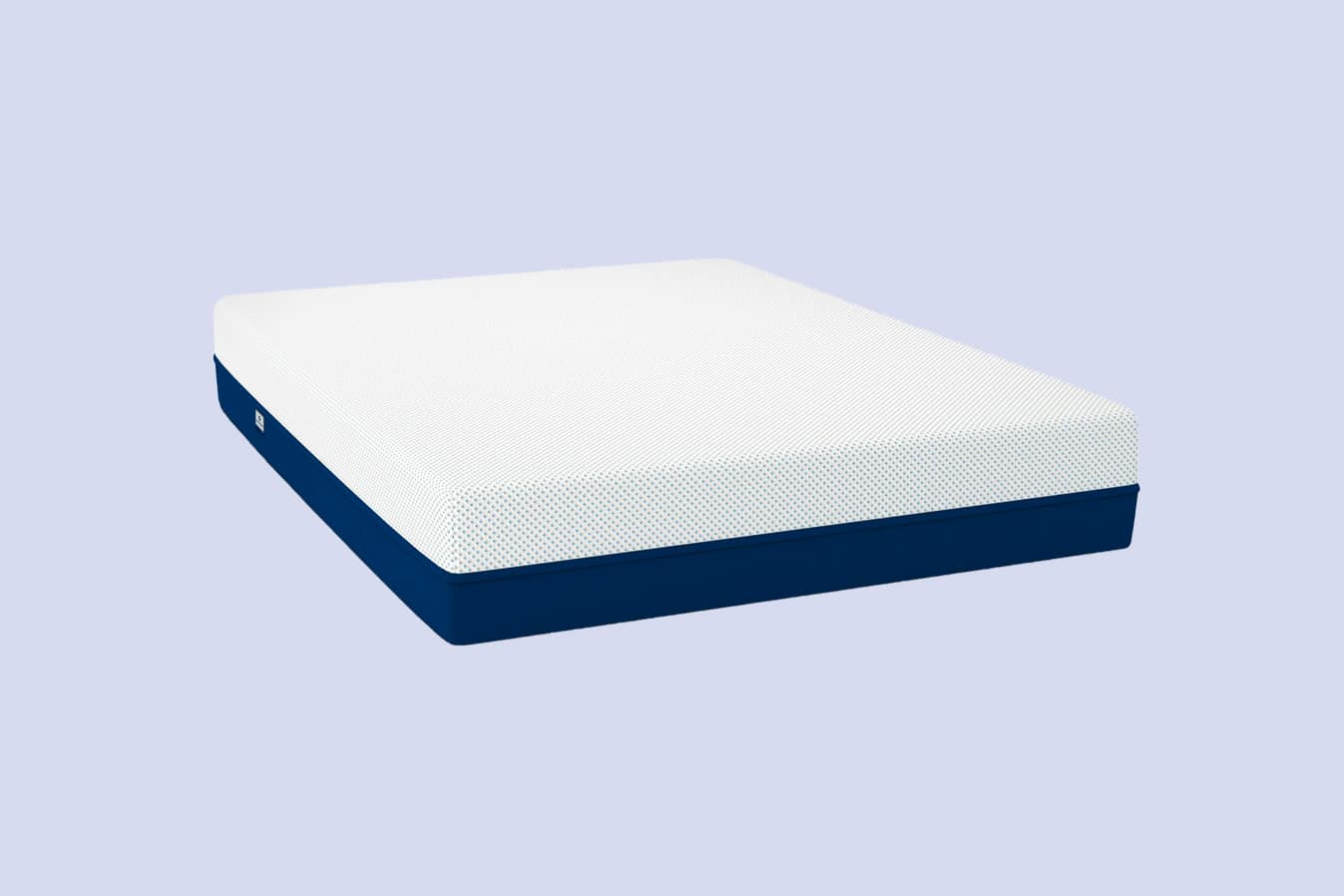 Best Eco-Friendly Memory Foam Mattress
Amerisleep AS3
Price Range

$1149 to $2398

Mattress Type

Memory Foam

Firmness

5 to 6 out of 10 (Medium)

Availability

All sizes

Warranty

20 Years

Thickness

12 Inches
Many memory foam mattresses rely on wholly synthetic materials, but our AS3 contains a top layer of plant-based Bio-Pur® foam. Like all of our memory foam mattresses, the AS3 foam layers are also certified by CertiPUR-US®.
Mattress Highlights
Partially plant-based Bio-Pur® memory foam
Advanced open cell design promotes airflow
HIVE® technology establishes five support zones
Recommended For
Side, back, and combination sleepers
Couples with different sleep styles
Shoppers seeking an affordable, eco-friendly mattress
All of our Amerisleep mattresses feature state of the art, eco-friendly materials. Our beds vary in firmness so that it is easy to use your sleep position and body type to find the perfect mattress for you.
Since the AS3 model is a true medium on the firmness scale, it is suitable for most sleeping positions. This firmness makes the AS3 our most popular and most recommended mattress. Not only is this bed eco-friendly, non-toxic, and safe, it is also incredibly comfortable and supportive.
The cover of the AS3 is soft-to-the-touch and notably breathable, so it prevents night sweats and keeps you sleeping comfortably. Beneath the cover of the AS3 is our Bio-Pur® foam—this features an advanced open-cell structure that's more breathable and responsive than traditional memory foam.
Bio-Pur® is also eco-friendly and less toxic than most memory foams because it is partially plant-based. Traditional memory foam is made of 100 percent petroleum-based oils, but we remove a portion of the crude oil and replaces it with plant-based oils to create a safer, more responsive foam.
To provide you with targeted support to the areas where you need it most, the AS3 features HIVE® technology. This layer is firmer near the back, neck, and knees so that your spine remains in alignment as you sleep. A healthy spinal alignment has been shown to reduce pain back. HIVE® is also softer near the hips and shoulders so that these sensitive areas get extra cushion without any added pressure. This is especially helpful for side sleepers since these areas bear most of the body weight when in this position.
The base of the AS3 features Bio-Core®. This base gives the bed more durability and ensures that the mattress won't sage or develop indents.
There's also the eco-friendly, consumer-safe fire sock, which establishes a fiberglass-free mattress for healthy sleep. The fire socks inside Amerisleep mattresses are made without the use of glass, silica-loaded rayon, modacrylic, melamine, antimony, phosphorous, or chlorine.
These fire socks are also made in compliance with California Proposition 65, Oeko-Tex 100 standards, and Washington State CHCC regulations. All of these cerifications serve to show our dedication to safe, eco-friendly bedding.
The materials in the AS3 are CertiPUR-US® certified to be free of VOCs, toxic glues, and ozone depleters. This testing not only ensures that the mattress is eco-friendly, but it also guarantees that no harmful chemicals will leach from the mattress once it is brought into your home.
We've been providing eco-friendly, advanced mattresses since 2010.  We also use an eco-friendly shipping method to reduces their carbon footprint, and work with customers to donate a returned mattress.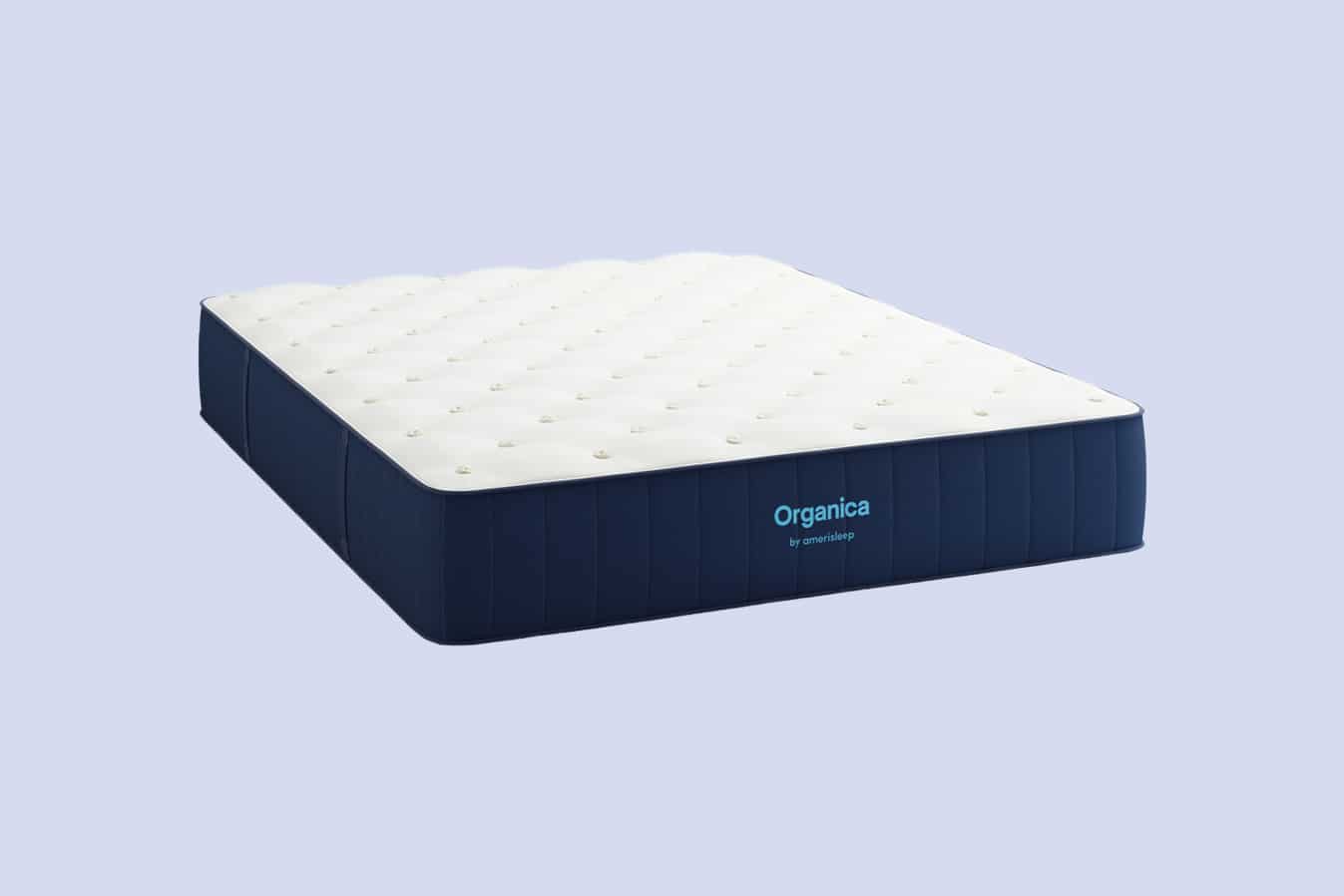 Best Eco-Friendly Latex Mattress
Amerisleep Organica
Price Range

$1199 to $2698

Mattress Type

Latex

Firmness

5 to 6 out of 10 (Medium)

Availability

All sizes

Warranty

20 Years

Thickness

13 Inches
Instead of our eco-friendly Bio-Pur® foam, the Organica contains contouring, natural Talalay latex. Like our Bio-Pur® foam, Talalay latex is far more breathable than traditional memory foam.
Mattress Highlights
Cotton cover wicks away moisture and body heat
Natural wool regulates temperature
Talalay latex contours to the body in different positions
Recommended For
Hot sleepers seeking an eco-friendly cooling mattress
Back, side, and combination sleepers
Sleepers who want a bouncy mattress
While all of our mattresses contain eco-friendly materials, we've gone the extra step beyond expectations with our Organica mattress. The 13-inch mattress has four layers wrapped in soft, breathable cotton cover. Cotton is one of the best materials when it comes to keeping a sleep surface cool and dry.
Underneath the cotton cover is an inch of New Zealand Joma wool, a temperature-regulating material. The wool helps the mattress feel cool and warm as needed, while also wicking away absorbed moisture.
While the wool does an excellent job of cushioning a sleeper's body, the mattress's main comfort layer is the following 3 inches of Talalay latex. The responsive material contours to the body for support and pressure relief.
Eight inches of pocketed coils support the top two layers. The coils are wrapped to isolate motion and keep your every movement from rippling across the Organica's surface.
The mattress's base features an inch of Dunlop latex, a sturdy and all-natural material that gives the coils a firm surface to bounce off from for a better structured mattress.
The Organic mattress has certifications that none of our other mattresses possess:
The yarn is certified by the Global Organic Textile Standard.
The wool and latex have been certified under the Standard 100 by OEKO-TEX.
The Rainforest Alliance works for the betterment of farmers and forest communities and have given the Talalay latex their seal of approval.
Lastly, eco-INSTITUT has tested the VOC emission levels of the Talalay latex foam.
The Organica ships free throughout the contiguous US. Customers have 100 nights to try out the mattress and make sure it meets their needs.
How Did the Need for Eco-Friendly Mattresses Evolve?
Health-conscious individuals are making informed choices to stay away from toxic chemicals—triggering the demand for safer, healthier, and more eco-friendly materials. More and more, consumers are looking for alternatives to their favorite products, including mattresses.
You spend one-third of your life in bed, and you want to stay away from toxic chemicals during that period of rest. Consumers are looking for high-quality mattresses with more natural materials. They want to stay away from toxic chemicals and invest in a bed that doesn't have a negative environmental impact.
Potential Risk Factors in Conventional Mattresses
Mattresses are known to release small amounts of gaseous chemicals called Volatile Organic Compounds (VOCs). These are emitted from the polyurethane foam generally used in making mattresses, or other chemicals used in flame retardants. These VOCs can contribute to poor indoor air quality and may cause respiratory irritation or allergic reactions in some individuals.
Under the new regulation passed in 2007 by the Consumer Product Safety Commission (CPSC), all mattresses manufactured for sale in the US must be flame and fire-resistant. To meet these standards many mattress manufacturers have taken to chemical flame retardants like polybrominated diphenyl ethers (PBDEs). These chemicals may cause some health hazards Verified Source National Library of Medicine (NIH) World's largest medical library, making biomedical data and information more accessible. View source like neurodevelopmental deficits, reproductive changes, or even cancer.
According to the US Environmental Protection Agency, health risks associated with VOCs can range from eye, nose, and throat irritation to headache. Some VOCs like benzene, acetaldehyde, and formaldehyde may lead to allergies, lower respiratory irritation, or neurologic effects.
Recent research shows that your body heat increases the amount of VOC emissions from your mattress. However, the study states that the estimated increase is still below the "No Significant Risk Levels" (NSRL) set under strict California environmental laws. Bear in mind that these standards are set for adults. Children are more vulnerable to toxic chemicals—their threshold for chemical tolerance is much lower than adults.
Furthermore, some mattresses may be treated with stain-resistant or water-resistant coatings that contain perfluorinated compounds (PFCs), which have been associated with negative health effects. These chemicals can also be released into the air over time, potentially affecting indoor air quality.
Greenwashing
Manufacturers catering to this chemical-free awareness amongst consumers have flooded the market with different products. They come with a promise of being "natural," "eco-friendly," and "organic," but going by these labels is not enough because you may be "greenwashed."
A "greenwash" is an unsubstantial claim made by mattress manufacturers to deceive customers into believing that their products are "eco-friendly" and "green." This trend has developed due to the lack of a centralized agency in the mattress manufacturing sector that can guarantee their "organic" claims.
Though there are certifications to guarantee the authenticity of some of the materials used in organic mattresses, there is no one agency looking into the entire process holistically. So be skeptical when a manufacturer claims a product is a "green mattress" without any material certifications backing it up.
Sometimes mattress companies may label their mattresses as green simply because they have an organic cotton cover. You have to ask the right questions to the salesperson or the customer service representative of the mattress manufacturing companies and find out what goes into making all the other layers of the mattress.
Even if a mattress claims to be eco-friendly, if it has a short lifespan or is prone to premature deterioration, it can contribute to waste and have a larger environmental impact over time. In other words, sustainable mattress companies don't just build their beds with environmentally friendly materials and socially conscious practices. They build their beds to last, offering the most durable mattresses.
Different Types of Mattresses
Mattresses can never be 100 percent eco-friendly or organic—most eco-friendly mattresses on the market will have 60 to 95 percent organic or eco-friendly materials.
When you are shopping for an eco-friendly mattress, find out if the mattress is made with harmful fire retardants or other potentially toxic chemicals. Some toxic fire retardants commonly found in mattresses include polybrominated diphenyl ethers (PBDEs), chlorinated tris (TDCPP), and formaldehyde. These chemicals have been associated with various health risks and environmental concerns. 
Even mattress fiberglass, a material originally used to replace these dangerous chemicals, has come under criticism for its risks. The particles of fiberglass can seep through a thin cover and irritate a sleeper's body, causing rashes, breathing difficulties, and digestive issues. Many shoppers have turned to mattresses without fiberglass for this reason.
Materials like natural latex foam, plant-based polyfoam, flame-resistant minerals like graphite or silica, and organic fibers like GOTS-certified organic cotton and certified organic wool are considered safe. Fire socks made of wool, cotton, thistle, or Kevlar work well as a natural fire barrier.
To understand your mattress, you need to know about the different types of mattresses available on the market, including latex, foam, innerspring, and hybrids.
Latex Mattresses
Most eco-friendly mattresses are made with natural latex. Latex is a milky white liquid extracted from the Hevea-Brasiliensis tree, commonly known as the rubber tree. A small piece of bark is carved to make way for the sap to flow into containers, which are then transferred to processing units.
There the natural latex is converted into latex foam through the Dunlop or Talalay manufacturing process. These natural mattresses usually have several layers of latex foam covered in organic materials like cotton or wool.
Both these processes require vulcanization—liquid latex is hardened into a solid foam. Latex particles are cross-linked with sulfur and subjected to extreme heat in the presence of catalysts like zinc oxide.
Dunlop Latex: Liquid latex is formed and poured into a large mold, which is then closed and placed on a conveyor belt to be sent into a vulcanization oven. Once vulcanization is complete, the organic Dunlop latex foams are thoroughly washed to retain elasticity and increase longevity. They are then dried in high temperatures to remove all traces of moisture in the final product. This method is more energy-efficient and the Dunlop latex foam is denser and springy than the ones produced through the Talalay method.
Talalay Latex: In this method, liquid latex is poured into a large mold, but only half-filled and sealed. The vacuum created in the mold helps the latex expand and once fully expanded, the mold is frozen. Carbon dioxide gas is pushed through the latex, causing it to gel. It is then vulcanized to form the final product, which like in the Dunlop process is thoroughly washed and dried. This process is more energy-intensive compared to the Dunlop process resulting in bouncier foam.
Synthetic Latex, or Styrene-Butadiene Rubber (SBR): This is made from petroleum-based compounds called styrene and butadiene. Styrene is known to be toxic to the lungs, liver, and brain.
Blended Latex: As its name suggests, this is made by blending natural and synthetic latex. The percentage of each is determined by different mattress manufacturers.
Though latex mattresses are considered to be one of the most popular choices in eco-friendly mattresses, be cautious when checking the source of latex in your mattress.
Foam Mattresses
There are different variations of foam mattresses including poly-foam, memory foam, and plant-based memory foam.  Foam mattresses are also available in a wide variety of firmnesses.
Poly-foam: Poly-foam mattresses are made using polyurethane, which is a petroleum-based product that gives the mattress some bounce and softness. Poly-foam beds, while similar to memory foam in feel, are not temperature and pressure-sensitive like memory foam. Poly-foam mattresses are usually cheap and do not last long.
Memory foam: Memory foam mattresses contour closely to the body.  Memory foam is sensitive to temperature and pressure, meaning it softens to your body heat as it molds to your curves, relieving pressure points. Memory foam is made by treating polyurethane foam with chemicals to increase its viscosity and density. Most memory foams are of higher quality and more durable than poly-foam.
Plant-based memory foam: To create plant-based foams, manufacturers substitute a large portion of the petroleum with plant-based oils. This makes it a more eco-friendly foam with potentially less mattress off-gassing.
Innerspring Mattresses
Innerspring mattresses have a support layer of steel coils which makes them more breathable. The top comfort layers are usually made of poly-foam or memory foam. The firmness of the top comfort layers determines the firmness of the mattress. Innerspring mattresses that have more than 2 inches of memory foam are technically known as hybrids.
Hybrid Mattresses
Hybrid mattresses are a combination of innerspring and memory or latex foam mattresses. Most hybrid mattresses have a coil-based support core, usually made with pocketed coils (each coil is encased in fabric). Mattress manufacturers sometimes refer to some hybrids as "eco-friendly" or "green" because the top comfort layers could contain all-natural latex or the cover may be made with organic fibers. In certain hybrid mattresses, recycled steel is used in the support layer of coils, making them a sustainable option.
What Is a Green Memory Foam Mattress?
In recent years, there has been a growing interest in green memory foam mattresses, as more individuals seek the comfort of visco foam while being conscious of chemicals and environmental impact. These eco-friendly foam beds have the potential to address sustainability concerns while still providing the renowned pressure relief and support of the material. However, we must note that not all green foams are equal.
The term "green" is widely used by manufacturers today, but what does it truly mean? In essence, it refers to products that are more environmentally friendly compared to traditional alternatives. When it comes to green memory foam mattresses, this can be achieved by incorporating sustainable ingredients, avoiding hazardous chemicals, or adopting cleaner manufacturing practices.
Soy beans are a popular choice for green memory foam manufacturing, replacing a portion of petroleum-derived ingredients. At Amerisleep, we use castor oil. These ingredients are more environmentally friendly, as they offer a sustainable and widely available option. Moreover, unlike petroleum, they do not contribute to air pollution.
By opting for mattresses that incorporate greener materials, individuals can enjoy the benefits of memory foam while reducing their ecological footprint. It's important to consider the specific green features and practices employed by different mattress manufacturers to make an informed choice that aligns with one's environmental values.
Firmness Levels of Eco-Friendly Mattresses
Eco-friendly mattresses are available in various firmness options. Depending on your body type and sleeping position, you can choose the right kind of firmness or softness that suits your needs and preferences.
Bodyweight
To choose the best mattress suited to your needs, you not only need to find one that has a minimal amount of chemicals in it but one that responds to your body, too. Your body weight determines which firmness level is best suited for you, because once you lie down on your mattress, it should mold to your body, providing you the comfort you need.
Lightweight Sleepers
Lightweight sleepers weigh less than 130 pounds. They need soft mattresses, which are sensitive to their weight and conform to their body as soon as they lie down.
Average Weight Sleepers
Average weight sleepers are between 130 to 230 pounds and they usually require a medium mattress to feel comfortable. The medium provides average weight sleepers with the right balance of cushion and support.
Plus-Size Sleepers
Plus-size sleepers weigh above 230 pounds and usually require a firmer mattress, ranging between 7 to 10 on the firmness scale. A heavy person laying on a soft mattress can cause sagging. Plus-size sleepers need something firmer to support their weight and conform to their body.
Sleeping Positions
People prefer different kinds of sleeping positions to feel comfortable in bed. While some like lying on their back, stomach, or sides, others switch between these positions through the night.
Side Sleepers
The best mattresses for side sleepers are soft to medium in firmness, as these beds can contour to curves while evenly distributing weight over the surface of the bed. This will provide the much-needed cushion to their hip and shoulder areas and give the comfort needed for the sleeper to enjoy a good night's sleep.
Back Sleepers
Back sleepers need a medium-firm to firm mattress which will enhance their spinal alignment—this way, when they lie down, their hips won't sink too deeply into the mattress.
Stomach Sleepers
Depending on their body weight, a firmer mattress is ideally suited to stomach sleepers—they need a surface with a little bounce to keep their torso lifted and prevent their back from arching unnaturally. Though we do not recommend sleeping on the stomach because the lack of spinal alignment in this position may cause back problems.
Combination Sleepers
Combination sleepers keep changing positions through the night—a medium level of firmness would closely suit all their different sleeping positions.
What to Look Out for While Shopping for an Eco-Friendly Mattress
Eco-friendly and sustainable mattresses are still fairly new in the mattress world, and so it can be tricky to find an established brand with good eco-friendly practices and materials. When buying a sustainable mattress, look at the organic or eco-friendly certifications, as well as the sleep trials, warranties, and return policies.
Certifications
In the mattress industry, certifications prove the "green" claim made by mattress manufacturers, including GOTS, GOLS, Greenguard, OEKO-TEX, CertiPUR-US®, USDA, and RAC.
GOTS
GOTS stands for Global Organic Textile Standard. GOTS is an internationally recognized organic textile standard that ensures processing, manufacturing, packaging, and labeling are done by at least 70 percent certified organic natural fibers. This certification assures you that the components used in your mattress were responsibly farmed and manufactured.
GOLS
GOLS stands for Global Organic Latex Standard. GOLS is an internationally recognized standard for organic latex, which ensures that your latex is taken from the sap of rubber trees and grown in certified organic farms.
A GOLS-certified product must contain more than 95 percent of certified organic raw material. Manufacturers with this certification also have to follow certain social and environmental guidelines, thus assuring you of organically grown materials in a responsibly made product.
Greenguard and Greenguard Gold
A Greenguard certification comes with the assurance that your interior products and materials have low chemical emissions. The Greenguard Environmental Institute, an industry-independent, third-party certifying body tests products and materials for low chemical emissions.
A Greenguard certified product ensures cleaner air for you. Greenguard Gold certified means the product has been evaluated on parameters similar to Greenguard, but with stricter standards such as a lower threshold for VOC emissions.
OEKO-TEX Standard 100
The OEKO-TEX Standard 100 certification does not evaluate mattresses by their organic standards, but it ensures that your product is low on the emission of chemicals that may cause a health risk, including VOCs, PBDEs, formaldehyde, and other flame retardants. The OEKO-TEX Standard 100 certification comes from the International Association for Research and Testing in the Field of Textile and Leather Ecology, or OEKO-TEX, which comprises 18 independent research and testing institutes in different countries.
OEKO-TEX Made in Green
This certification evaluates sustainable processes being used to make the final product. This does not test for chemicals or emissions, rather it looks at the process used by the manufacturer.
CertiPUR-US®
This certification tests for chemical emissions from poly-foam layers of mattresses and also checks for the presence of harsh chemicals like PBDEs and lead. A CertiPUR-US® certified product ensures chemical use within permissible limits, not known to cause any harmful health risk.
United States Department of Agriculture (USDA) Organic
You may have seen this label on a lot of food products, but you can also find it on mattresses too. This label certifies that crops and agricultural produce have been grown organically, in farms that do not use chemicals as fertilizers or pesticides. In this case, if you see a USDA label on a latex mattress, it means the latex has been tapped from organic rubber plantations that do not use chemicals like fertilizers or pesticides.
But it does not ensure that the final product is organic. Your latex foam may still be blended. There are other certifications like GOLS, which will ensure an organic final product.
Rainforest Alliance Certified (RAC)
Rainforest Alliance certification is specific to a natural latex mattress because it certifies that the product has been sourced from forests that promote environmental conservation and protect endangered and indigenous species. It also ensures that in producing the product, sustainable harvesting practices are used and workers are provided with living wages.
Research and Ask Questions
You must know what goes into making your mattress. Plant-based foams, Organic wool, cotton, and latex make up your eco-friendly mattress. There should be no harmful mattress flame retardants, metal coils, or adhesives.
If you are considering a mattress labeled as "eco-friendly," check every part of your mattress to ensure it contains actual eco-friendly products. Ask questions to ascertain all the details about your mattress.
Mattress companies often say all-natural products have been used in a mattress; for example, that might mean cotton, but not necessarily organically grown cotton. Even latex has synthetic versions, so while shopping for your eco-friendly mattress read between the lines, look into every minute detail, and ask the salesperson or the customer service representatives of the mattress manufacturing companies as many questions as possible.
Sleep Trials
Sleep trials allow you to test your mattress within your own home. Sleep trials are especially needed for eco-friendly mattresses, as they may take some time to acclimate to your body. Most mattress companies offer a sleep trial of 100 to 365 days. If the matress is not right, most brands will provide a full refund. Always read the sleep trial policy before investing in a mattress to make sure there are no return fees.
Warranties
Though eco-friendly mattresses are considered to be more durable than their counterparts, a warranty is always a safe bet. Most mattress brands offer 10 to 20-year warranties for manufacturing defects and sagging of more than 1 inch. They either replace or repair your mattress as part of the warranty.
Sometimes the cost of the repair is completely covered by the mattress company for the entire warranty period, but in some cases, the warranties are prorated after a certain period. Read the warranty section in detail and look at the fine print.
Return Policies
If a mattress company is not offering a sleep trial, be sure to check their return policies. Most will have a return policy within 30 days of the date of delivery. If you are not satisfied with it you may return it within this time.
Mattress Delivery
Mattress delivery can be eco-friendly through various measures, such as offering free shipping. By providing free shipping, mattress companies can consolidate deliveries, optimizing transportation routes and reducing carbon emissions.
Some companies use sustainable or eco-friendly packaging materials, like recycled cardboard or biodegradable materials, minimizing waste. Efficient logistics and environmentally conscious practices in the delivery process contribute to a more sustainable and eco-friendly approach to mattress transportation.
Challenges of Buying an Eco-Friendly Mattress
Buying an eco-friendly mattress is a step towards healthy living. But there are some hassles in the process.
New to the Industry
Since the eco-friendly mattress industry is still relatively new, there are not many standard certifications that can certify a mattress "eco-friendly." There are some certifications in place, which guarantee you quality materials in some parts of your mattress. Know which certification to look out for to ensure your mattress contains minimal harmful substances or toxic chemicals.
Mostly Available Online
There are not too many manufacturers physically selling these in stores, so while shopping for an eco-friendly mattress, you may not get a chance to actually lie down and test it out. You have to purchase it online and rely on the information you decipher from the product website.
Research Required
Since you cannot physically feel the product, or make queries about your product face-to-face, you have to depend heavily on reading about eco-friendly mattresses in general and calling up different companies to get your answers. Make a comparative analysis of your shortlisted brands before jumping on a mattress purchase.
Expensive
Everything produced organically comes at a price. This includes mattresses that are made with any amount of organic or eco-friendly materials. Eliminating harmful chemicals from the production and manufacturing process costs more money, so eco-friendly and organic mattresses are typically more expensive than their counterparts. They can be anywhere between $1000-$10000, depending on the materials, certifications, and size.
Why They Are Worth It
Despite the challenges, eco-friendly mattresses come with their share of advantages. Your commitment to sleep is a long-term investment, so making an informed choice is important. Often, you want more than what the average mattress can deliver. Eco-friendly mattresses bring the promise of a clean, green sleep environment where you can relax at the end of the day.
No Harsh Chemicals
Many traditional mattresses use harmful chemicals has flame retardants. Be sure to avoid mattresses that contain chlorinated tris, antimony, or boric acid. Eco-friendly mattresses will be made with natural fire-resistant materials such as wool or silica. These materials will be safer for you to sleep on.
No Pesticides
Organic mattresses are made with organically grown natural latex, cotton, and wool, so there is no risk of harmful chemical residue from fertilizers and pesticides. You get the privilege of enjoying a safe and healthy sleep.
Reduces Carbon Footprint
Buying an eco-friendly mattress reduces your carbon footprint because plant-based foams, natural latex, and organic fibers are biodegradable.
Easy on Skin
The eco-friendly materials diminishing the presence of allergens. This usually makes eco-friendly mattresses hypoallergenic. Since the manufacturing process of an eco-friendly mattress involves minimal to no use of chemicals, it is easy on your skin too. You can say goodbye to itchy skin, rashes, or irritations that your current mattress may trigger.
Good for Babies
Eco-friendly mattresses are the safest choice when shopping for babies because they have fewer chemicals. The all-natural components give your baby a safe and chemical-free environment, especially since babies spend so much time on the bed. An eco-friendly or an organic mattress may be a good choice for a crib mattress.
Breathable Materials
Removal of chemicals and synthetic materials typically makes a mattress more breathable. An eco-friendly mattress does not have many synthetically made products inside—making it more breathable than traditional mattresses.
Questions to Ask
When shopping for an eco-friendly bed, ask yourself the right questions to make sure that you are bringing home a non-toxic mattress. Read mattress reviews before making a decision.
What material goes in the cover, comfort layer, and support core of the mattress?
If there is a latex layer, what type of latex is it?
What eco-friendly or organic certifications does the mattress have?
Does the mattress meet flammability standards? What flame and fire retardants have been used? If the mattress contains chemicals, research those chemicals to ensure they produce low VOCs.

FAQs
How important is an eco-friendly mattress?
eco-friendly mattresses have minimal to no chemicals, assuring a safe sleeping environment. Though comparatively more chemicals are used in their counterparts, chemicals are cured and treated to have a negligible impact on human health. Industry standards are in place ensuring these chemicals are not toxic enough to harm human health.
What does off-gassing mean?
Off-gassing refers to the release of airborne particles from new household furniture like mattresses, sofas, or upholstered chairs called Volatile Organic Compounds (VOCs). Chemicals in glues, adhesives, or flame retardants used to make these products sometimes release VOCs. Though the term may sound intimidating, it's something you commonly experience in a new car or a freshly painted room.
Off-gassing is a common concern in most mattresses. While the odor of chemicals from the new mattress may be unpleasant or give a headache to some, it is not known to seriously impact health. However, there have been a few instances where people have reported allergic reactions like a throat, nose, or eye irritation and nausea due to off-gassing.
Are vegan or cruelty-free materials the same as eco-friendly?
While there may be overlaps between the materials, being vegan or cruelty-free is not necessarily the same as being eco-friendly. Vegan and cruelty-free products focus on avoiding animal ingredients and avoiding animal testing, respectively.
On the other hand, eco-friendly products have a broader scope, considering the environmental impact of the entire production process, including sourcing of materials, manufacturing methods, packaging, and overall sustainability.
While a product can be both vegan/cruelty-free and eco-friendly, it is possible for a product to be vegan or cruelty-free without necessarily being eco-friendly, as other environmental aspects may not be considered. It's important to look for certifications or labels that specifically indicate a product's eco-friendly attributes if that is a priority.
Conclusion
A new mattress is a big decision—it can be a large investment, and you want it to last for years. Studies Verified Source National Library of Medicine (NIH) World's largest medical library, making biomedical data and information more accessible. View source show that replacing a mattress may lead to a peaceful night's sleep. Eco-friendly mattresses contain fewer chemicals than traditional mattresses and will be safer for you to rest on. 
---
About the author
Sanchita Sen is a full-time writer focusing on the sleep health and mattress industry. She is a former journalist who has written numerous articles on the healthcare sector. Some of the topics she has covered include how to lucid dream, fever dreams, melatonin for sleep, and best gel memory foam mattress. Sanchita holds a Master of Arts in Communications from Convergence Institute of Mass Media and Information Technology Studies. She is also a published author, who seeks inspiration from both real life and the world of fiction.
View all posts