Mattresses are an investment— some costing over $10,000. However, you don't need to break the bank to get a quality bed. Most top-rated mattresses cost $1000 and last between 7 to 9 years, and include a standard 10-year warranty. One of the best budget mattresses on the market today is the Amerisleep AS1.
Best Budget Mattress from Amerisleep
Quick Guide: A 30-Second Summary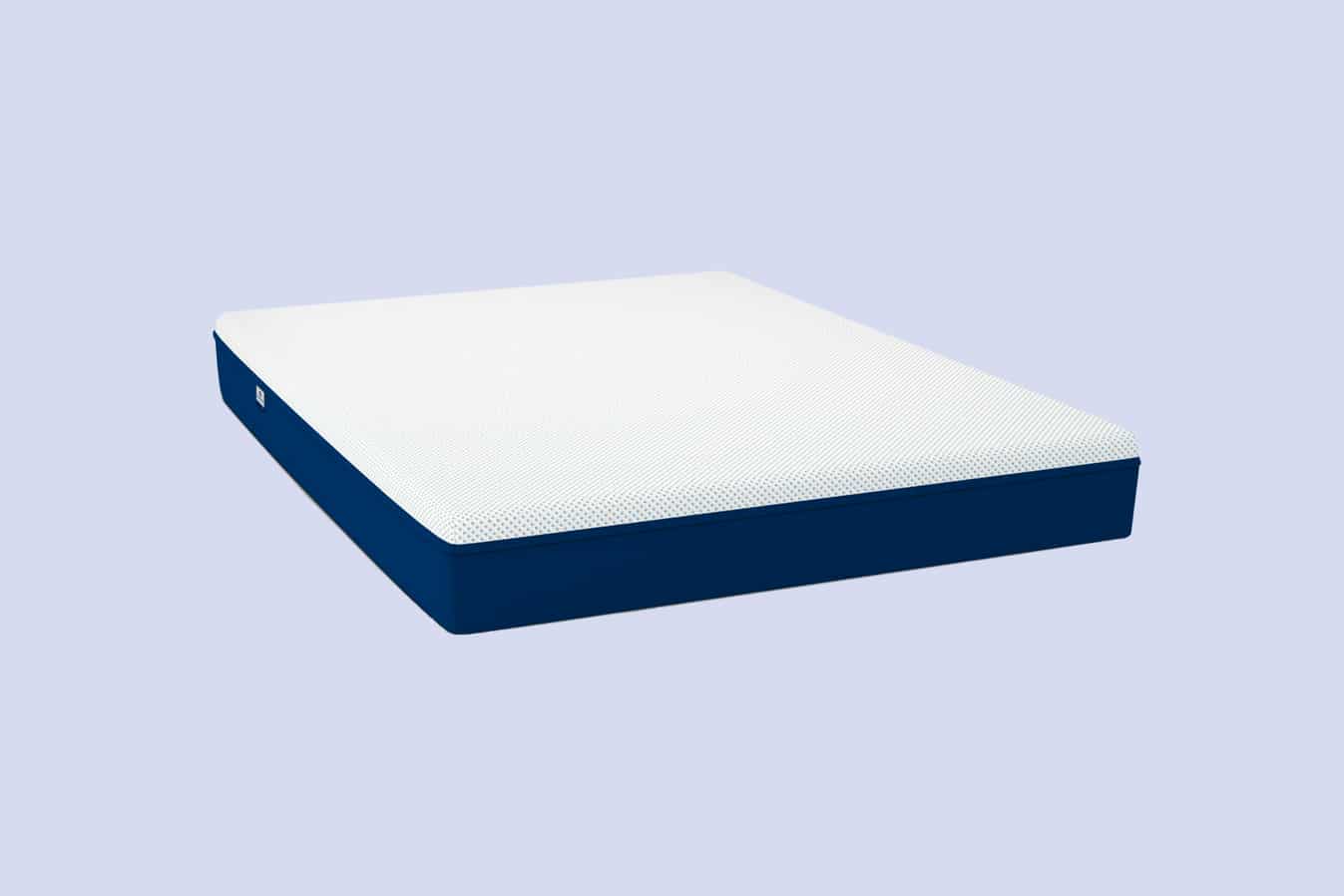 Best Budget Mattress Overall
Amerisleep AS1
Price Range

$749 to $1598

Mattress Type

Memory Foam

Firmness

8 to 9 out of 10 (Firm)

Availability

All sizes

Warranty

20 Years

Thickness

10 Inches
With responsive, cool foams and a durable structure, the Amerisleep AS1 is our top recommendation for a budget mattress
Mattress Highlights
Plant-based memory foam for pressure relief
Sturdy and stable base of Bio-Core® foam
Soft, breathable mattress cover fabric
Recommended For
Stomach sleepers
Back sleepers
Hot sleepers
The Amerisleep AS1 is a great mattress for those on a budget. The value you receive from this mattress far outweighs the cost. The bed is most suitable for back and stomach sleepers.
At $909 for a queen-size, the AS1 mattress has a firm feel with two layers of eco-friendly foam—plant-based Bio-Pur® and durable Bio-Core®. Bio-Pur® relieves pressure points and reduces aches and pains, plus it has little to no off-gassing. Bio-Core® reinforces the shape of the bed while evenly supporting the body without risk of sagging.
Plus, the AS1 comes encased in a cover that is lightweight and breathable so you sleep cool all night.
Bio-Pur®
Bio-Pur® is plant-based memory foam— Amerisleep uses castor oil to partially replace petroleum during the manufacturing process. This unique memory foam is proven five times more breathable and ten times more responsive than traditional memory foam. Bio-Pur® contours to the body's natural curves while relieving pressure points and aligning the spine without leaving the sleeper feeling "stuck."
Bio-Core®
Bio-Core® is a dense, durable foam, designed to evenly support the body and prevent sagging. Bio-Core® lasts for years and reinforces the shape of the mattress.
100- Night Sleep Trial
With the purchase of any of their mattress models, Amerisleep includes a risk-free, 100-night sleep trial. During this trial period, customers can try their new mattress within the comfort of their own home— we recommend trying it for at least 30 days to allow the body to properly adjust to a new sleep surface. If the customer is not happy with the mattress after 30 nights, Amerisleep will issue a full refund.
20-Year Warranty
Each Amerisleep mattress comes with a 20-year warranty. The warranty protects against any manufacturing defects that could cause the foam to crack and sagging greater than an inch. Our warranty is one of the best in the mattress industry.
What Can Customers Expect in a Budget Mattress?
Finding a good-quality mattress under $1000 is possible. Many mattress companies, especially bed in a box mattress brands, are able to offer customers higher-quality materials at lower prices by cutting out the middleman (retailers and salesman who house and sell their products). Stick to your budget, check the material quality, look for cooling features, and consider your current body weight and preferred sleep position.
Budget
Potential buyers can purchase a good-quality mattress for $1000 that will last between 7 to 9 years. Any mattress that costs less than $500 won't be as durable— materials are more likely to break down after a couple of years of regular use, leading to sagging. Low-cost mattresses may last between 1 to 3 years, so spending those extra dollars for a better quality mattress may be worth it in the long run.
Quality
When looking for quality among low-cost beds, look at the foam's density and ILD rating and the coil's gauge and count (if applicable).
Density tells the customer how the foam supports the body and is measured in the number of pounds found in one cubic square foot. Lower density foams have more give to the material in conforming to the body while higher density foam is more responsive to applied pressure.
Low: 2.5 to 3.9
Medium: 4.0 to 5.4
High: 5.5 and higher
ILD, or Impression Load Deflection, measures the amount of pressure it takes to make a 4-inch indentation on the surface of a foam mattress. ILD refers to a foam's firmness— the higher the ILD rating, the firmer the foam. Likewise the lower the ILD rating, the softer the foam. ILD ratings start at 8 and can reach as high as 50.
Extremely soft: 8 to 10
Very soft: 11 to 15
Soft: 16 to 21
Coil gauge refers to the thickness of the coils in the base of an innerspring or hybrid mattress. Thinner coils feel softer compared to thicker coils which offer firmer support. Coil gauge is measured in millimeters— thicker coils have a lower measurement, while thinner coils have a higher measurement.
Thickest: 12mm
Thinnest: 18mm
Coil count is the number of coils found in a single mattress layer. A quality mattress with a coiled support layer will have between 500 to 1000 coils to evenly distribute body weight and prevent deep sinking. Avoid mattresses with a coil count lower than 300— beds with low coil counts are at a higher risk of sagging because of the lack of adequate support.
Cooling
Cooling features help regulate body temperature and prevent sleepers from overheating at night. These types of features include plant-based or gel memory foam, convoluted foam, foam with ventilation holes, and memory foam infused with copper or graphite. Cooling features included in a mattress may drive the price up, but it's worth it for better temperature regulation and less overheating.
Bodyweight
Bodyweight is another feature to consider when on the hunt for the best budget mattress— different body types require different firmness levels. A mattress should adequately support your body without risk of sagging, but if you don't consider your body weight while shopping, you may end up with a thin mattress prone to sagging.
Lightweight
Lightweight sleepers weigh 130 pounds or less. They need a soft to medium mattress— the softer surface allows the body to slightly sink for pressure-relief.
Average Weight
Average weight sleepers weigh between 130 pounds to 230 pounds. They need a medium to medium-firm mattress to contour to the body and align the spine.
Heavyweight
Heavyweight sleepers weigh 230 pounds or more. They need a medium-firm to firm mattress to evenly support and contour to the body without risk of sagging.
Sleeping Position
Each sleep position requires a specific level of contouring and support to keep the spine in neutral alignment. Choosing a mattress partially based on your favored sleep position can determine the quality of sleep you receive. For example, side sleepers need a softer surface to cushion the body and fill in larger gaps between the body and the surface, while a stomach sleeper needs a firmer surface to prevent deep sinking.
Side Sleeping
Side sleeping is the most popular and healthiest sleep position. Side sleeping enables better breathing, reduces acid reflux, and removes pressure off vital organs, like the heart.
The best mattresses for side sleepers are soft to medium in firmness, as these beds allow for deeper compression in the shoulders and hips while keeping the spine in neutral alignment.
Back Sleeping
Back sleeping naturally aligns the spine because of the back's direct contact with the surface; however, there's a greater risk of snoring and developing sleep apnea through sleeping on your back, because of gravity causing the collapse of soft tissue at the back of the throat.
Back sleepers need a medium to firm mattress to keep the body resting on top of the surface with a slight sinking of the hips to align the spine.
Stomach Sleeping
Stomach sleeping is the least common and least healthy sleep position due to the higher risk of neck strain and back pain. Neck strain is caused by the sleeper twisting and holding the head at an unnatural angle to breathe for long periods of time. Back pain is caused by gravity pulling the weight down, forcing the spine's natural curve to straighten.
A healthier alternative to stomach sleeping is switching to the side sleep position. For those committed to sleeping on their stomach, look for a medium-firm to firm mattress to keep the body on top of the surface with some pressure relief without deep sinking. To further help align the spine, place a thin pillow under the hips.
Combination Sleeping
Also known as "restless" sleepers, combination sleepers toss and turn, switching between two to three sleep positions each night. Combination sleeping results in better breathing, natural spinal alignment, reduced symptoms of acid reflux, and less pressure on vital organs. Drawbacks to combination sleeping include snoring potential, risk of developing sleep apnea, back pain, and neck strain.
Combination sleepers need a medium to medium-firm mattress to provide a balance of comfort and support, while consistently keeping the spine in alignment.
Mattress Type
Each type of mattress provides their own set of benefits and drawbacks— it ultimately comes down to the sleeper's personal preferences. For example, some may prefer a bouncy surface from an innerspring, while others love the contouring hug of memory foam.
Memory Foam
Memory foam is one of the most popular mattress types on the market because of its excellent pressure-relieving properties— the foam conforms to the natural curves of the body for a hug-like sensation. Memory foam also isolates motion transfer, preventing sleep disturbances from movement.
A drawback to memory foam is its heat retention due to its dense material; however, many memory foam beds incorporate some form of cooling technology, like plant oils, gel, copper, and graphite.
A memory foam mattress contains a top layer of memory foam and a support layer of high-density foam. The average price range for a memory foam mattress is between $500 to $2000 for a queen size bed.
Innerspring
Many grew up sleeping on an innerspring mattress, with its excellent bounce and cooling properties from the coiled support layer. Innerspring mattresses also offer great edge support, so sleepers won't feel like they're about to roll off the bed.
Innerspring mattresses provide little pressure relief and motion isolation because of the thin comfort layer. They also have more noise potential due to the steel coils.
A typical innerspring mattress contains a thin comfort layer (also known as a pillow top) made of foam or fiberfill and a support layer of coils. The average price for an innerspring mattress is between $400 to $1500 for a queen size mattress.
Latex
Latex comes in two forms— natural and synthetic. Natural latex, like Dunlop, is made from rubber tree sap. Synthetic latex is created through a chemical process and is usually less expensive than natural latex. Other forms of latex-like Talalay is created by adding polyurethane fillers to natural latex for a softer, plush feel.
Latex is naturally cool and has the same conforming properties as memory foam, except it's more responsive and comes at a higher price tag because of its material.
Generally, a latex mattress contains a latex comfort layer and either a high-density foam or a latex support layer. On average, a latex mattress costs between $900 to $3000 for a queen size.
Hybrid
By combining the pressure relief of memory foam and responsive bounce of an innerspring, mattress manufacturers created the perfect bed— the hybrid. Hybrid mattresses also provide some motion isolation and cooling.
A few drawbacks of the hybrid mattress include heat retention from memory foam, and less pressure relief and noise potential from steel coils.
A hybrid mattress contains a comfort layer— usually at least 2 inches— of memory foam or latex and a support layer of pocketed coils. The average price range for a queen size hybrid mattress is between $1200 to $3000.
Risks of "Cheap" Mattresses
For those tempted to purchase a mattress under $500, we strongly encourage you not to, and here's why— cheap mattresses usually contain low-quality materials, meaning the mattress is more likely to break down sooner, lasting up to three years at the most.
A cheap mattress could lead to premature sagging, leading to increased levels of pain and pressure. Once a mattress begins to sag, there's no salvaging it— not even adding a mattress topper will help. The only solution is to purchase a new bed.
A way to tell if a mattress is poor-quality is by looking at the mattress cover. If the threads look fragile or loose, chances are the mattress is cheap and will last less than 5 years, if that.
Protect Your Mattress
The right foundation can go a long way in preserving your mattress. Check with the mattress manufacturer to see which type of bed frame will work best. All Amerisleep mattress models work well with a box spring (add a piece of plywood between the box spring and mattress), flat or slatted frame (slats 3 inches or less apart), and adjustable bed. They even work well lying directly on the floor.
To further ensure your mattress lasts, invest in a mattress protector— they're a low-cost bedding option that protects the mattress from liquids and stains. Most are machine-washable and can save you from buying a new mattress.

Frequently Asked Questions
What mattress types are the least expensive?
Memory foam mattresses cost relatively little to produce, thanks to their inexpensive materials. Hybrid mattresses and latex mattresses have higher production costs, which can make it difficult for budget shoppers to find a bouncy mattress. Traditional innerspring mattresses also have low prices, but many sleepers find this type of mattress loses its comfort far too quickly.
How long will a budget mattress last?
How long you can expect a mattress to last depends on the mattress's materials. For example, a well-designed memory foam mattress can last 8 or more years, with some sleepers finding theirs is still comfortable after a decade. However, budget mattresses with less value may only last a few years, so it's important to do your research before buying.
What are the best times to buy a mattress?
There are numerous sales days throughout the year when you can get a steeper discount on a mattress. Some of the more significant days are:
During these days, we typically offer a large percentage off the usual price and different bundles and gifts.
What's the best budget mattress for back pain?
Medium-firm mattresses are often considered the best way to relieve back pain while sleeping. Many of these mattresses are inexpensive because they contain fewer materials than a softer mattress, which requires thicker cushion for its feel. We would recommend our Amerisleep AS2 mattress for budget shoppers with back pain.
What's the best budget mattress for side sleepers?
We would recommend medium mattresses with plenty of pressure-relieving cushion for side sleepers. Memory foam is a good material when it comes to inexpensive comfort, molding to the body within seconds to reduce tension. Our recommendation for side sleepers living on a budget is our popular AS3 mattress.
Conclusion
Finding a good-quality mattress at a low price that will last for years is possible. A good mattress will contain quality materials to offer a balance of comfort and support, without premature sagging, plus most mattresses include a sleep trial and warranty to ensure you've chosen a quality product.
The Amerisleep AS1 is the best mattress for those on a budget. With its responsive Bio-Pur® foam and sag-free Bio-Core® base, this online mattress will last for years and is backed by a 20-year warranty and includes a 100-night sleep trial.
---
About the author
McKenzie Hyde is a Certified Sleep Science Coach and a full-time writer specializing in sleep health and the mattress industry. With a Master of Arts degree in literature and writing from Utah State University, McKenzie combines her passion for writing with her in-depth knowledge of sleep science. Her articles cover a wide range of topics, including best sleep practices for students, the consequences of sleep deprivation, and choosing the right mattress for back pain relief. McKenzie's dedication to delivering accurate and informative content makes her a valuable contributor to the field of sleep health.
View all posts